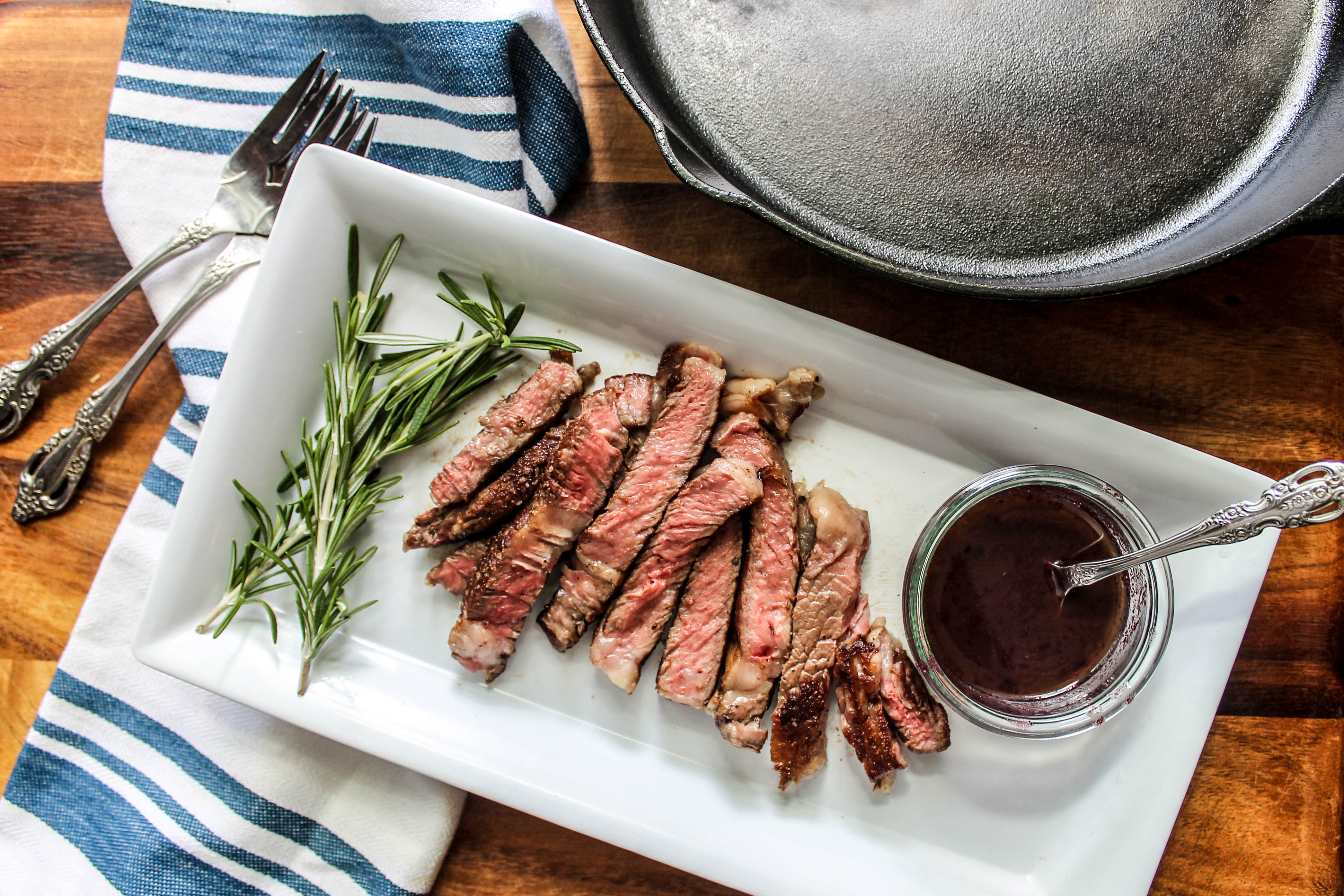 I don't know a single person that doesn't enjoy snacks. If you make that snack a bit of ribeye steak, then you are definitely taking your snacking to a whole new level. Within our group of friends there is such a snack – the "ribeye snack". This snack was conceived during a pre-dinner party moment. After a day of food prep, house cleaning and day drinking, a pronounced hunger began overcome our party hosts. Not wanting to dive into the "party food" before company came over, Kyle scrounged around for something to eat, and all that was found in the fridge was … a 12 ounce ribeye steak. It seemed like an absolute absurdity to eat this literally minutes before a dinner party, but indulgence won over, and before they knew it, they polished off a seared ribeye moments before their guests started to arrive. Since that notable day, the Ribeye Snack is now a known concept with our friends and is served as an appetizer before a dinner reservation, or even just eating it to kill time during a vacation, sometimes you need to indulge in a few delicious bites of seared steak.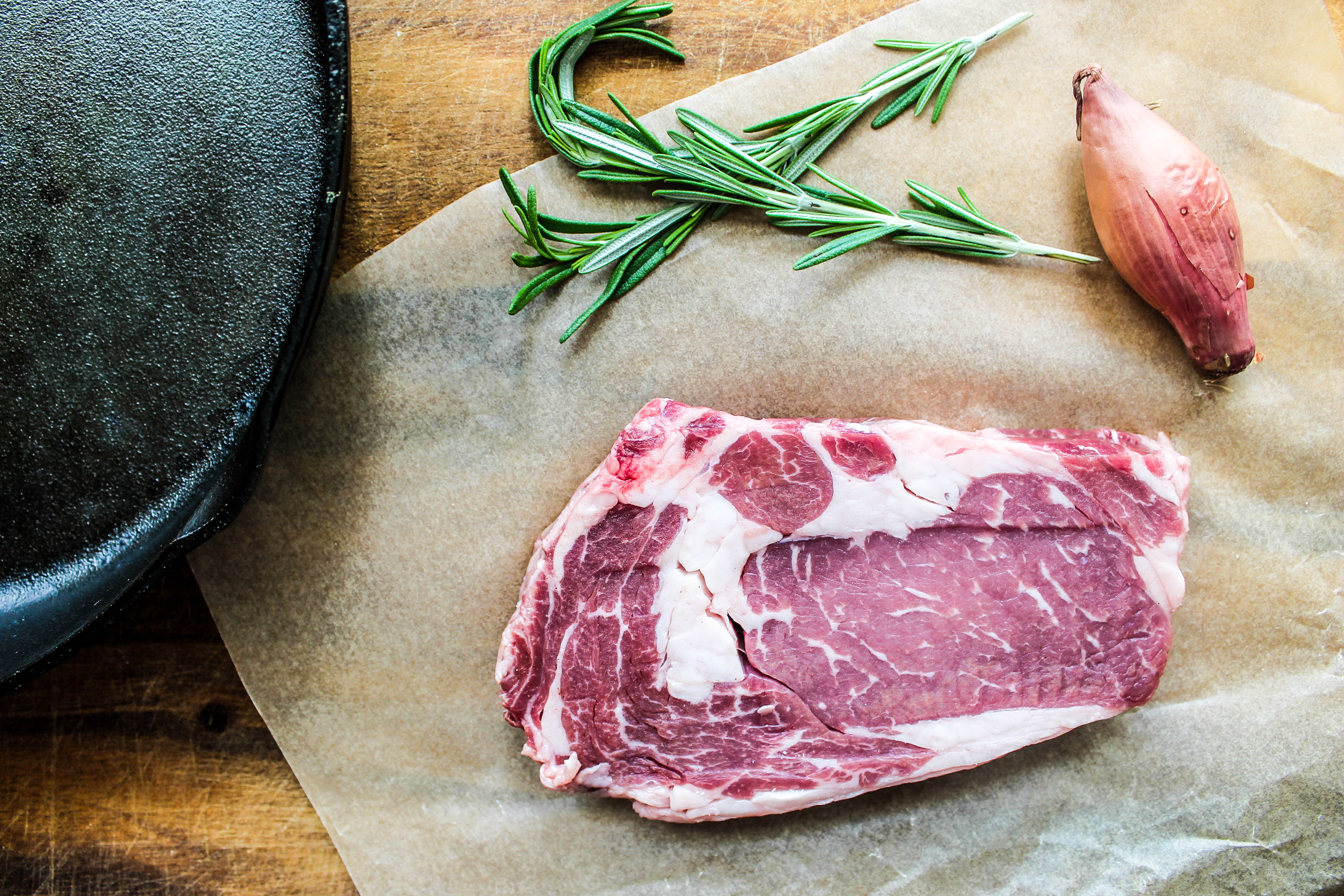 From the Ribeye Snack, the Cast Iron Skillet Steak was born! Kyle was on the lookout for the perfect method to cook steaks in a manner he found superior to all the rest. He found a unique steak cooking method right on New York Times Cooking! After following their technique a few times, for Kyle, there is no looking back – this is his go-to method for cooking steaks.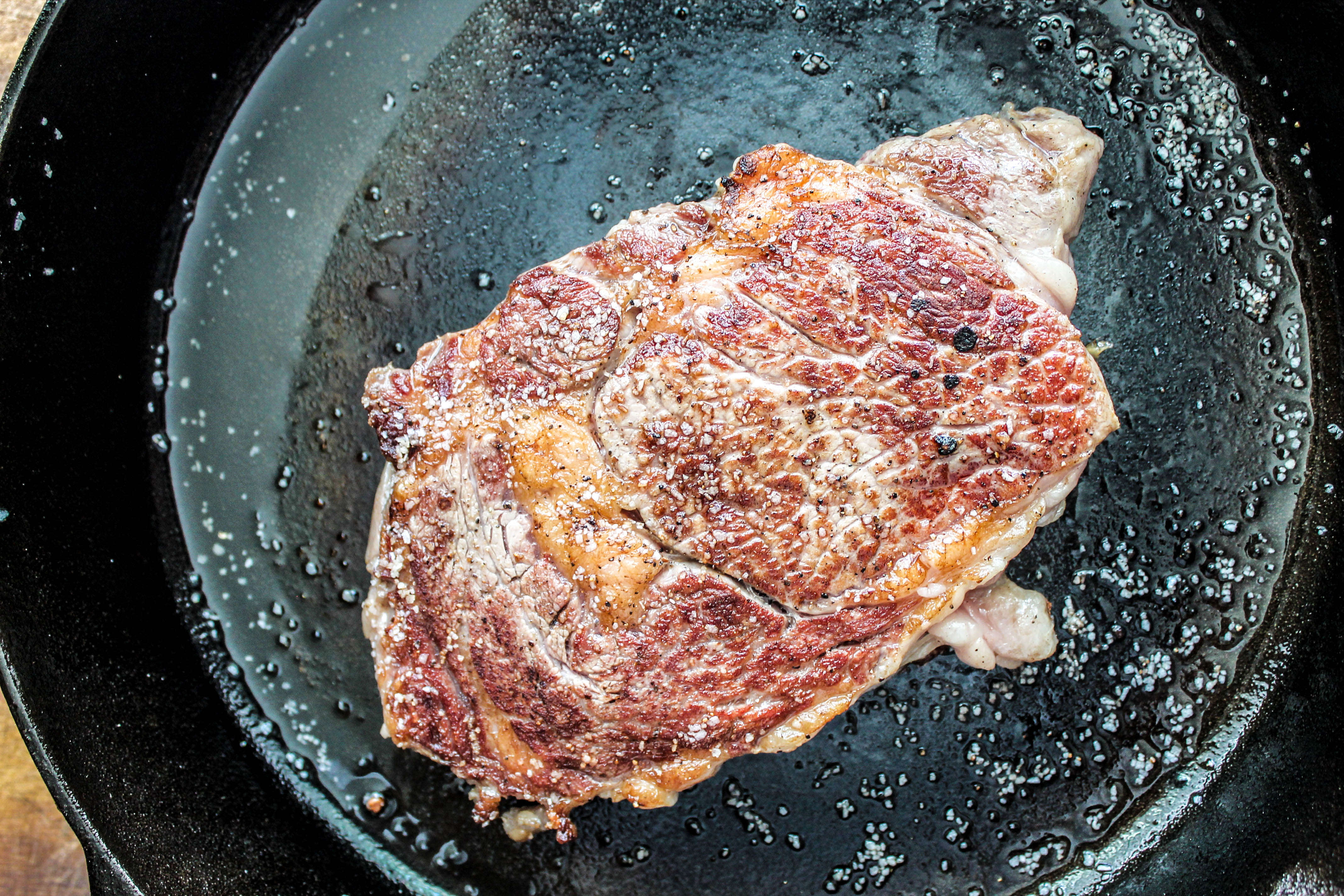 The NY Times Cooking method tends to deviate from conventional cooking norms in a few aspects: the meat itself isn't salted (instead the pan is preheated with salt), the steak is flipped from side to side early and often during cooking (instead of leaving the steak alone once it hits the pan), and it is cooked entirely on the stove top (whereas most home cooking methods instruct you to sear the steak on each side on the stove, then move the meat to the oven to finish cooking).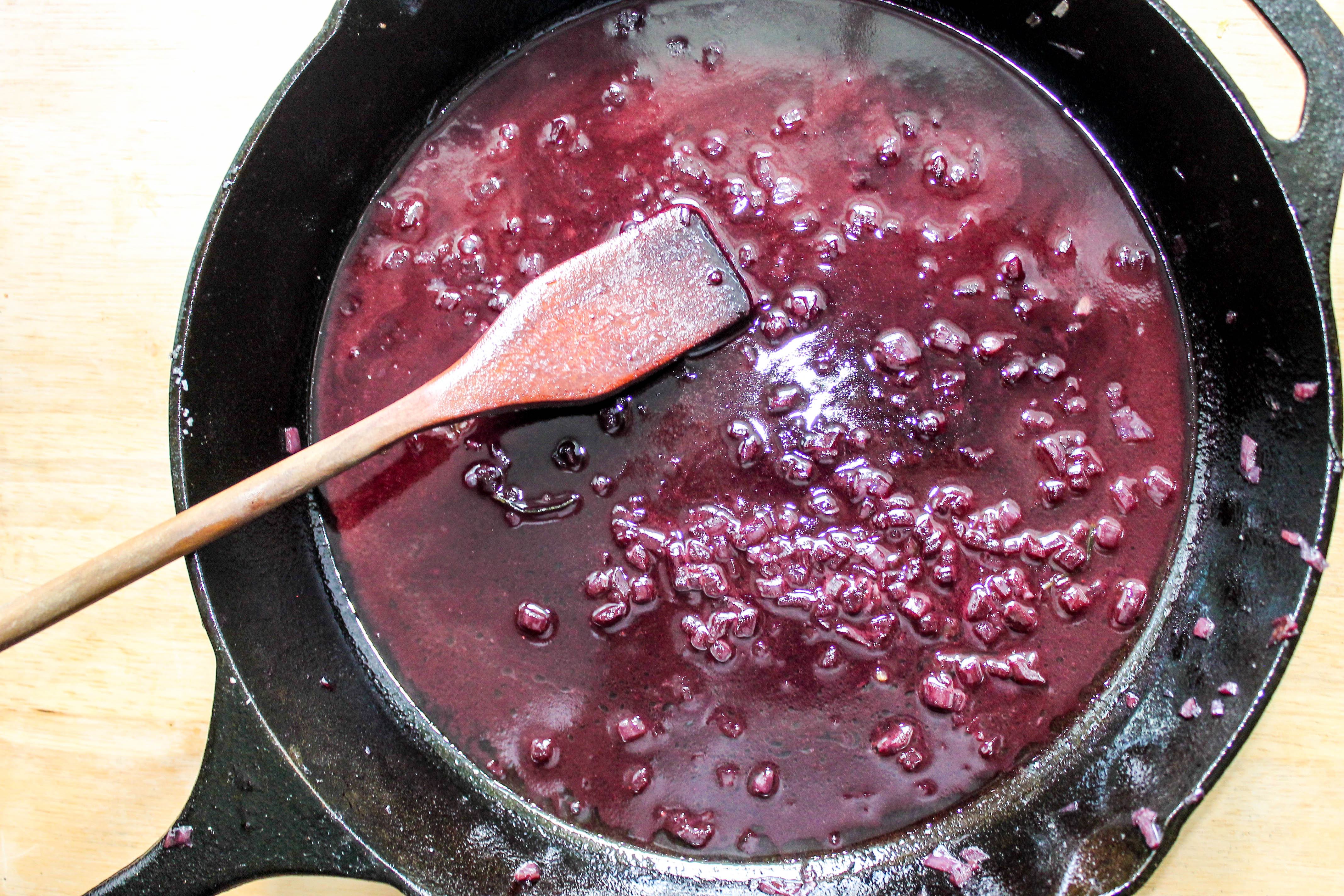 Instead, you heat a cast-iron skillet until it is super hot, douse the skillet itself with coarse salt, then sear the steak, flipping it every 30 to 60 seconds, until it is cooked medium-rare (only about 4 – 5 minutes).  Including resting time, you could can prepare a fancy, steakhouse-level dinner in your own kitchen in under 15 minutes! While we mainly use this method for ribeyes (Kyle loves the flavor you get from this fatty cut), NY Times suggests that anything from strip to flat-iron to skirt steak would work great with this technique.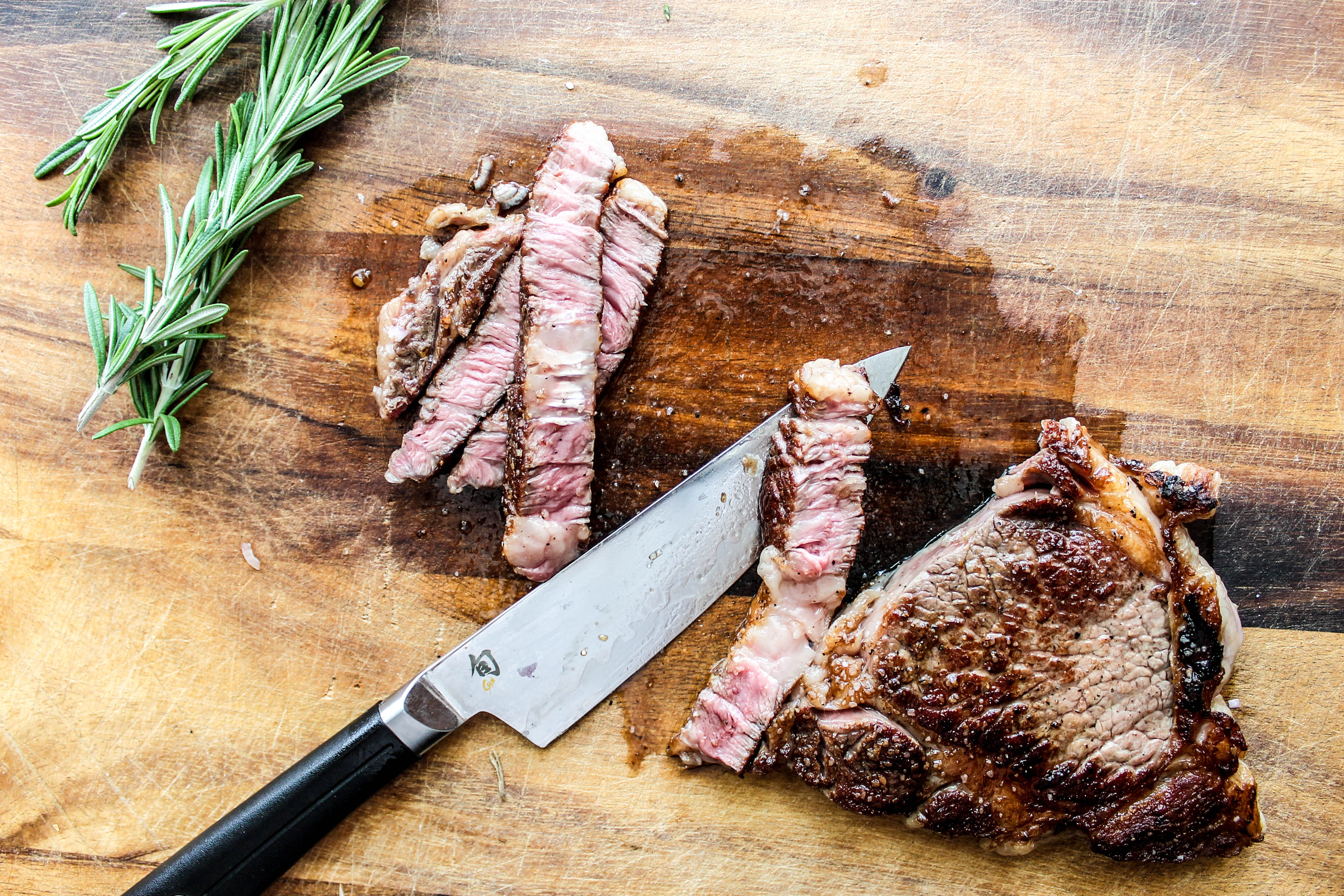 After cooking, the steak should rest for about 5 to 10 minutes before you slice and serve it, which is the perfect amount of time to prepare a red wine pan sauce to accompany the meat. Many people will argue that a good steak shouldn't need a sauce to improve it, however, there is a big difference between "need" and "want". Do we ever need a a gin & tonic to add to an evening with friends? The answer would be "no" (stay with me here), BUT we really want that gin & tonic to add to the vivacity of the evening – it just casts a special touch of magic to the event.  Adding the red wine reduction, flavored with some shallots and rosemary and enriched with a few pats of cold butter, will not make the steak any less delicious – it just adds to flavor of the meal (or snack).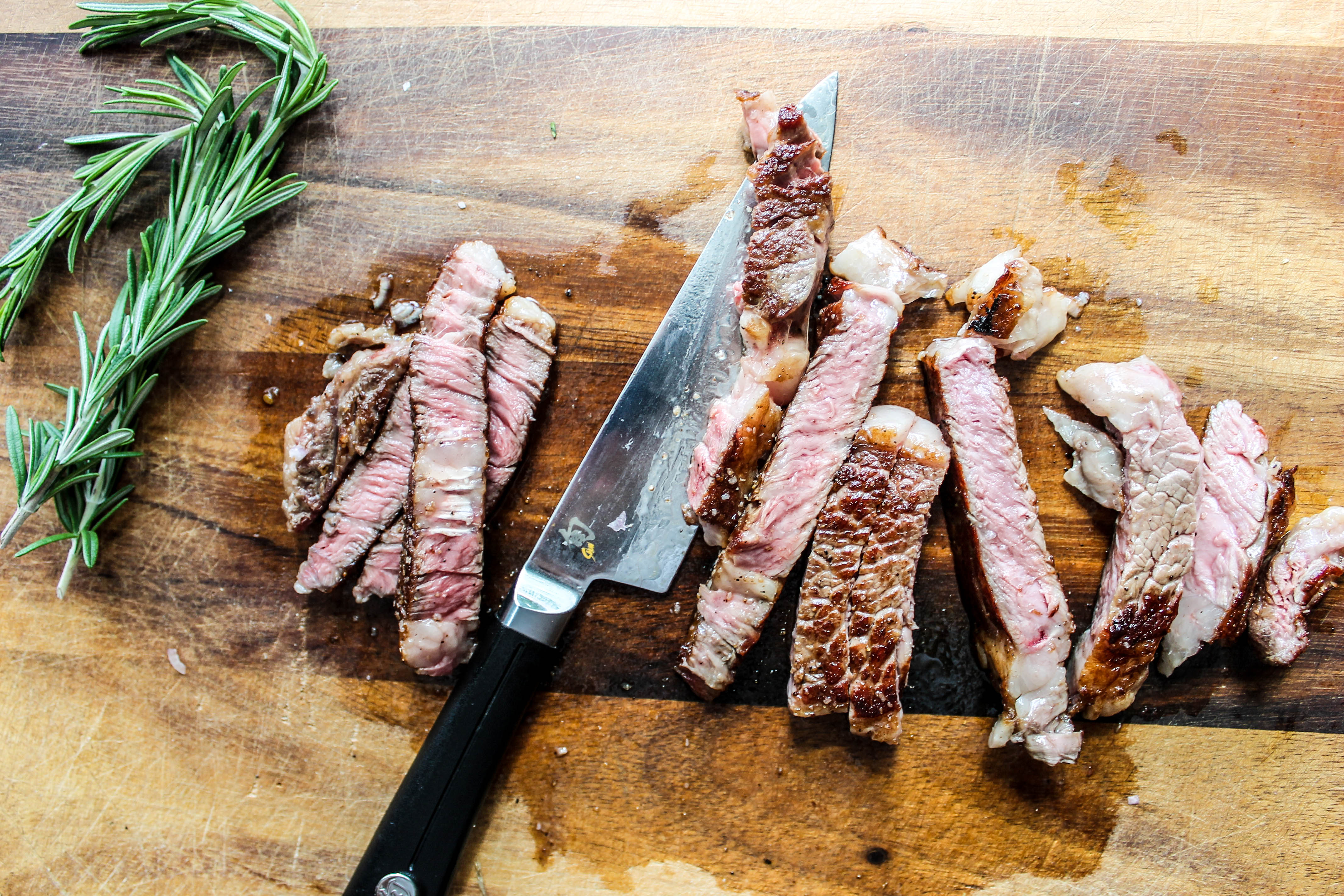 Adding the pats of cold butter to the sauce is actually a French culinary technique called monter au beurre, in which COLD butter (this is really important) is gradually whisked into a hot sauce, imparting richness and flavor while keeping the sauce emulsified and preventing the dreaded "breakage." In addition, if you swap a tablespoon or so of the butter with some crumbled blue cheese to add a layer of umami-funk to your sauce, this may cause Kyle threaten to move in with you. Just a warning….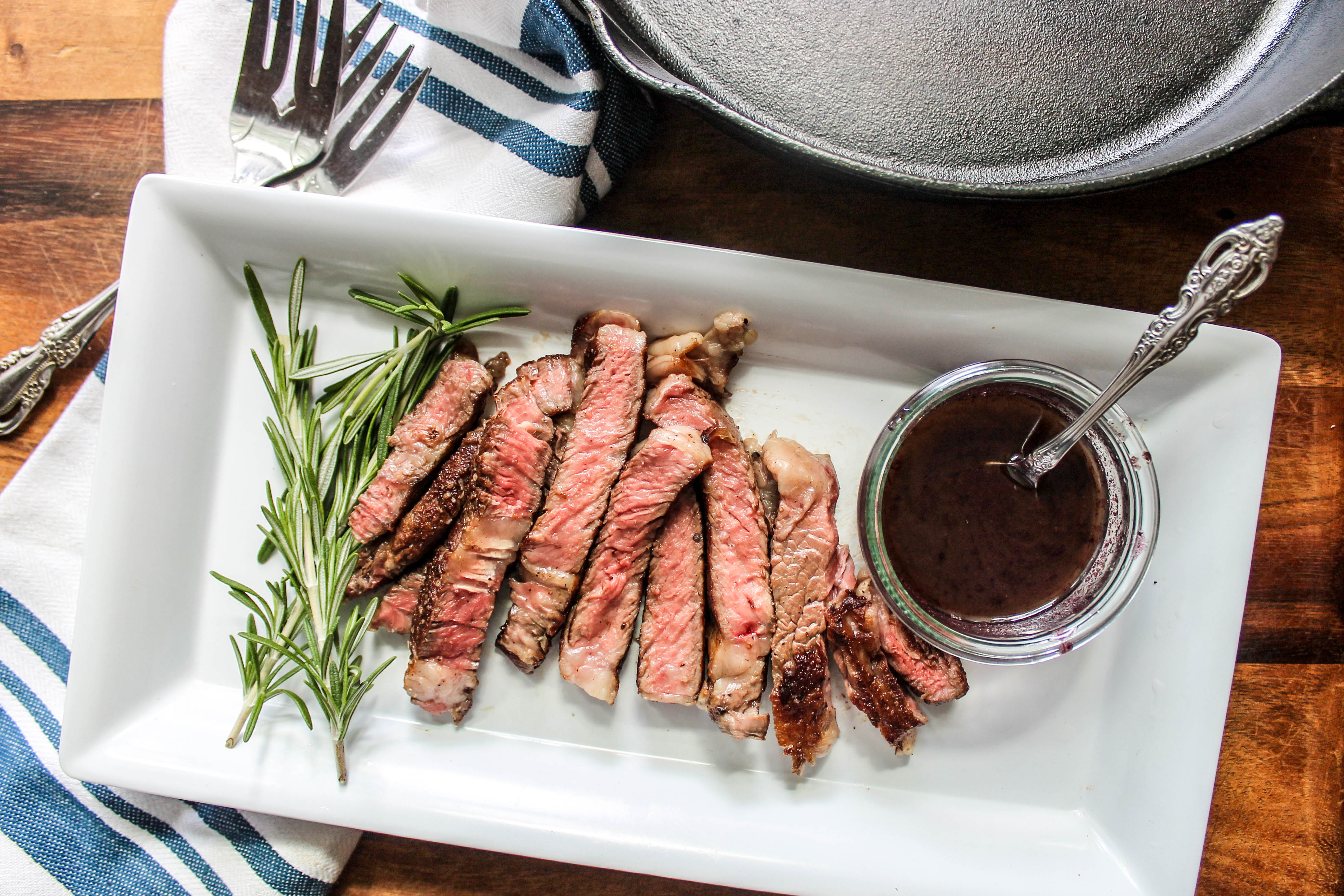 We will caution you, this method of cooking steak will make your kitchen SUPER smoky! You will need to turn on your exhaust fan, open a window or two, maybe even disable your smoke detector temporarily, because it is so worth it! The ridiculously high heat of the cast iron skillet plus the salt creates a crispy, flavorful crust that encases the tender, juicy meat within the cut of steak.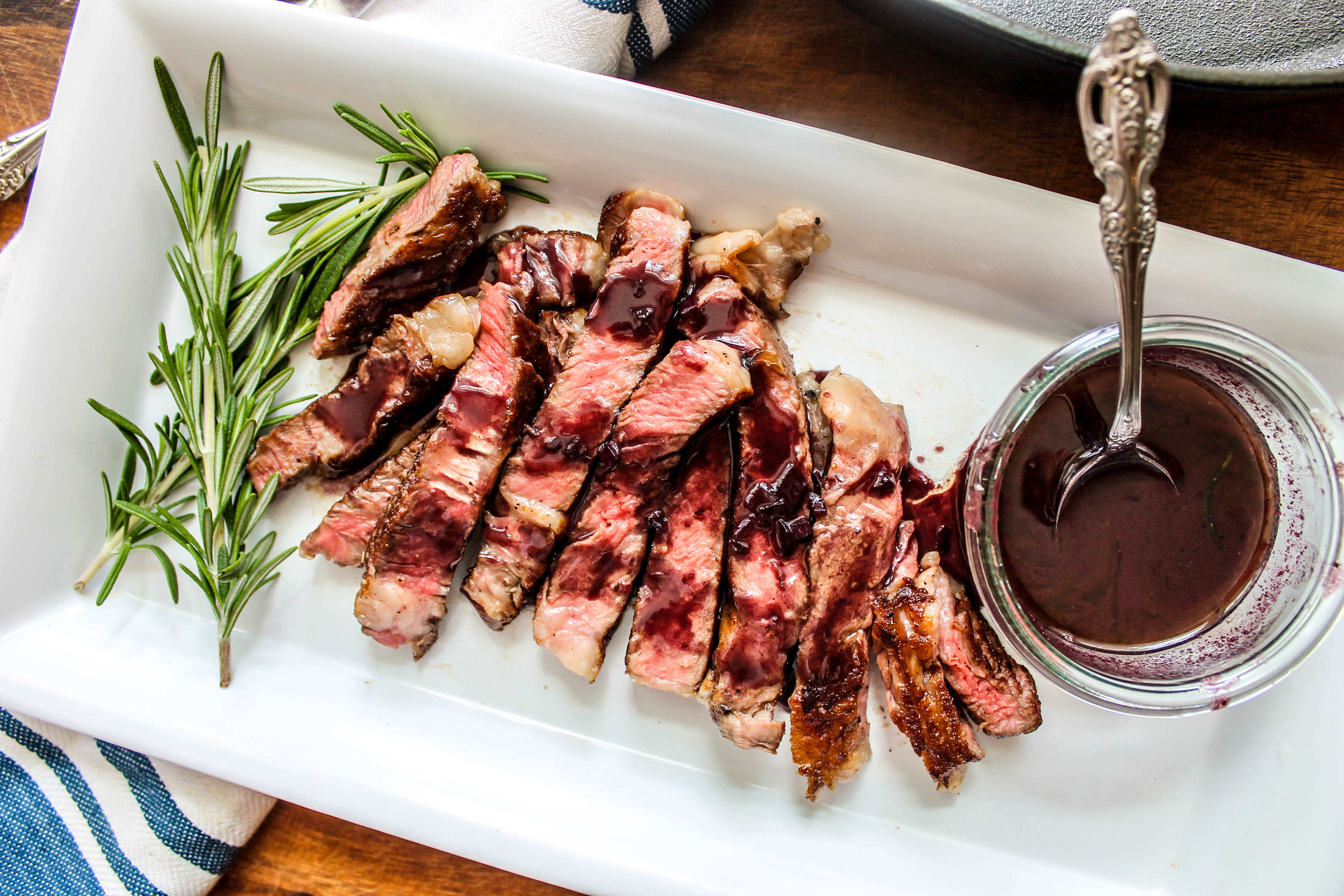 Kyle has found that following the NY Times technique has created the best steak he has ever made at home. Once the smoke completely clears and your eyes have stopped tearing, you will find that the steak will be fully rested. Then it is time to indulge!  To further satiate your steak eating experience you could serve it with our crispy, oven fries for a bistro-style steak-frites dinner, turning this combo into a quick, weeknight dinner staple at your house!
Technique adapted from New York Times Cooking.

Cast Iron Skillet Steak with Red Wine Sauce
Ingredients
For the Steak:
Coarse salt, such as kosher salt or Maldon sea salt
1 or 2 boneless beef steaks, 1 inch thick (about 2 pounds total), I used rib-eye, but strip, flat iron, chuck-eye, hanger or skirt would work great, too
Black pepper
For the Sauce:
1 tbsp. olive oil
1 shallot, minced
2 sprigs rosemary
1 cup red wine
3 tablespoons cold butter
Instructions
Pat steak dry with paper towels. Line a plate with paper towels, place steak on top and set aside to dry further and come to cool room temperature (30 to 60 minutes). Turn occasionally; replace paper towels as needed.
Place a cast-iron skillet on the stove and sprinkle lightly but evenly with about ¼ to ½ teaspoon kosher salt. Turn heat to medium-high under pan. Pat both sides of steak dry again.
When pan is smoking hot, 5 to 8 minutes, pat steak dry again and place in pan. (If using two steaks, cook in two batches. Also, if you have an exhaust fan above your stove, set it to "high" now.)
Let steak sizzle for 1 minute, then use tongs to flip it over, moving raw side of steak around in pan so both sides are salted. Press down gently to ensure even contact between steak and pan. Keep cooking over very high heat, flipping steak every 30 seconds. After it's been turned a few times, sprinkle in two pinches salt. If using pepper, add it now.
When steak has contracted in size and developed a dark-brown crust, about 4 minutes total, check for doneness. To the touch, meat should feel softly springy but not squishy. If using an instant-read thermometer, insert into side of steak. For medium-rare meat, 120 to 125 degrees is ideal: Steak will continue cooking after being removed from heat. Cover steak lightly with foil and rest for 5 to 10 minutes.
While the steak rests, prepare the red wine sauce. Turn the heat off of the stove, and wipe the salt and rendered fat out of the skillet with a towel. Add 1 tablespoon oil, shallots, and rosemary, and stir occasionally until the shallots have softened, about 3 -4 minutes (usually the residual heat is enough to soften the shallots, but if needed, turn the heat back to medium-low).
Add red wine and increase heat to medium-high. Bring mixture to a boil and cook, stirring from time to time, until the liquid reduces by about half. Remove and discard the rosemary sprigs, reduce heat to medium-low, then add the cold butter, stirring constantly until it is fully incorporated. Serve sauce with the steak.
Please follow and like us: