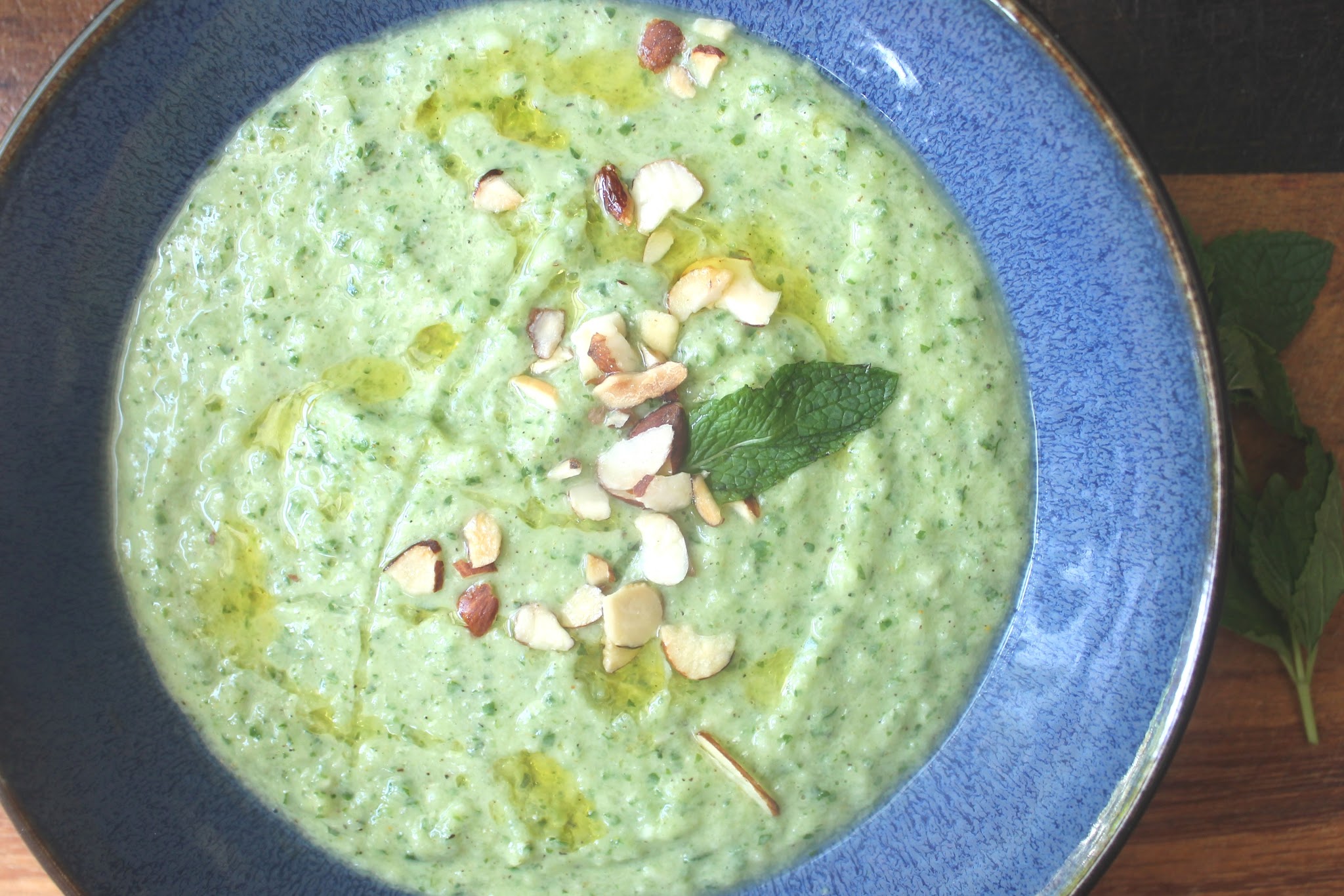 At the time of writing this post, the American Northeast is experiencing its first truly sweltering days after a short-lived "spring" that involved more rain and cold than were necessary.  It left the distinct impression that Mother Nature had mixed up her meds.  To help combat the nearly oppressive heat, we've turned our attention to lighter fare that utilizes fresh ingredients, is served cold, and does NOT require you to even so much as glance at the oven or stove, much less turn them on.  This particular dish is inspired by a recipe the appeared in the Philadelphia Chef's Table cookbook from famed local chef Rich Landau, who has been turning out spectacular vegan fare in the city and it environs for over two decades—first at the much missed Horizons, then at the swanky vegan dining destination Vedge.  If you're ever in Philly, do yourself a favor (whether you're vegan or not), and check it out.  The small plates menu showcases some of the most delicious, creative fare you'll find in the city.  So much so that even the most devout omnivore  won't miss the meat, dairy or eggs.  They boast a pretty spectacular wine and cocktail list, to boot.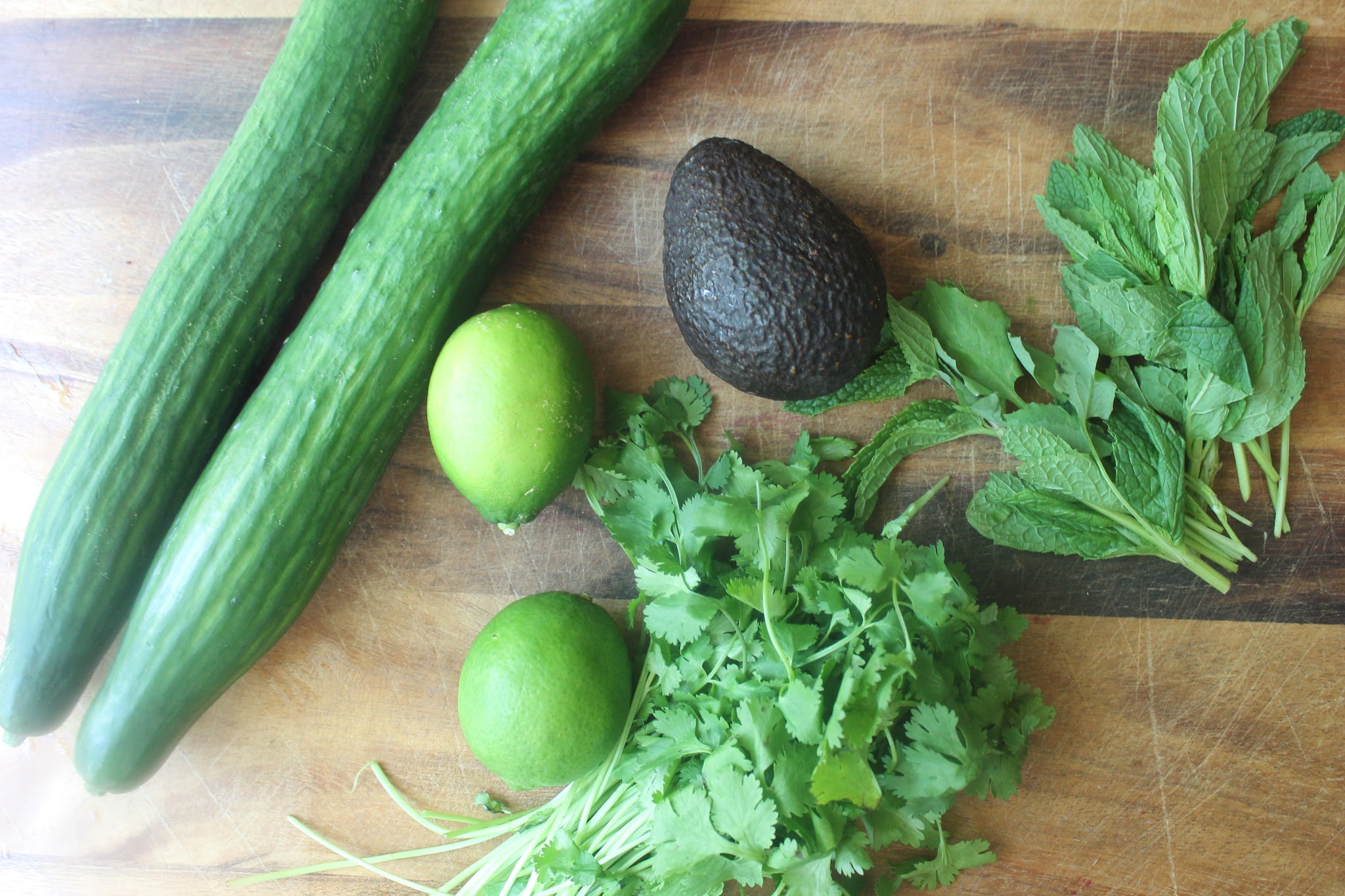 While this adaptation of the soup is not vegan, knowing that it is a tried and tested option in that realm makes this a great menu option should you find yourself having to accommodate those dietary restrictions for some of your dinner guests.  This bright, refreshing chilled cucumber soup features a slightly streamlined recipe from the original.  We've omitted the raw onion and dijon mustard, who's more intense flavors threatened to overpower the more delicate vegetal and herbal ingredients.  Not wanting to sacrifice the savory undertones of the soup entirely, a couple of cloves of fresh garlic were added instead.  This allows the taste and texture of the fresh mint and cilantro, the brightness of the cucumber and lime, and the creaminess of the avocado to take center stage in beautiful, balanced harmony.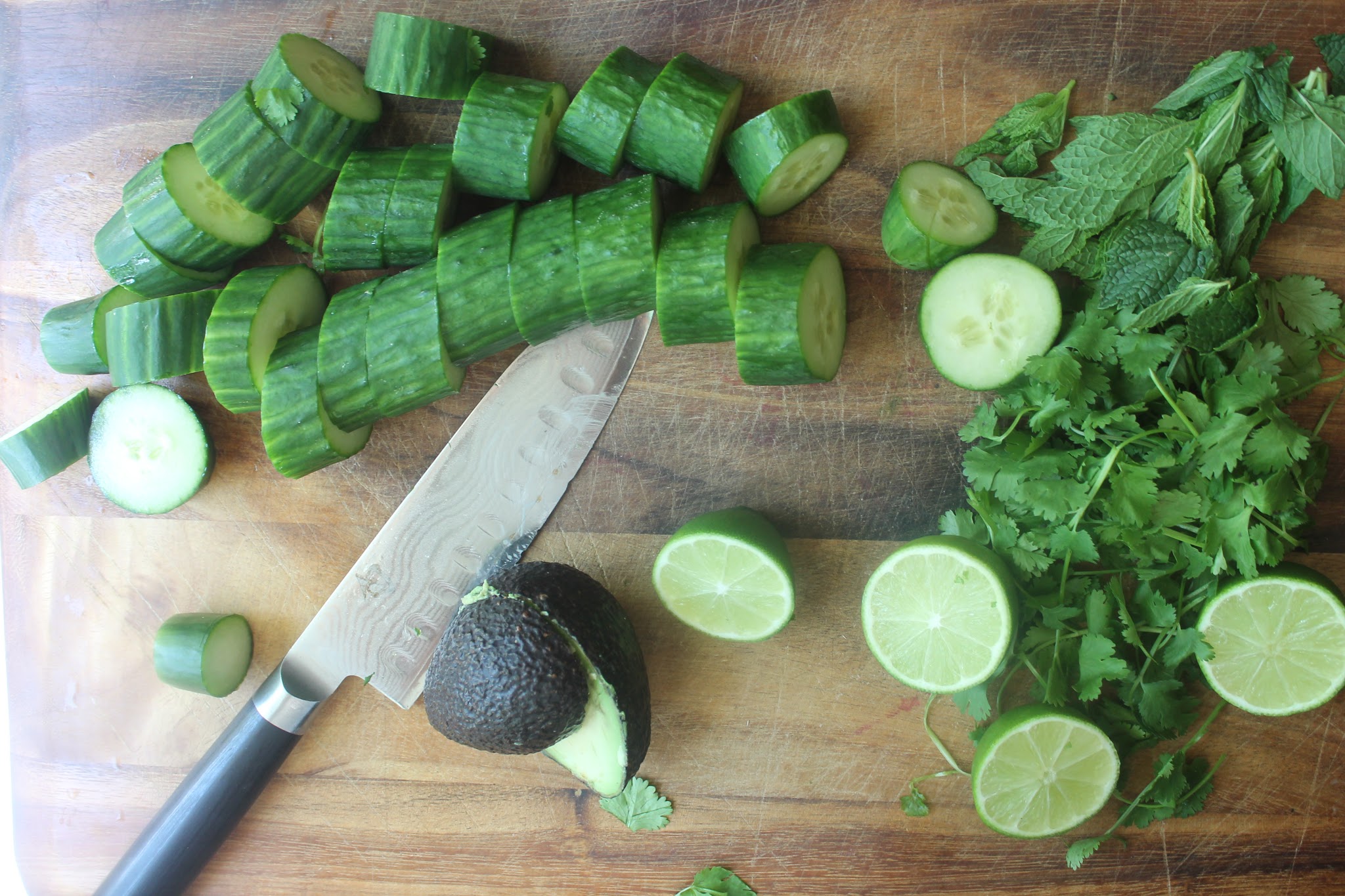 In lieu of the vegan mayonnaise and/or sour cream that Landau includes for the purpose of adding "creaminess" to the soup—neither of which we had on hand—we used plain Greek yoghurt.  If you wish to make the vegan version, but have soy issues, feel free to grab a can of coconut cream from the Asian section of your supermarket and add it in.  It'll add body to the soup, as well as a hint of coconut that will play nicely into the cool, summery character of the dish.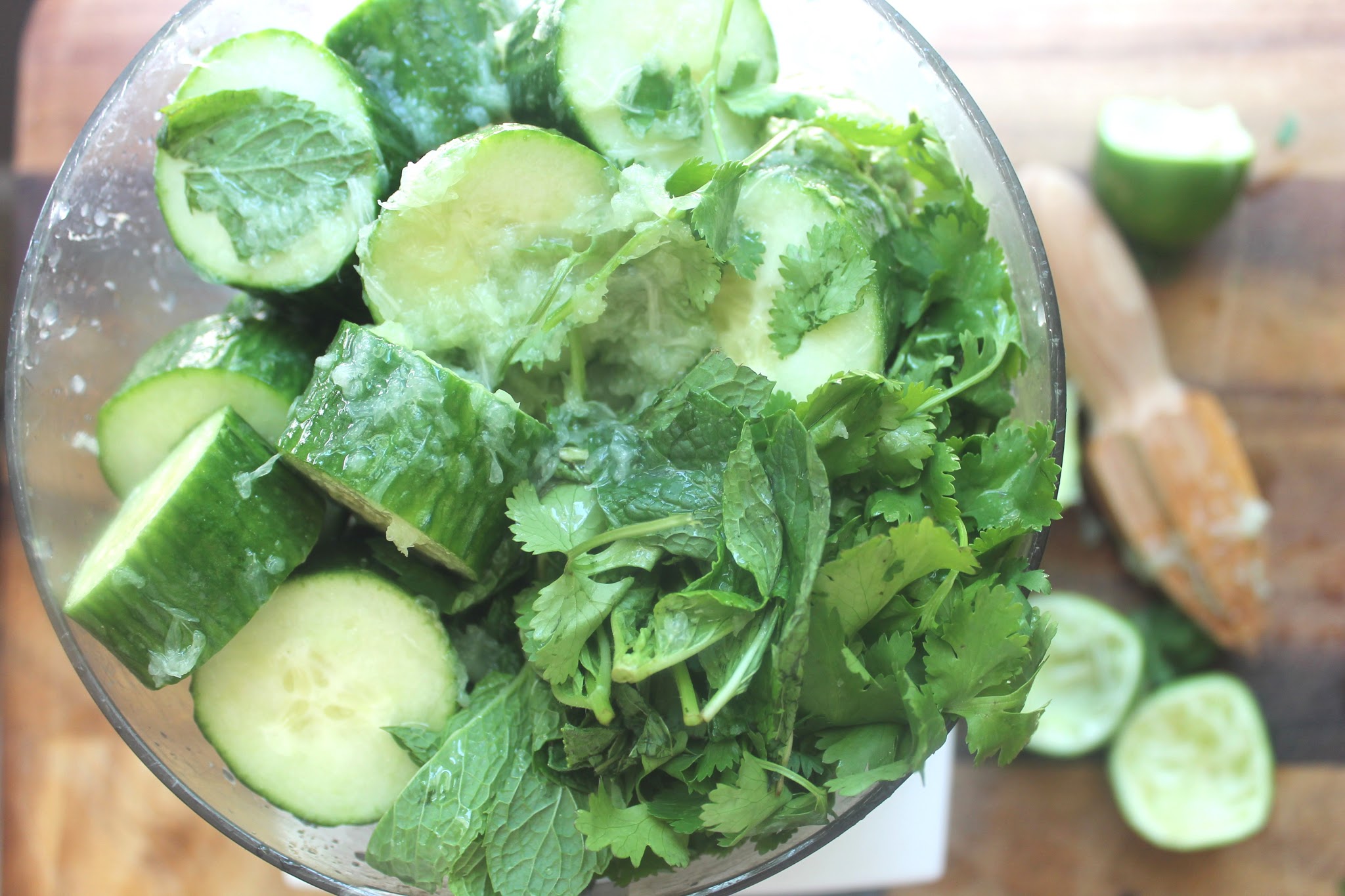 While we felt fairly comfortable tinkering with the ingredients a bit, one instruction that we followed without question was the use of a food processor, rather than a blender.  According to Landau, the blender will leave the soup runny and loose, while the food processor gives a savory "shaved ice" texture to the finished product that just sounds so much more appealing–and potentially successful–when combating the heat.  It has the added advantage of simplicity, as it requires minimal chopping and peeling.  You just toss everything into the food processor, then blend away.  Our version features a garnish of toasted, sliced almonds, but any lightly toasted nut or seed will do beautifully—pumpkin seeds (as the original recipe suggests), pine nuts, hazelnuts, sunflower seeds, etc.  Just use what you have on hand, as we often do.  Grab a spoon and dig in, and before you know it, you'll be feeling as cool as a cucumber.  Enjoy!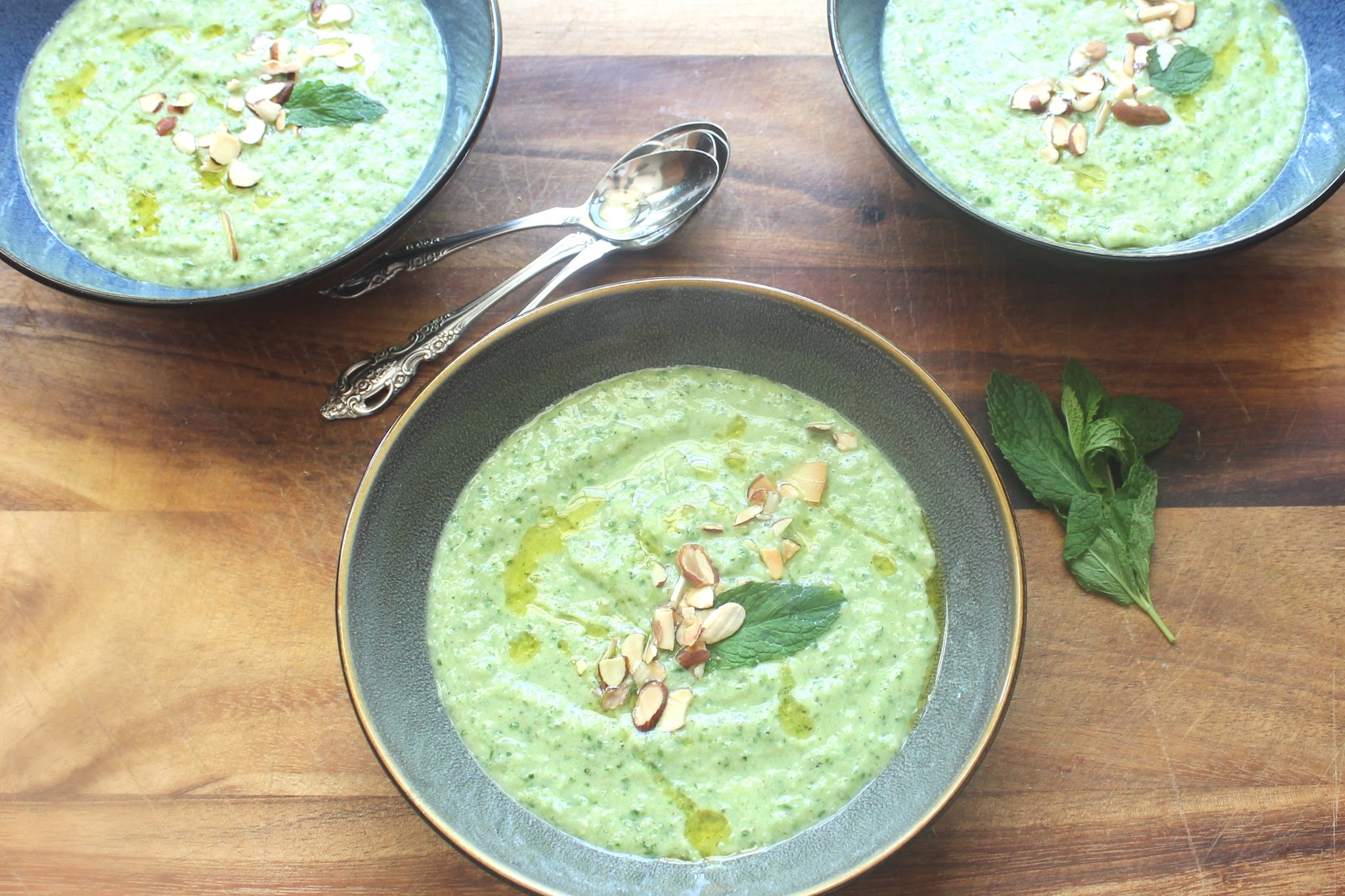 Inspired by Rich Landau via Philadelphia Chef's Table.

Chilled Cucumber Avocado Soup
Ingredients
2 large cucumbers, roughly chopped
¼ cup mint
¼ cup cilantro
1 avocado, pitted and roughly chopped
2 garlic cloves, peeled
¼ teaspoon cumin
¼ teaspoon curry powder
2 tablespoons extra virgin olive oil
¼ cup Greek yogurt
juice of two limes
1 ¼ teaspoons sea salt
1 ½ teaspoons black pepper
1 cup cold water
For garnish:
¼ cup sliced toasted almonds
2 tablespoons extra virgin olive oil
a few reserved mint leaves
Instructions
Puree all ingredients in a food processor until smooth and creamy. Chill for at least one hour.
To serve: evenly divide soup between four bowls and garnish with almonds, olive oil and reserved mint leaves.
Please follow and like us: