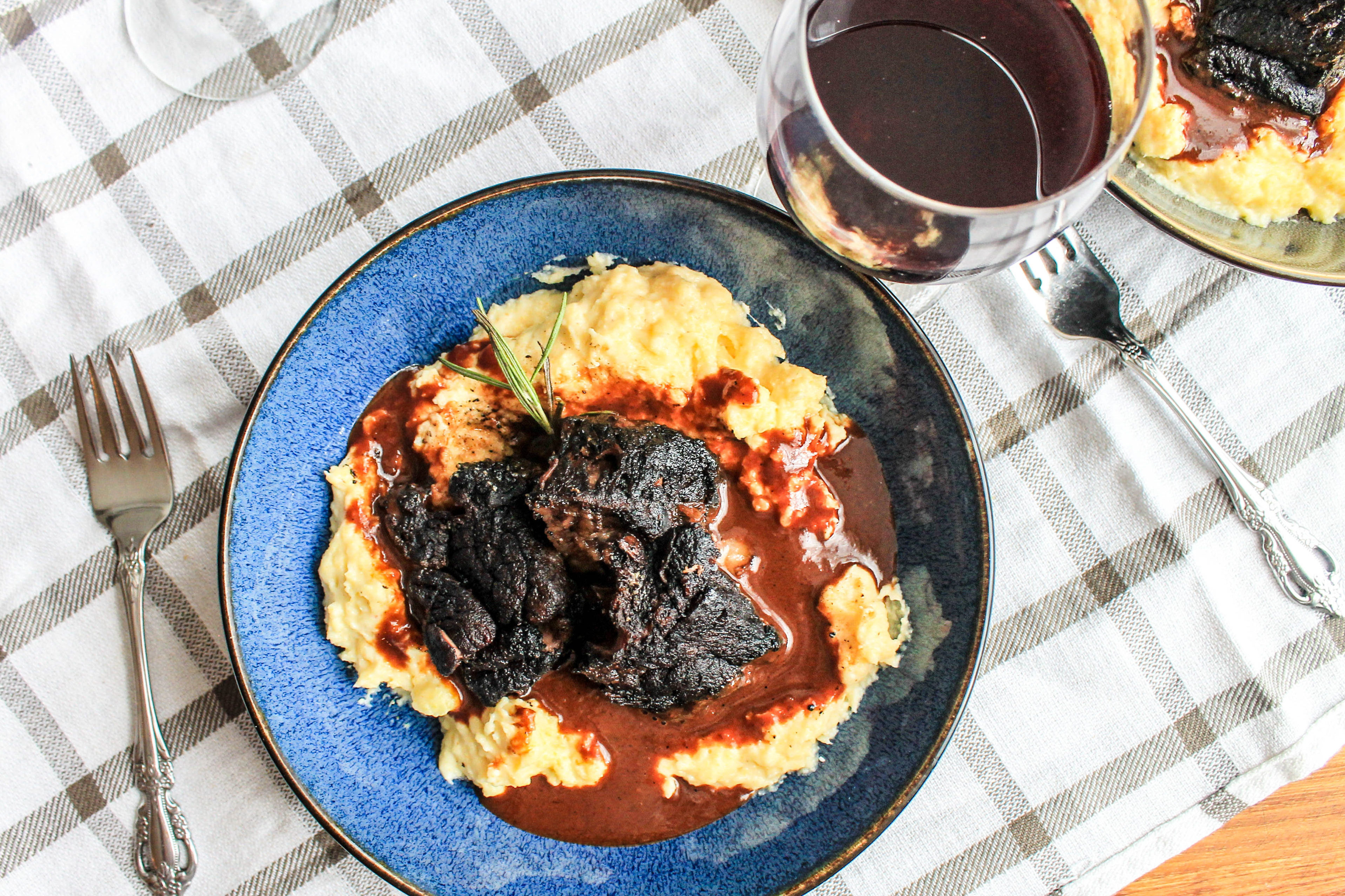 Happy Valentine's Day! For those of you who are not completely jazzed about this particular holiday, not a problem. Whether you wish to celebrate this romantic jubilee or not,  your desire to indulge with a meal including short ribs, red wine and chocolate will have you falling in love with this dish!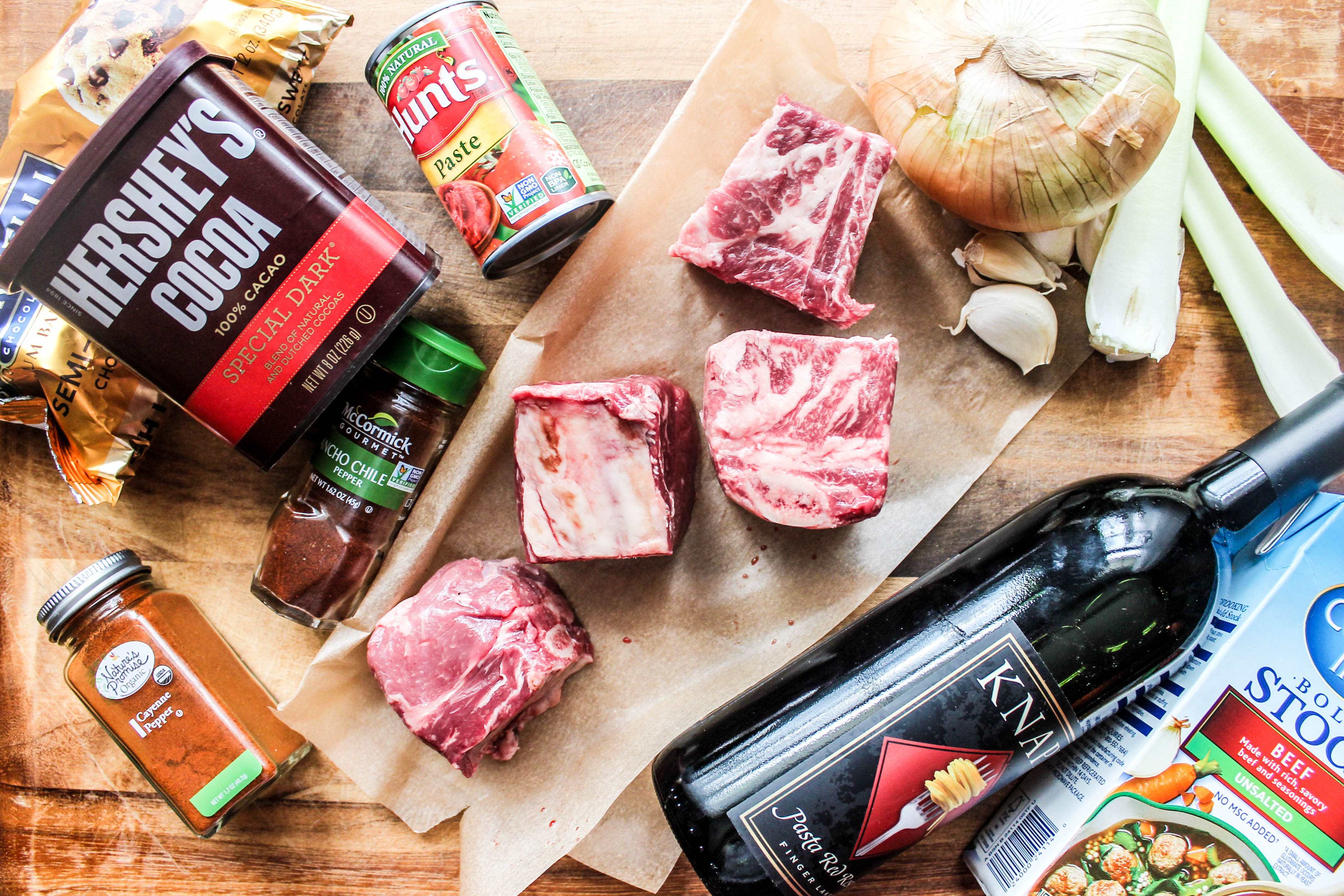 While Kyle was thinking up ideas for a chocolate-centric, Valentine's Day-themed post, he chose not to go with the traditional dessert route. The inspiration for this recipe was discovered from a savory chocolate dish that he enjoyed  last year.  This recipe is adapted from one of our themed food evenings – Belgian Night (the same night that spawned these ridiculously crispy oven fries!).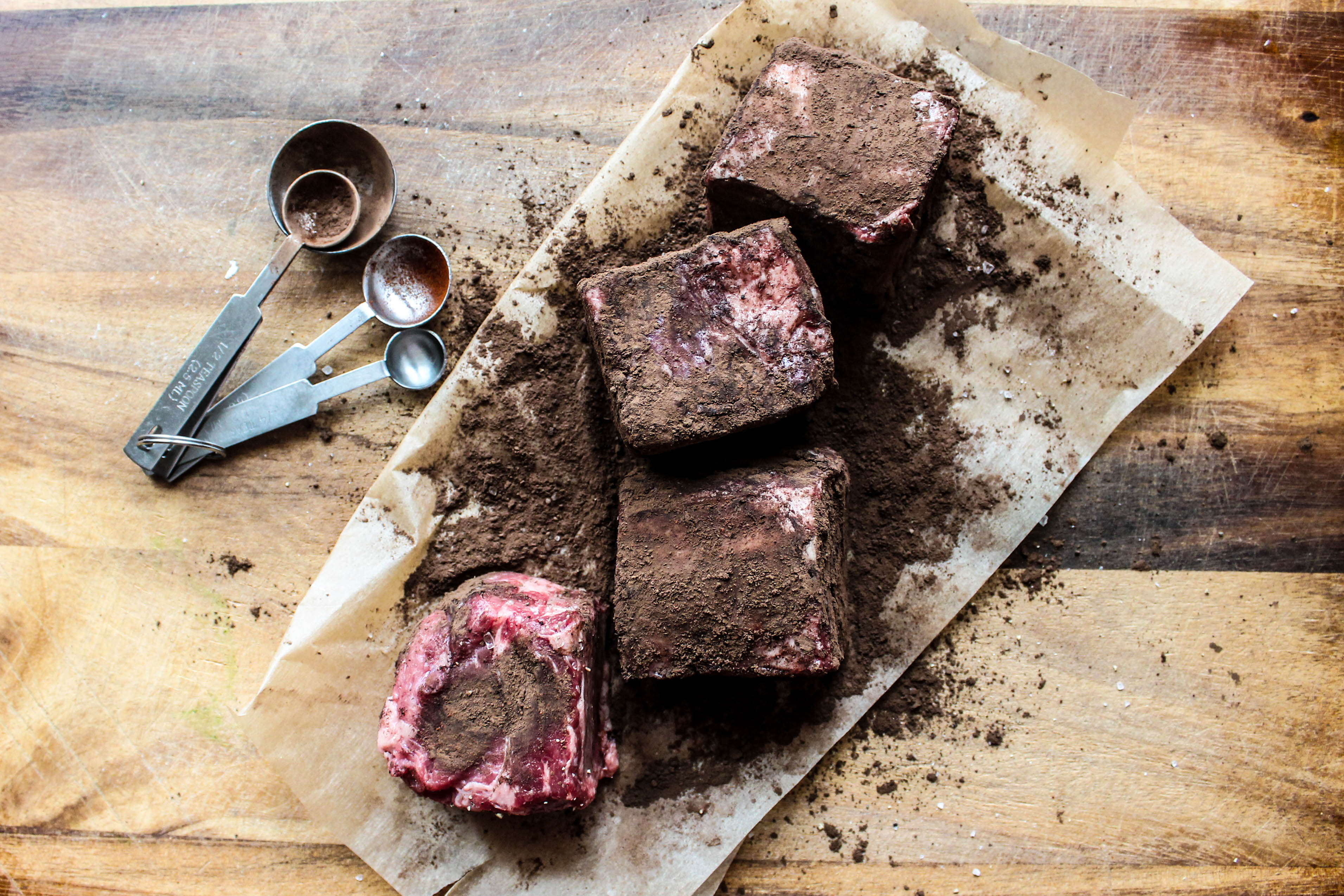 On Kyle's trip to Belgium a few years ago, there was extreme interest in visiting a restaurant in Bruges that was renowned for serving spareribs in a chocolate beer sauce. Yes, that's chocolate, beer, AND ribs all in one dish – the combo sounded too uniquely delicious to pass up.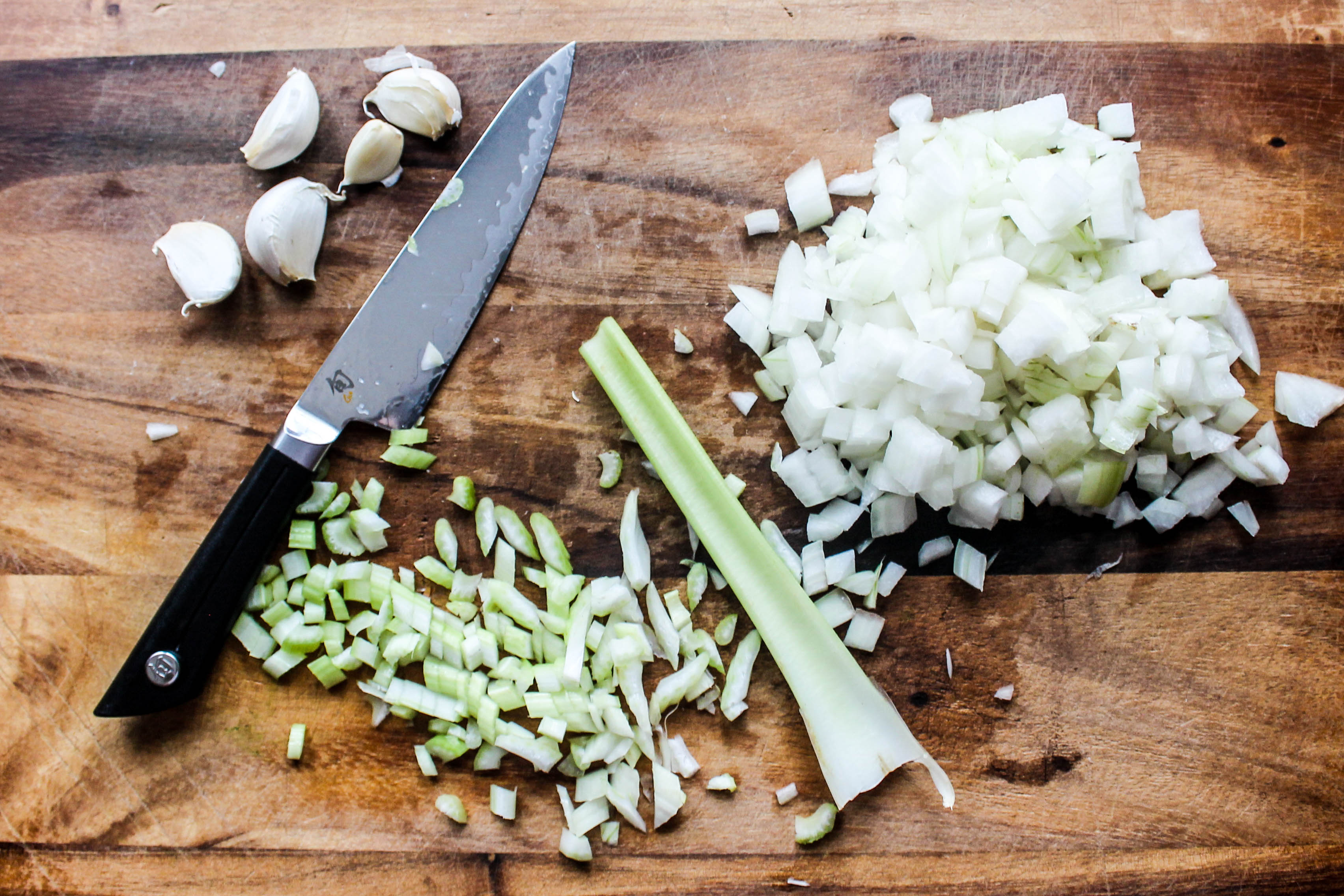 But, alas, the restaurant was too fully booked to accommodate his group during their stay in Bruges. So, the dream of the magic moment of sampling chocolate beer ribs came to a disappointing end. We will fast forward a few years to our Belgian Night, where the distant memory of those ribs became our motivating ambition to create and devour the ribs that eluded Kyle in Europe.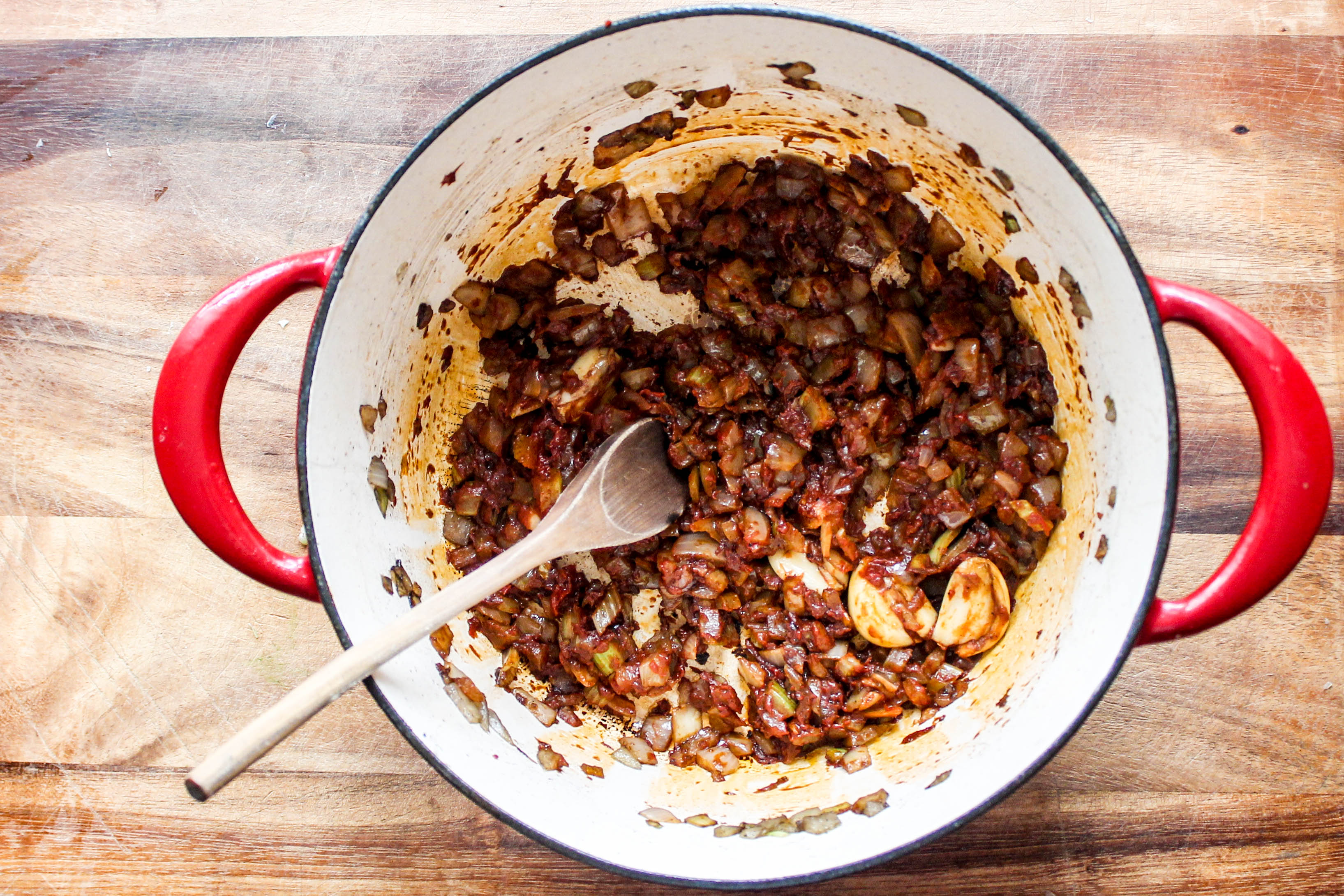 Typically on this site, the primary motive is to recreate restaurant dishes that we've actually eaten. This time, we were attempting to recreate a dish that existed only as folklore for our group, presenting a fun new challenge.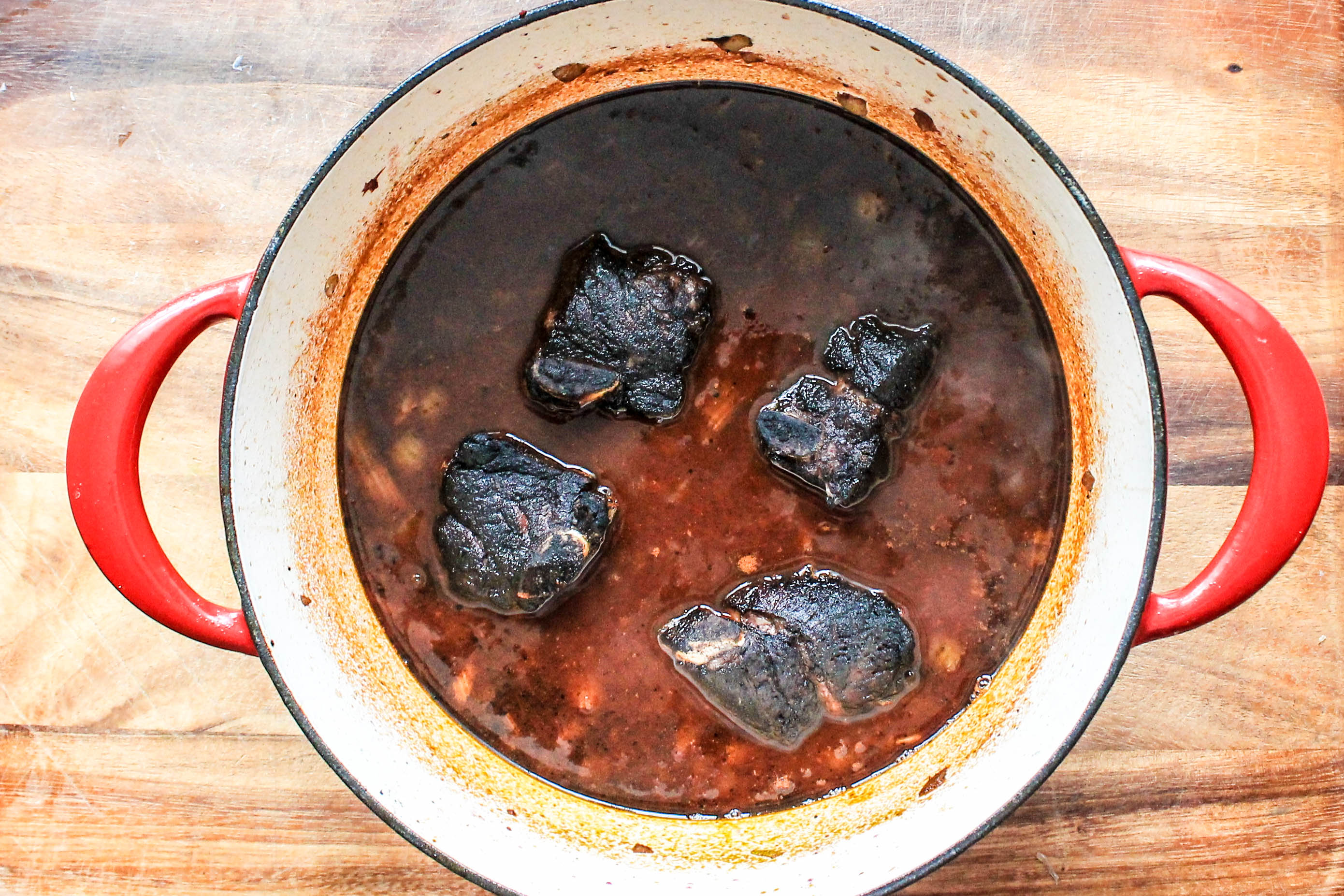 Thanks to Kyle's expertise in recipe research, he came upon a recipe in Saveur that had a Chocolate Barbecue sauce. With a little tinkering by adding beer to emulate the Bruges chocolate beer sauce, he created a deeply flavored and surprisingly delicious sauce for the ribs.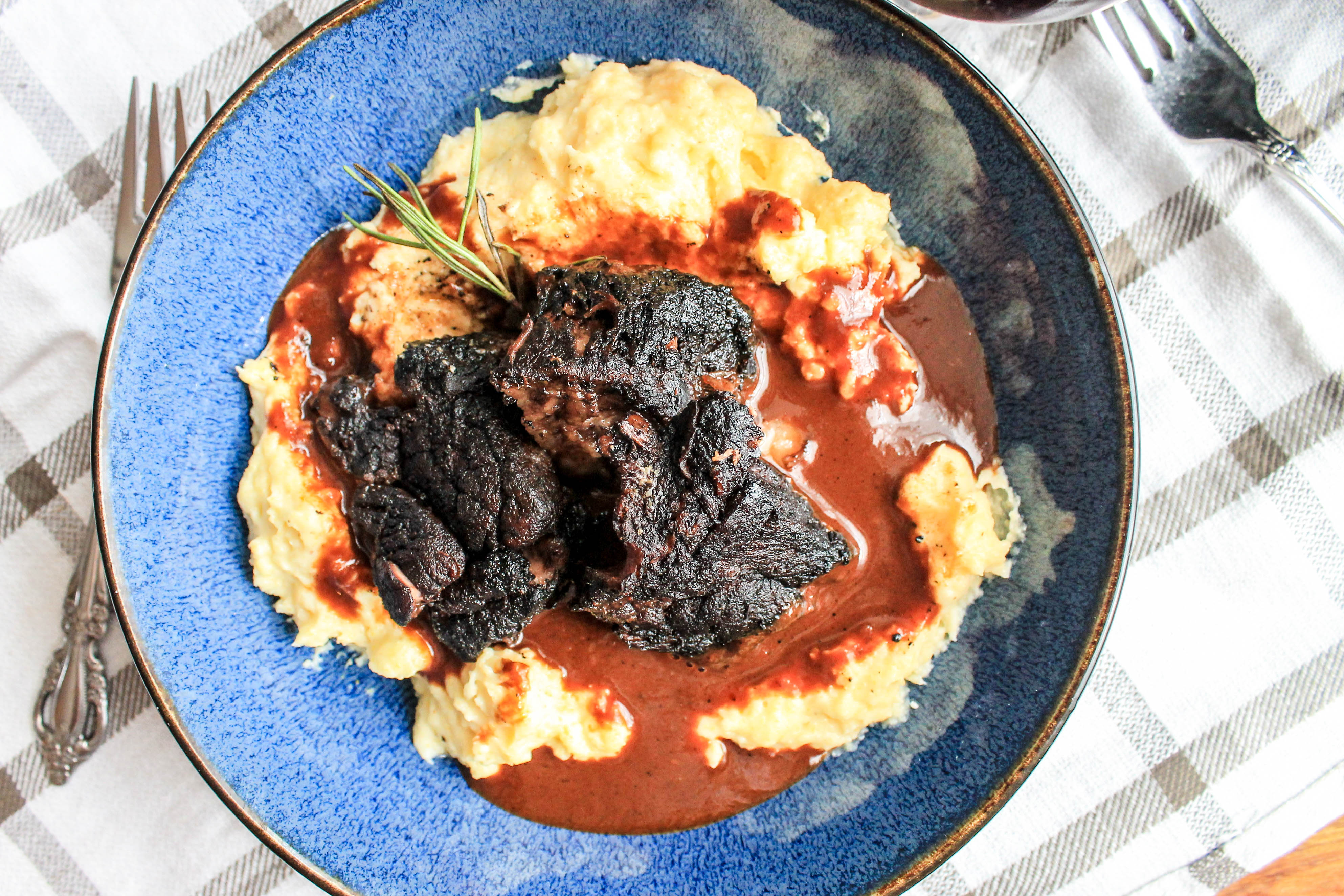 Because gnawing on rib bones while schmearing barbecue sauce all over one's face doesn't conjure up the most romantic date-night image, Kyle set about developing a braised short rib version of the Chocolate Barbecue Spareribs. Short ribs are one of our ultimate comfort foods (a definite theme on our blog as of late). Eating them can be the equivalent of a huge, warm hug, which seemed fitting for a Valentine's Day inspired meal. He substituted the beer from the barbecue sauce with red wine (in one genius substitution he rendered the sauce gluten free!) and tinkered with the proportions of the ingredients, transforming the barbecue sauce into more of a braising liquid.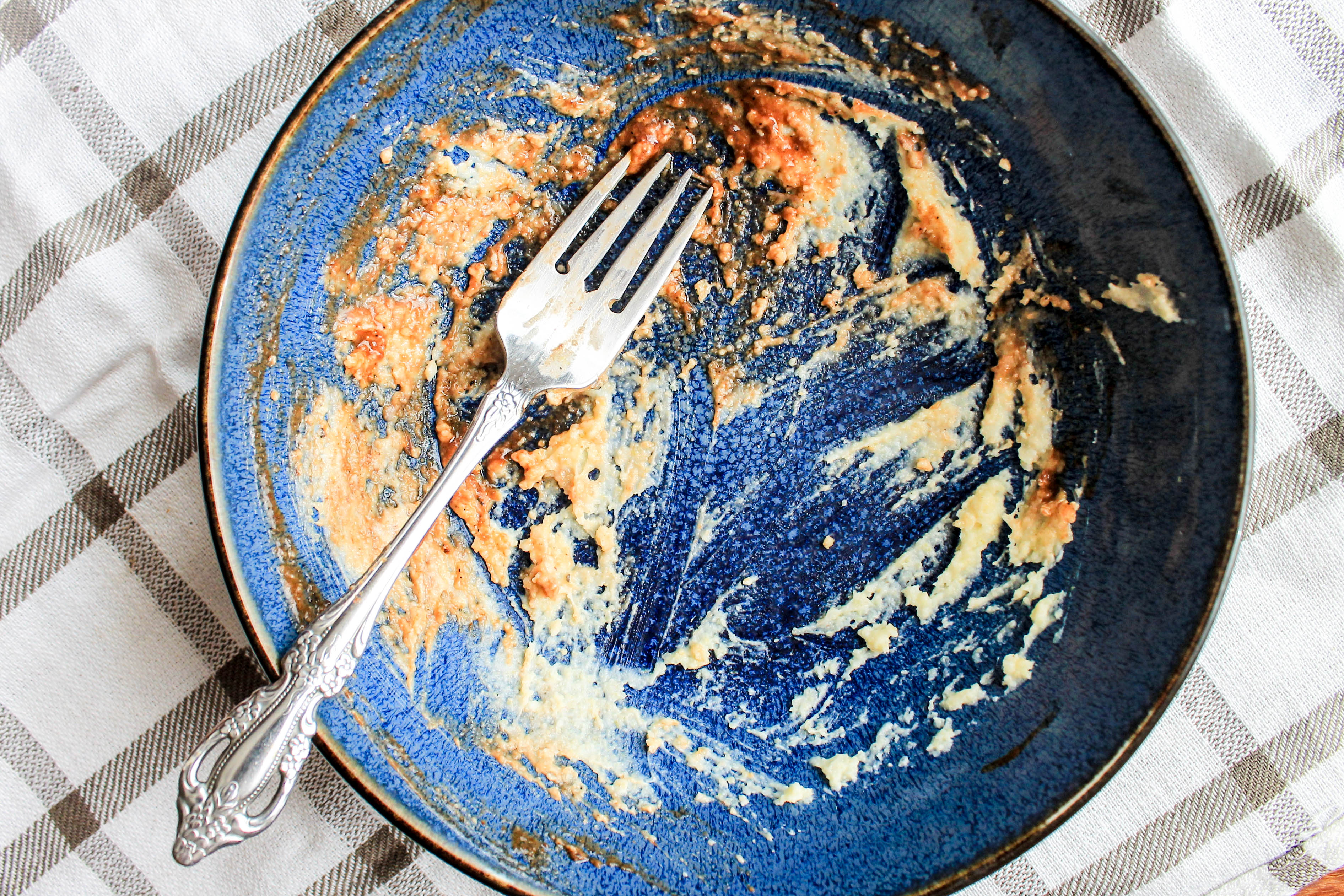 We know some of you may have a fear of adding the chocolate to the sauce, but please leave your fears behind you. The final dish does not taste like hot fudge sauce, we promise! The chocolate helps add a unique richness and depth of flavor that elevates the more traditional red wine braised short rib. Served over a bed of our Ultra Creamy Polenta to mop up all the deliciousness, this makes the ultimate date-night or special occasion meal!
Inspired by Saveur, here and here.

Chocolate & Red Wine Braised Short Ribs
Ingredients
3 tbsp. olive oil
3 lb. bone-in short ribs
Kosher salt and freshly ground black pepper, to taste
3 tbsp. unsweetened cocoa powder
1 tbsp. Ancho chili powder
5 cloves garlic, smashed
2 stalks celery, chopped
1 large yellow onion, chopped
1⁄4 cup tomato paste
3 cups full-bodied red wine, such as nero d'avola
2 cups beef stock
2 bay leaves
2 tbsp. dark brown sugar
1 tbsp. Worcestershire sauce
2 tbsp. balsamic vinegar
¼ tsp. cayenne pepper
3 tbsp. semi-sweet chocolate (I just used 3 tbsp. Chocolate chips!)
2 tbsp. unsalted butter
Instructions
Heat oven to 300°. Heat oil in an 8-qt. Dutch oven over medium-high heat. Season ribs with salt and pepper; rub with cocoa powder and chili powder.
Working in batches, cook ribs, turning as needed, until browned, 8–10 minutes; transfer to a plate.
Add garlic, celery and, onion to pan; cook until soft, 6–8 minutes. Add tomato paste; cook 3 minutes. Add wine; reduce by half, 4–6 minutes. Return ribs to pan and add stock, bay leaves, sugar, Worcestershire, vinegar and cayenne; bring to a boil. Cover and bake until beef is very tender, 2 to 2½ hours. Transfer ribs to a plate; discard bones. Slice ribs in half crosswise.
Spoon fat from surface of sauce. Place pan over medium-high heat and add semi-sweet chocolate; simmer until liquid is reduced to about 2 cups, 10 - 15 minutes, then strain into a bowl. Stir in butte and season with salt and pepper to taste.
Serve short ribs and sauce over polenta, mashed potatoes, or any other creamy starch that will sop up the deliciousness.
Please follow and like us: