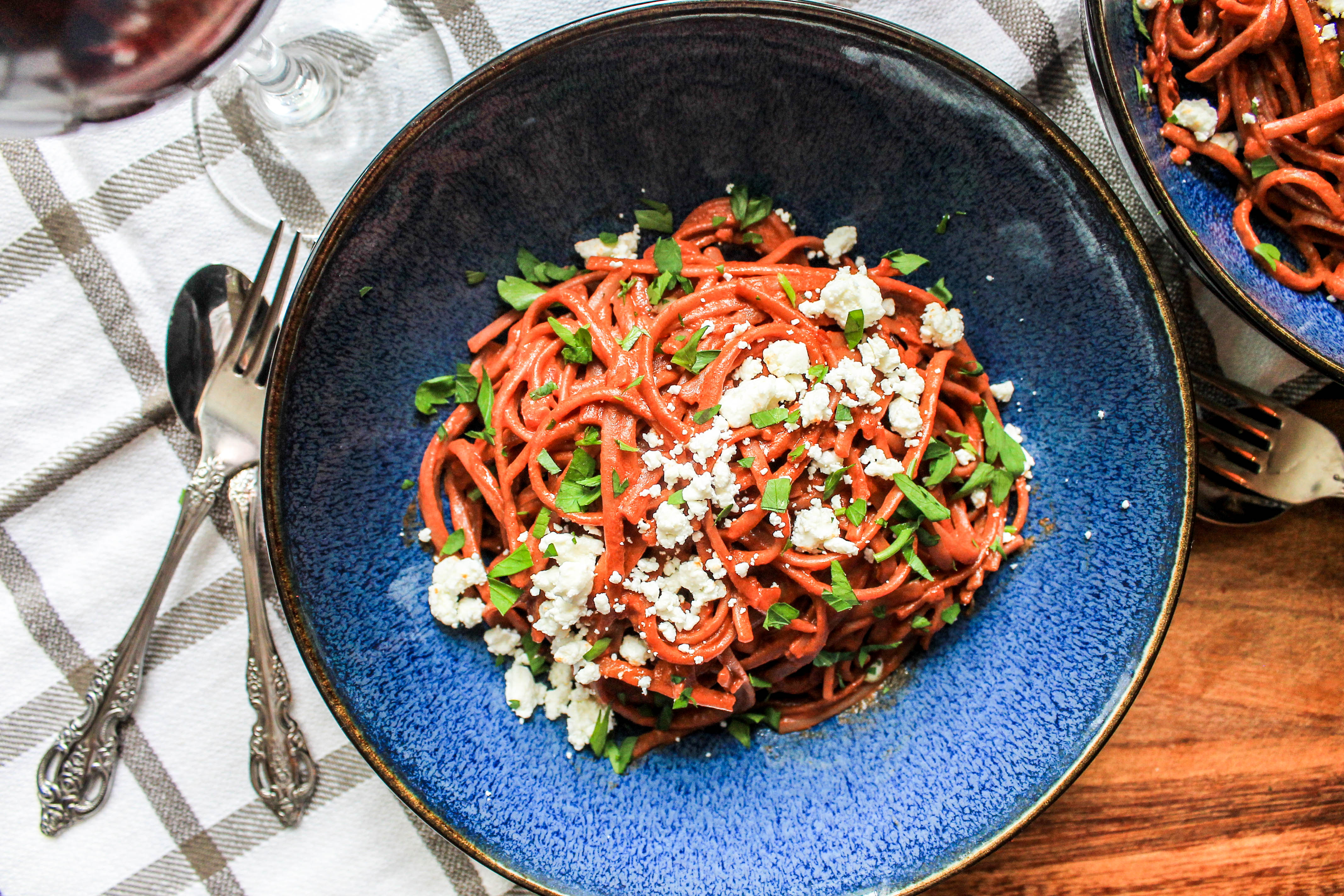 Get ready for some drunken pasta! What is "drunken" pasta? Is it about drinking too much wine while eating pasta? Not really, but we do support that type of evening. Drunken pasta is fairly simple, it is cooking spaghetti in wine instead of water. It may sound a tad strange, but the results are definitely a palette pleasing experience. Kyle created this Spicy Red Wine Pasta to coincide with the onset of cooler autumn evenings. Sometimes one just has an innate need for a bowl of rich, satisfying comfort food. This recipe will appease your comfort food desires.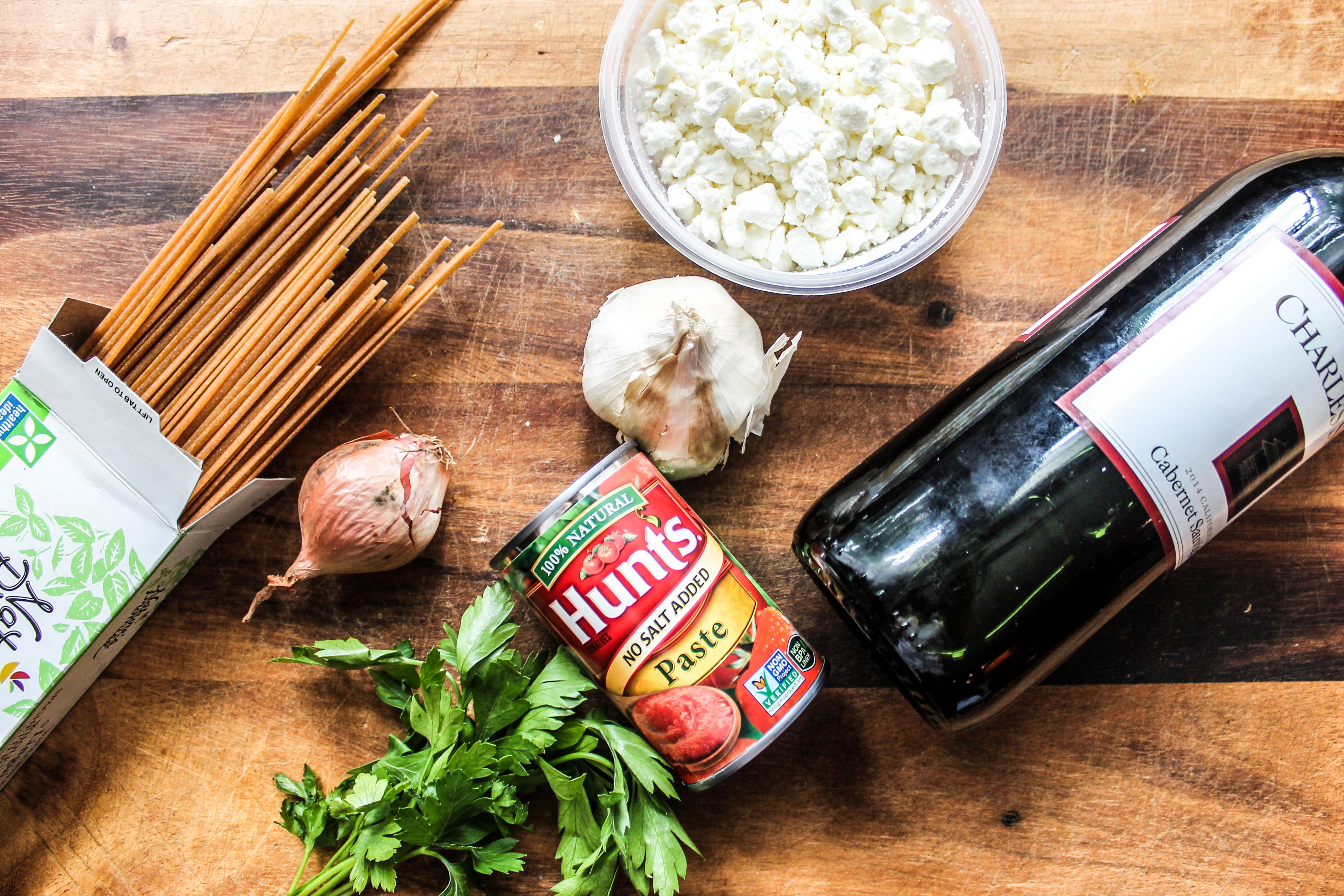 This is one of those recipes that is SUPER easy to convert to gluten free. There are many options these days for gluten free pasta, and the pastas out there now taste almost exactly like the pastas packed with gluten. So, this recipe can satisfy both sides of the digestive spectrum.  Besides being allergen-friendly – the recipe is also vegetarian – it is quite the culinary superstar!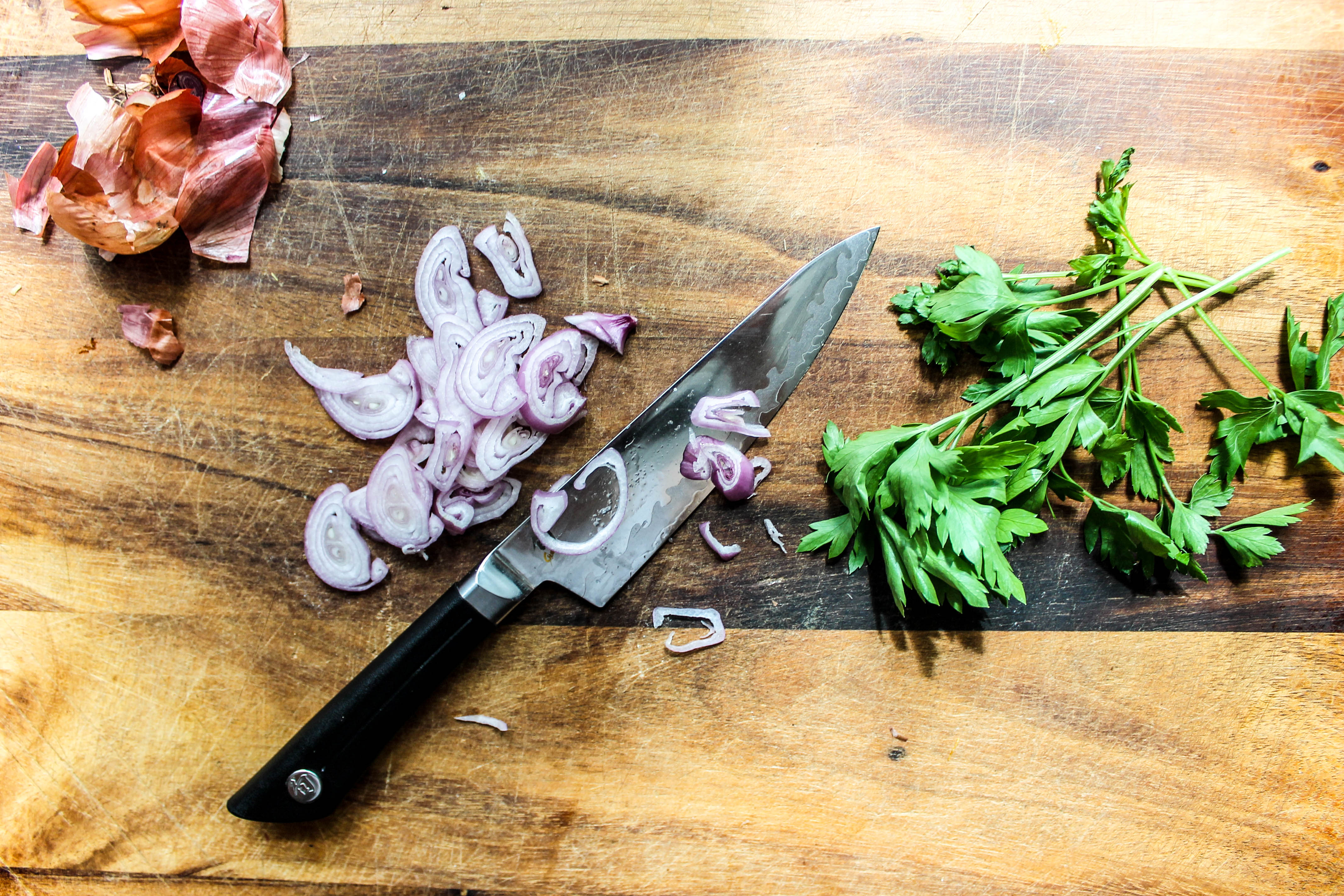 This creation began by using a recipe from Giada de Laurentiis, who certainly knows a thing or two about pasta. Kyle tweaked it to make it his own and made modifications where he thought it was necessary. Once created, it was tested on a group of our friends during one of our Food & Cocktail gatherings. It was met with universal praise and, now, we will share it with you!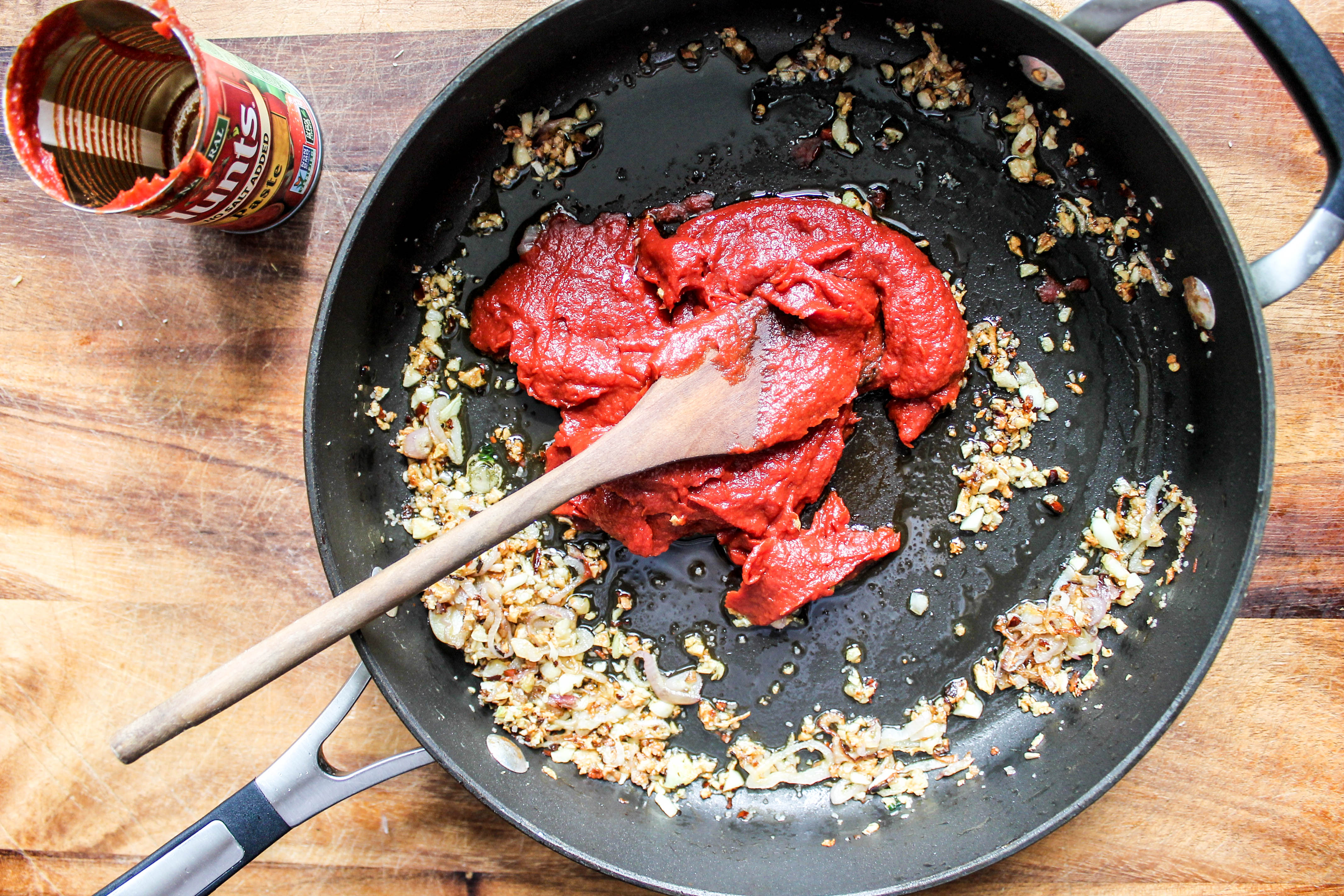 The first tweaks made to the original recipe was to reduce the amount of wine. What? The horror! Trust me, as you read on, you will understand the reasoning behind this cavalier move. The amount of wine was reduced from a full bottle to two cups. Look at it this way, now you have two more glasses of wine to drink while cooking pasta.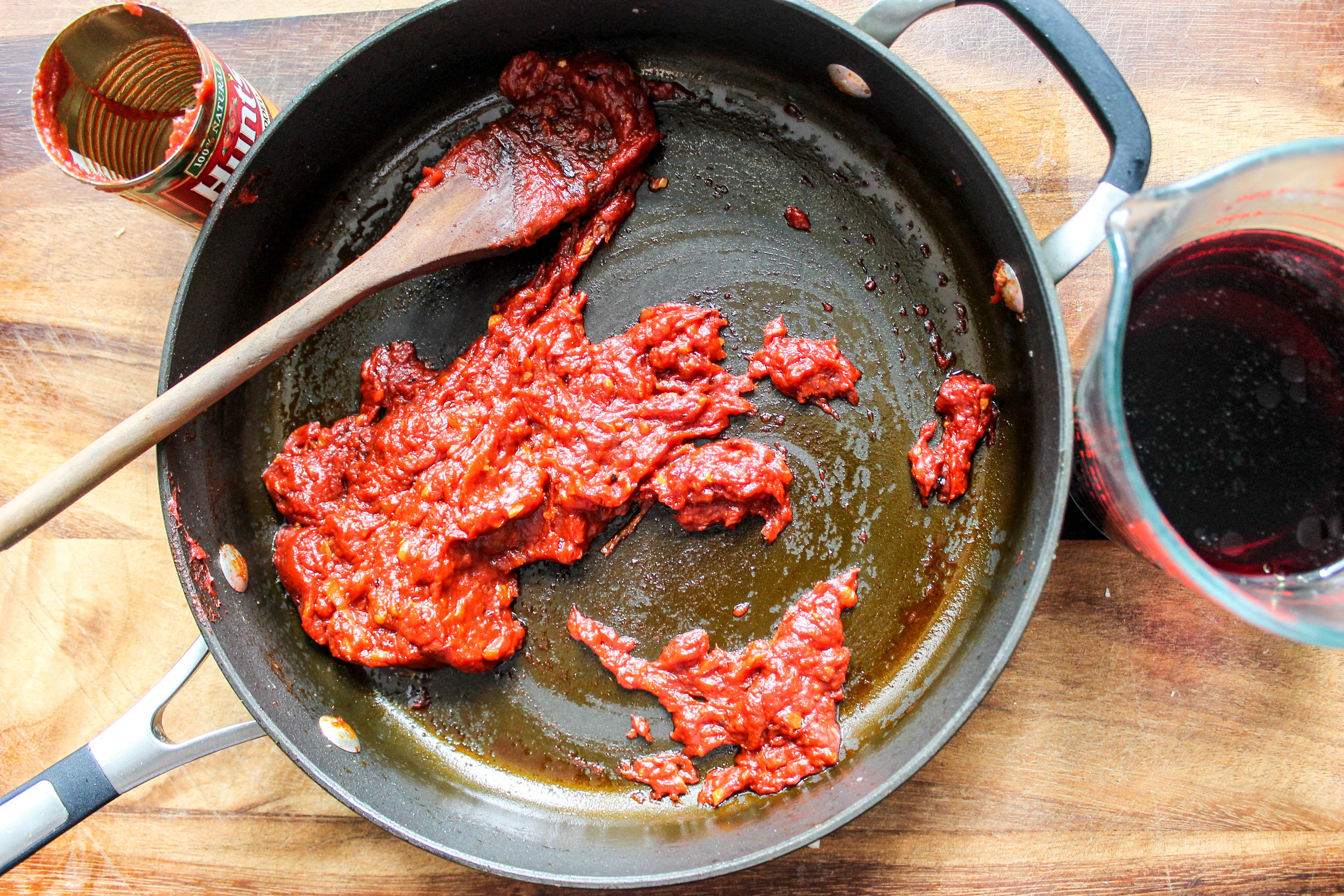 Kyle also increased the amount of tomato paste from a couple tablespoons to an entire 6-ounce can. This gave the sauce a rich tomato flavor that balanced out the flavor of the wine. When Kyle first made the recipe he followed Giada's original proportions of wine and tomato paste, and while delicious, the wine was a bit overpowering.  It felt a bit like eating a bowl of wine with noodles interspersed throughout. So, he made his modifications in order to develop other flavors to make a more complex sauce.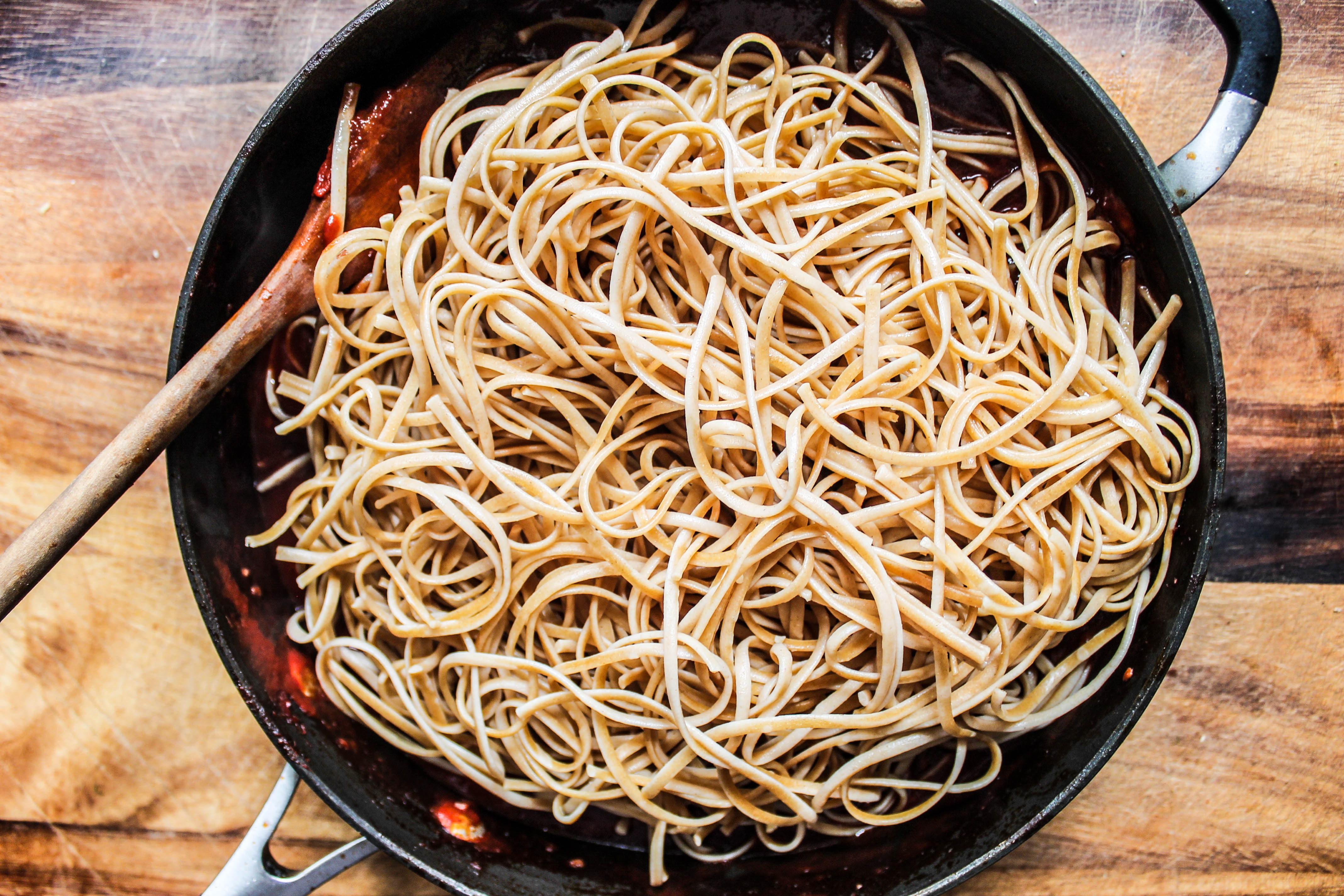 Now, if you research "drunken" pasta, experts state that only pasta that works with this method is spaghetti. Those that have experimented with other types of pasta report that it produces a somewhat satifying dish, however, spaghetti really does produce the best texture. This experiment has not been implemented on our end, so we leave up to you to try it out, if you dare.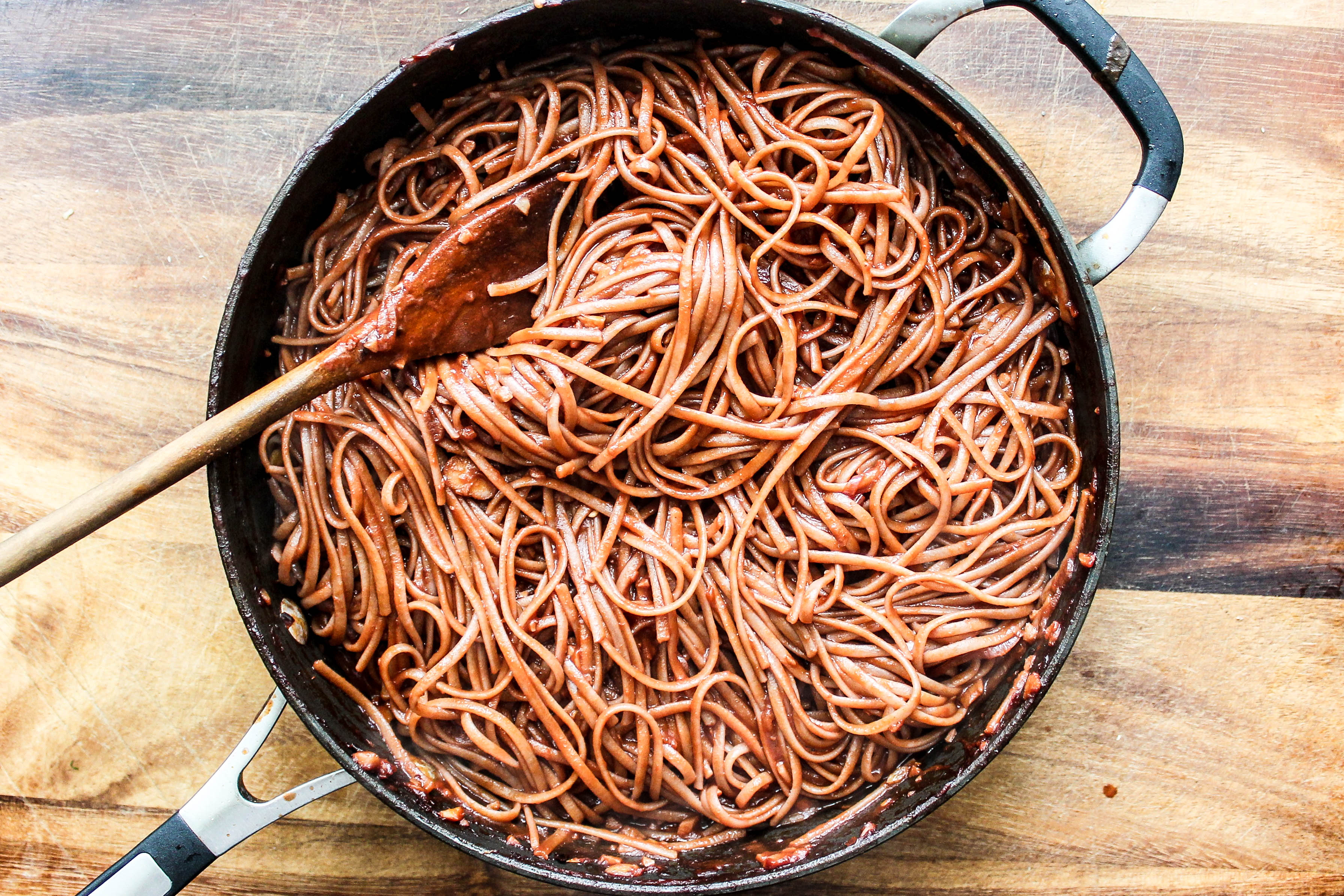 The amount of garlic was increased for this recipe and, in addition, the goat cheese was mixed into the sauce rather than solely garnishing the pasta with the cheese. This created a tangy, wine-and-cheese blush sauce. Adding the goat cheese to the sauce doesn't mean there won't be any cheese for garnishing, don't be silly. There can never be enough cheese (of course, that is my cheese loving opinion….).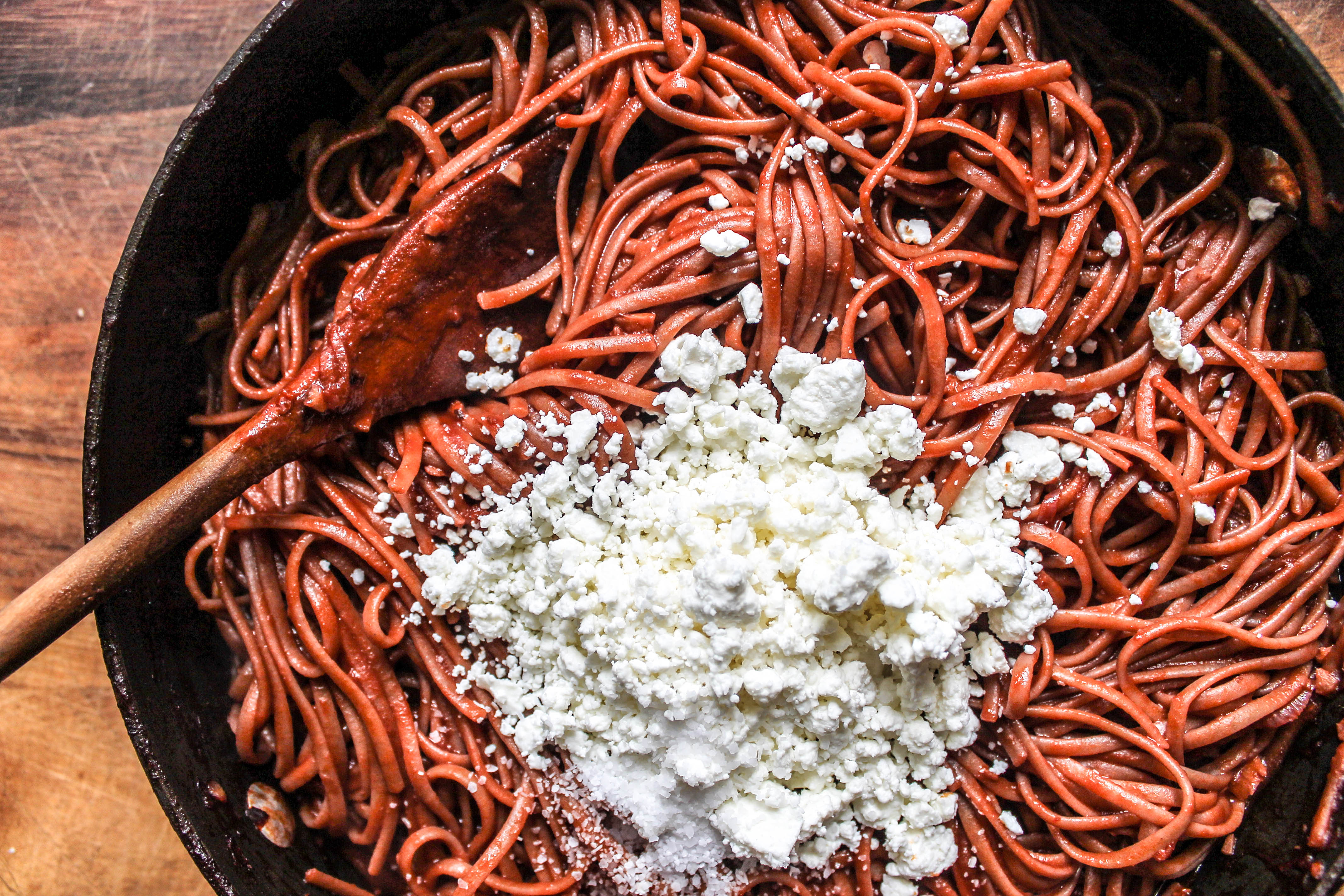 There is a wonderful spicy kick from all the crushed red pepper flakes, but feel free to reduce (or completely eliminate) them if spicy food isn't your thing. The sauce, while significantly milder, will still be delicious. For those of us whose stomachs can't tolerate too much spice, reducing is the better option, however, the milder sauce is just as delicious.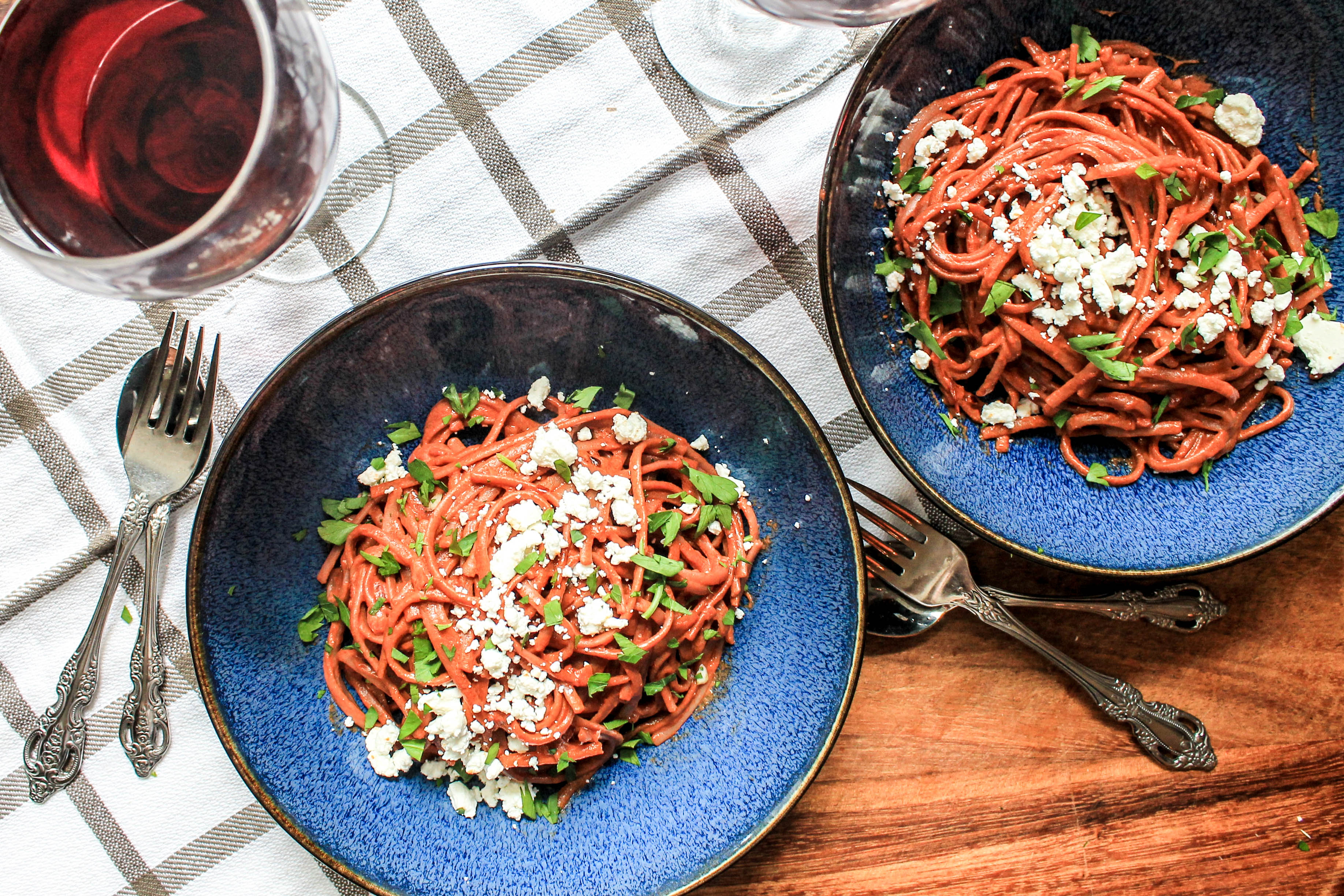 You can serve the pasta with a simple salad, and, of course, a glass of that leftover wine! The great thing about this recipe is that you probably have all the ingredients right in your kitchen, if not, I support throwing on pajama pants and heading to the closest market to buy what you need ASAP!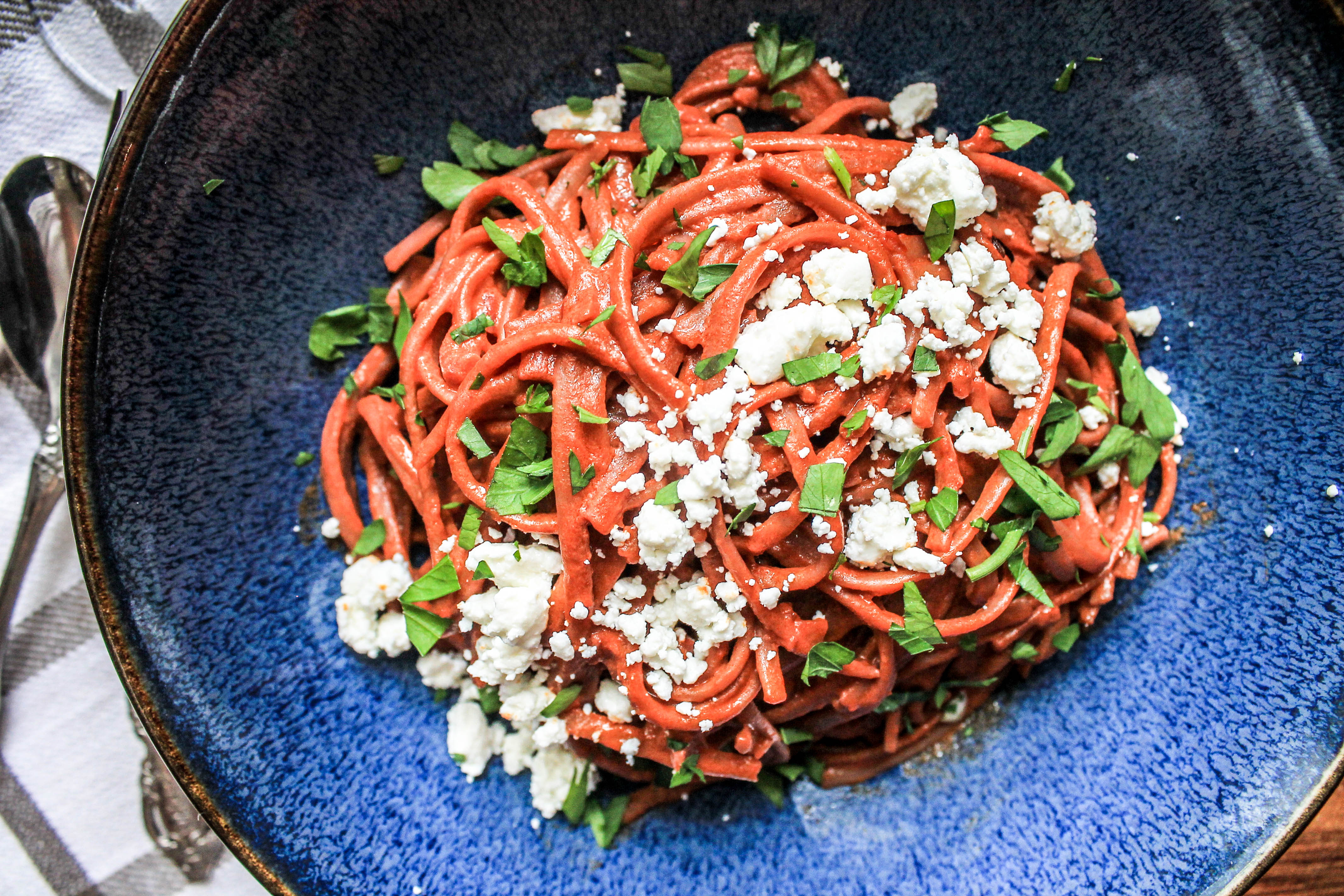 The recipe is simple, but creates such a flavorful dish. Comfort food is the best, and this dish will feel delicious no matter when you prepare it, however – it will even be better to indulge on a cold night, in jammies, watching a movie. Pasta and wine, ahhhhhh. I will also add that, if you want a little protein with your pasta, try a simple Ribeye Steak snack along with it! Enjoy!
Adapted from Giada de Laurentiis.

Spicy Red Wine Pasta
Ingredients
Kosher salt
1 pound spaghetti
¼ cup extra-virgin olive oil
8 large cloves garlic, minced
1 large shallot, halved, thinly sliced into strips
½ teaspoon dried crushed red pepper
2 cups dry red wine
1 6-ounce can tomato paste
1 tablespoon butter
¼ cup fresh flat-leaf parsley leaves, chopped
4 ounces coarsely crumbled goat cheese
Instructions
Bring a large pot of salted water to the boil. Add the pasta and cook for 6 minutes, stirring pasta occasionally, until par-cooked. Drain and reserve the pasta water.
In a 12-inch nonstick skillet, heat the olive oil over medium heat. Add the garlic, shallots, crushed red pepper flakes and 1 teaspoon salt. Cook until the garlic becomes fragrant, 1 to 2 minutes.
Add the tomato paste and cook, stirring frequently, until the tomato paste darkens slightly, about 2 to 3 minutes. Add wine and bring to a simmer over medium-high heat. Reduce the heat to medium and simmer gently for 3 minutes.
Add the pasta to the skillet. Cook, stirring frequently, until almost all of the wine is absorbed and the pasta is tender but still firm to the bite, about 4 minutes (if the pasta mixture is too dry, add pasta cooking water ¼ cup at a time).
Stir in the butter, most of the goat cheese (reserve some for garnish), and ½ teaspoon salt. Increase the heat, and toss until the wine sauce thickens enough to coat the pasta, about 1 minute. Toss to blend.
Add the parsley and reserved goat cheese and serve.
Please follow and like us: