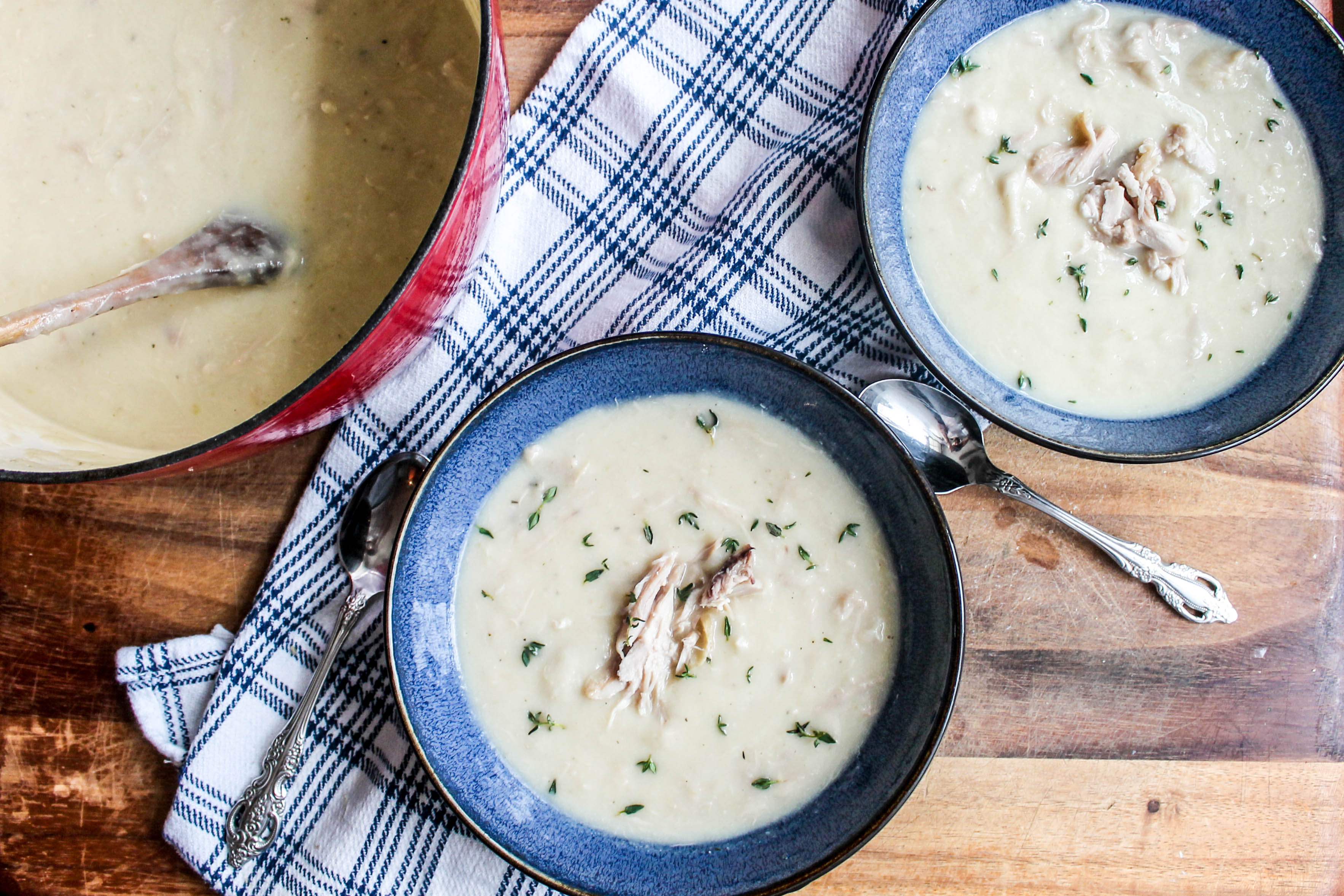 Right now, we are deep into one of the more brutal cold and flu seasons we have had in quite sometime. The colder weather can bring on the romanticized notions of steamy drinks, comfort food and cozy slipper socks. All of the items on that list are wonderful, however, for those suffering from the sniffles – or much worse –  it is time for soup!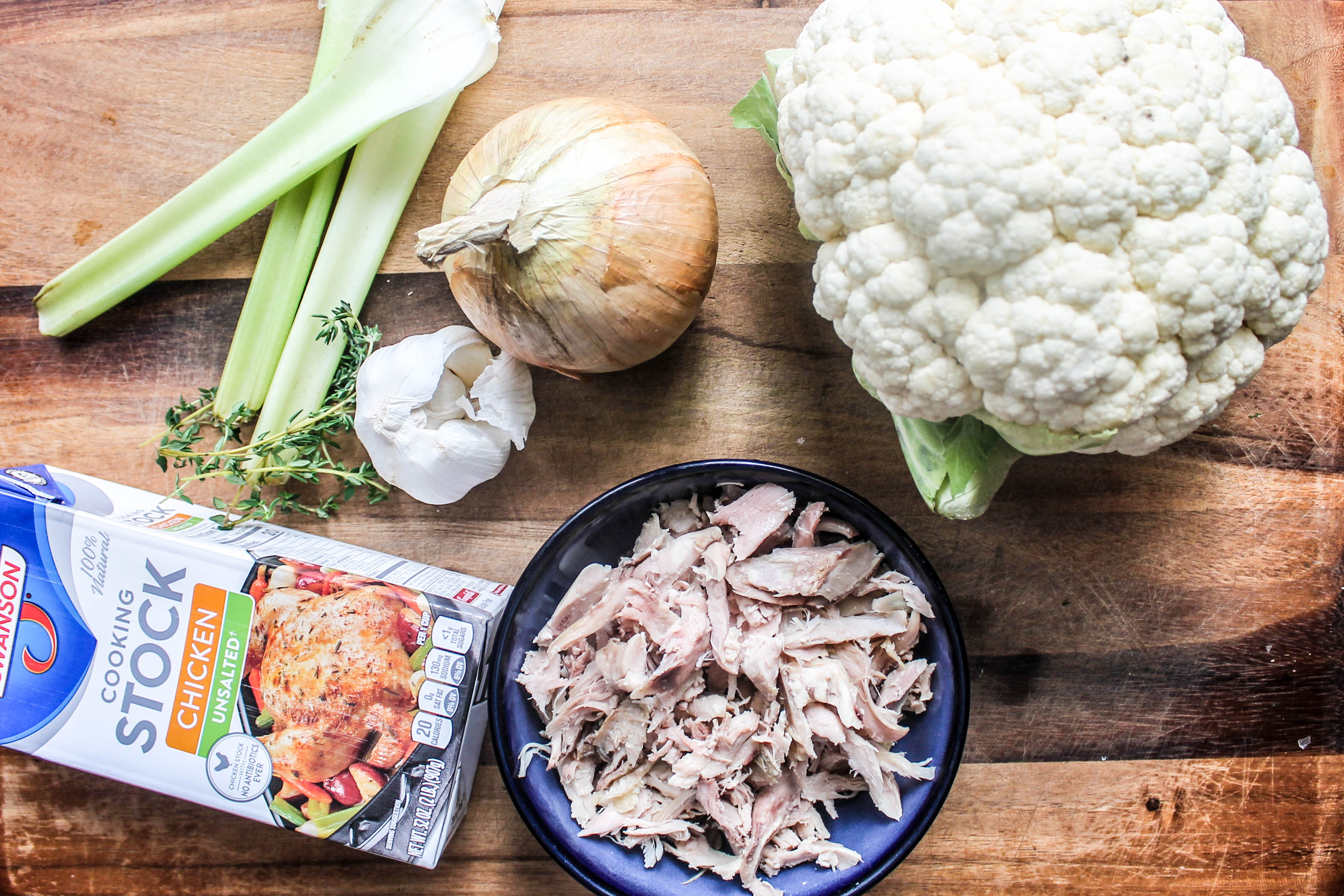 Kyle first experienced the Cauliflower Soup from Food 52's Genius Recipes about two years ago. This creamy soup has a flavor and texture that belies the fact that it does not contain a single drop of cream or dairy.  That you could make such a velvety rich soup with a short list of vegan ingredients was astounding and, well, genius. Since then, Kyle has made Butternut Squash and Cream of Mushroom variations; but this winter, he was ready to make a dairy-free, though considerably less vegan, iteration.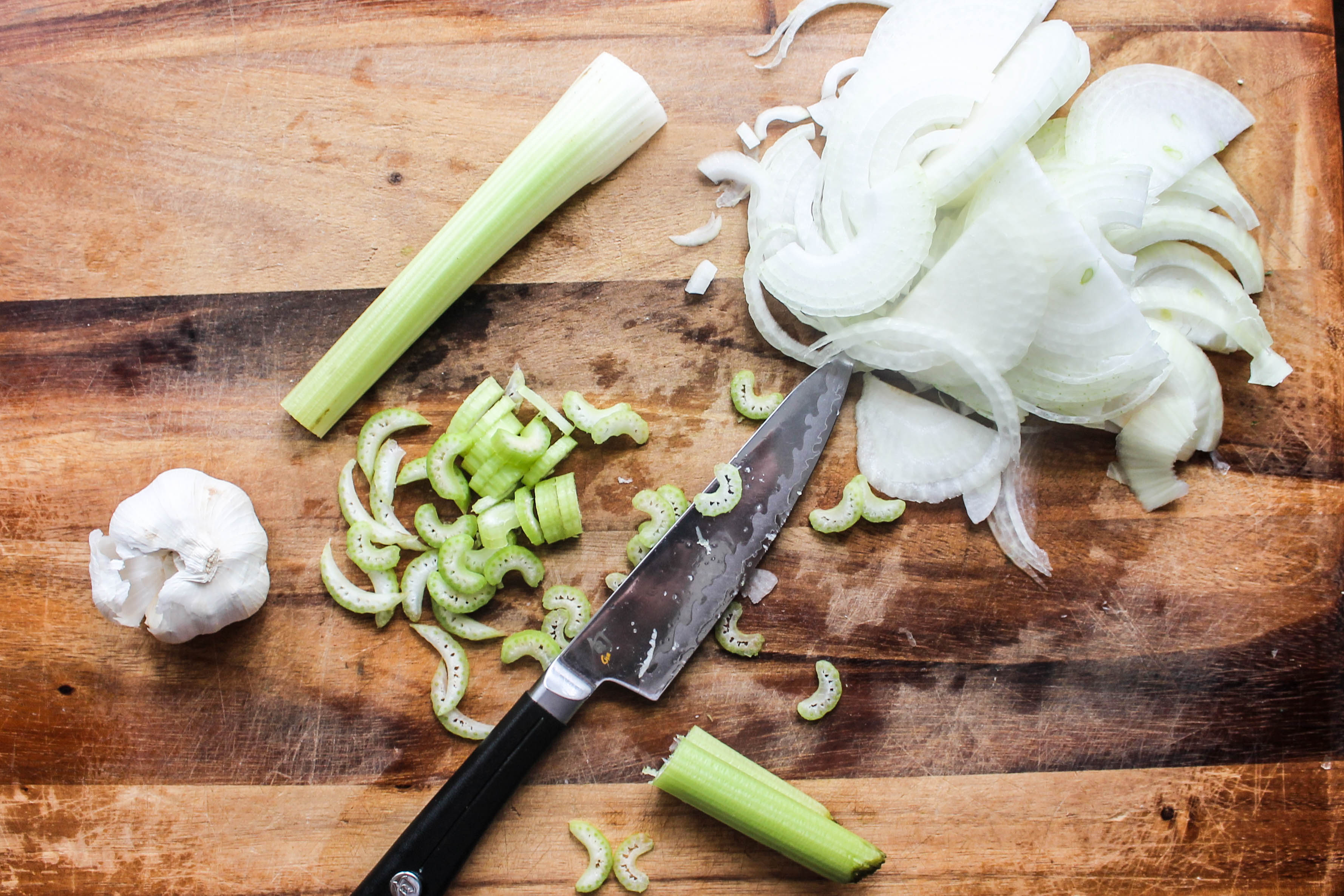 Many of us have been home sick from school in our youth and had our mom prepare us a can of chicken noodle soup. Kyle was inspired by the cans of Cream of Chicken Soup, a rich comfort food with a dubious list of ingredients. He wanted to accomplish creating a fresh, wholesome version that was just as rich and satisfying.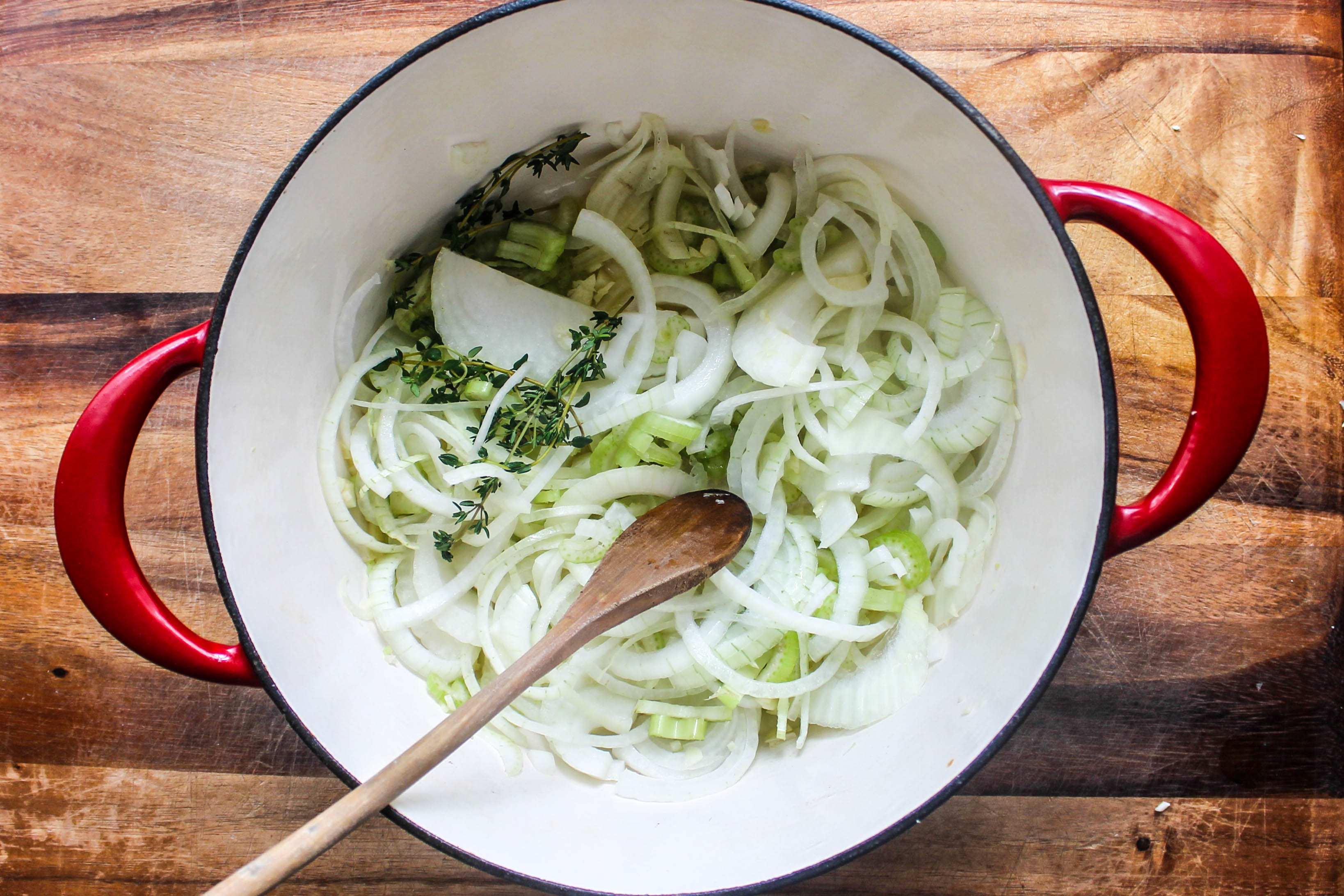 The original Vegan Cauliflower Soup is an exercise in simplicity, from its list of only three (yes, THREE) ingredients to its unfussy, boil-then-puree preparation method. Kyle wanted to honor that same uncomplicated approach while developing a Cream of Chicken Soup variation.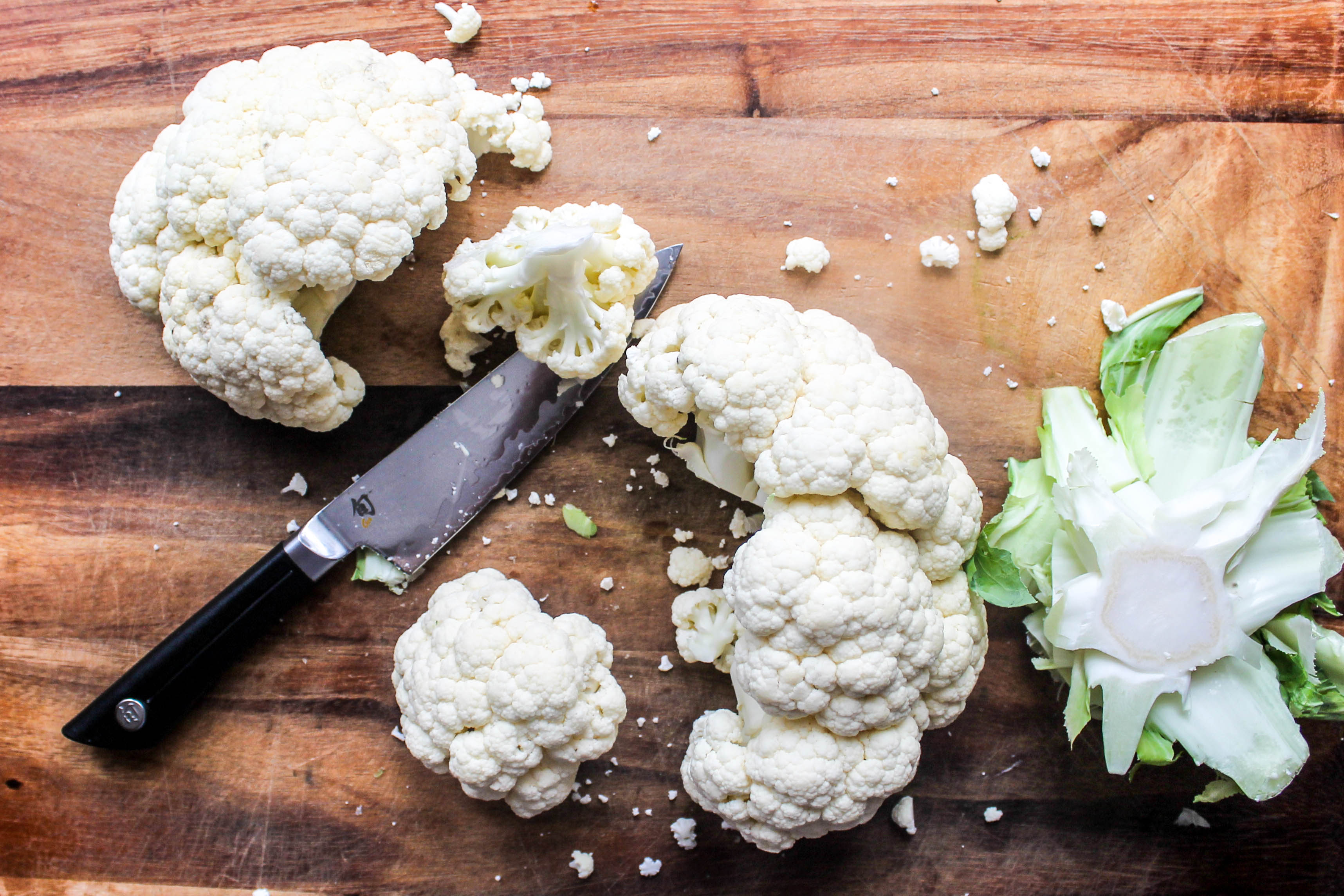 Fortunately, transforming the soup in to a much different dish than its predecessor did not require that much modification. For the base of the soup, celery and garlic were added to the sauteed onion. Kyle was taking the mirepoix route (AKA the "holy trinity" of aromatic vegetables in culinary creations – onions, celery, and carrots). Mirepoix is the base of many sauces, stocks, and dishes, and its aroma once cooking has the essence of  a beautifully roasted chicken.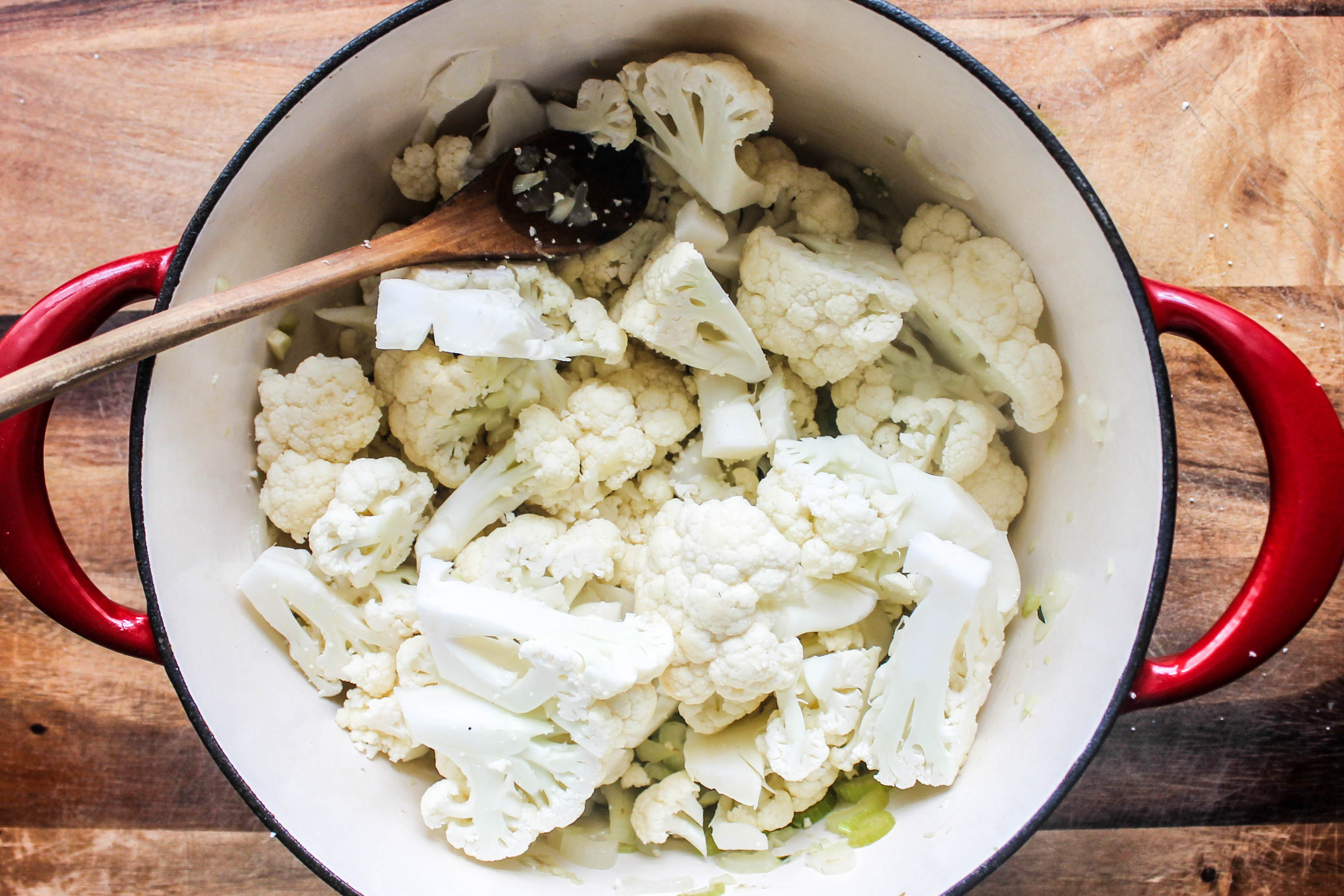 Even if one is not using the mirepoix for a chicken dish, one whiff of the sizzling vegetables makes you immediately crave some roasted chicken. So Kyle had to use mirepoix when crafting a chicken version of this soup. He did leave out the carrots for a purely cosmetic reason – he feared including the carrots might create an very unappealing orange hue. Luckily, the flavor of the soup did not suffer from leaving out the carrots.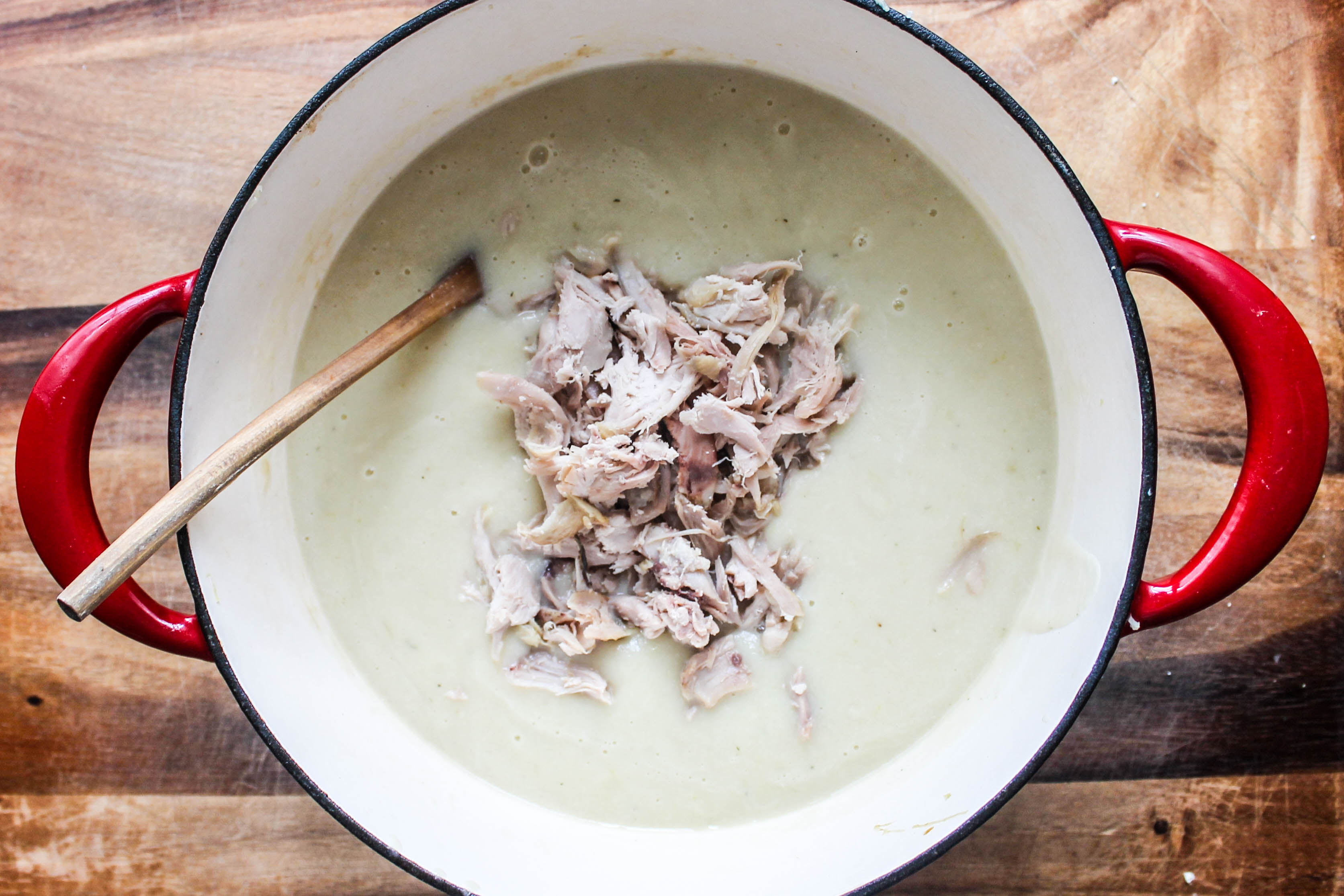 The original recipe utilizes water, Kyle chose to amp up the flavor by using chicken stock instead. You can use any combination of chicken stock and water depending on what you have on hand; the more water you use,  the more salt and pepper you'll need to season the final soup.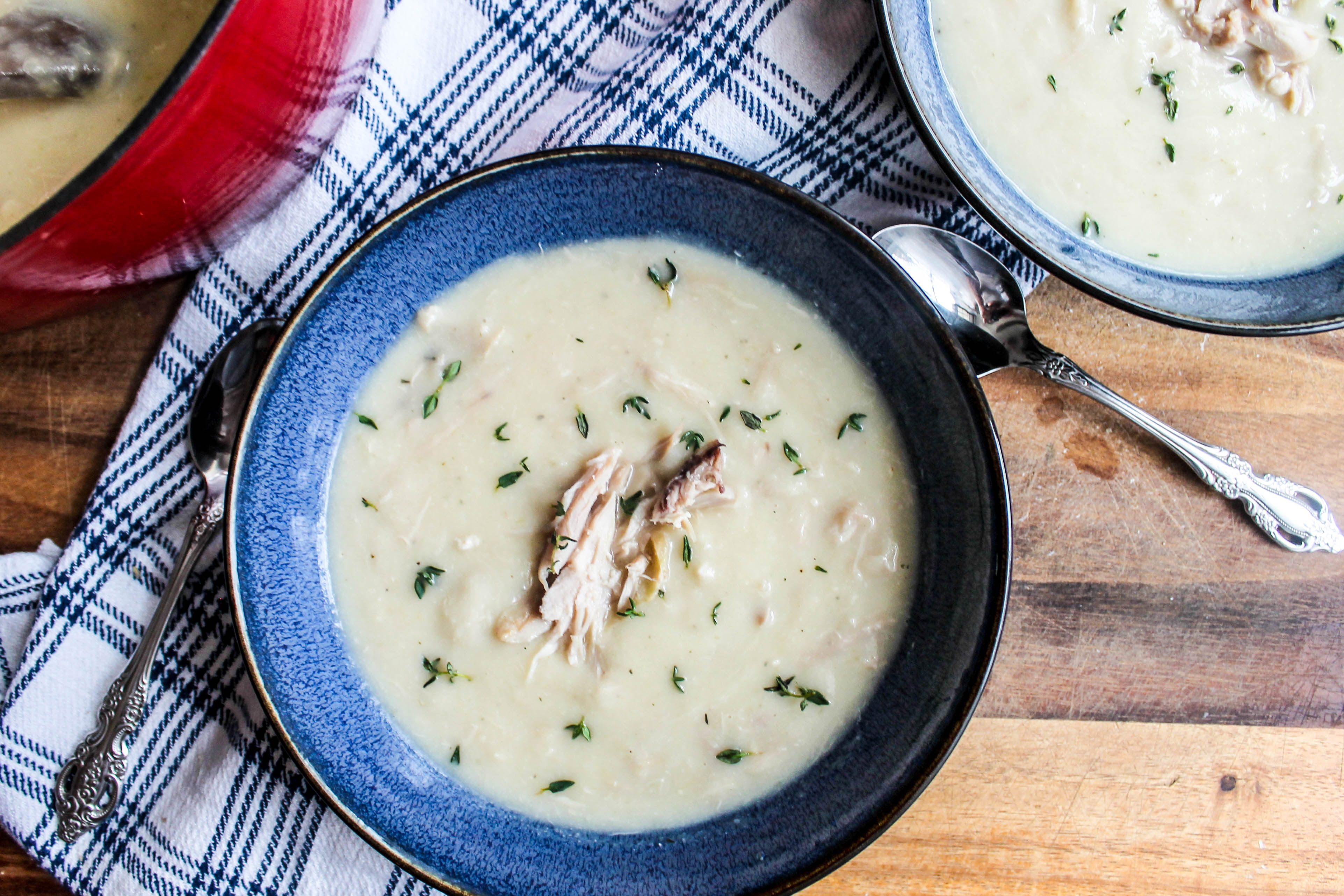 Once the soup was pureed, some shredded Chicken Confit was folded in (one of the simplest, most delicious comfort foods ever, btw!), but you can use any type of shredded or diced cooked chicken. If you are looking for a quick, weeknight accessible soup, you could even go the minimalist route. Just pick up a roasted chicken from the grocery store! Every time Kyle creates a version of this cauliflower soup, we are genuinely amazed by how rich and satisfying this soup can be without a single drop of milk, cream or butter. It really has to be tasted to be believed! Whether you are making this soup for a cold and flu remedy or for the pure comfort of a warm delight in the depths of winter, you will not be disappointed by the intense flavor, and the overall ease of the recipe. Keep warm!

Dairy Free Cream of Chicken Soup
Ingredients
3 tablespoons olive oil
1 medium onion thinly sliced
3 stalks celery, thinly sliced (about 1 cup total)
4 cloves of garlic, minced
4 to 5 sprigs of thyme
1 head very fresh cauliflower (about 1-1/2 pounds), broken into florets
1 ½ teaspoons kosher salt
5 cups chicken stock (or some combination of stock and water), divided
1 tablespoon white wine vinegar
12 ounces of cooked chicken, shredded or diced
salt and black pepper, to taste
Instructions
Warm the olive oil in a heavy-bottomed pan. Sweat the onion, celery, garlic and thyme in the olive oil over low heat without letting it brown for 15 minutes.
Add the cauliflower, salt, and ½ cup stock. Raise the heat slightly, cover the pot tightly and stew the cauliflower for 15 to 18 minutes, or until tender. Then add another 4½ cups stock (or a combination of stock and water), bring to a low simmer and cook an additional 20 minutes uncovered.
Working in batches, purée the soup in a blender to a very smooth, creamy consistency.
Fold in the vinegar and cooked chicken. Taste and adjust seasoning if needed. Let the soup stand for 20 minutes - in this time it will thicken slightly.
Reheat the soup. Serve hot, garnished with some thyme leaves.
Please follow and like us: