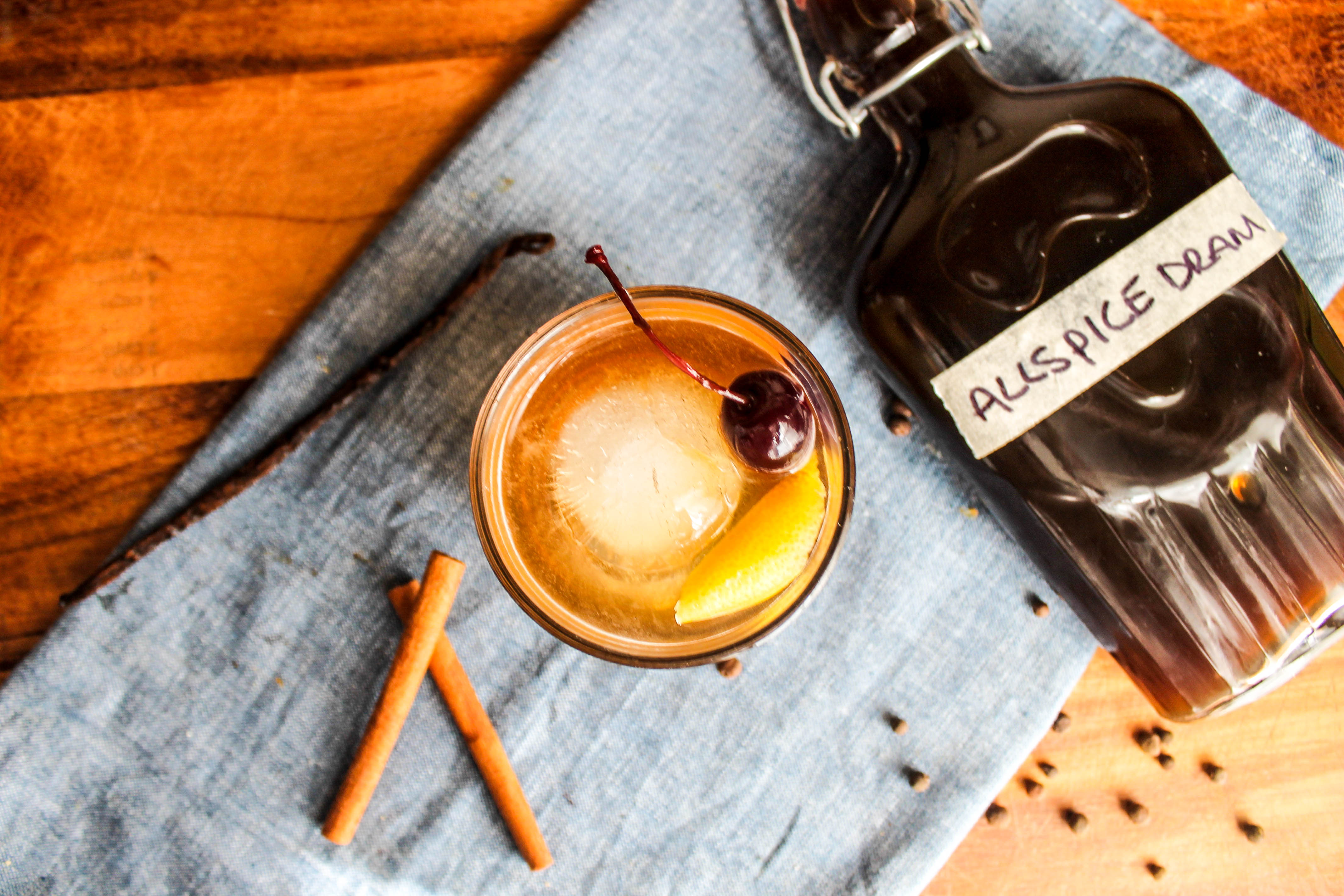 The libation for this post was inspired by Kyle's first experience tasting Allspice Liqueur, also known as allspice dram or pimento dram (interestingly, the allspice berry comes from the pimento tree). The experience came in the form of a cocktail in Jiko restaurant located in the Animal Kingdom Resort in Disney World.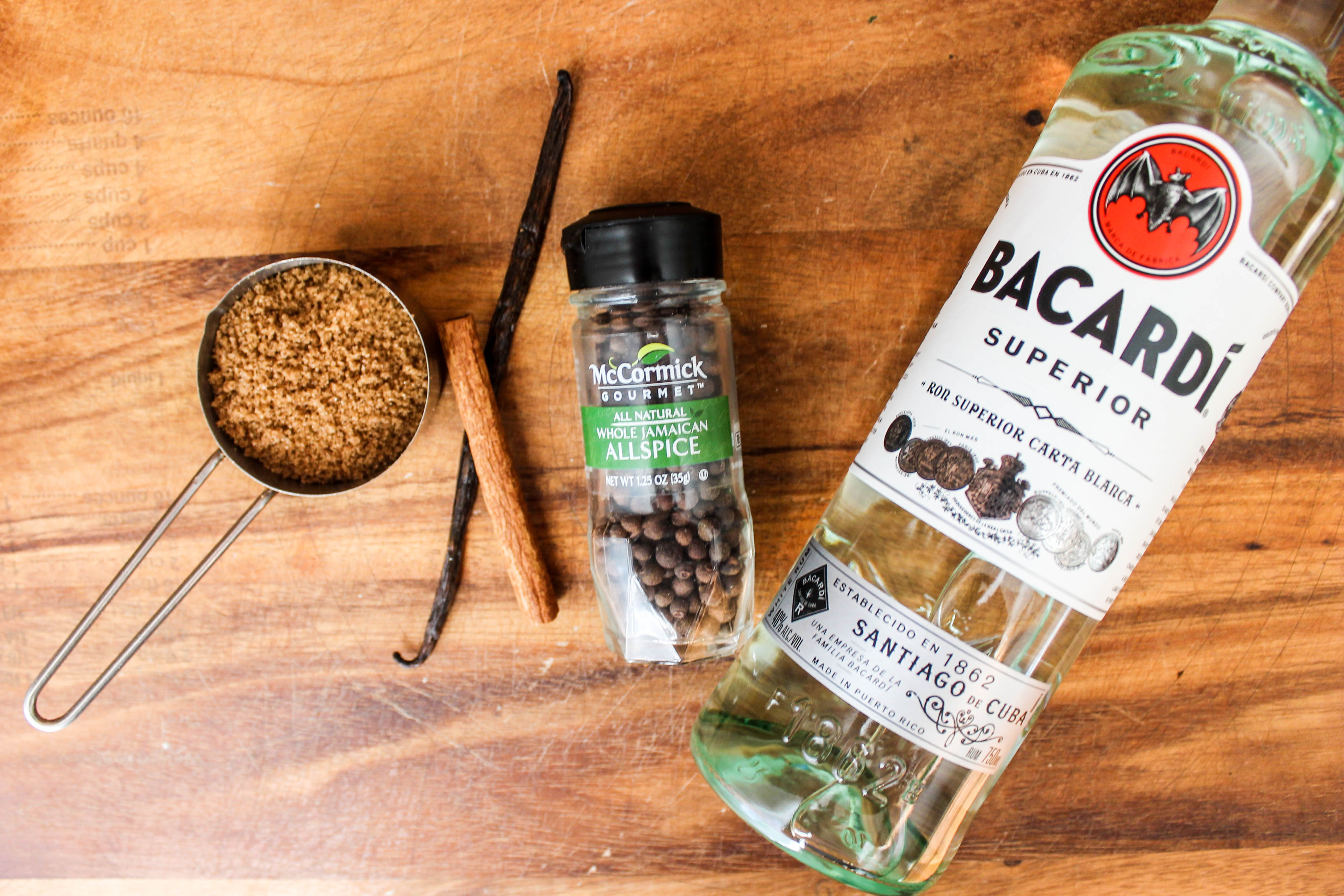 The drink – an Allspice Manhattan – featured bourbon, the previously unfamiliar allspice dram, and a vanilla syrup to create a cocktail that was mildly sweet, wonderfully spiced,   and tasted like an autumn holiday in a glass. It was strong yet sip-able, which doesn't happen to Kyle often since he can no longer be trusted with a gin & tonic once it is placed in front of him.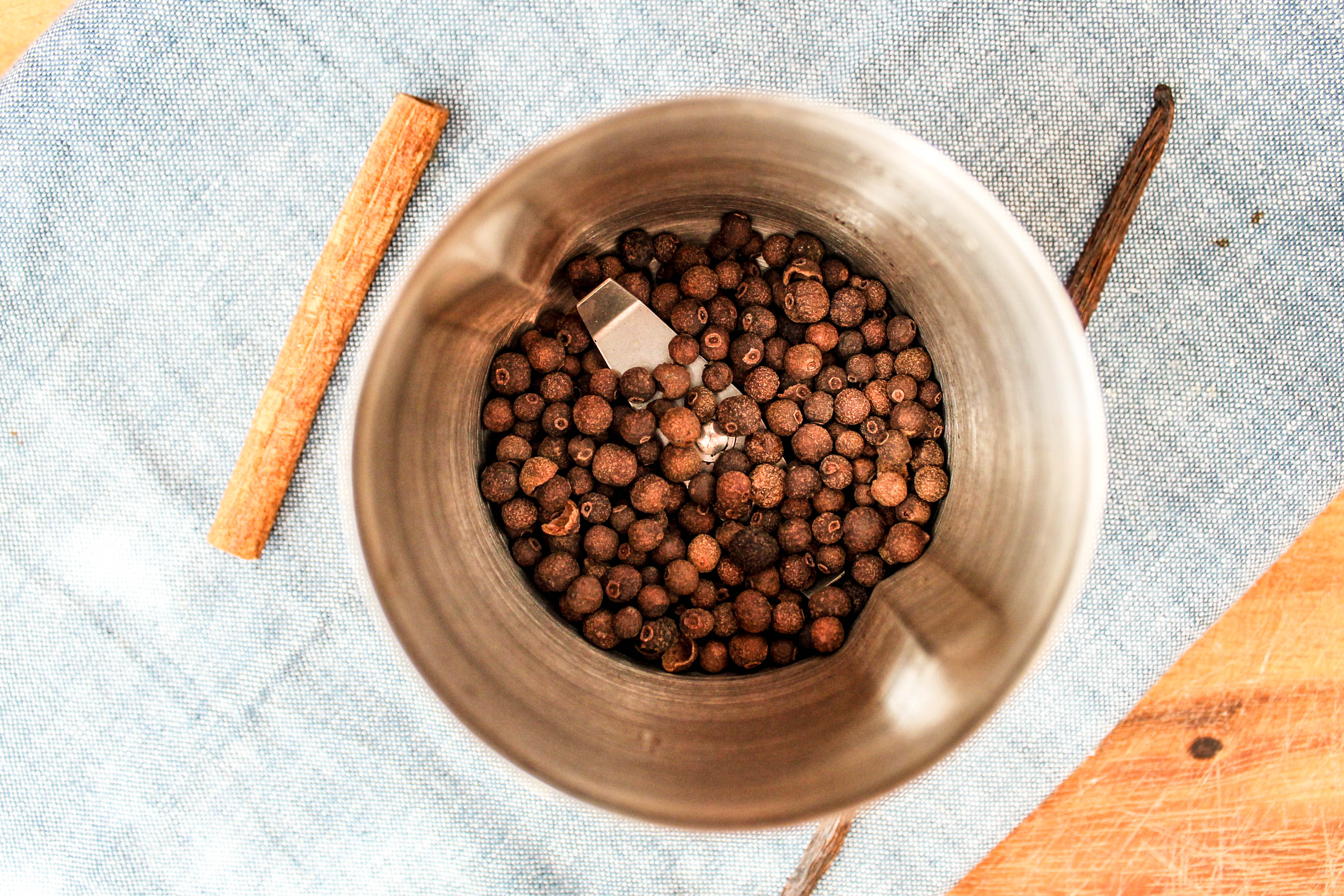 When he returned home from our Disney trip, he immediately began looking into this magical allspice liqueur, which actually gained popularity in Tiki drinks. This was due to its pungent, spicy flavor; it serves as a wonderful counterpoint to the combination of sweet, tropical juices in many Tiki cocktails.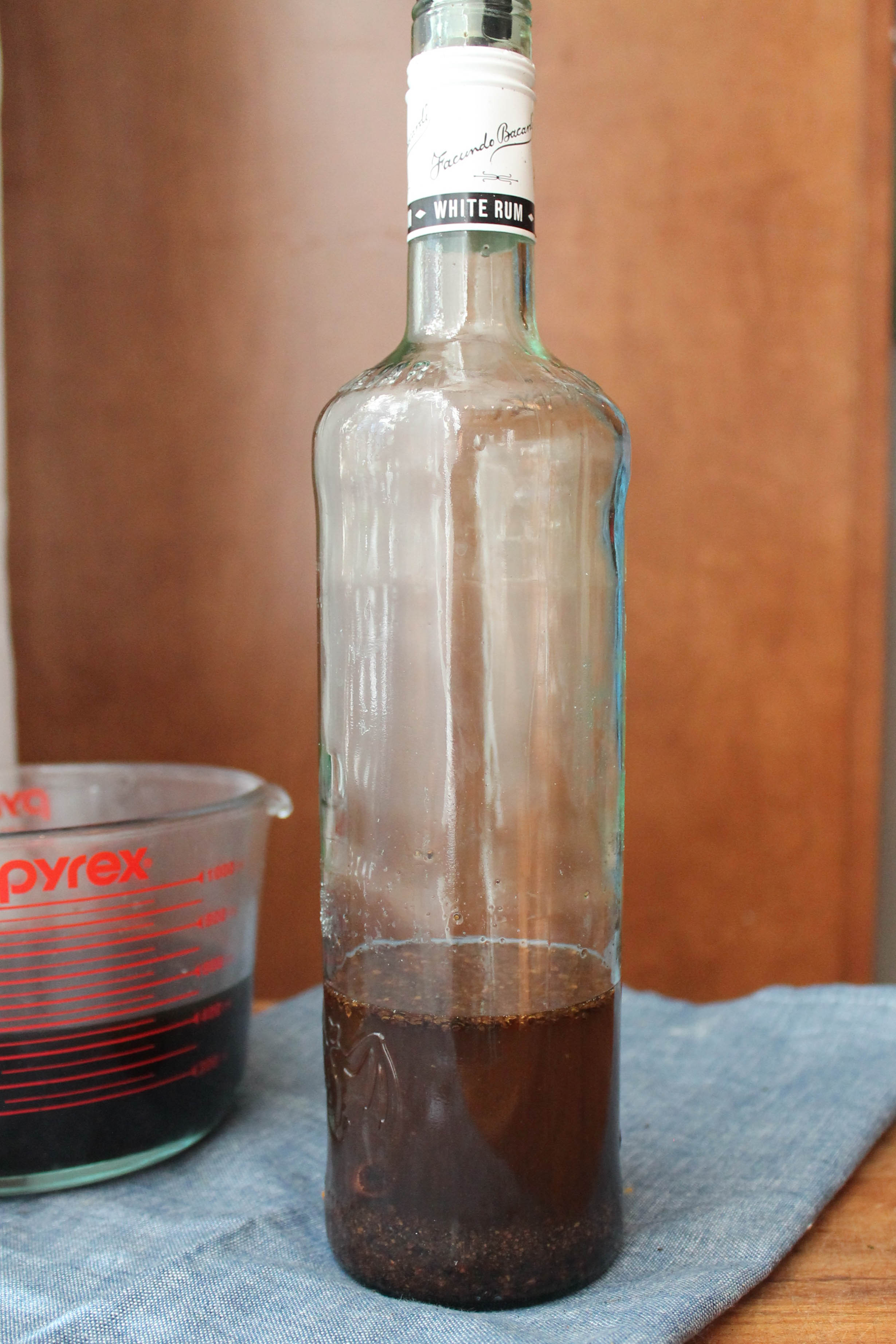 Unfortunately, the aren't many commercially available options in the States when it comes to Allspice Liqueur. St. Elizabeth Allspice Dram – which was the spirit used in the drink at Jiko – is the most readily available, but it usually costs about  $30 for a small, 375 mL bottle. Many DIY recipes abound on the internet, which require little effort and cost a fraction of the store bought product. Kyle settled on the Serious Eats recipe for the Allspice Dram, because their method seemed the most well-researched and comprehensive.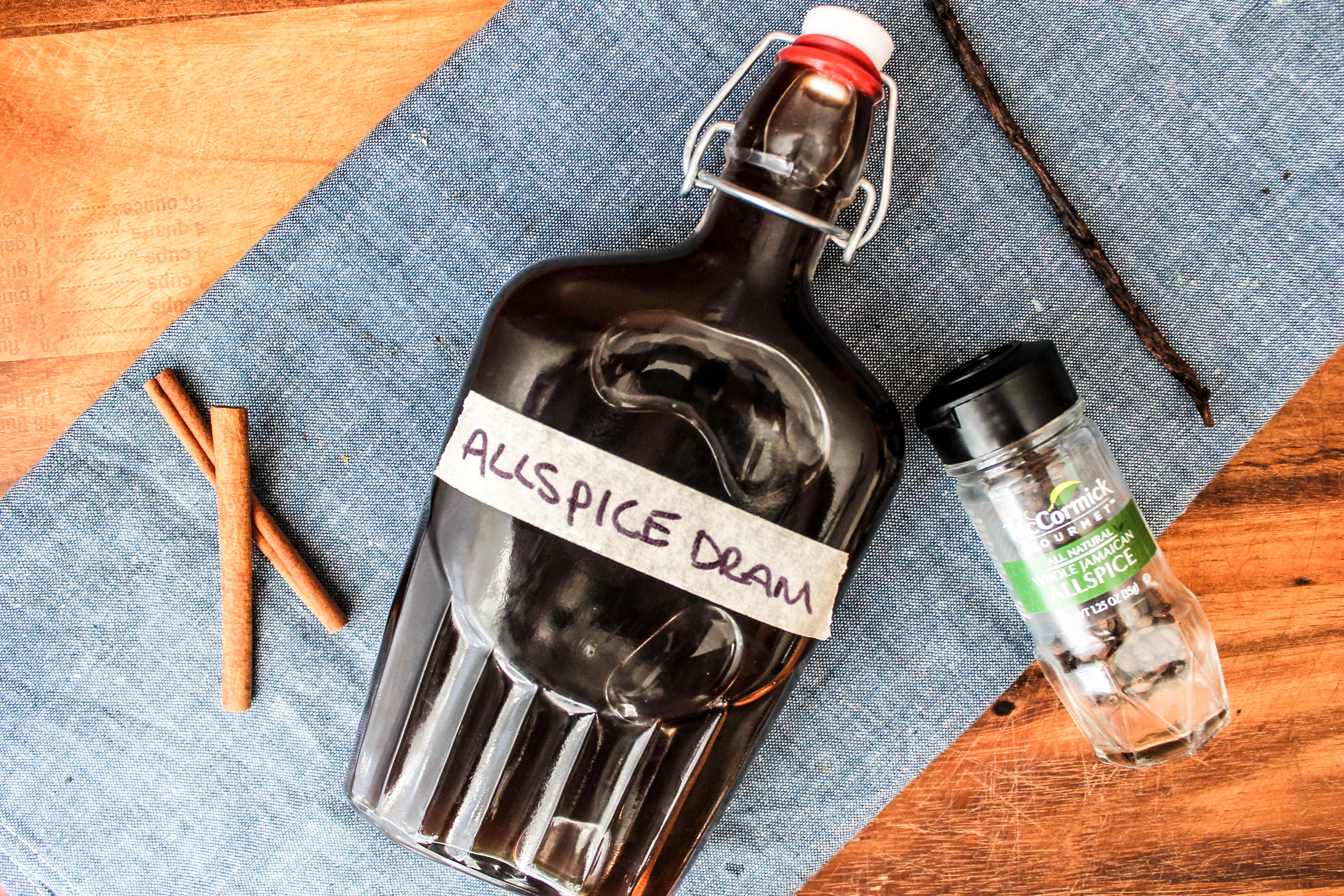 He only made one change to the ingredient list, this was adding a vanilla bean. He wanted to incorporate the vanilla flavors of Jiko's Manhattan directly into the liqueur. While the method for preparing Allspice Liqueur is largely hands-off,  Serious Eats breaks the infusion process into a few steps: you infuse the allspice into the rum for a few days, then you add the cinnamon. You wait a few more days before straining, then you add brown sugar syrup. After this you wait a few more days for the flavors to mingle.  For an experiment, Kyle decided to see if there was any discernible difference in the final product if you just threw everything together at once (including the simple syrup) then strained it after infusing for two weeks. So, for the sake of research, he infused the Allspice Liqueur using both methods (poor Kyle). The final result, keeping in mind that Allspice Liqueur isn't something you drink by itself (rather it adds a bit of flair to multi-ingredient cocktails), Kyle could not tell much of a difference between multi-step Allspice Liqueur vs. the streamlined Allspice Liqueur. So, we suggest going with the simplest method and infuse everything together.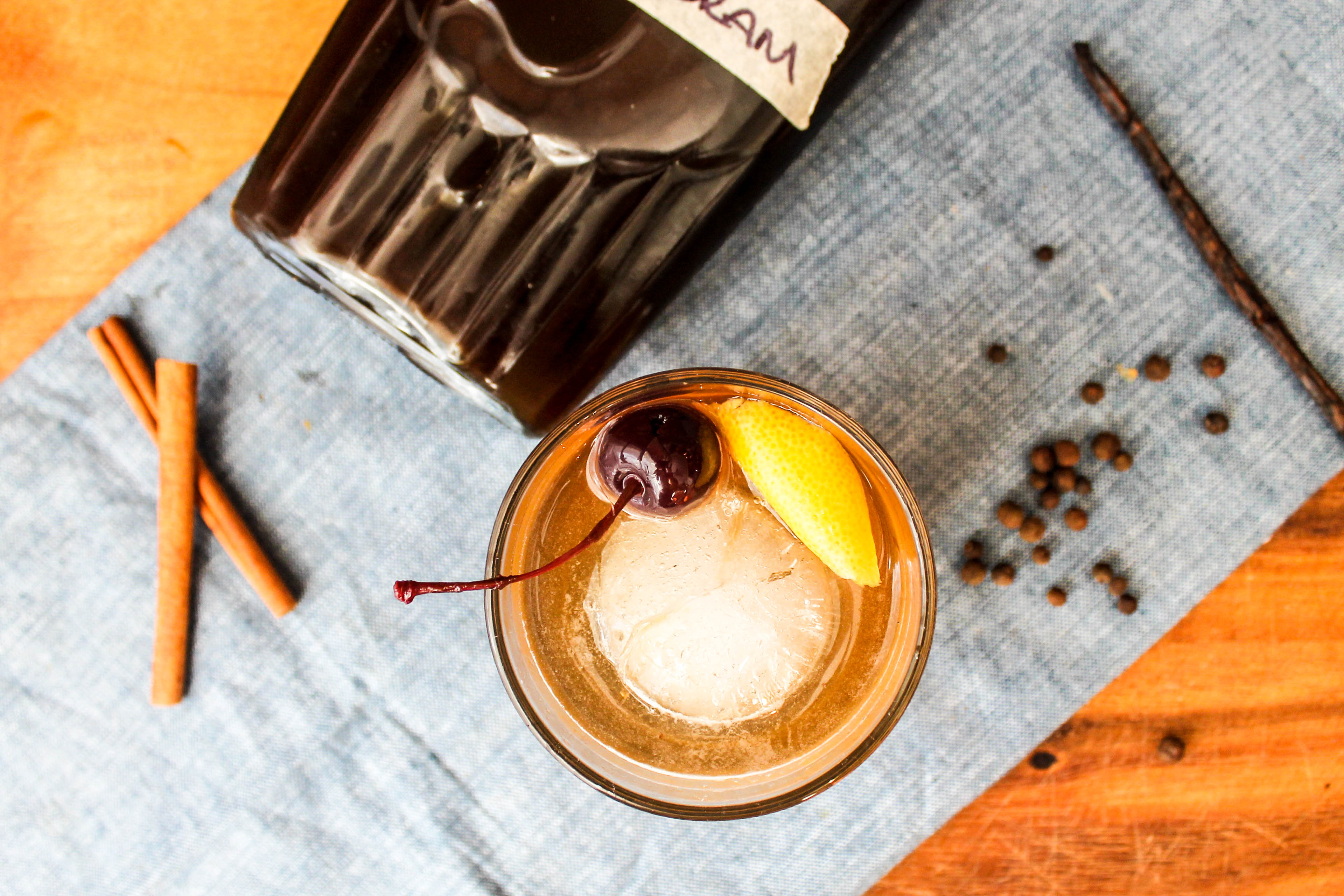 Now that serious holiday shopping is upon us, this homemade liqueur will make an excellent gift option. Kyle now has a double batch of this stuff to pass along to family and friends (yes, please!). The liqueur  has infinite uses, especially throughout the holiday season. It adds an extra layer of warm spiciness to some Holiday Eggnog, makes a wonderful addition to a Hot Toddy, and even creates a holiday twist on Sangria with a blend of red wine, orange juice, and the Allspice Liqueur. Of course, you could use it to whip up a tropical Tiki cocktail and dream of warmer days as the weather gets colder.  This post includes a recipe for an Allspice Old Fashioned as a nod to the first drink that Kyle enjoyed with Allspice Liqueur.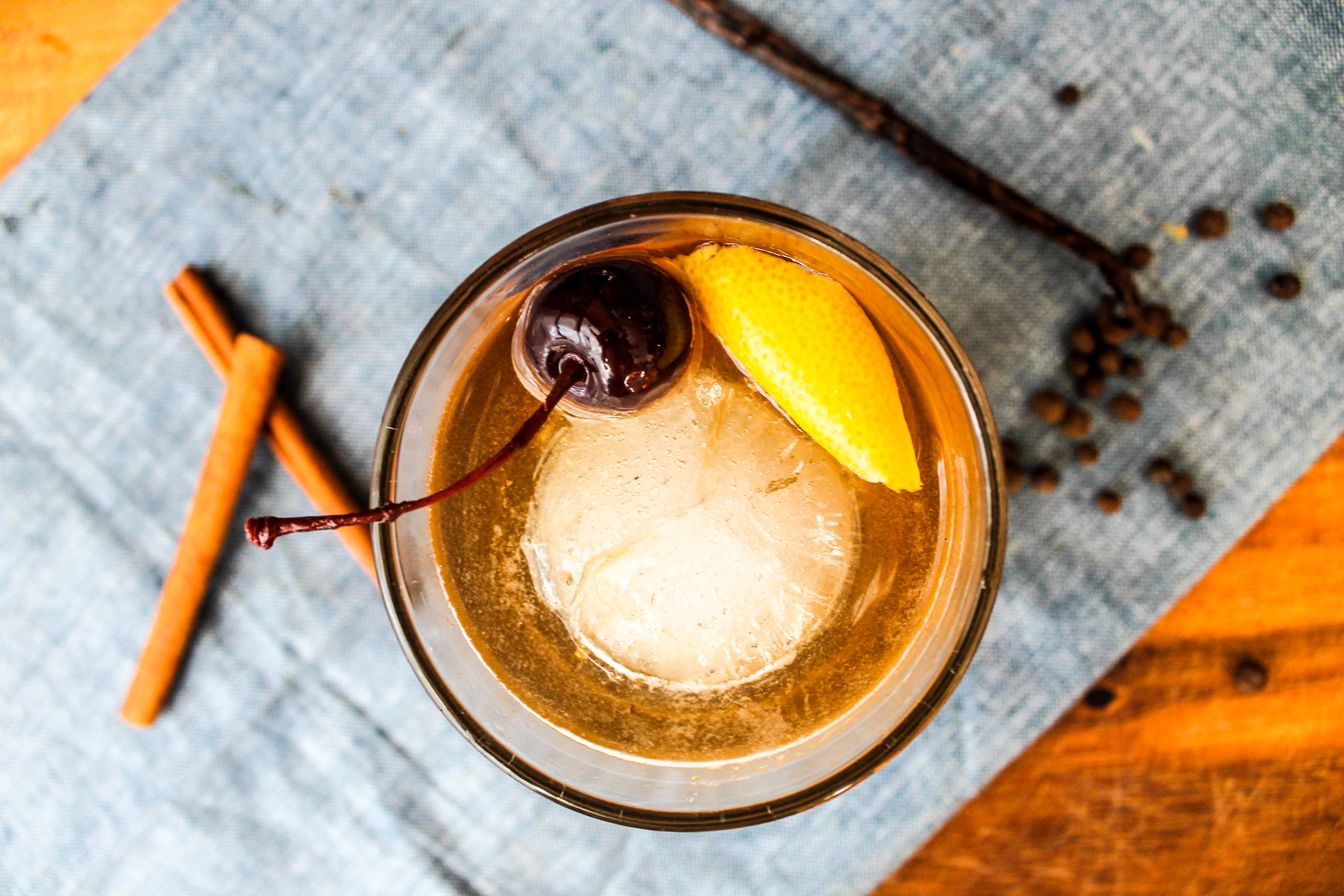 To get this just right, it took a couple of tries – Kyle originally just mixed the bourbon and allspice liqueur together and crossed his fingers hoping it would work, but, not so much. The allspice was too bitter and dominant and the drink didn't have the smooth, balanced sweetness and warm spice flavors of Jiko's cocktail. Licor 43, a sweet Spanish cordial flavored with vanilla, citrus, and spice, proved to be the secret ingredient that brought the Old Fashioned together. The added vanilla and sweet notes of the Licor 43 rounded out the harshness of the allspice, while still highlighting the spice notes of the Allspice Liqueur. However you choose to use the Allspice Liqueur, whip up a batch or two, share with family and friends and enjoy! It will be a holiday favorite before you know it!
Allspice Liqueur adapted from Serious Eats.

DIY Allspice Liqueur and Allspice Old Fashioned
Ingredients
For the Allspice Liqueur:
Ingredients:
1½ cup water
⅔ cup brown sugar
¼ cup whole allspice berries
1 vanilla bean, split in half lengthwise
1 cinnamon stick
1 cup light rum
For the Allspice Old Fashioned:
1 ½ ounces bourbon
½ ounce Allspice Liqueur
½ ounce Licor 43
1 orange twist
1 cherry
Instructions
For the Allspice Liqueur:
Heat water and sugar on medium until boiling, stirring to dissolve, about 5 minutes. Let the syrup cool,
Crush the allspice berries in a mortar and pestle or grind them in a spice grinder. You want coarse, large pieces and not a fine grind.
Place the crushed allspice, vanilla bean and cinnamon stick in a sealable glass jar and pour the rum on top. Seal the jar and shake well. Add the cooled brown sugar syrup to the jar and let the mixture steep for 2 weeks, shaking daily.
Strain out the solids through a fine-mesh strainer; then strain again through a coffee filter into your final bottle or jar.
For the Allspice Old Fashioned:
In a cocktail shaker filled with ice, combine Bourbon, Allspice Liqueur, and Licor 43. Shake well and strain into tub glass filled with fresh ice.
Squeeze the orange twist over the glass to release some of the orange's oils into the cocktail. Garnish drink with the orange twist and cherry and serve immediately.
Please follow and like us: