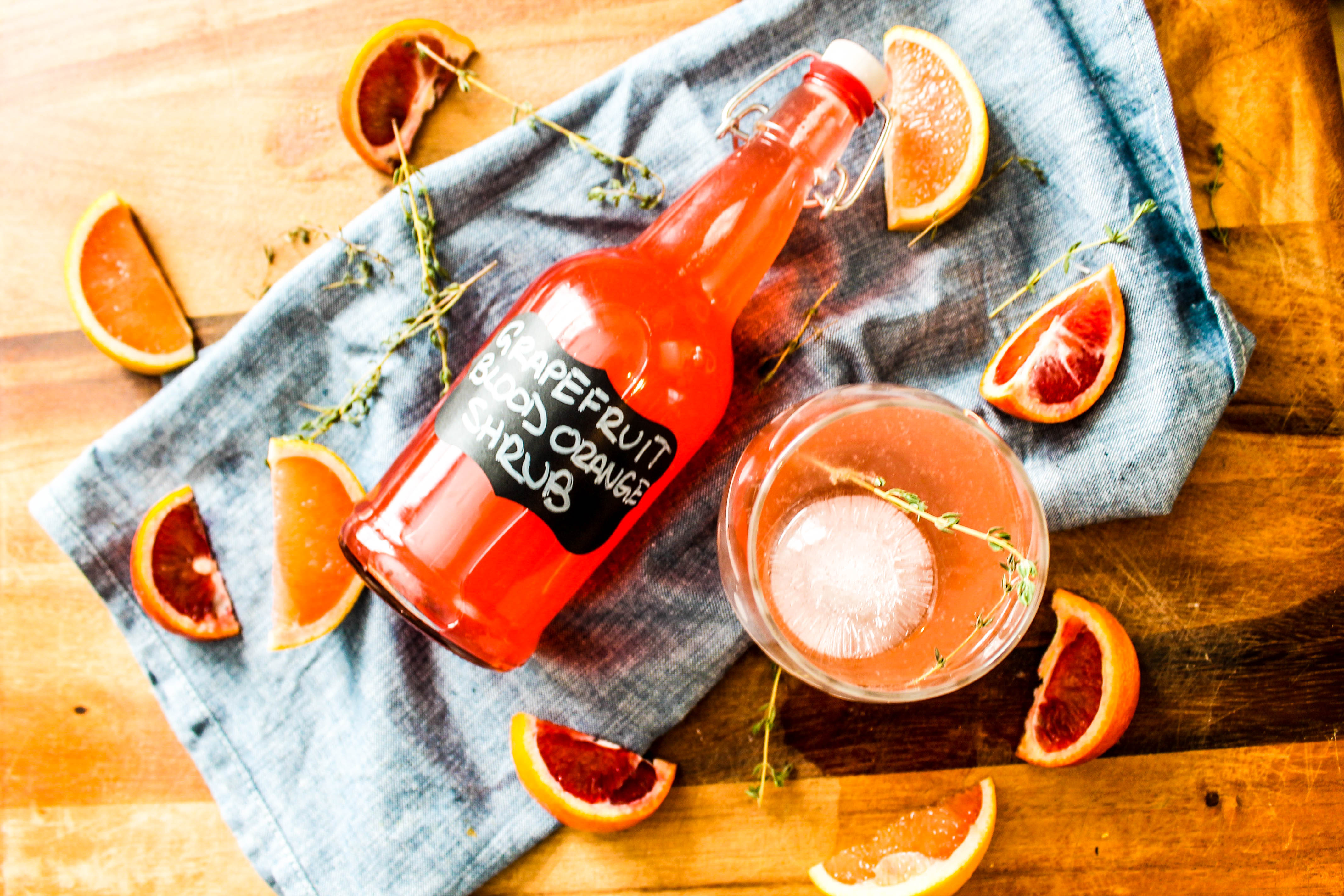 This Grapefruit Blood Orange Shrub will be our third shrub featured on this blog. Our love for them still grows, so we now share another! We have mentioned the historical background of the shrub before, the name itself is a variant of the word "shurb" derived from the Arabic sharab, meaning drink, and sharbat, a Hindi word for an aromatic syrup made from fruit or herb and flower extracts. It was stirred into water and served over ice. The English term Shrub first appears in print in 1747 in London's Gentleman's Magazine referring to a fancy libation.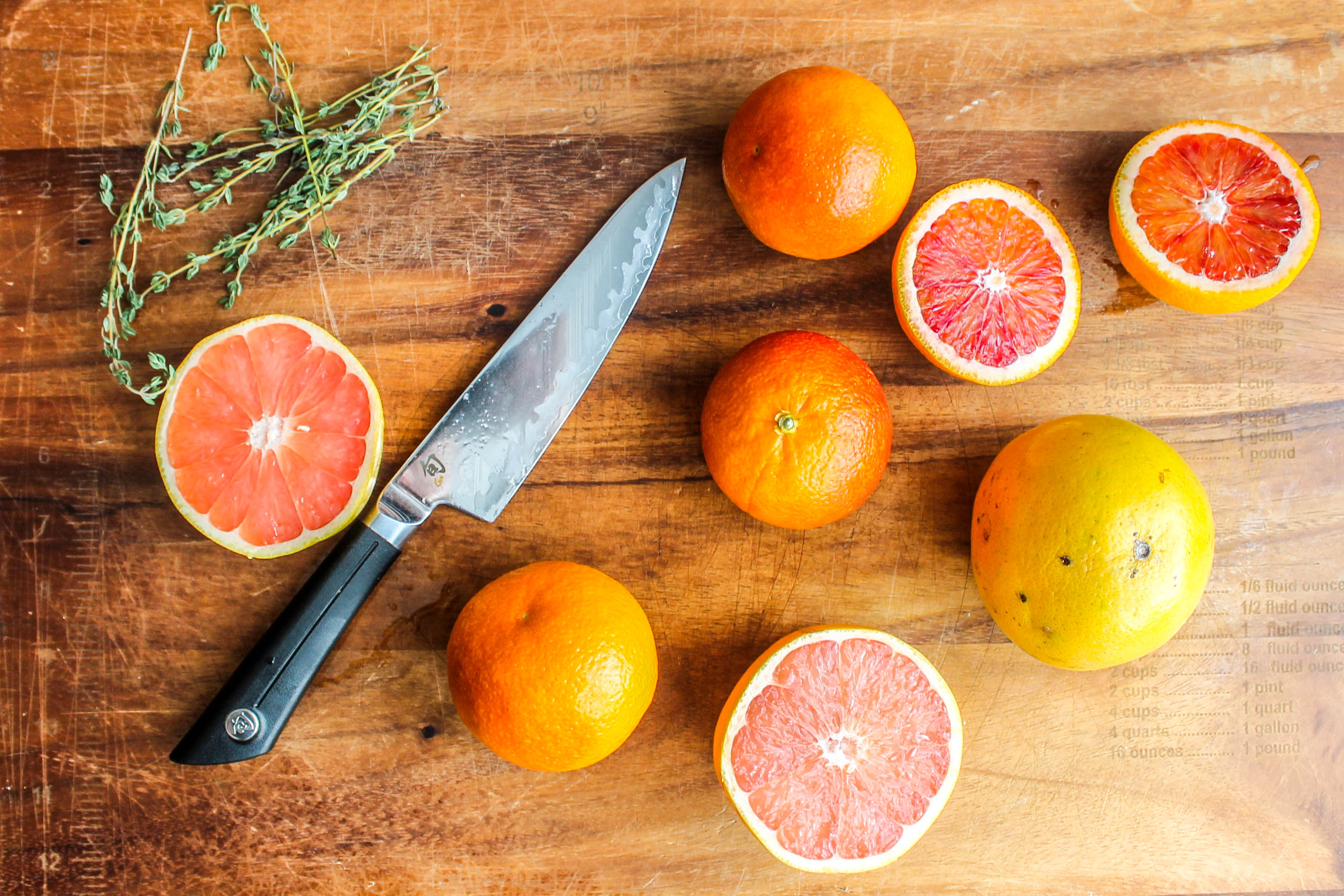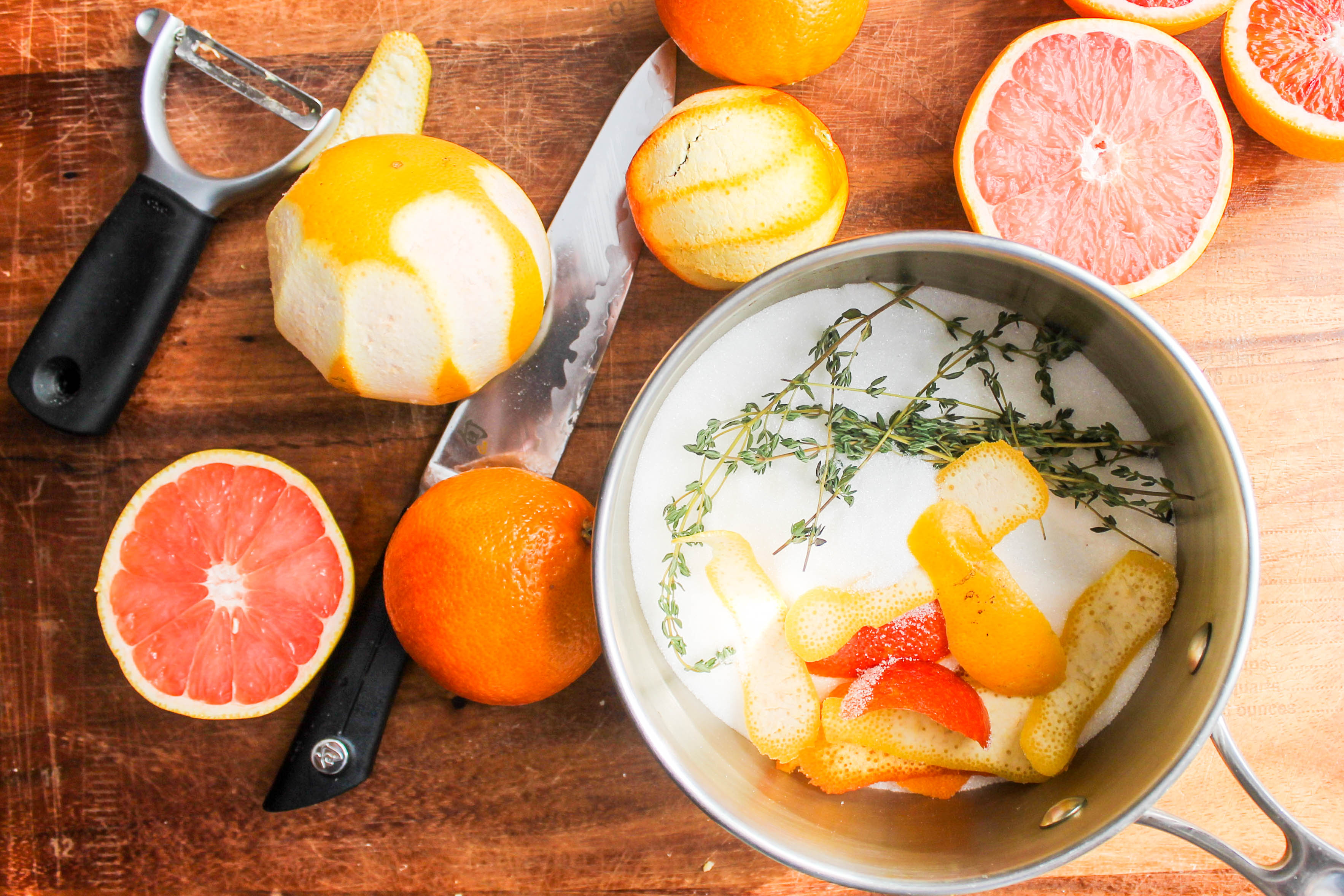 This recipe features the flavorful punch of  fresh, seasonal citrus – it is refreshing and delightful, allowing us to dream of warmer weather during these chilly winter months.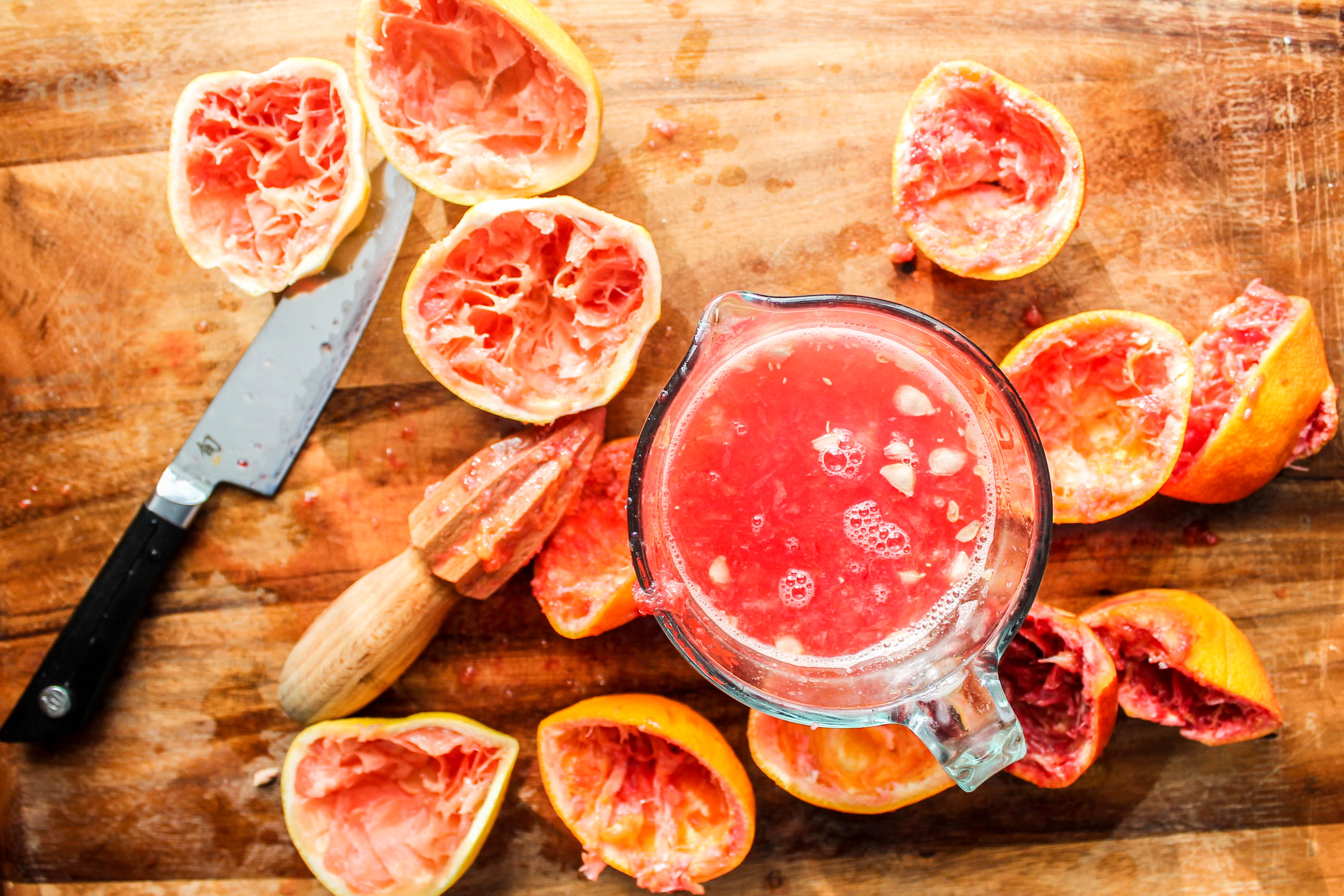 After our Pear Shrub and Peach Shrub, Kyle has been a tad obsessed with the sour-sweet combo that the vinegar, sugar, and fresh juice imparts on drinks and cocktails.  In this concoction the bitter tartness of the grapefruit balances the sweetness of the blood oranges (and, well, the combo just looks cool and is so darn pretty!).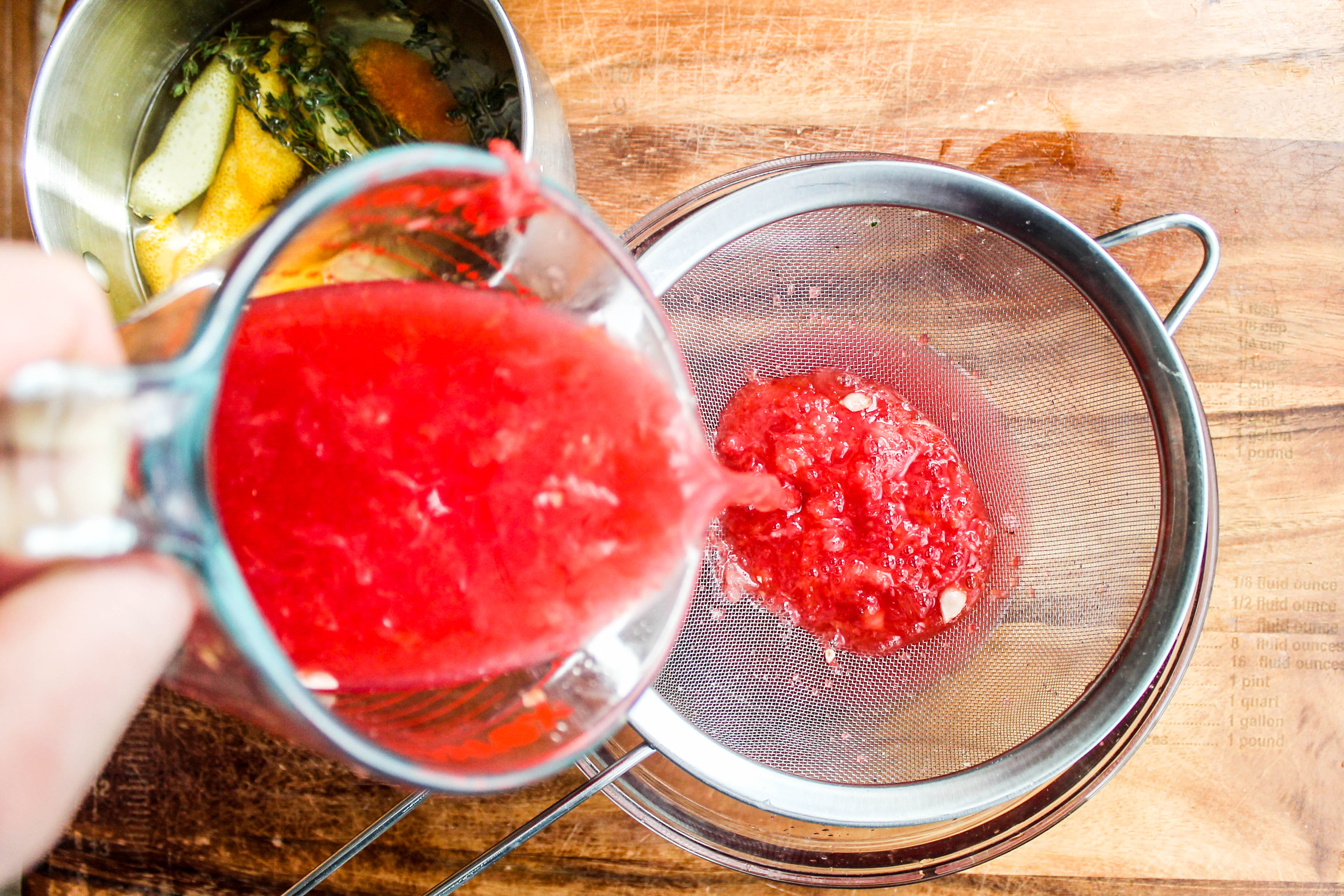 The previous two shrubs utilized the cold method – in which you macerate your chopped fruit with sugar overnight, then add the vinegar and infuse for about a week before straining and using – which is great, but it does involve a week-long wait for your shrubby deliciousness. The only drawback, really.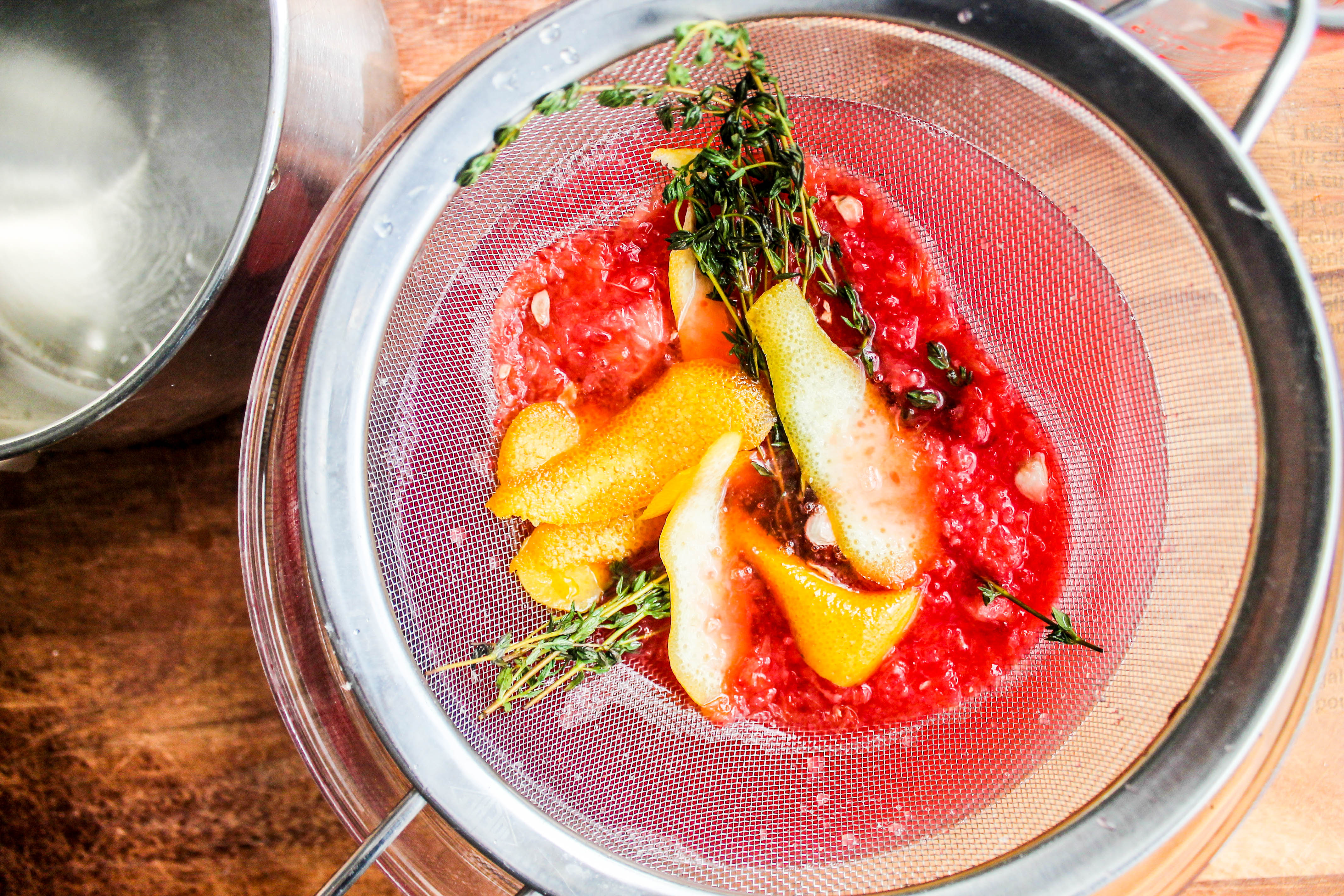 This Grapefruit-Blood Orange shrub instead uses the hot method –  in which you make a simple syrup with sugar and water, then boil it with your chopped fruit before straining and serving. This method yields the finished shrub in under 30 minutes, allowing you to enjoy your drinking vinegar whenever the craving strikes. Kyle further accelerated this process by juicing the citrus instead of simmering pieces of chopped grapefruit and orange  in the simmering syrup. Once the syrup had cooled, he strained out the citrus zest and thyme that it was infused in it, then he added the juice and vinegar, and – voila!  – the shrub was ready to go! There was no week-long waiting and infusing.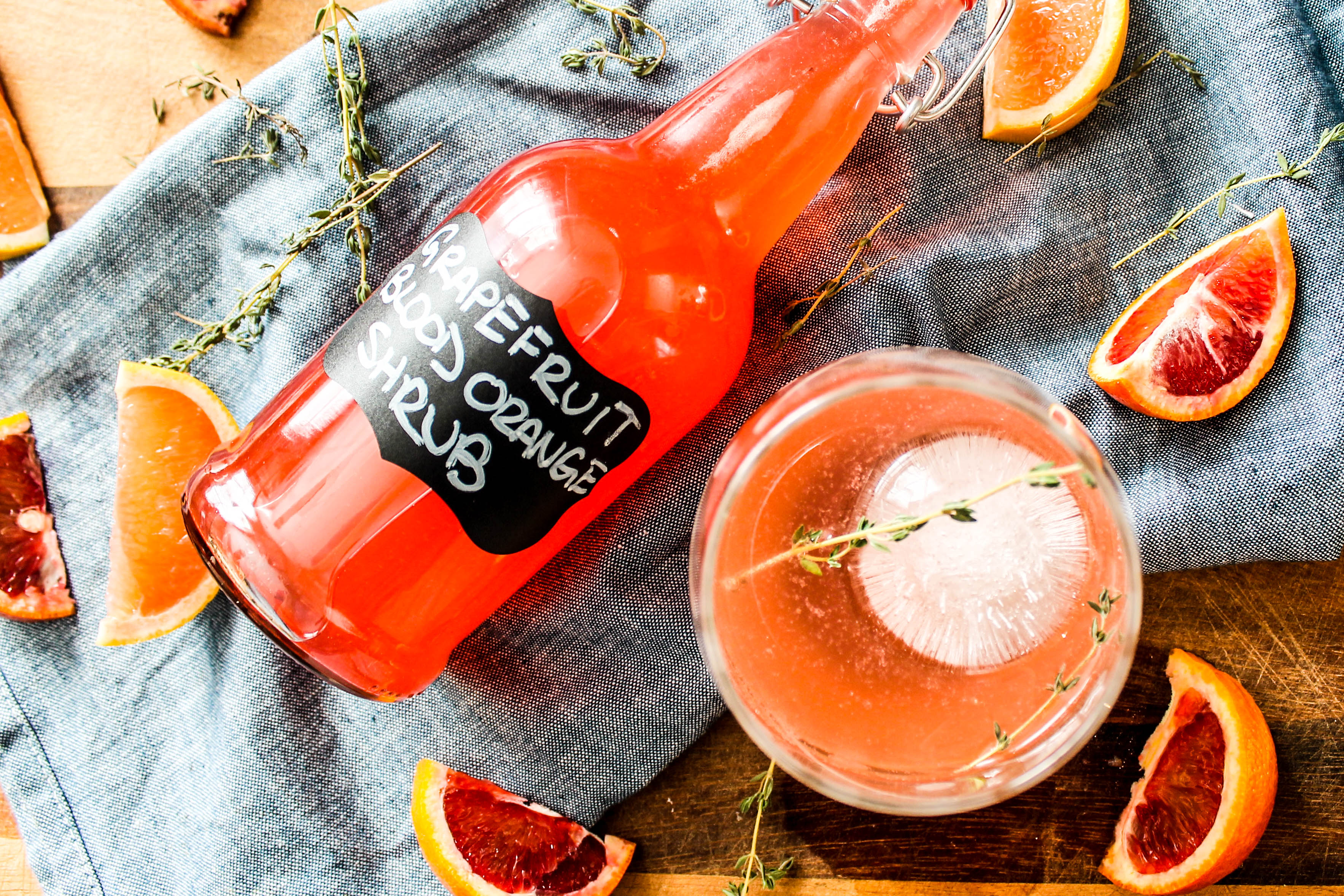 If you are in the market for a refreshing "mocktail", you can just add the shrub to some sparkling water. Of course, if a stronger libation is what you are looking for, add in a shot of vodka or gin. An ounce or so of the shrub also further elevates the traditional gin and tonic. For a more complex cocktail, shake 1 1/2 ounces of gin, 1 ounce  of  the Grapefruit Blood Orange Shrub, 1/2 ounce elderflower liqueur  and the juice of half a lemon with ice in a cocktail shaker. Strain into a martini or coupe glass and top with a splash of club soda. If your occasion calls for maybe a fancier beverage, or, if you are just in that kind of mood, top it with some sparkling wine instead! This was our cocktail of choice on New Year's Eve. The great thing about shrubs is that you can create your own delicious cocktails without too many ingredients, just simple, fresh and tasty. Cheers!

Grapefruit Blood Orange Shrub
Ingredients
2 large grapefruits
4 blood oranges
A handful of thyme sprigs
1 ½ cups sugar
1 ½ cups water
1 ½ cups white wine vinegar
Instructions
With a vegetable peeler, remove 4 to 5 strips of zest each from one grapefruit and one blood orange. Add citrus zest, thyme sprigs, sugar and water to a medium saucepan. Over medium high heat, bring to a boil, then remove pot from heat to cool to room temperature.
While the thyme syrup cools, juice the grapefruits and oranges. (You should get about 1 cup each of grapefruit and orange juice).
Pour thyme syrup and citrus juice through a strainer into a large bowl. Add the white wine vinegar and stir to combine. Cover and refrigerate until ready to use.
To make a Shrub Spitzer, fill a glass with ice, then pour in 1 to 2 ounces of the Grapefruit Blood Orange Shrub. Top with club soda. If desired, spike with 1 ½ ounces vodka or gin.
Please follow and like us: