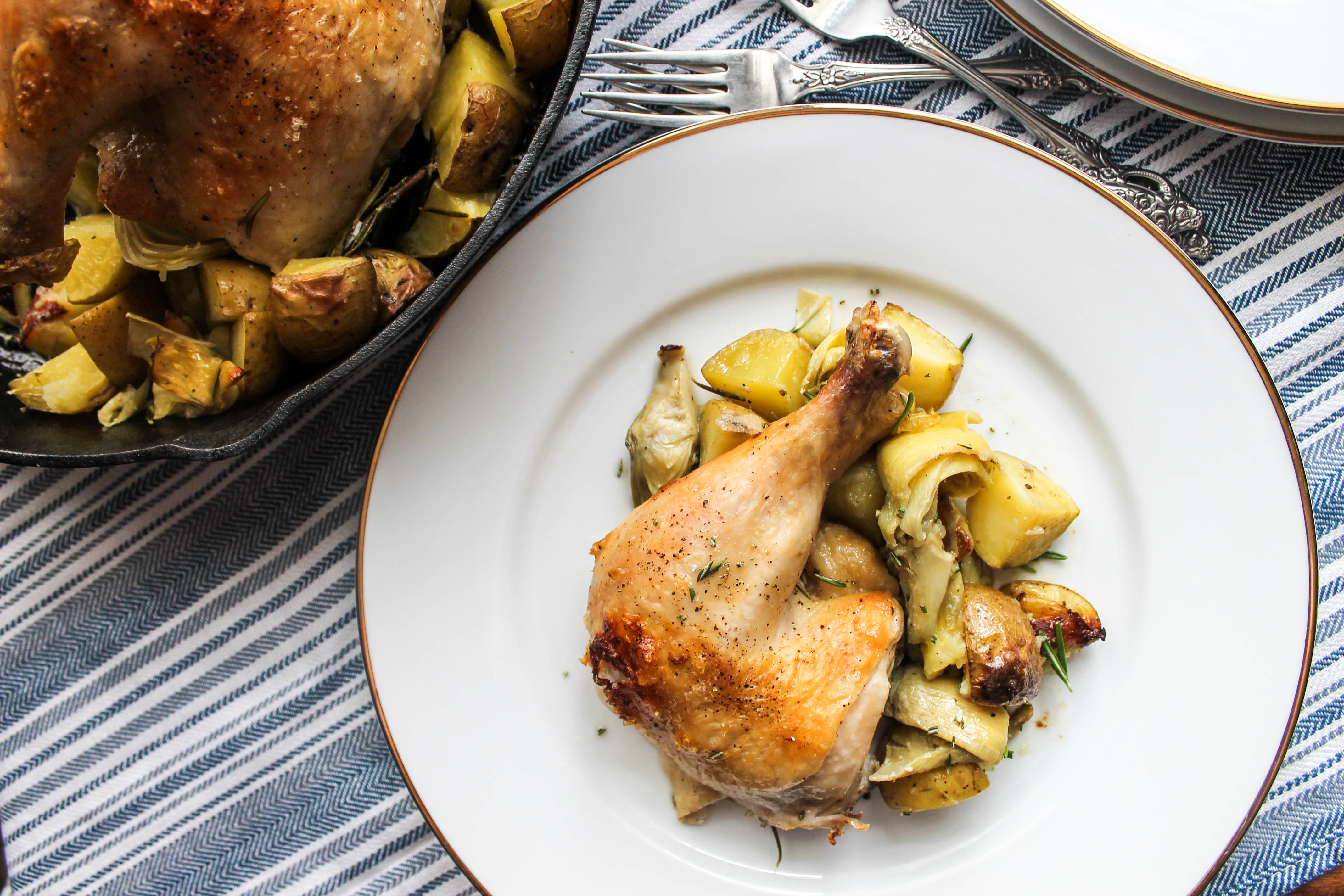 The origins for the inspiration of this particular recipe come from a meal Kyle had in Italy during his last night in Rome. The restaurant was nestled in by the Spanish Steps and there his group dined on braised lamb with artichokes. The entrée totally stole the show.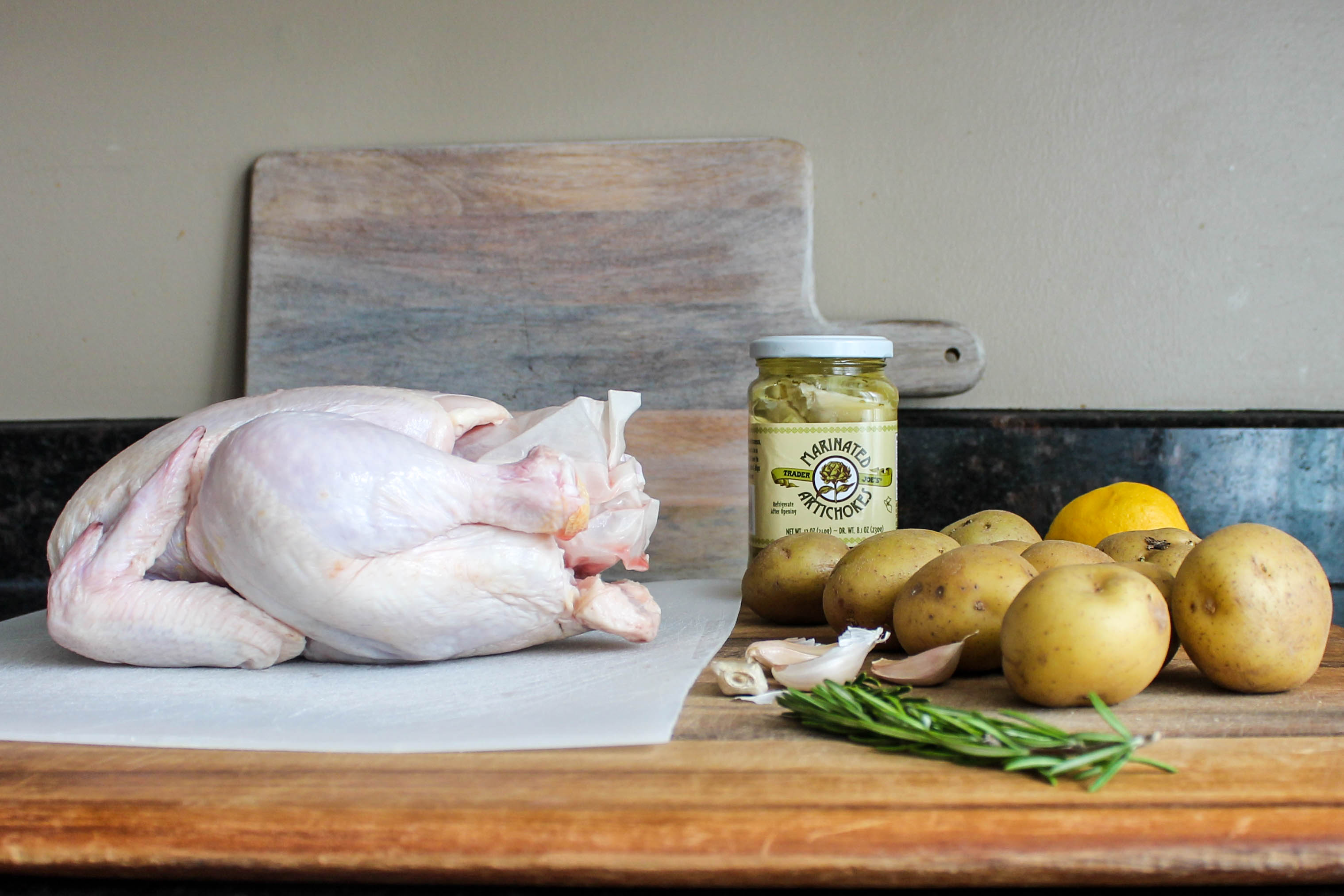 Once Kyle returned home he wanted to recapture the magic of the dish, but in a manner that transformed it into and accessible, weeknight meal. Unfortunately, due to budgetary and time constraints (expensive cuts of meat and lengthy braising time), the lamb was the first to be eliminated. Chicken was Kyle's choice for its infinite adaptability and relatively quick cooking time.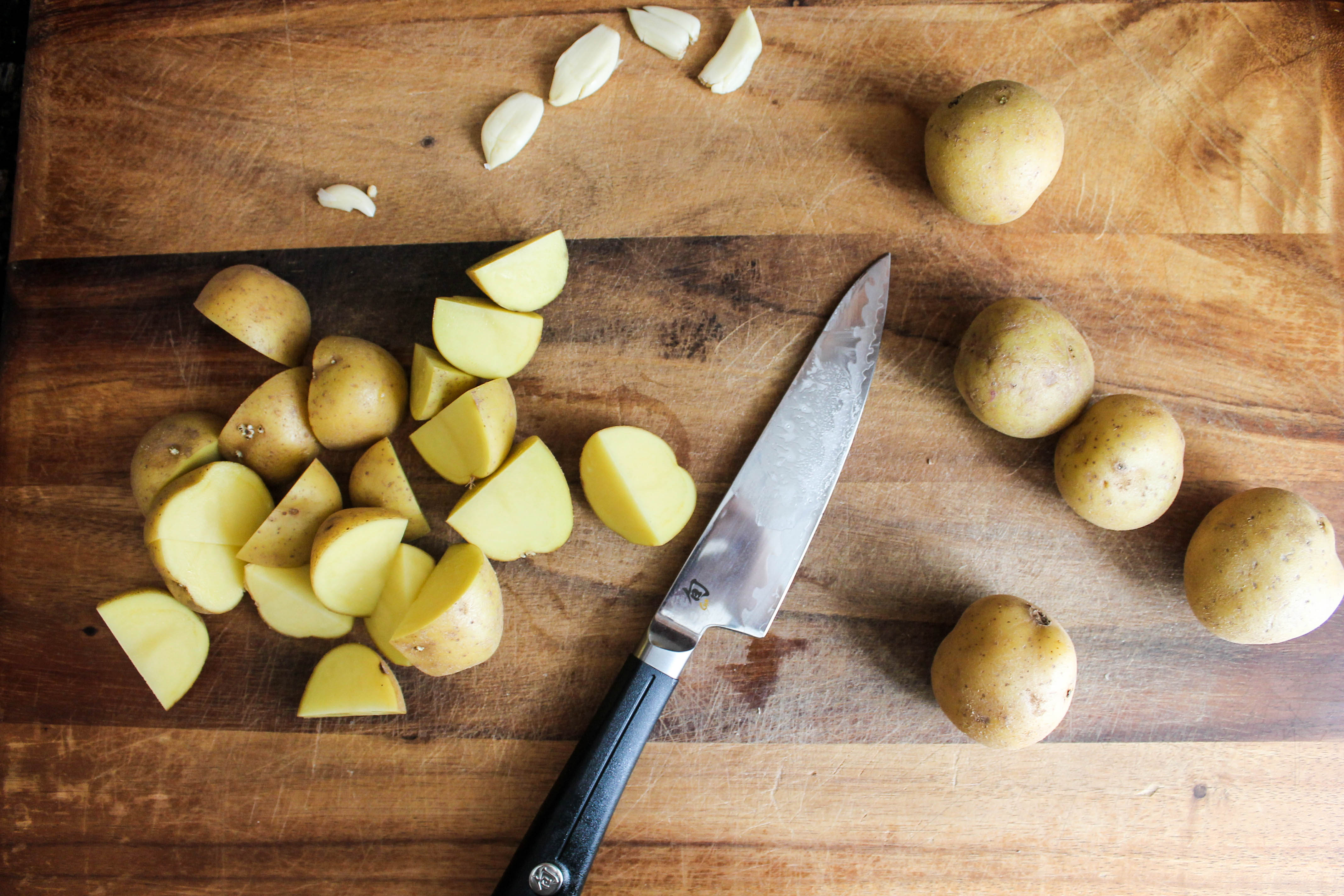 The Smitten Kitchen Cookbook's recipe for Flat Roasted Chicken with Tiny Potatoes was the catalyst for finding the perfect method to move Kyle's transformation of his artichoke-meat-dish-turned-easy-weeknight-supper-plan forward. The recipe is packed with all the flavor and richness of a Sunday supper one has prepared for hours, however, the meal will be on the table in just one hour with minimal prep time.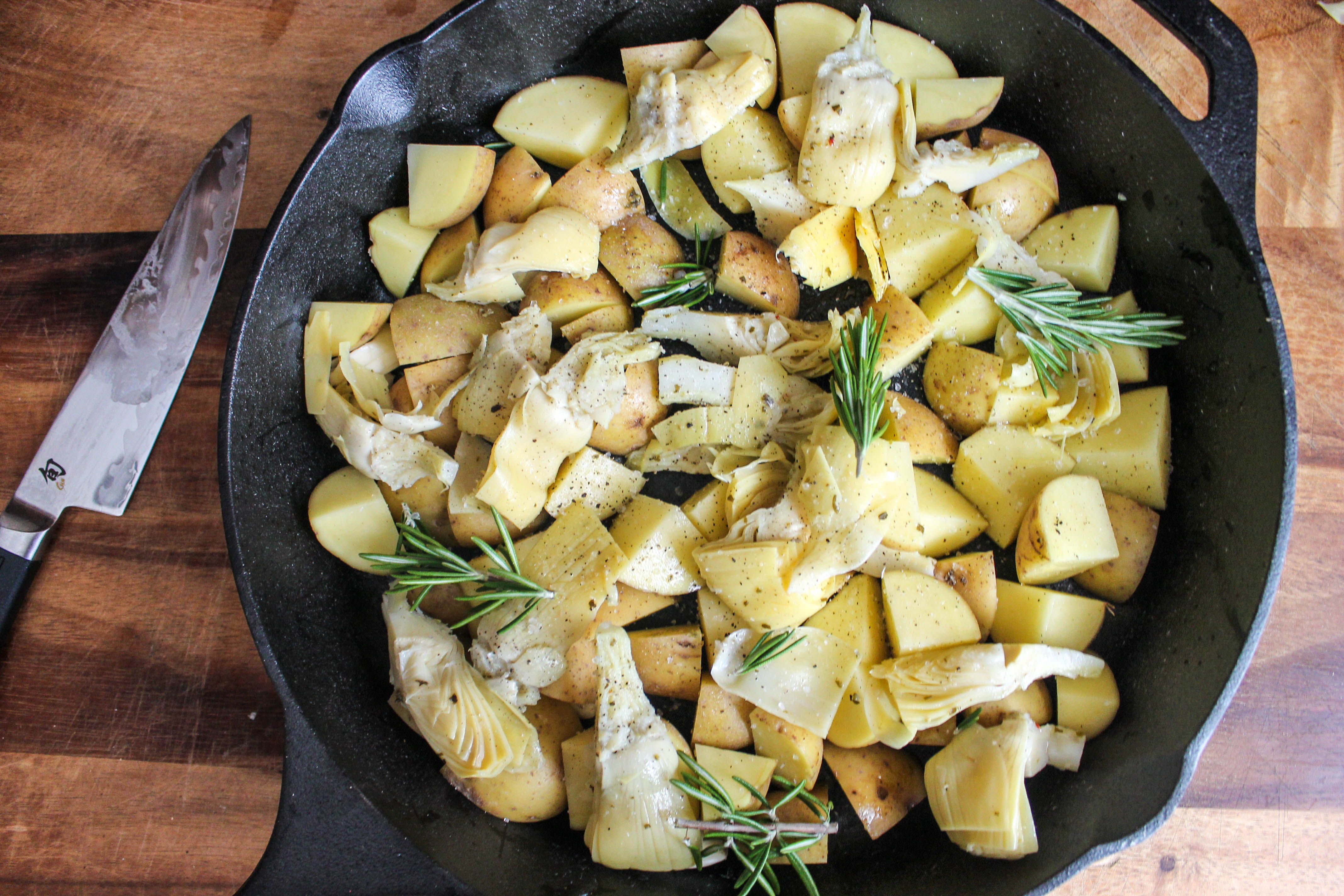 In the Smitten Kitchen's recipe, she roasts a flattened and de-spined (or spatchcocked – feel free to immaturely giggle, I did) chicken over a bed of tiny potatoes. Blog Side Bar: For those who have never spatchcocked before, Kyle swears by it, he does it every year when preparing his Thanksgiving turkey – previously highlighted here on our blog. Moving on, Kyle felt that the bed of tiny potatoes was the perfect place to incorporate the artichoke hearts. He used a coupe of cloves of garlic to mirror some of the flavor of the Rome lamb dish.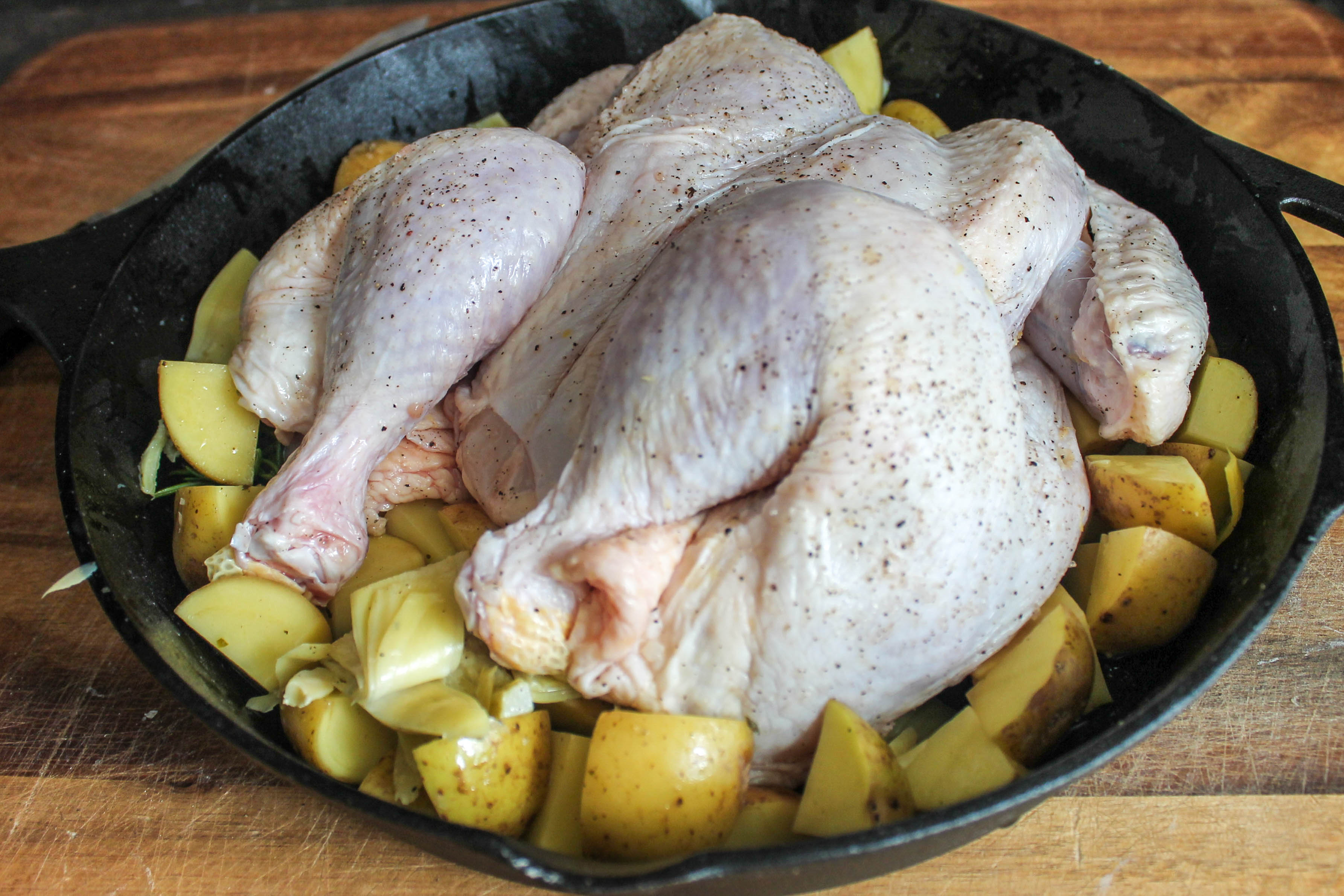 Together everything roasts at a high heat for 40 minutes or so, with the chicken becoming beautifully roasted with a delectable crispy skin and the potato-artichoke mixture getting all roasted and caramelized as it bastes in the chicken drippings. On some level the potatoes and artichokes, with their bronzed exteriors, and tender, rich, chicken-fat-filled interiors, almost upstage the centerpiece chicken.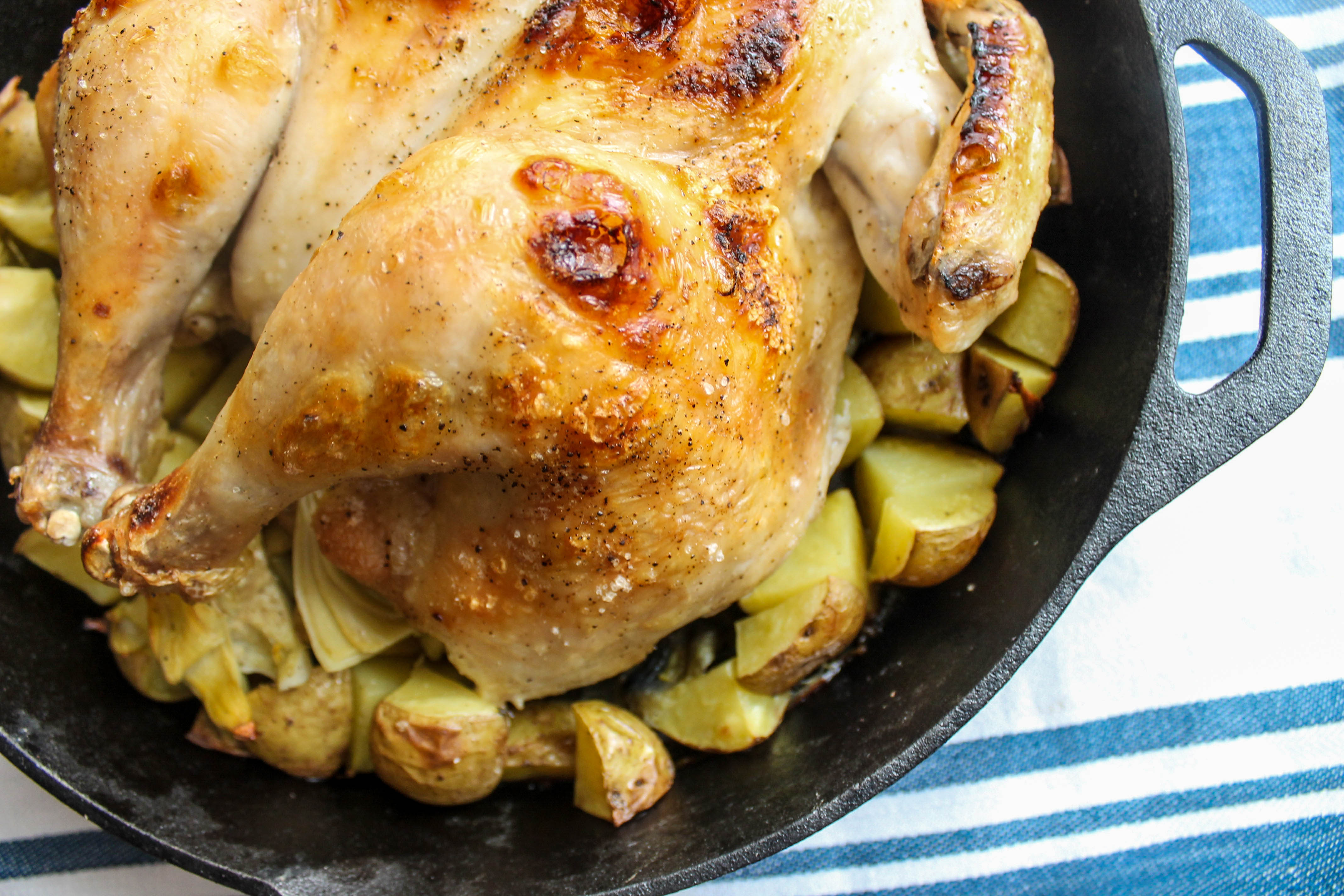 In the end, after Kyle had tweaked and adapted the recipe, this modified dish did not even remotely resemble the original inspiration. In my opinion, great masterpieces do not always have a linear path. An artiste's mind can make odd twists and turns along the journey to their finished product. This new version of Kyle's braised lamb inspiration surpassed his rich, yet simple meal motivations. The flavorful, effortless recipe deserves a spot on every cook's recipe lineup.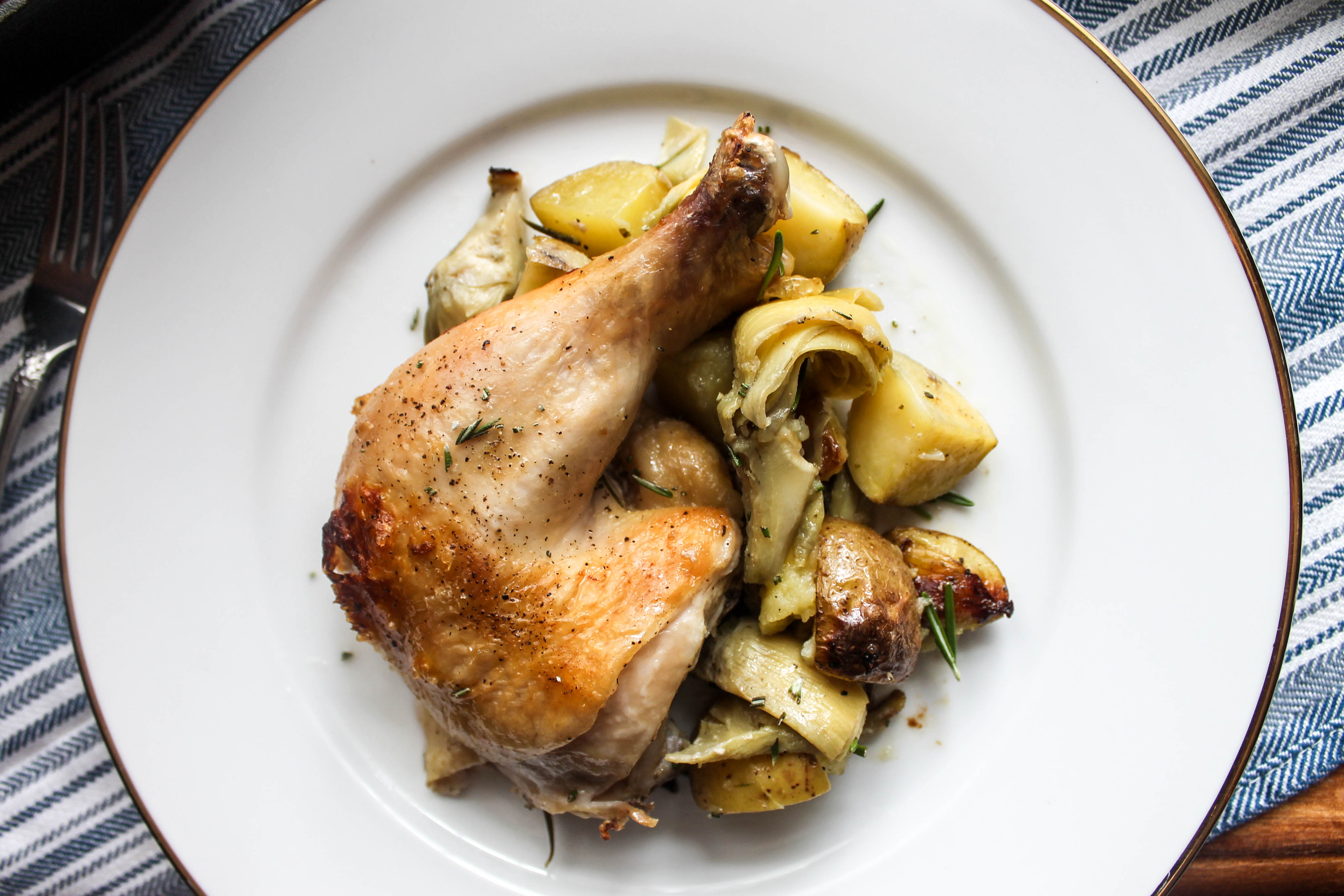 This dish is like a play on the ever-popular Sheet Pan Chicken (except roasted in a cast iron skillet) with its minimal prep and maximum taste. In addition, your table discussions hopefully will lead to an in-depth analysis of the word "spatchcock", adding a bonus to the charm and taste of the One Pan Chicken with Roasted Potatoes and Artichokes dish. Serve this dish with a simple salad and a glass (or two, or three….) of wine and this dish will put all the other weeknight suppers to shame.
Adapted from The Smitten Kitchen Cookbook.

One Pan Chicken with Roasted Potatoes and Artichokes
Ingredients
One 4-pound chicken
Salt and freshly ground black pepper
1 ½ pounds small yellow potatoes, quartered
One 12-ounce jar marinated artichoke hearts, drained
3 to 4 garlic cloves, peeled
A couple sprigs of rosemary
2 tablespoons olive oil
1 lemon, to finish
Instructions
Preheat oven to 475 degrees F. Using a cleaver or sharp kitchen shears, remove the backbone of the chicken. Season the cavity generously with salt and pepper. Turn the chicken breast-side up and use the heel of your hands to press down on both breasts, until you hear a cracking sound and the bird has flattened slightly. Gently pat the skin dry with a paper towel then season generously with more salt and pepper.
Add potatoes, artichokes, garlic and rosemary to a large, 12-inch cast iron skillet. Toss with olive oil then season with salt and pepper. Nestle the chicken on top of the potatoes and artichokes.
Roast chicken for 35 to 45 minutes, until a thermometer inserted into the thigh registers 165 degrees. Squeeze juice of entire lemon over dish, then serve.
Please follow and like us: