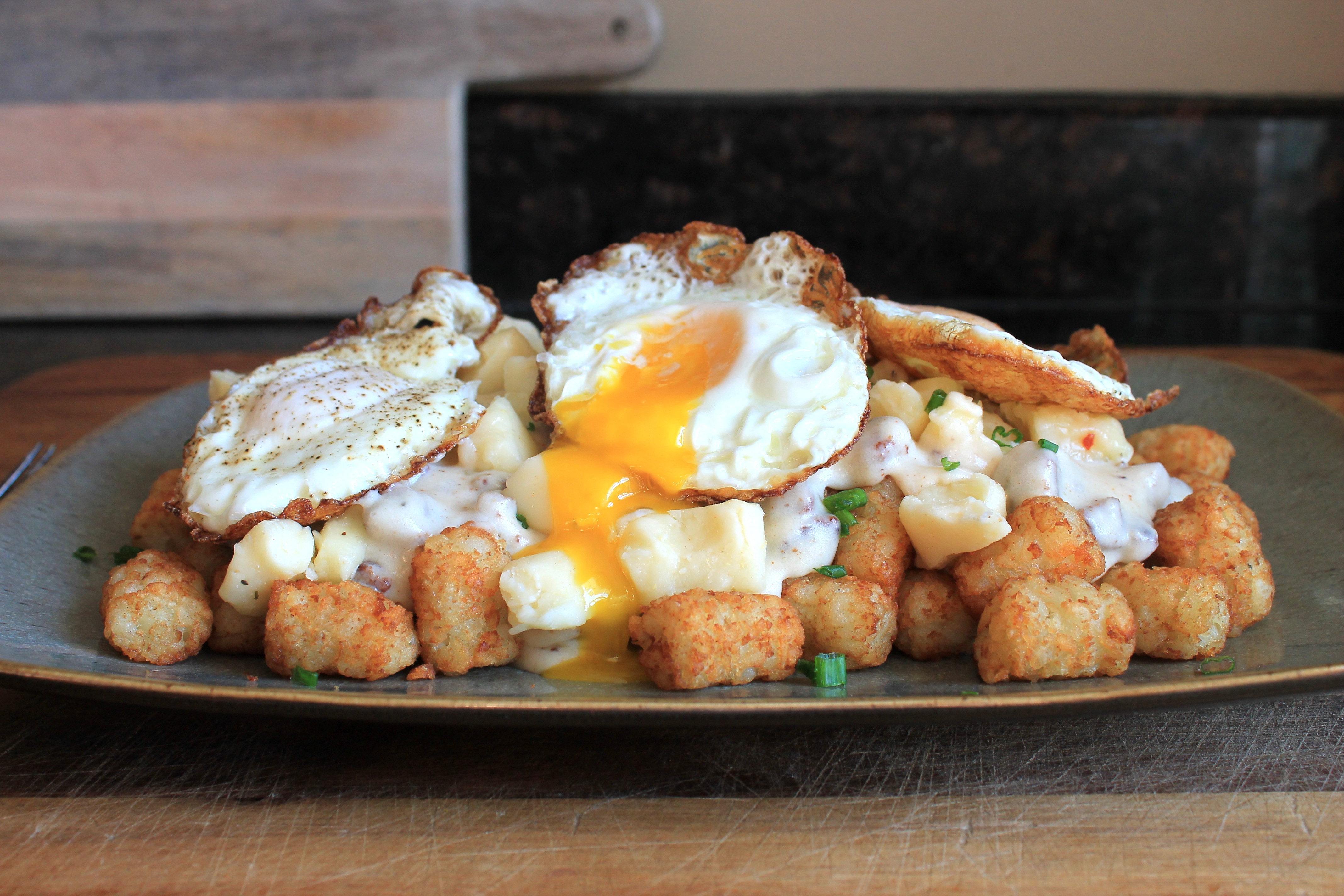 While we are typically consumed with visions of gluten free baked goodies between Thanksgiving and Christmas, we are actually able to siphon off a smidge of creative energy and curiosity in the service of expanding our holiday breakfast and brunch repertoire.  There are always a few criteria that have to be met, of course.  Simplicity, for one thing, is a huge consideration.  Scalability, flavor, and visual appeal also factor into the picture.  We've already offered a couple of different versions of our old standby Overnight French Toast, and it always goes over like gangbusters, but this year our cravings turned to something on the savory side.  Borrowing inspiration from a favorite comfort food classic from north of the border, we wondered if we could manage a breakfast version of Poutine.  With apologies to our Canadian friends, we're fairly certain that once you taste this mountain of glorious deliciousness, you'll forgive the bastardization.  The traditional dish tops french fried potatoes with brown gravy and cheese curds, and anyone who has enjoyed a properly made version of it will tell you that it is heaven on a plate.  Needless to say, the pressure was on.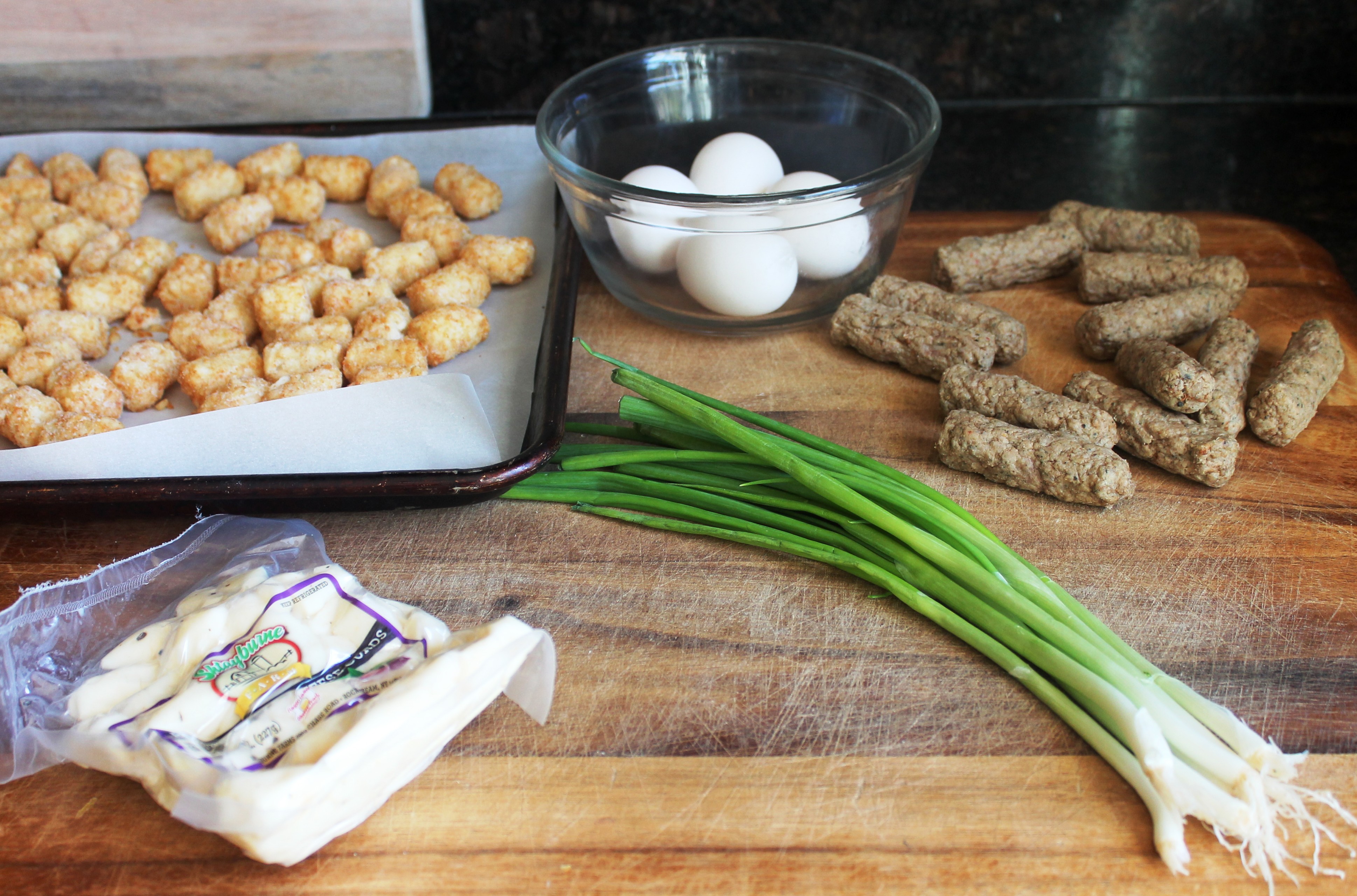 Playing on the breakfast theme, we considered using homemade rustic-cut home fries, but it was a little too far outside of "simple" for our liking.  That's when Kyle came up with the idea of using store bought tater tots (a.k.a. "puffs").  Bingo.  The added advantage there was that the baking time for the tots provided the perfect time frame for assembling the other components, so that meant that the dish would come together in about a half an hour, which was perfectly acceptable.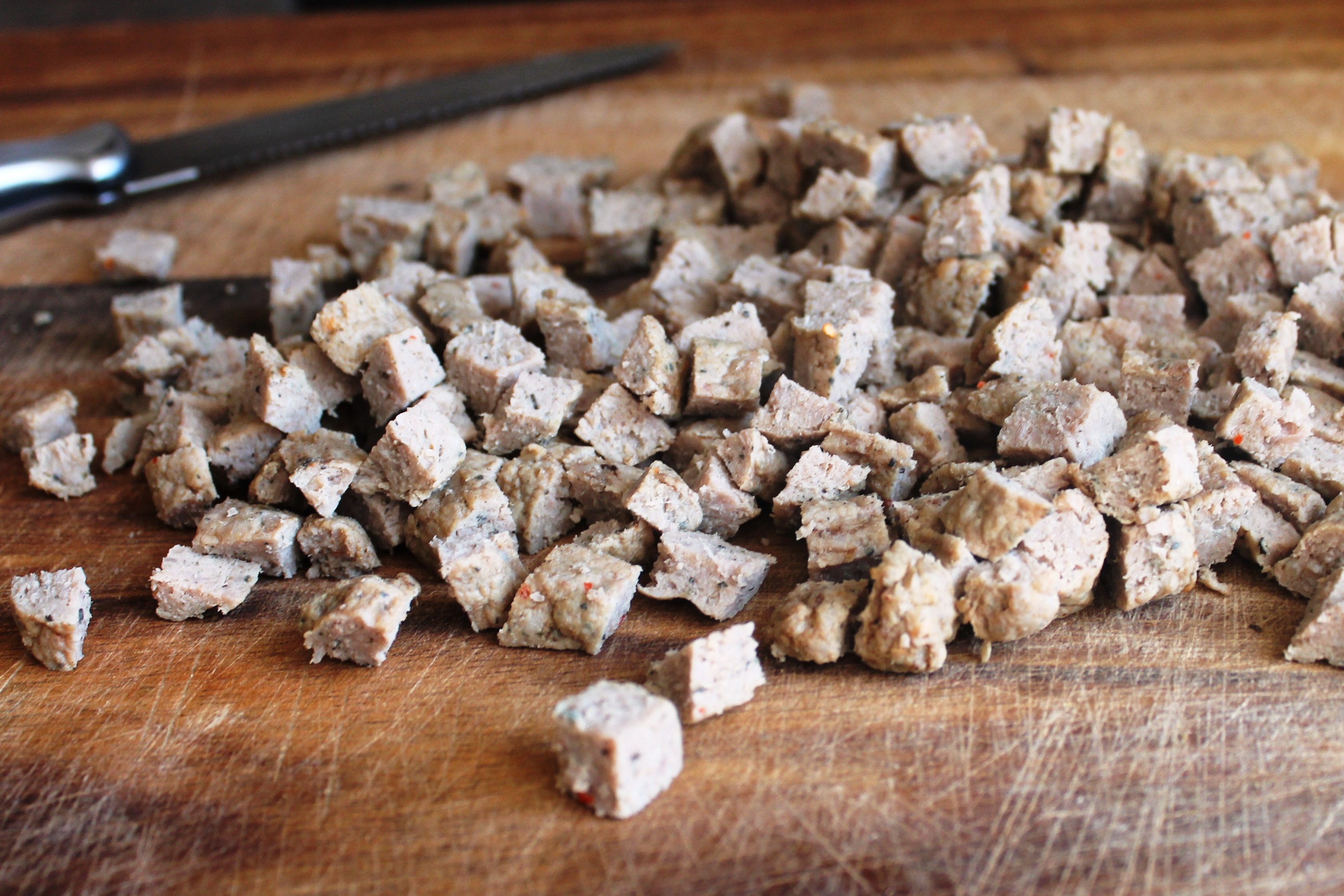 In place of the brown gravy, we went with sausage gravy, which added a little more heft and protein to the dish, and again played into the breakfast theme.  For this version, we used turkey sausage because it was what was in the fridge.  This required the addition of a few tablespoons of butter, since the sausage itself didn't yield enough fat for a good roux.  The butter added a nice flavor, as it is wont to do, so there weren't any complaints.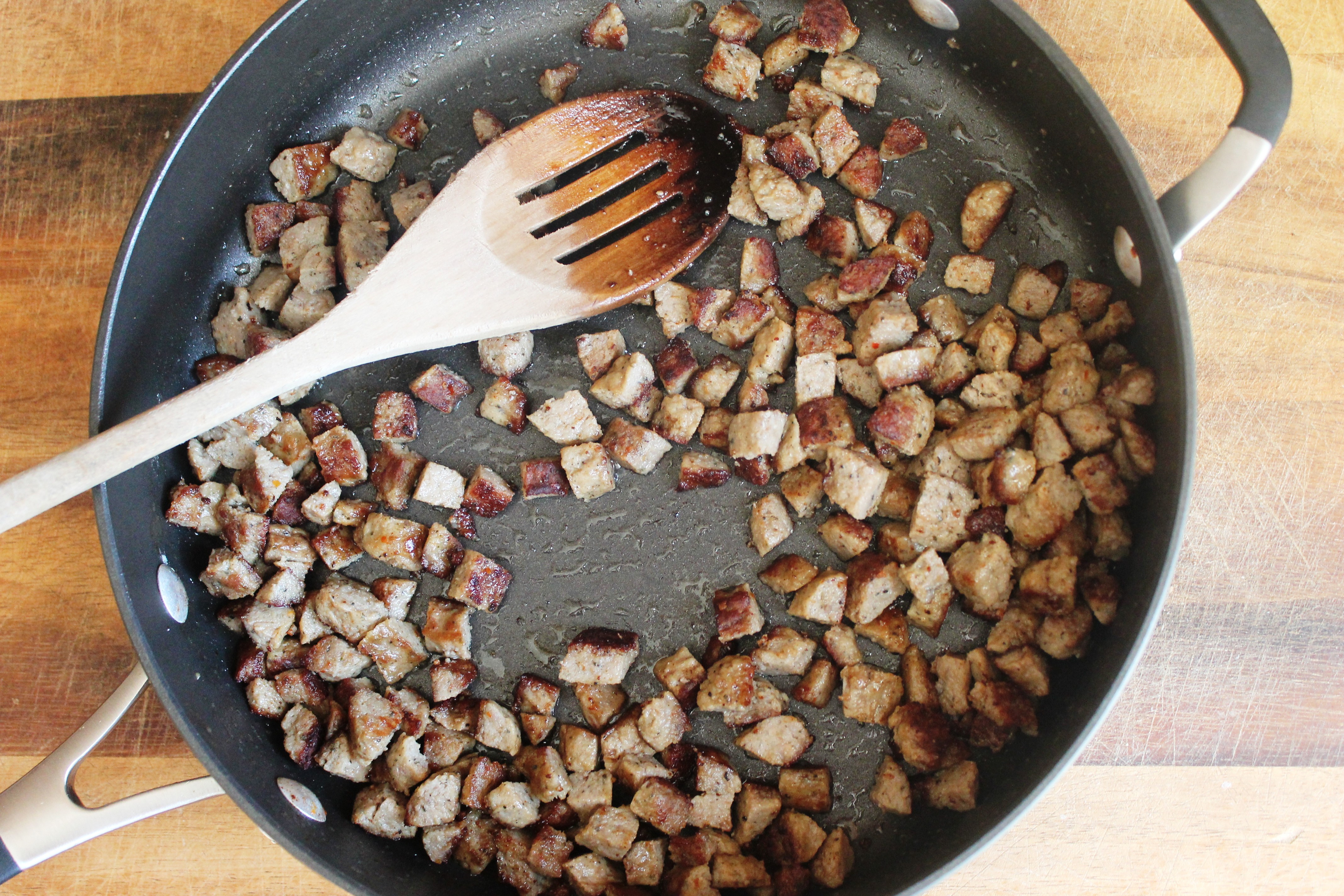 Needing to keep the dish gluten free, we turned yet again to sweet white rice flour as the thickening agent for the gravy.  It makes a wonderful, thickly silky gravy with either stock or milk.  In fact, the gravy is so beautifully textured that even if we didn't need it for its gluten free quality, we'd probably still use the rice flour given the results that it yields.  Plus, it's really inexpensive.  There's actually nothing not to love about it.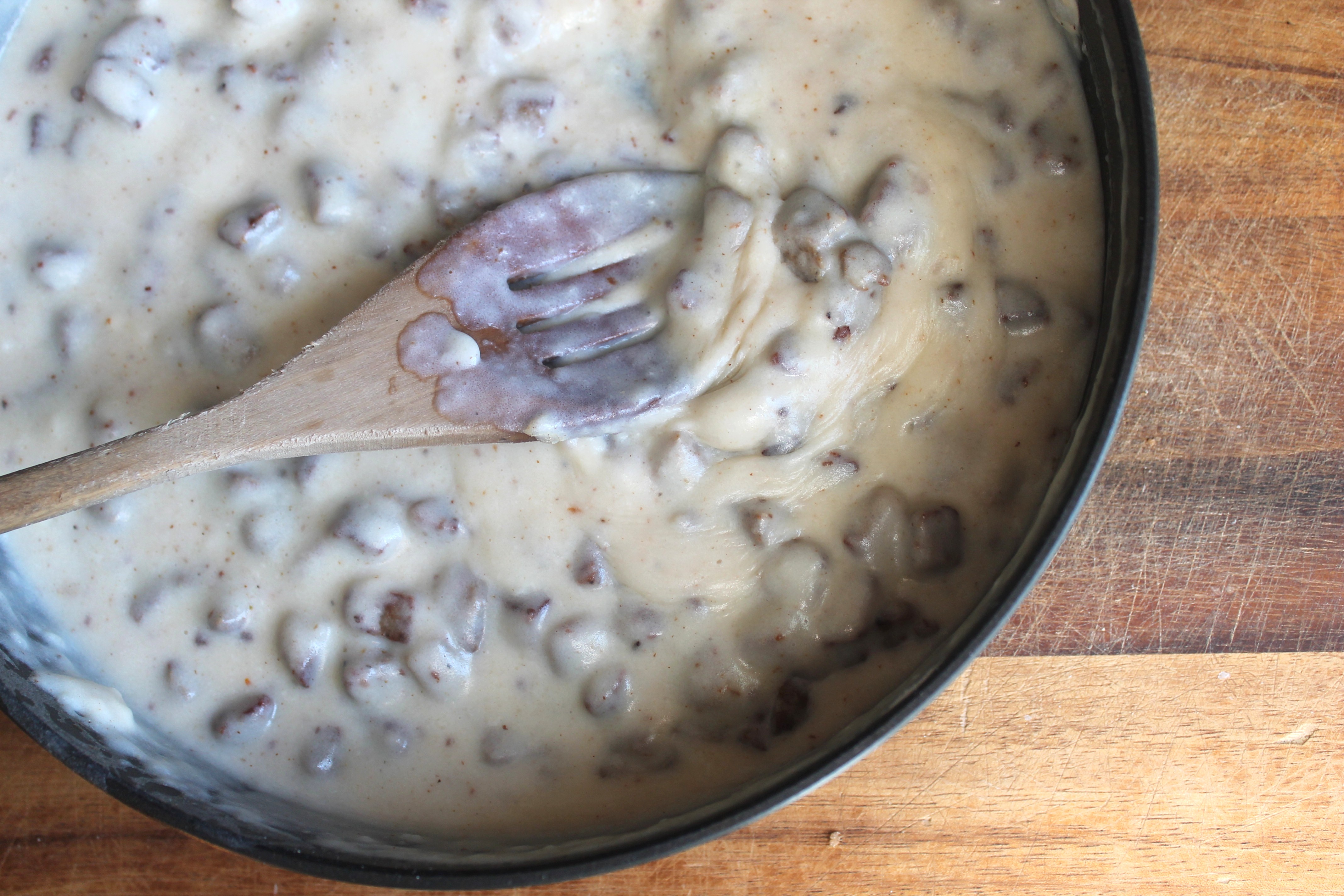 The third element, the cheese curds, can be a little tricky to come by.  If you're fortunate enough to have access to a great farmers market or cheesemonger, then Bravo!  In the event that you can't find them, don't give in to frustration or despair.  You can substitute shredded sharp cheddar cheese, fresh mozzarella or even diced string cheese in a pinch.  (Actually, the string cheese is perhaps the most similar to the curds texturally.  Go figure.)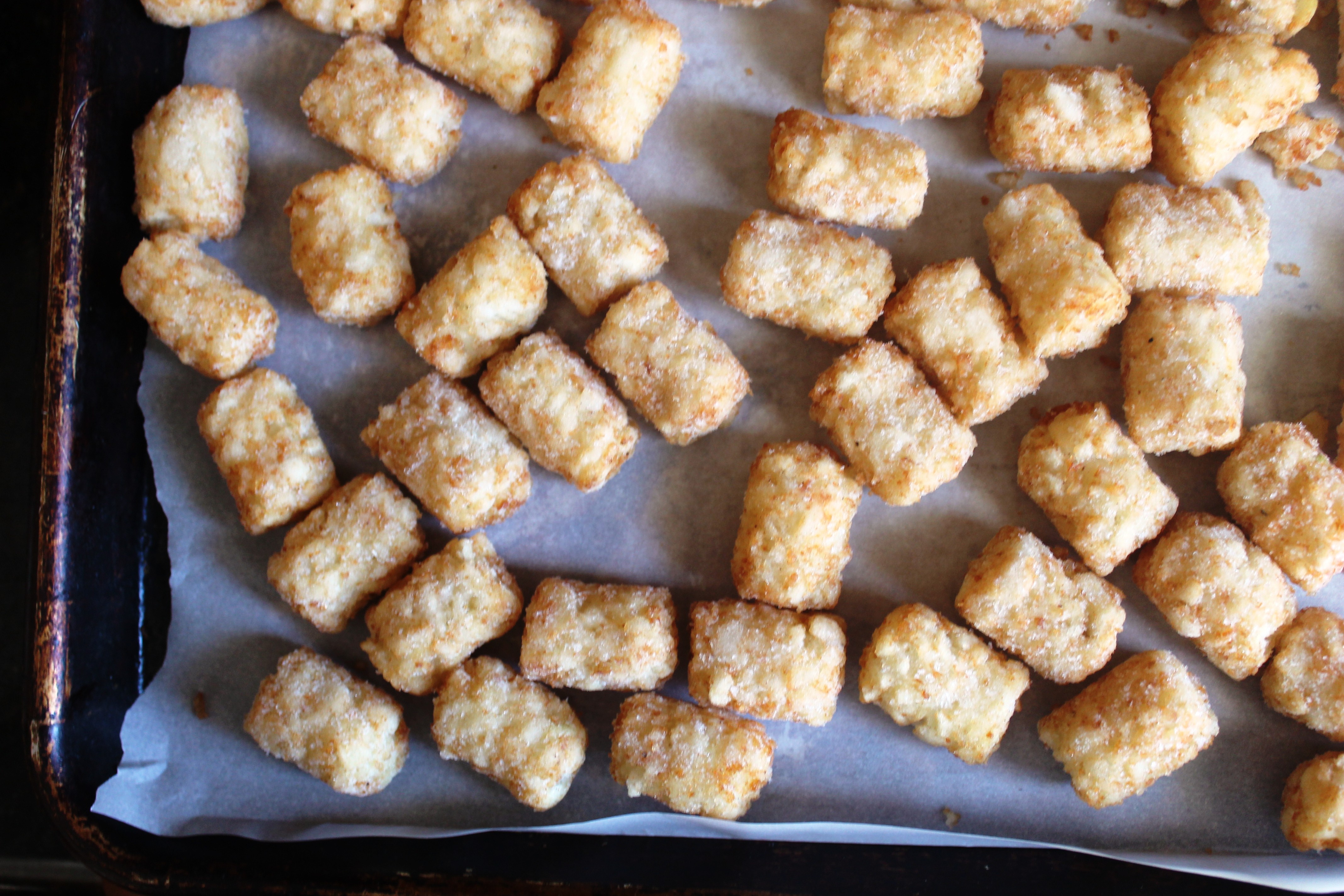 The crowning glory of this morning repast is a golden, crispy-fried egg, utilizing a technique first encountered on—and repeatedly borrowed from—Smitten Kitchen.  There really aren't many dishes that can't be improved by topping them with one of these crisp-edged eggs with their perfectly runny yolks.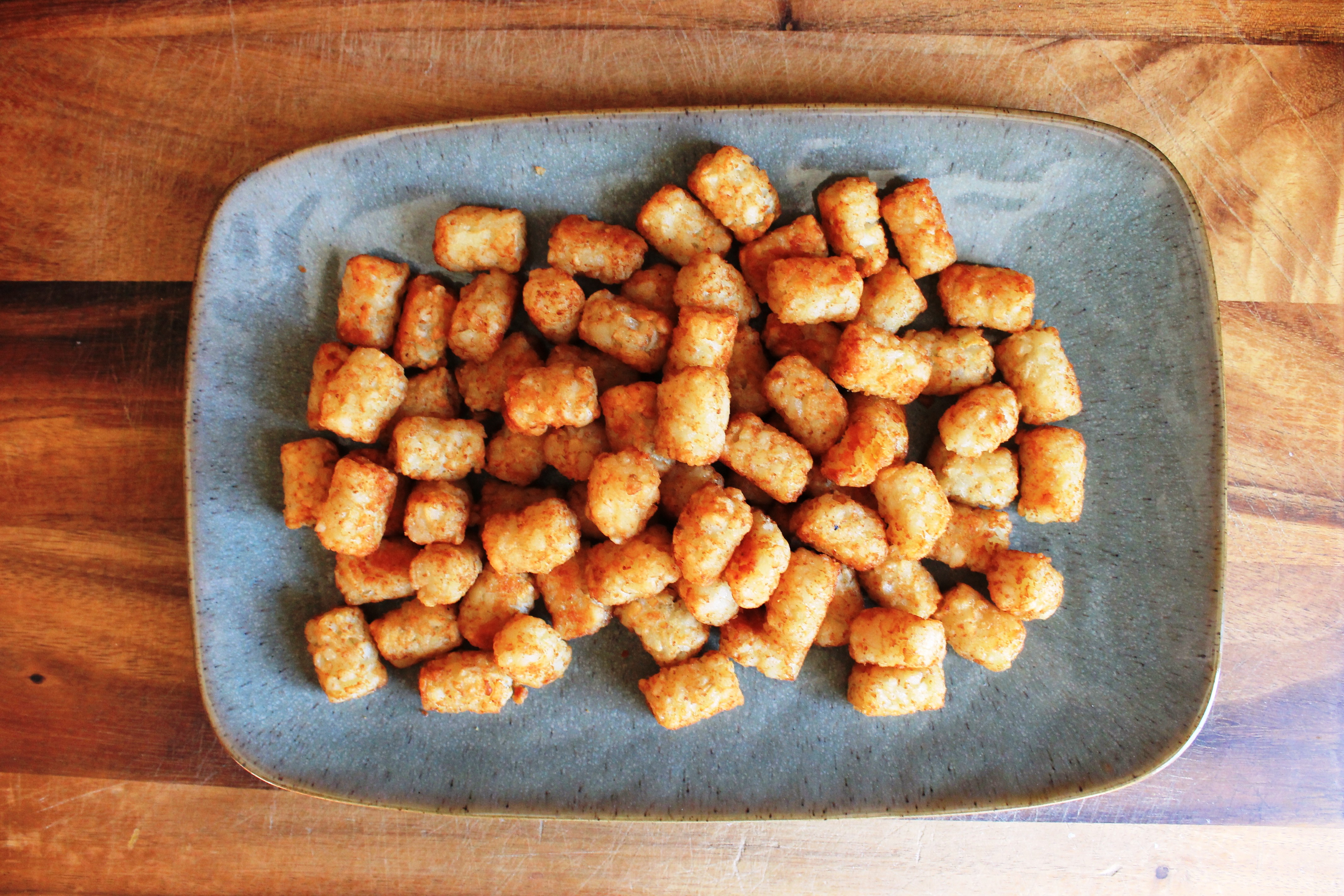 We assure you that the eggs are the most complicated part of this dish.  Getting them all fried and served hot without overcooking them takes a little finesse, but feel free to do a few practice runs before making this recipe.  Try them atop a simple salad and brace yourself for a new addiction.  Seriously.  They're also great on burgers and sandwiches, so you won't be at a loss for fun ways to enjoy them.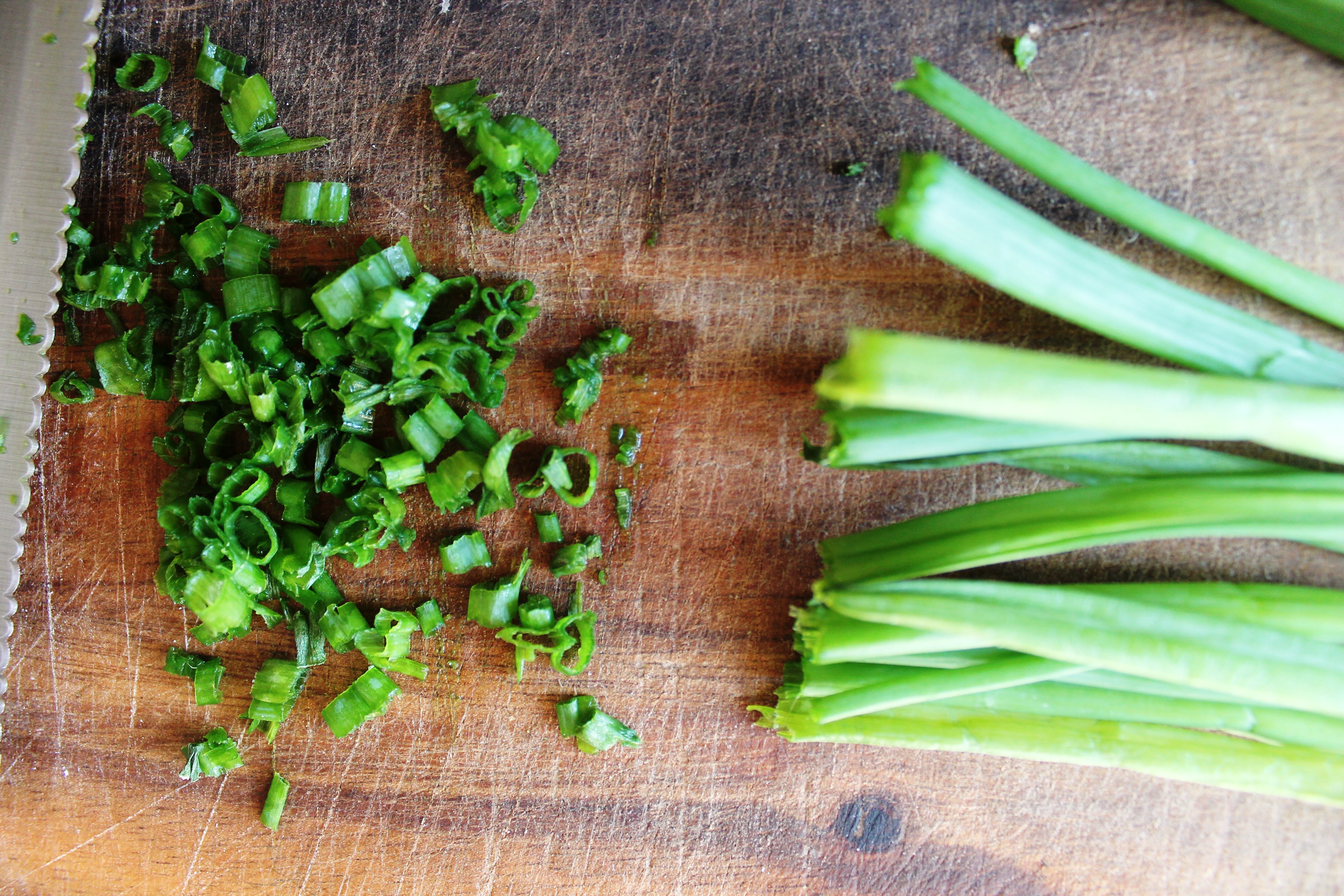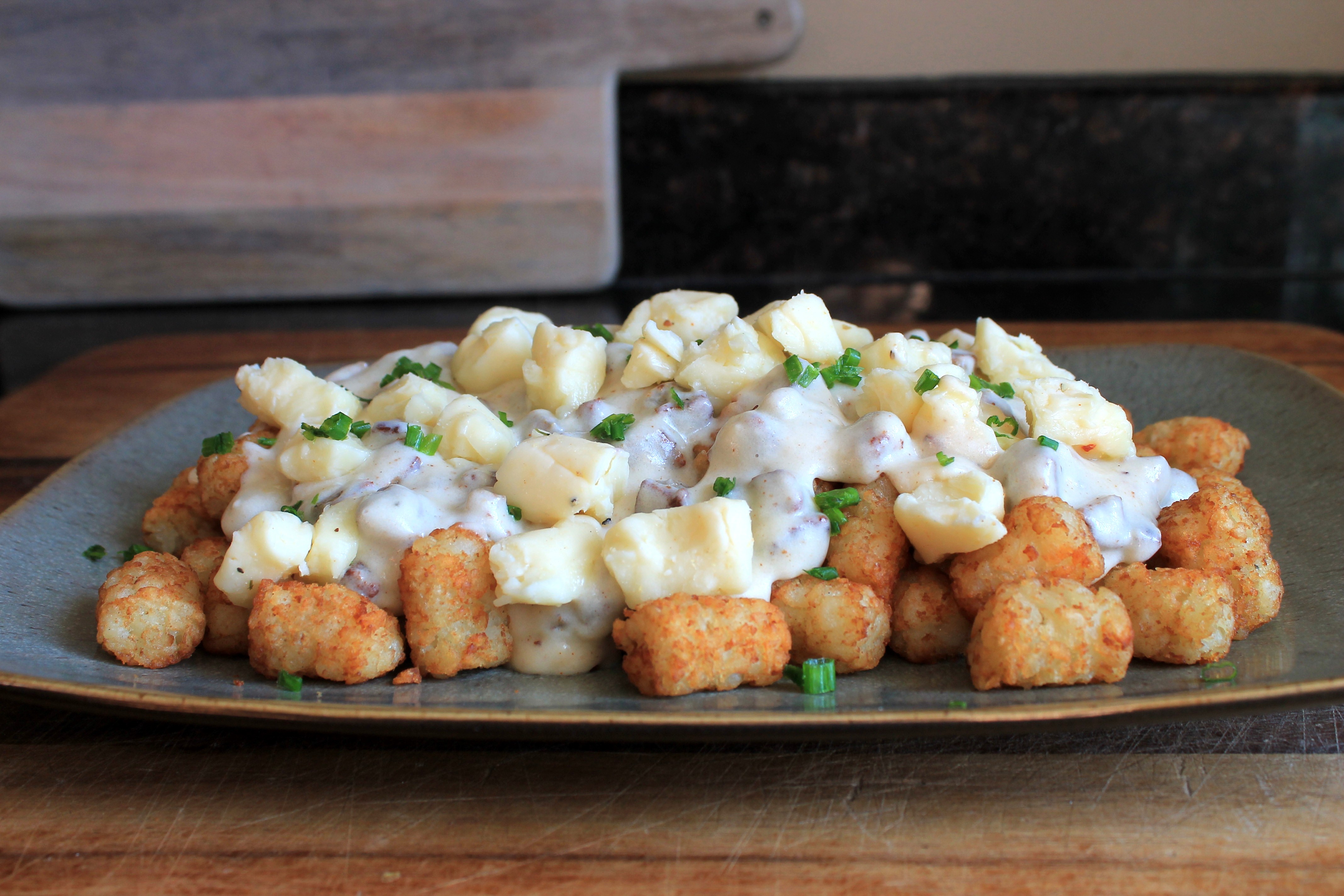 Once all of the components—the tots, the gravy, the curds and the eggs—are cooked, assembly couldn't be easier.  Whether you're making individual plates, or serving the dish family-style–as we've done here–it's a simple matter of placing the tots in a pile on the serving dish, topping them with hot gravy and the cheese curds, then draping those lovely eggs on top.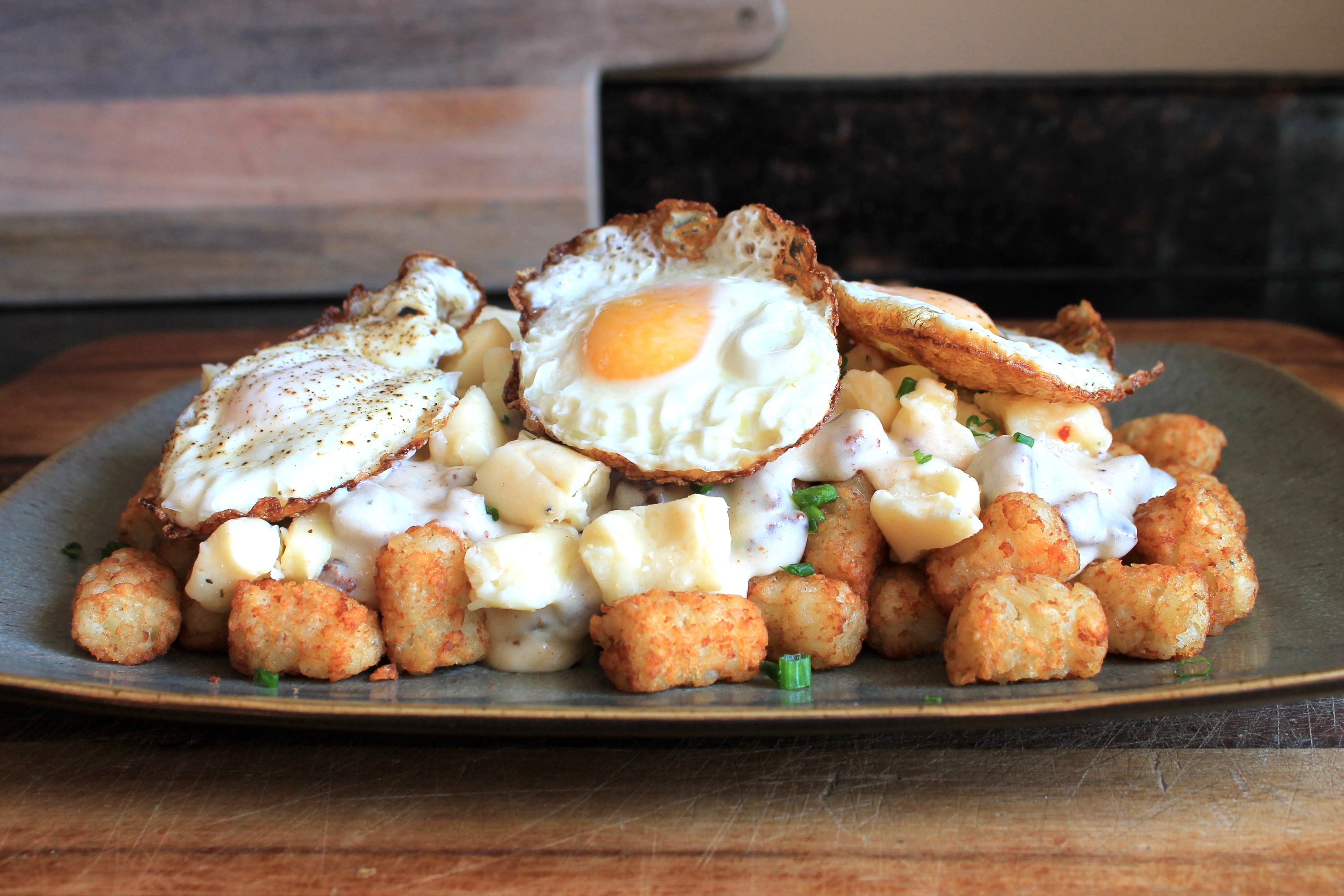 Garnish the plate or platter with fresh chopped scallions for a nice pop of color and extra flavor then pass out napkins.  Mouths will be watering, especially once the egg yolks are broken and proceed to run down the dish like rivers of rich, golden lava.  The ensuing melee will end in empty plates, happy bellies and smiling faces, most likely with egg yolk and gravy on their chins.  No judgements, but you might want to have extra napkins on hand.  Enjoy!
Tater Tot Breakfast Poutine
Ingredients
2-pound bag of tater tots
10 ounces sausage links, chopped (I used turkey sausage and had to add 3 tbsp. butter to create the roux)
¼ cup sweet white rice flour
2 cups milk
Salt and pepper, to taste
8-ounce package cheese curds
2 tablespoons oil
4 large eggs
1 tablespoons finely diced green onions
Instructions
Prepare tater tots according to their package instructions.
While tater tots bake, heat a large saucepan over medium heat. Cook sausage until browned, about 5 to 6 minutes, stirring occasionally. (If using turkey sausage, add butter to the pan once sausage has browned).
Sprinkle cooked sausage with sweet white rice flour, and stir to combine. Cook for 2 to 3 minutes, then stir in milk. Cook, stirring regularly, until gravy has thickened considerably, about 5 to 6 minutes. Season with salt and pepper to taste. Reduce heat to low to keep sausage gravy warm while preparing the rest of the ingredients.
For the eggs, heat a skillet over medium high-heat. Add the oil to the pan and swirl to evenly coat. Add one egg to the pan and sprinkle with salt and pepper. The egg/oil will hiss and sputter, but after a minute the edges will get begin to brown and crisp. Spoon some of the hot oil on top of the egg whites to speed up the cooking process without burning the crispy bottom. From start to finish, the egg whites should be fully opaque, with the yolk runny and the edges brown and crispy, in about a minute and a half to two minutes. Remove egg from the pan and reserve. Repeat process with remaining three eggs (one at a time) adding more oil to the pan as necessary.
To serve, evenly divide the tater tots among 4 plates (or build the whole dish on a serving platter). Top with the piping hot gravy and cheese curds, then sprinkle with green onions. Top each portion with an egg and serve immediately.
Please follow and like us: