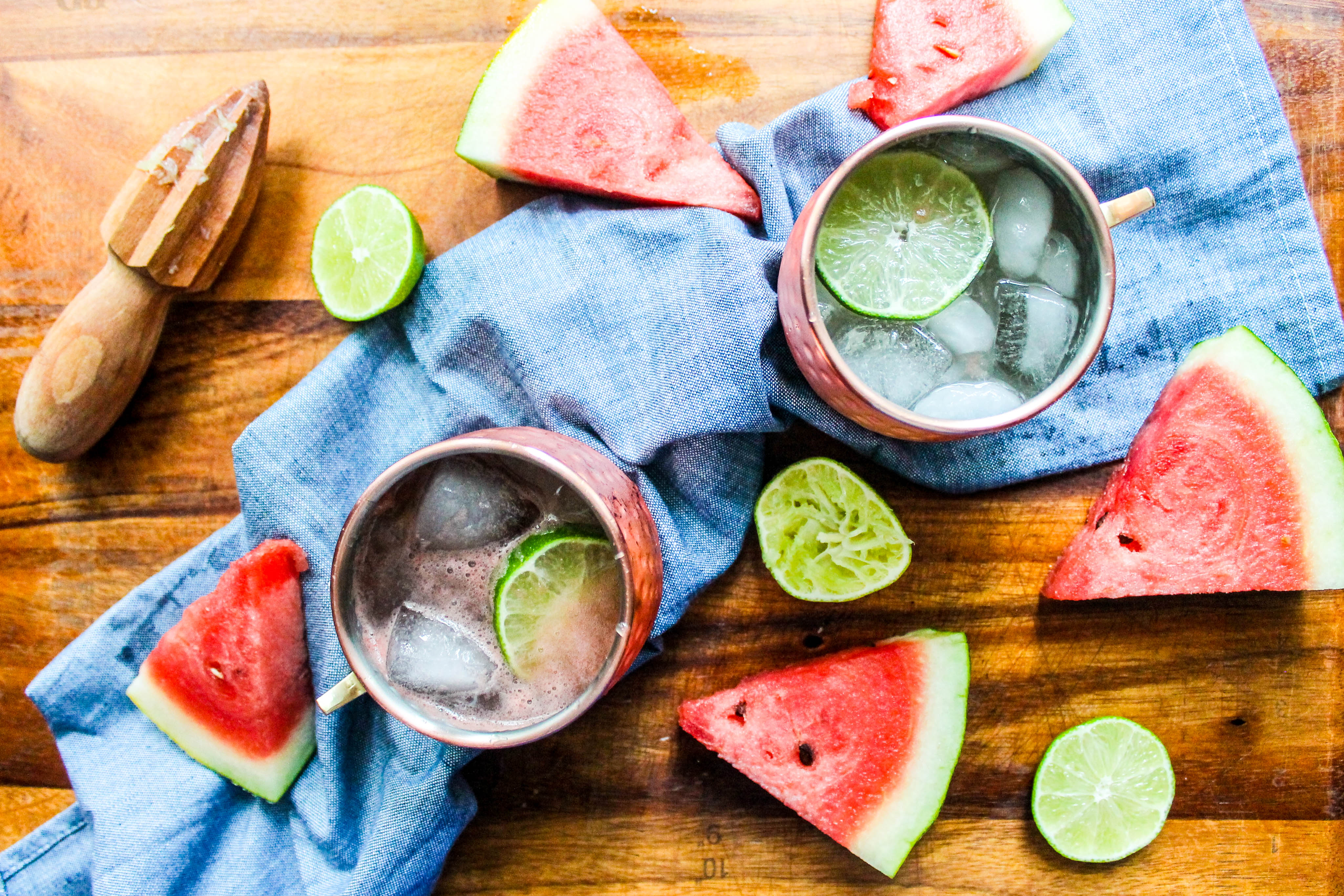 This cocktail owes its existence to a summer evening event in 2016 named Gin Night (For many of us, every night can be hailed as "Gin Night", but I digress….). The preliminary version of the Watermelon Moscow Mule consisted of gin, watermelon juice, lime and ginger beer, a summer ode to the original Moscow Mule.
The Moscow Mule, also known as the Vodka Buck, was invented at the Cock 'n' Bull in Los Angeles in 1941. The company marketing Smirnoff vodka wasn't having a lot of luck, Americans were just not that into vodka at that time. So a need to market this brand of vodka and the bars need to push it's over abundance of homemade ginger beer created a match in cocktail heaven – the Moscow Mule was born.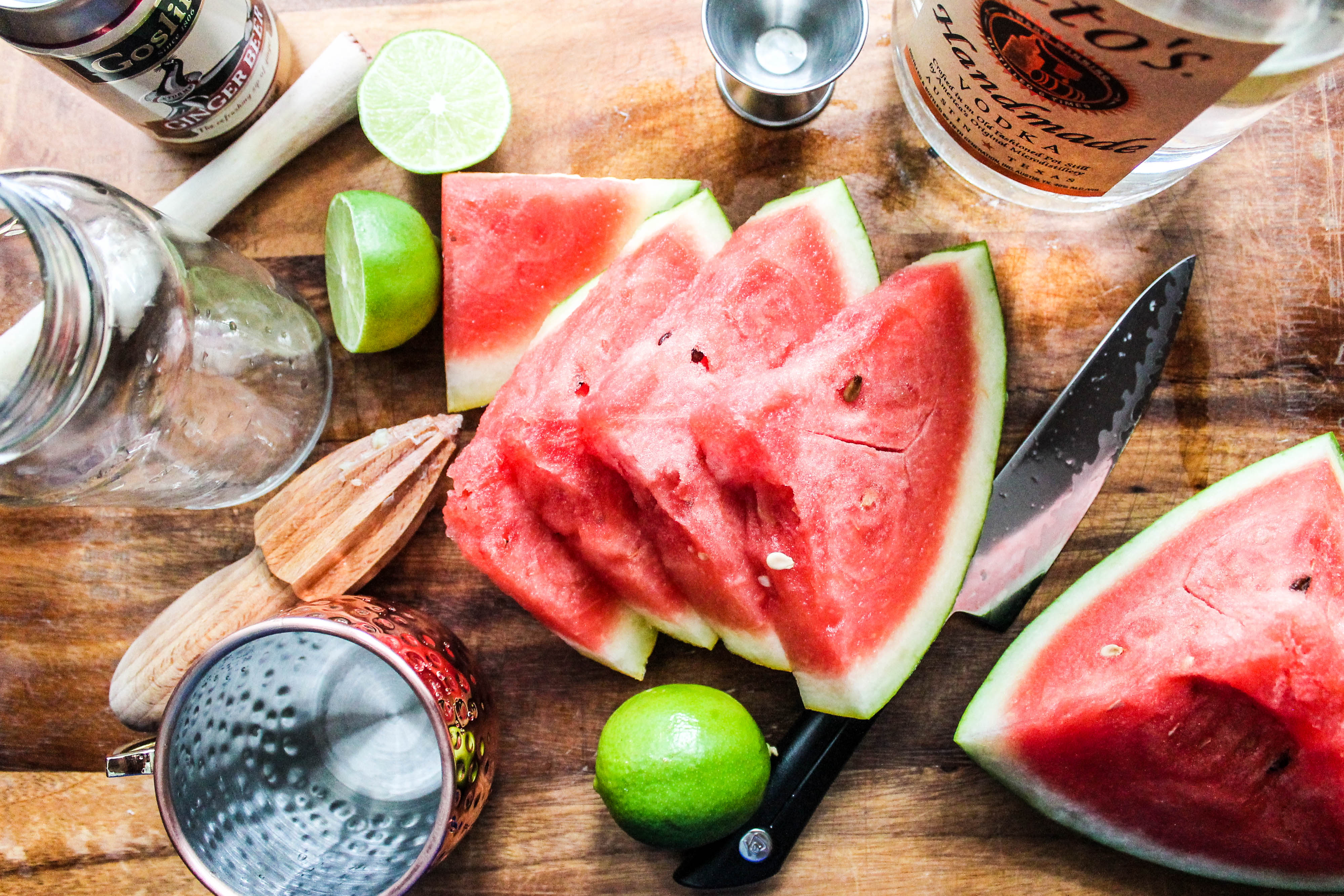 The Moscow Mule is crisp and refreshing without being overly sweet – most likely one of the reasons this drink has gained such a level of popularity over the last few years.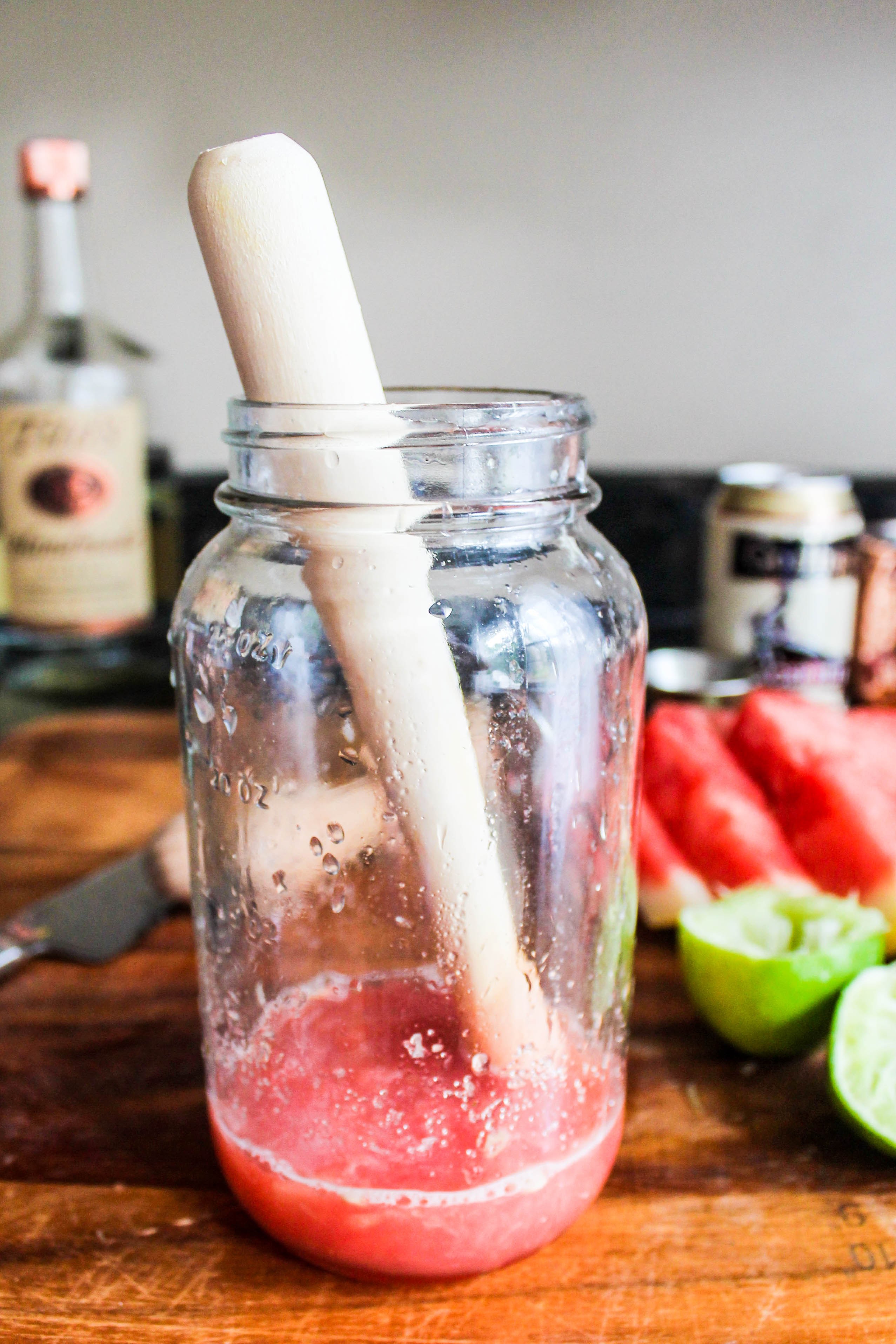 When sipping on the original version of this cocktail, our group was enamored with the combo of liquor + fresh fruit juice + ginger beer. In fact we have had a similar concoction in a few other cocktails on this blog, the Autumn Dark & Stormy (rum with apple cider) and the Paloma Packmule (tequila with grapefruit juice). So, it was decided that a summer update of this formula seemed in order.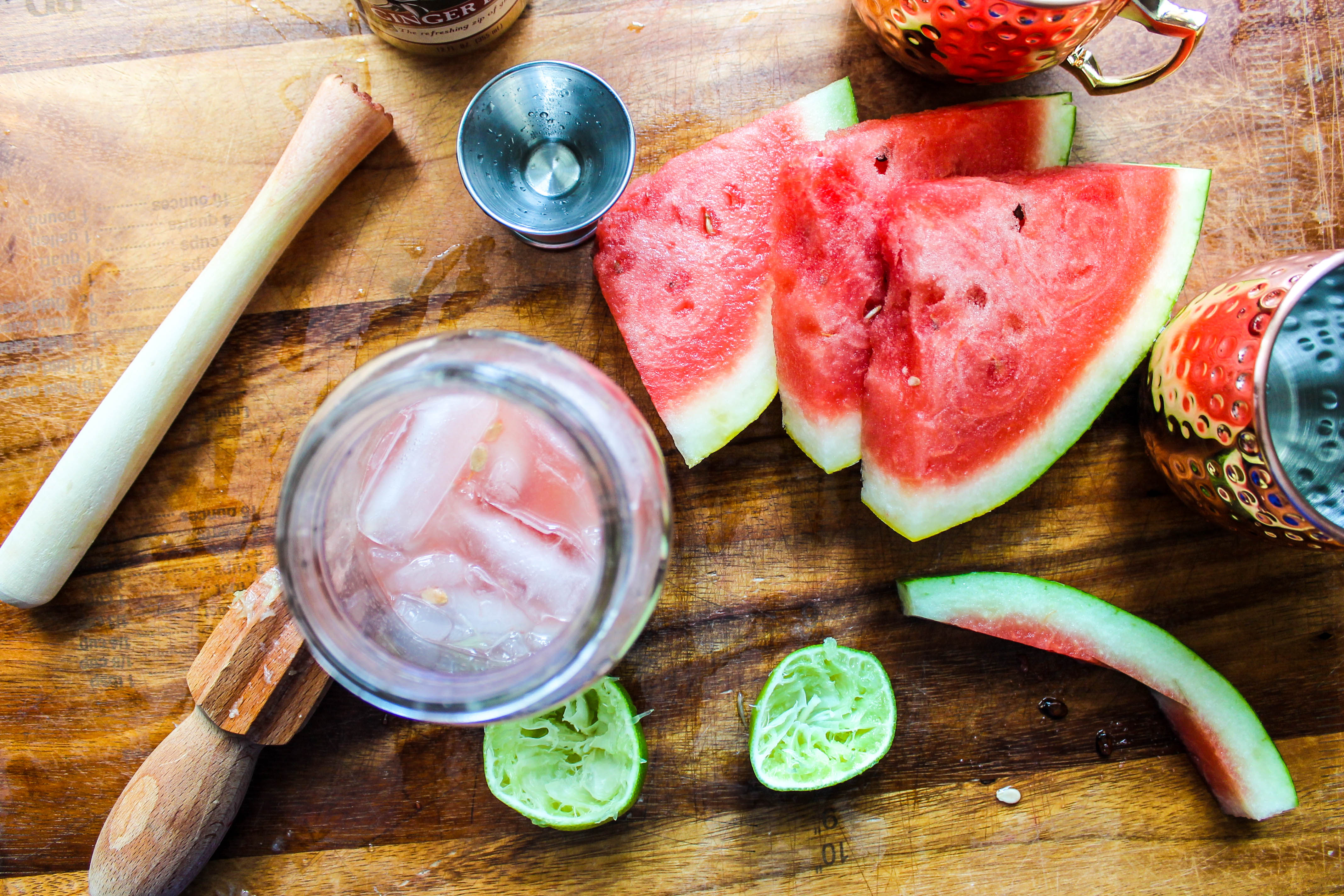 Adding muddled watermelon (or, if you need to save a step, bottled watermelon juice, this seems to be popping up in more and more grocery stores) adds to the refreshing flavor of this Moscow Mule. It plays very nicely with the tartness of the lime and the spice of the ginger beer.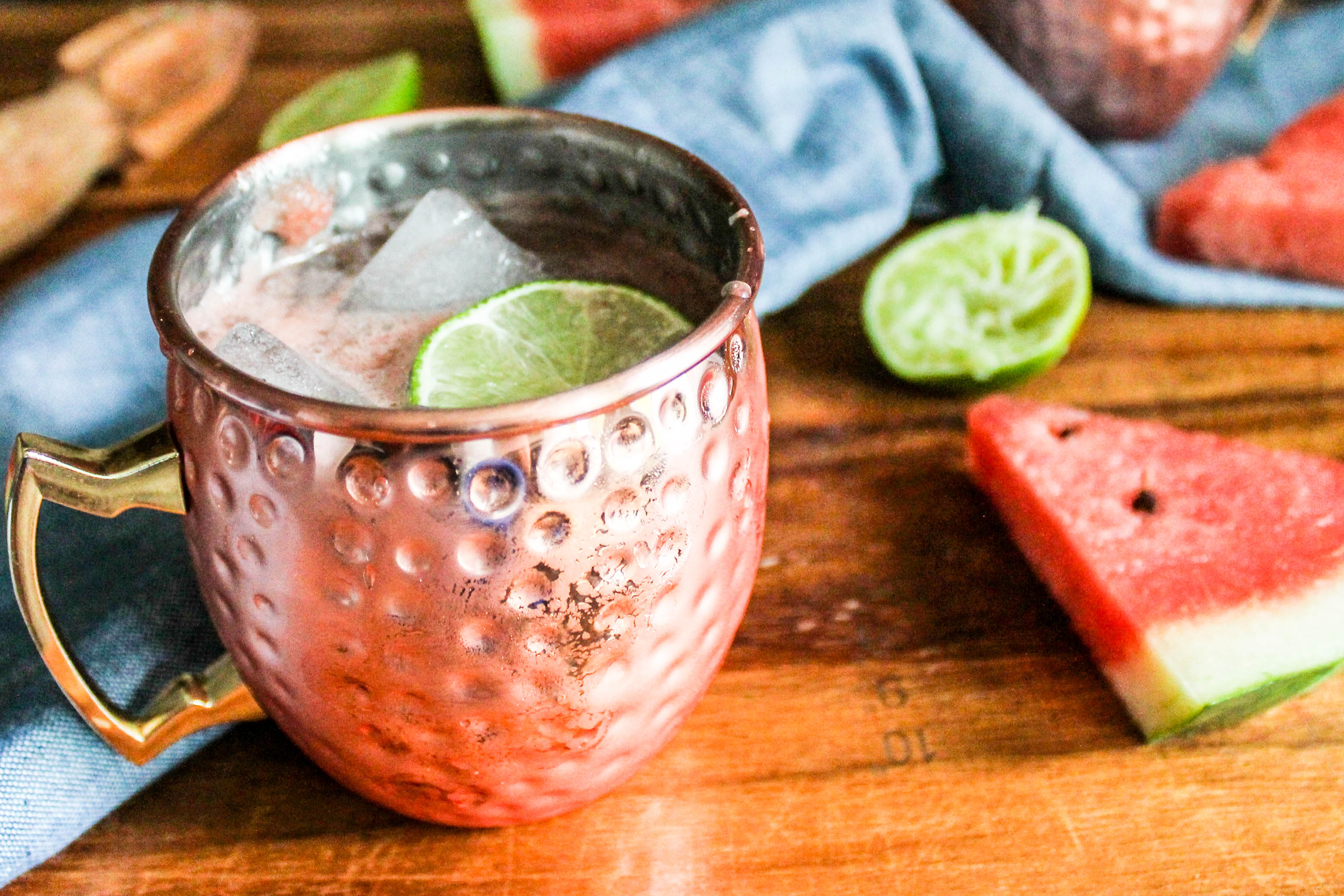 Now, the copper mug always seems a must for a Moscow Mule – but, even though it looks fabulous, and may mysteriously add to the cocktail drinking experience, it may all just be a myth. Legend has it that when the marketing company and the bartender were inventing this drink, a girl (not sure who, or how she was related to this particular story, some say a barmaid, some say someone peddling the mugs came into the bar, no one really knows) had an excess of these copper mugs, they had an epiphany and that it what they starting using to serve this new cocktail.  They used the images of the copper mug in the Smirnoff advertising and a legend was born! I'm not saying you shouldn't use a copper mug, I do! Go for it! You are supporting history!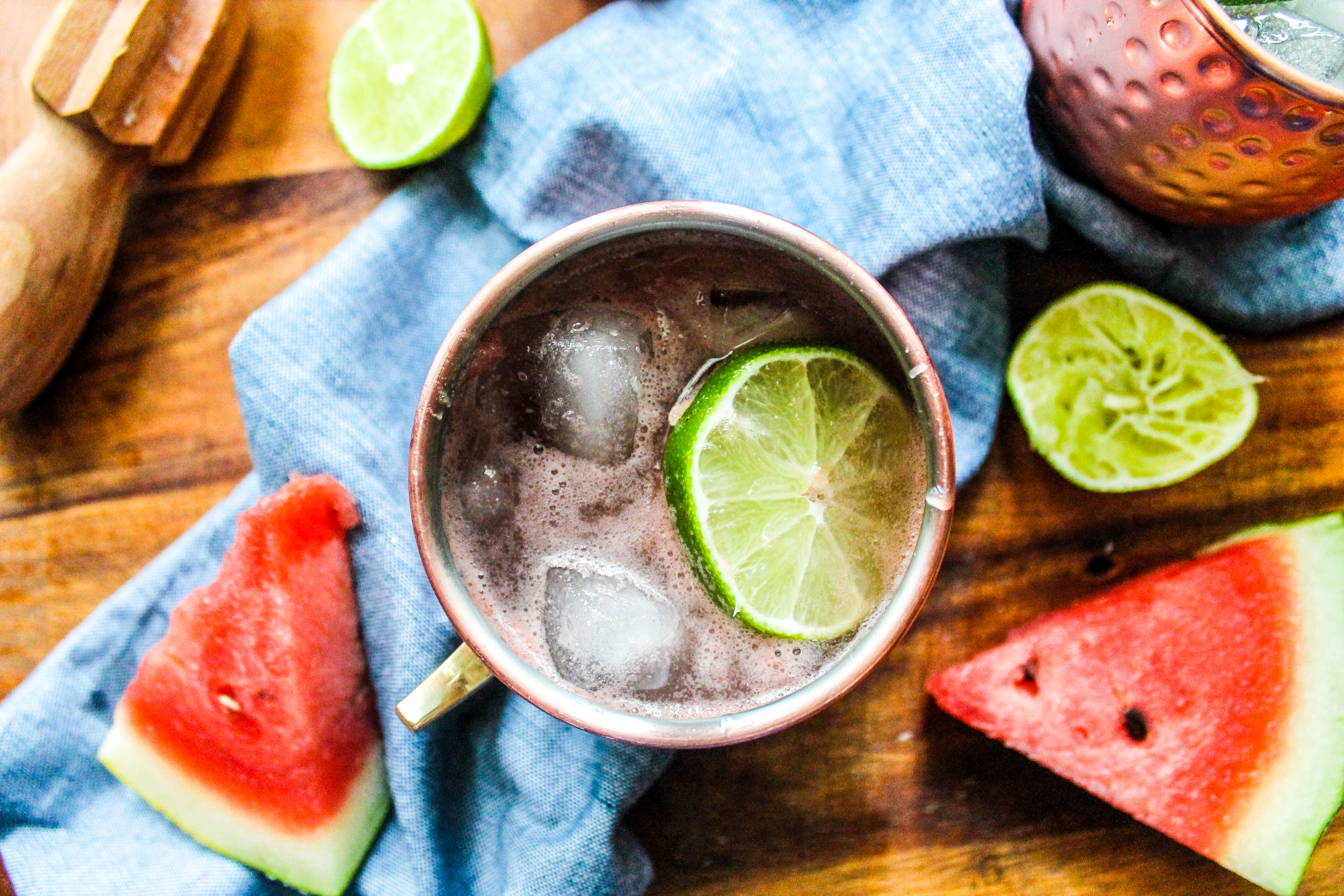 For our Gin Night, Kyle used gin as the spirit of choice (of course), but he created this new mule cocktail with the more traditional vodka. Either choice is equally delicious – try either… or both! It's summer, go crazy!

Watermelon Moscow Mules
Ingredients
3 - 4 1-inch cubes of watermelon
Juie of one lime
1 ½ to 2 ounces of vodka (depending on how strong you want the drink)
3 to 4 ounces of ginger beer
Instructions
Muddle the watermelon and lime juice in the bottom of a shaker.
Add ice and the vodka and shake vigorously. Strain into a copper mug filled with ice.
Top with ginger beer and garnish with a lime wheel.
Please follow and like us: