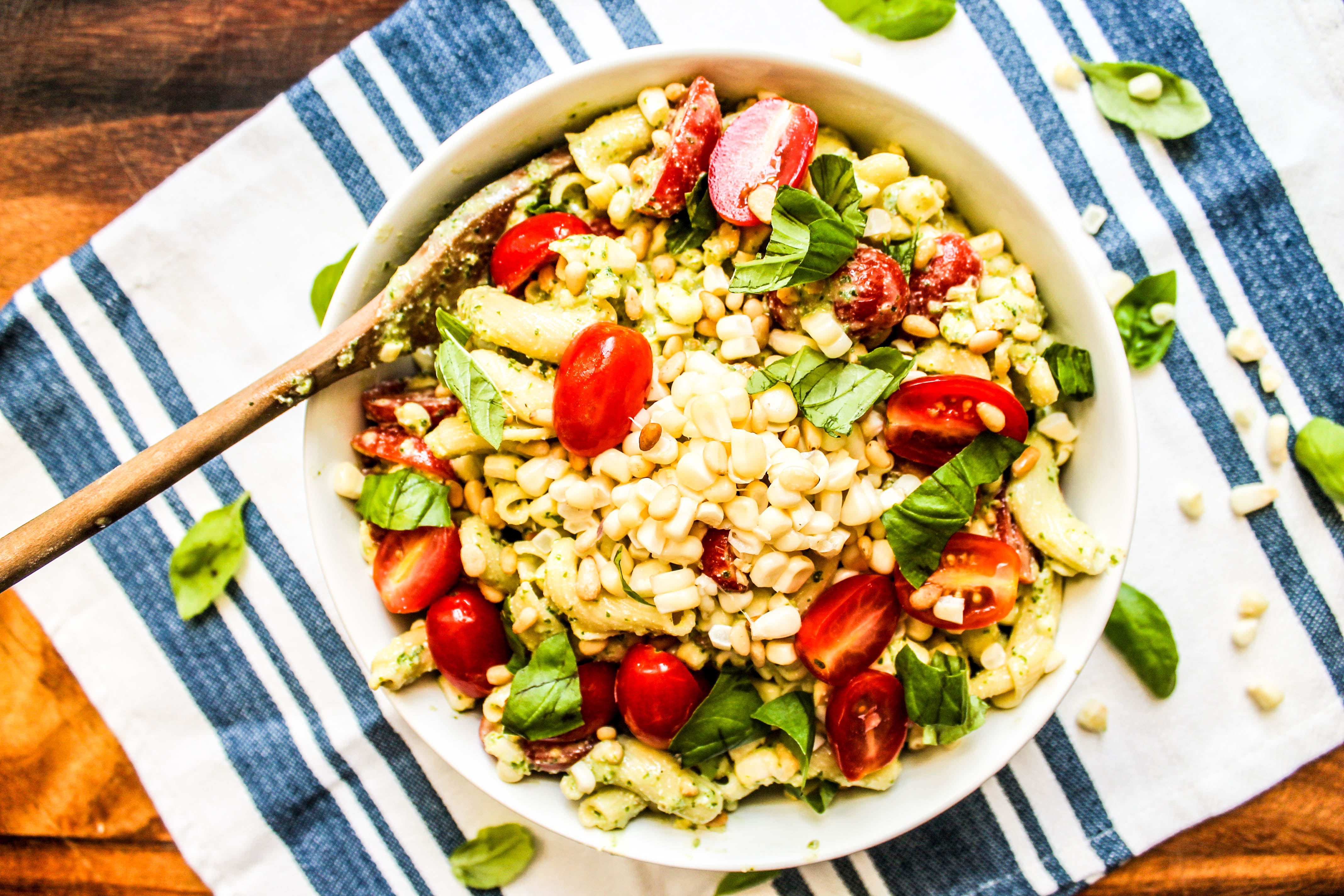 Well, it is August. The end of the summer season is slowly approaching. No need to be sad, there are still plenty o weeks ahead, but it is important to plan accordingly. Plan for what? Your menus for the remaining summer soirees you are either planning or attending, of course. This Basil Corn and Tomato Pasta Salad recipe is a tweaked version of a pasta salad Kyle prepared for our July 4th festivities – one inspired by one of Trader Joe's seasonal pasta offerings: Ravioli with Basil, Corn and Burrata.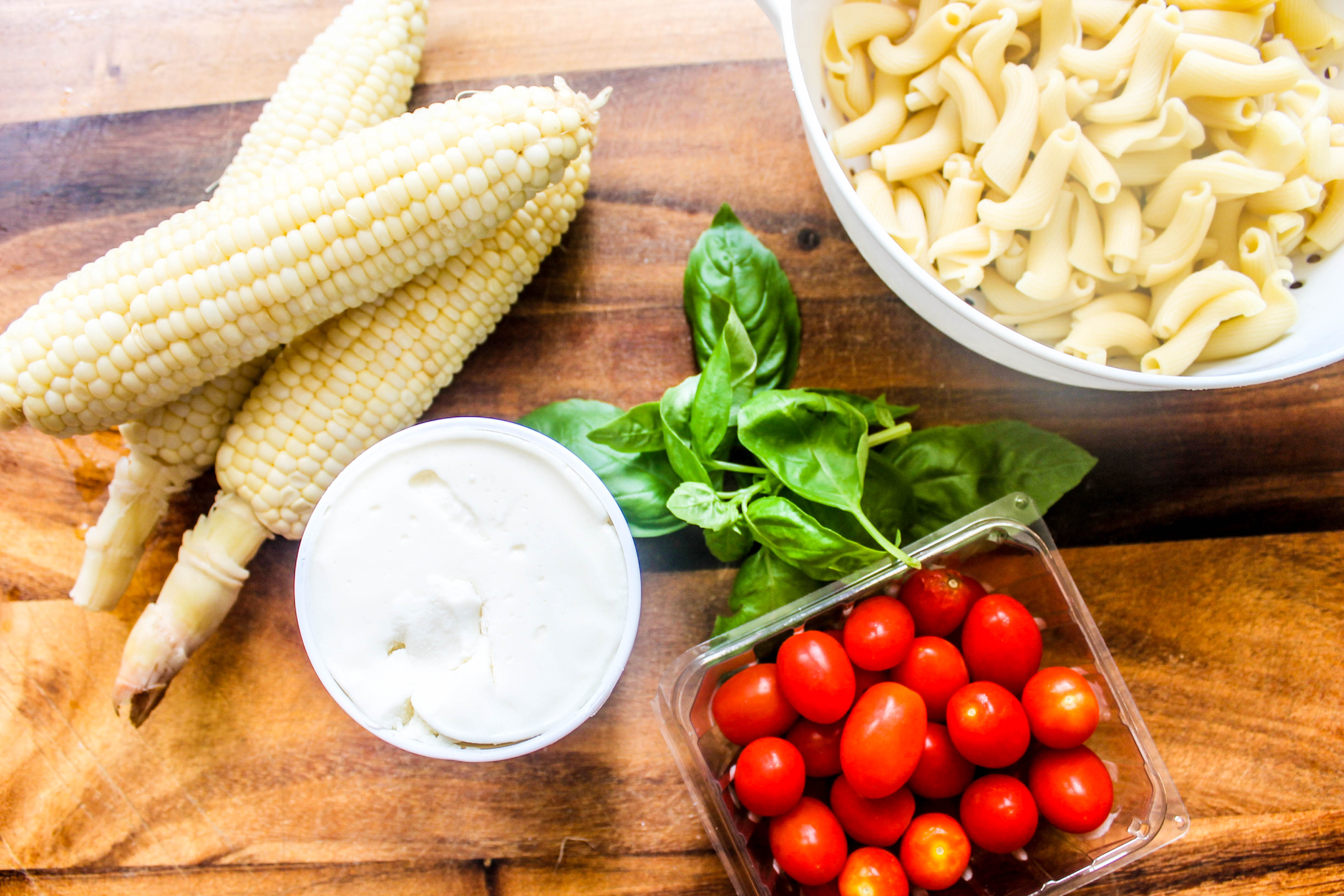 So instead of just adding a note to the blog post stating – "Find the nearest Trader Joe's and purchase every last morsel of their Basil, Corn, and Burrata Ravioli" – and be done for the day, Kyle built a pasta salad around these specific ingredients, which encapsulate the bright, fresh flavors of the summer. All ingredients that can very well be in your home garden as we speak.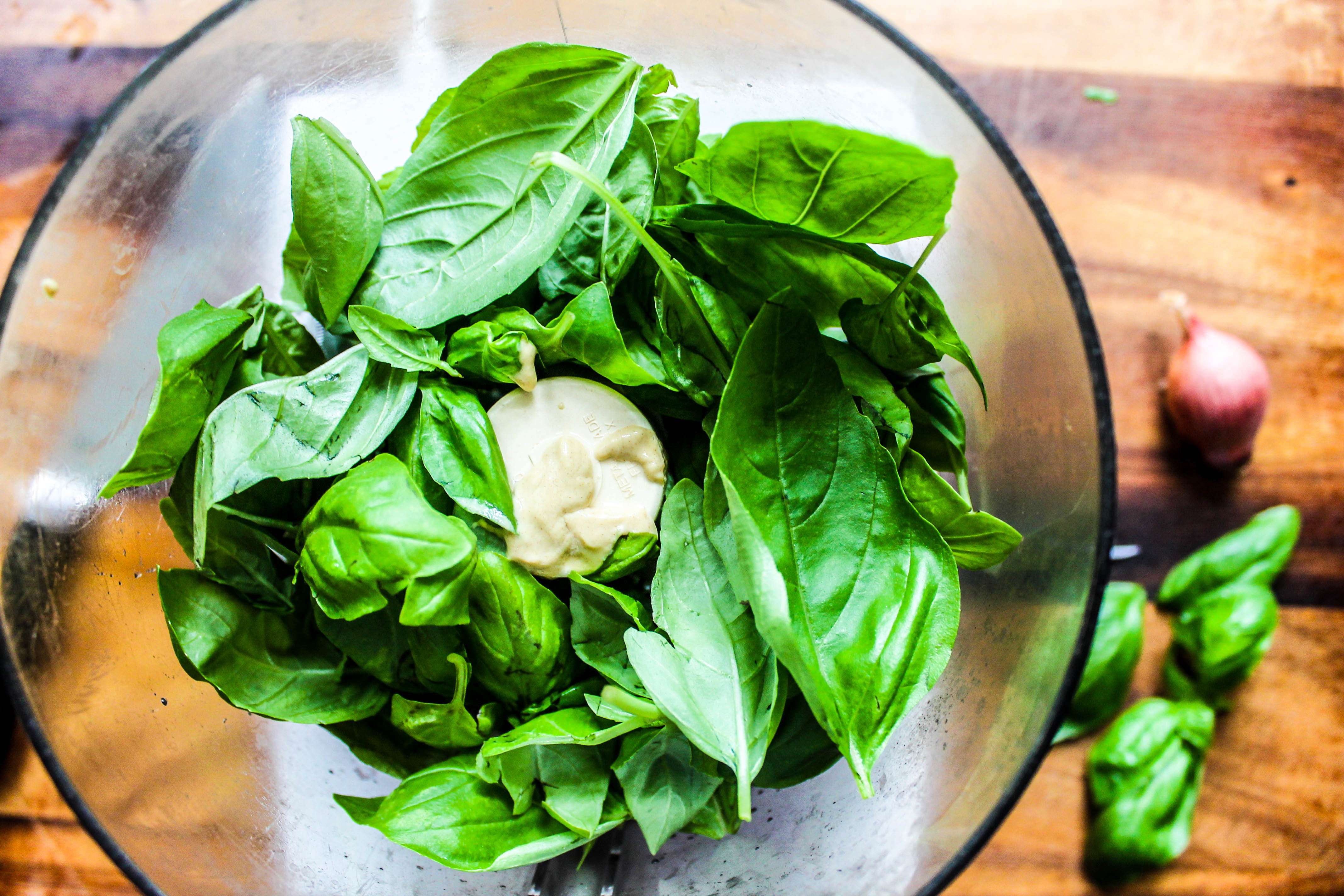 David Lebovitz has a great recipe for a Basil Vinaigrette, which Kyle used as the the "sauce" to hold the pasta salad together. Some ricotta cheese was added to the vinaigrette to mimic the creaminess of the Burrata in Trader Joe's ravioli. Summer corn is so flavorful and delicious at its peak, so a quick blanch was all it needed before being incorporated into the pasta salad.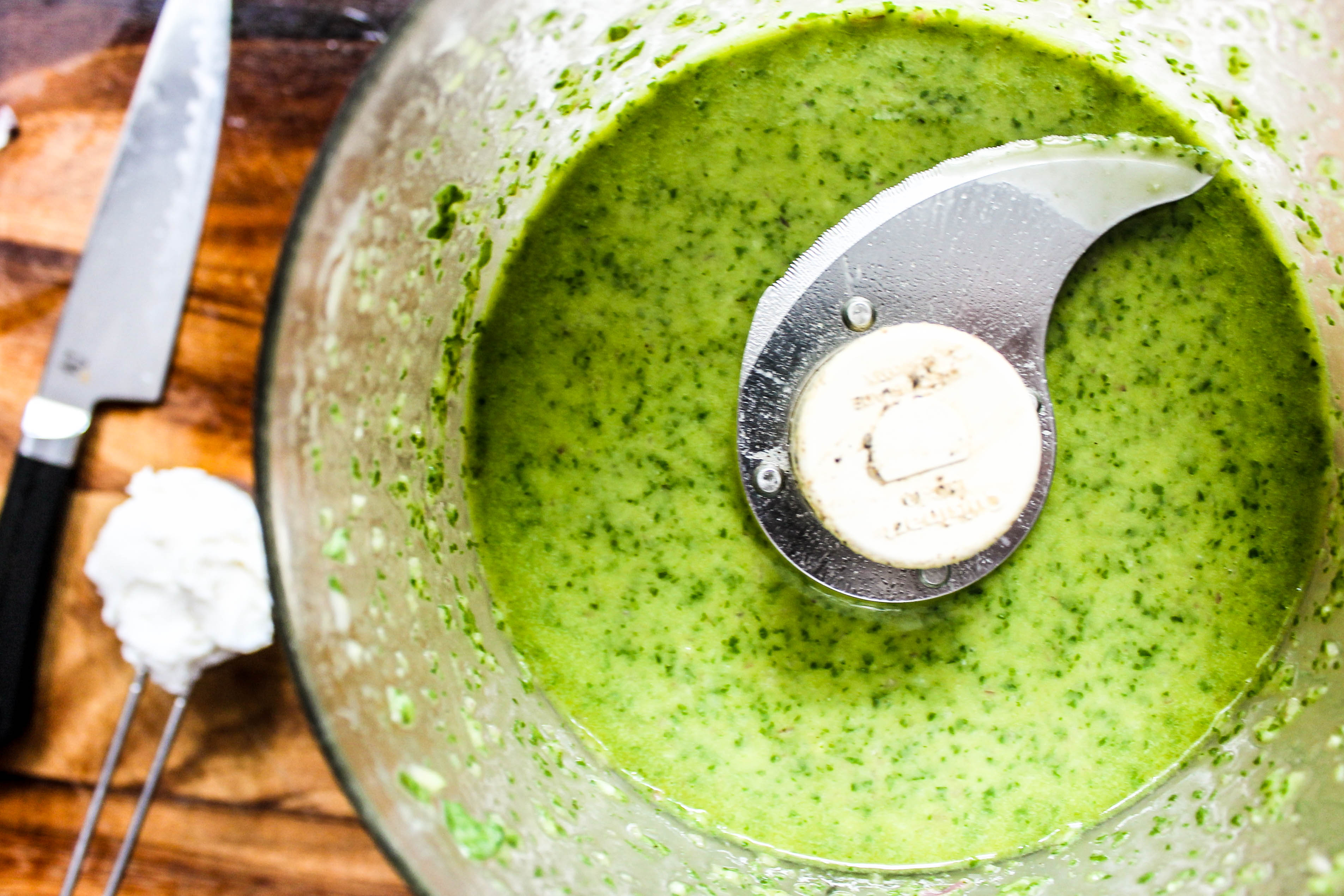 Everyone has their little blanching tricks for corn, Kyle's method calls for bringing a large pot of salted water to a boil. Simply add in the ears of corn and cook for about 3 minutes. Once your 3 minutes are up, use a slotted spoon or tongs to remove the corn from the pot (be sure to reserve the water), then run the corn under cold water to stop it from cooking further. Bingo!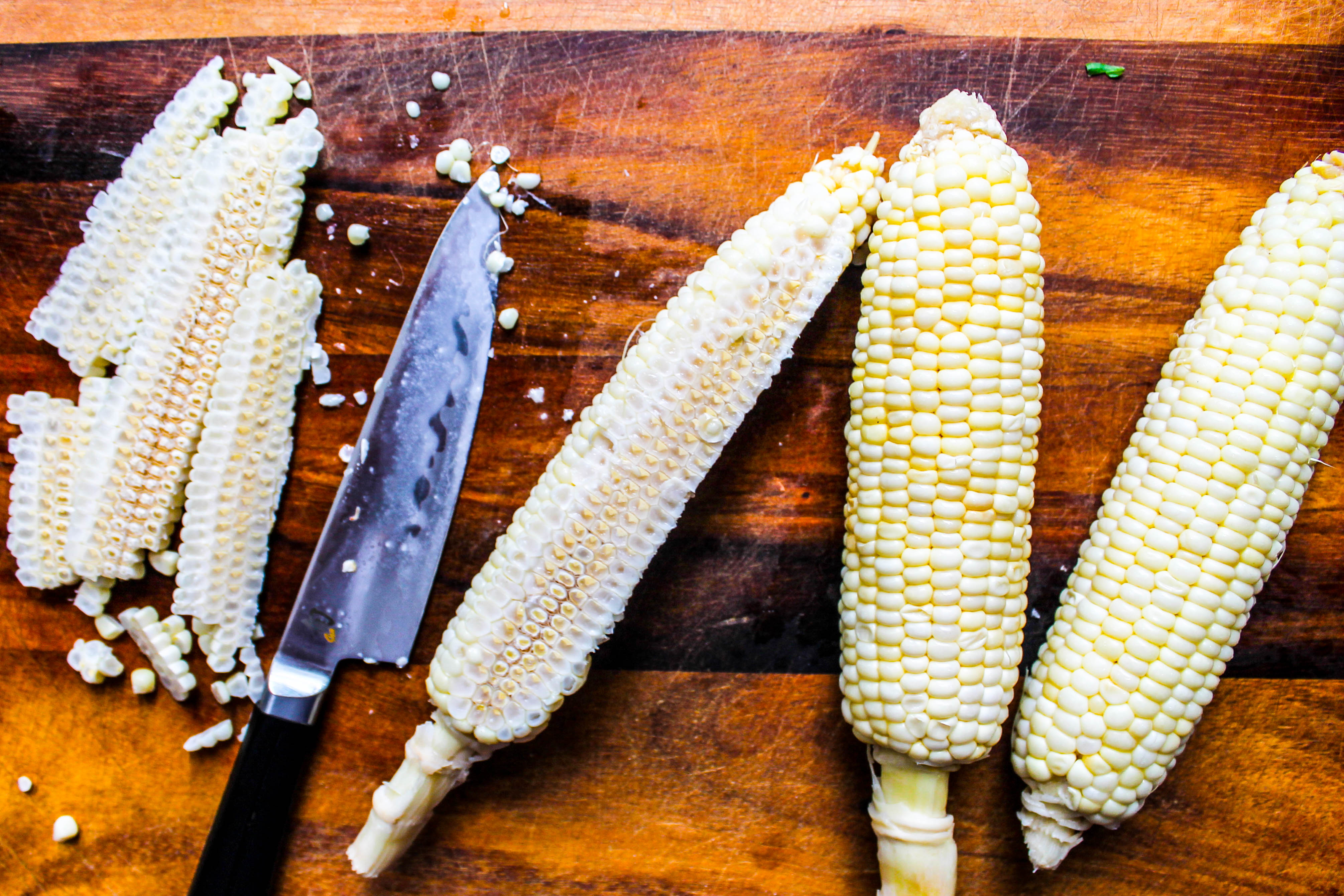 Some sliced cherry tomatoes and pine nuts were added to round out the flavors of the dish. The hope was to create more of a corn and tomato salad with a bit of pasta tossed in for good measure (instead of a heavier pasta-centric salad with corn and tomato in supporting roles) so that it wouldn't be such a dense, heavy dish – I believe I can say, mission accomplished. We shouldn't get too filled up with pasta, we need to save room for pie, right?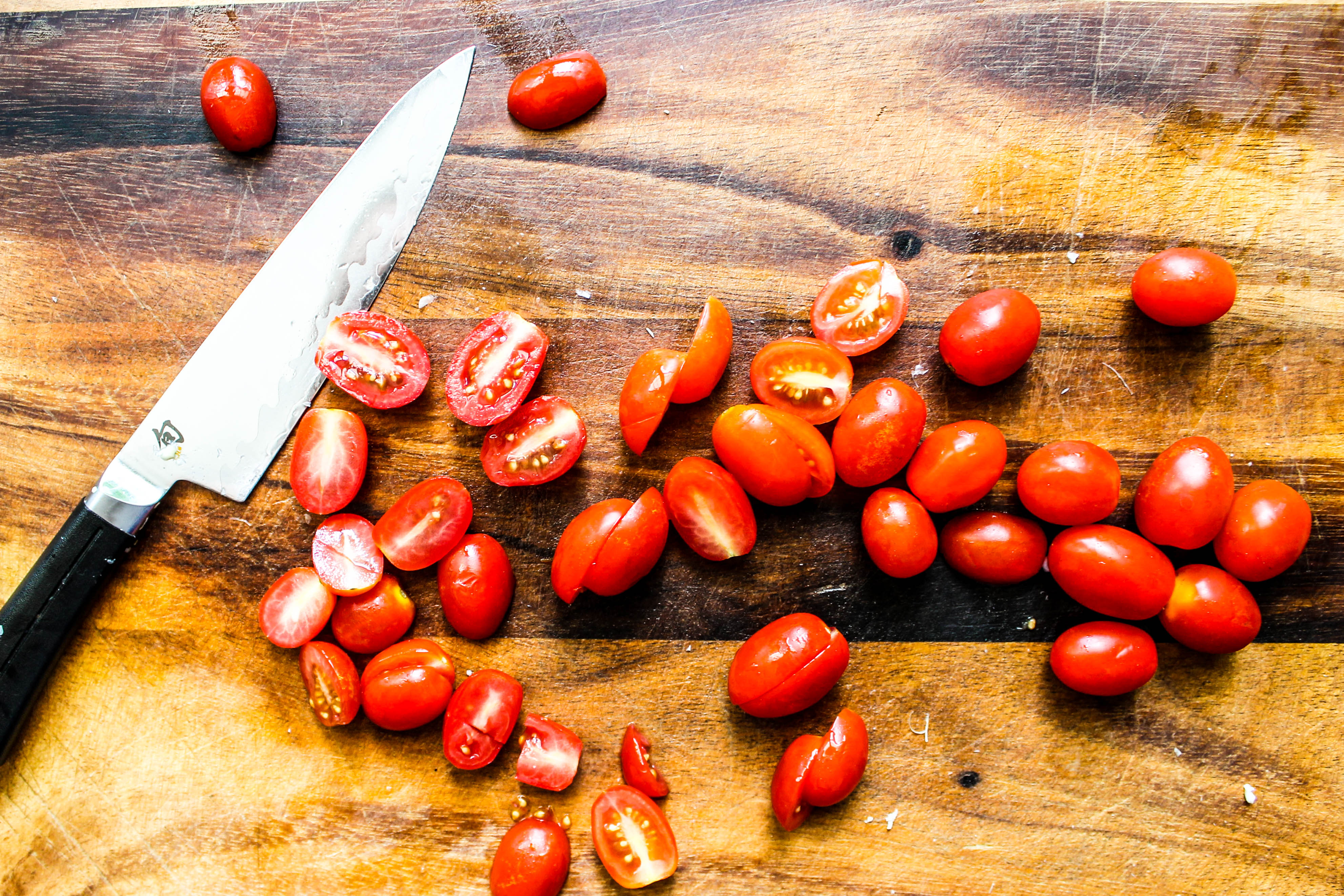 Digestively Challenged Side Note: For those of you (I must include me in the mix) who have difficulties digesting corn, there are a few modifications you can make to still enjoy the beauty of this delicious salad. Now, corn is one of the main ingredients, so it does change the dynamics of the dish a bit, but no matter how much some of us want corn, alas, it will never be. So, what to do? You can just eliminate the corn all together, making no substitutions. Not exciting, but, I must say, still very tasty. Another is to simply add another vegetable. I added chickpeas. Not so summery, but still tasted very satisfying. There is a plethora of other veggies one can substitute for the corn, if one has too!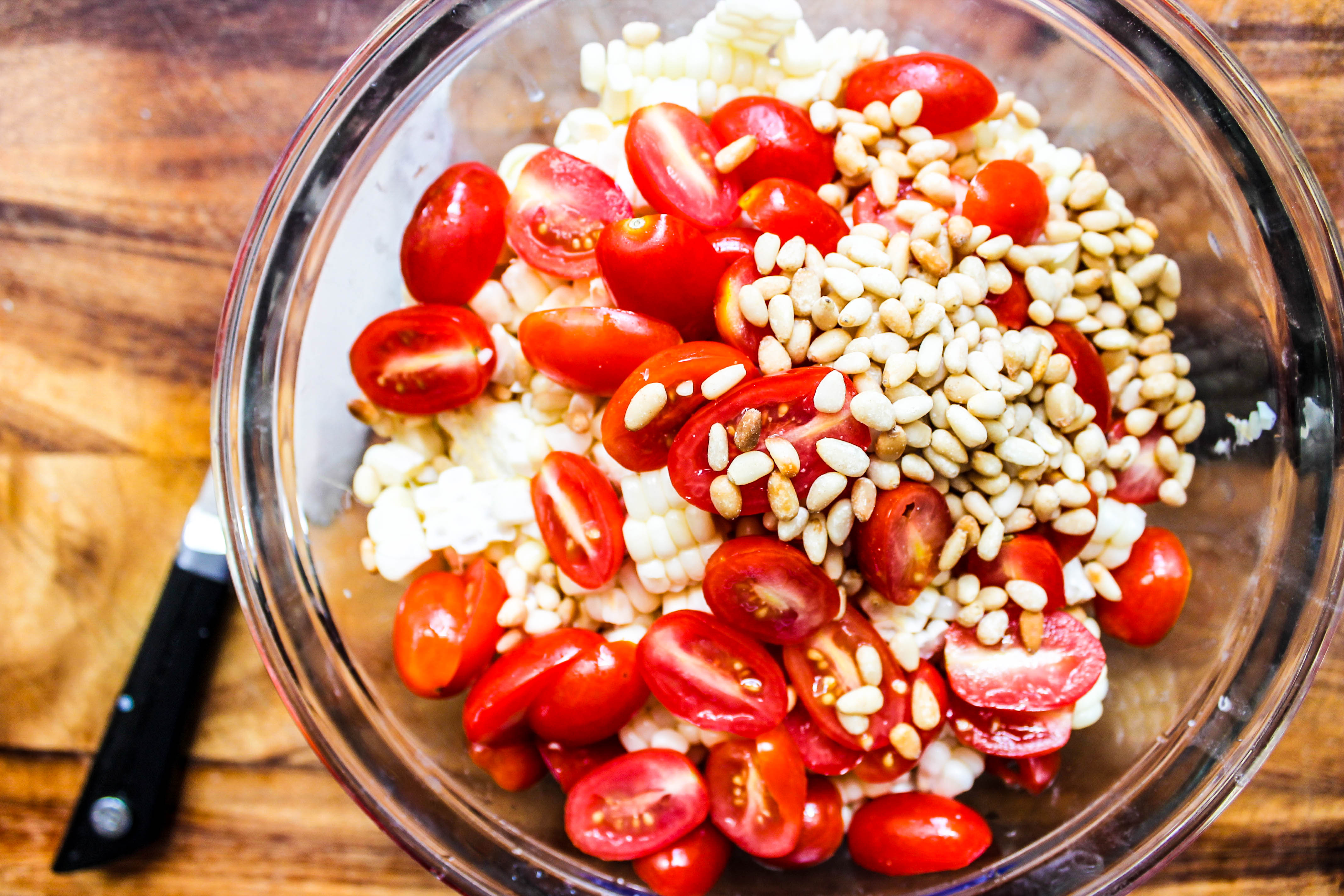 You will be tossing the pasta, veggies, basil vinaigrette and the pine nuts together until they are well-combined. Have a taste, then season with a bit of salt and pepper. You can garnish the salad with the reserved corn, tomatoes, pine nuts, Parmesan cheese, and/or torn basil leaves. All you have to do next is chill it in the refrigerator for an hour and then it is ready to serve.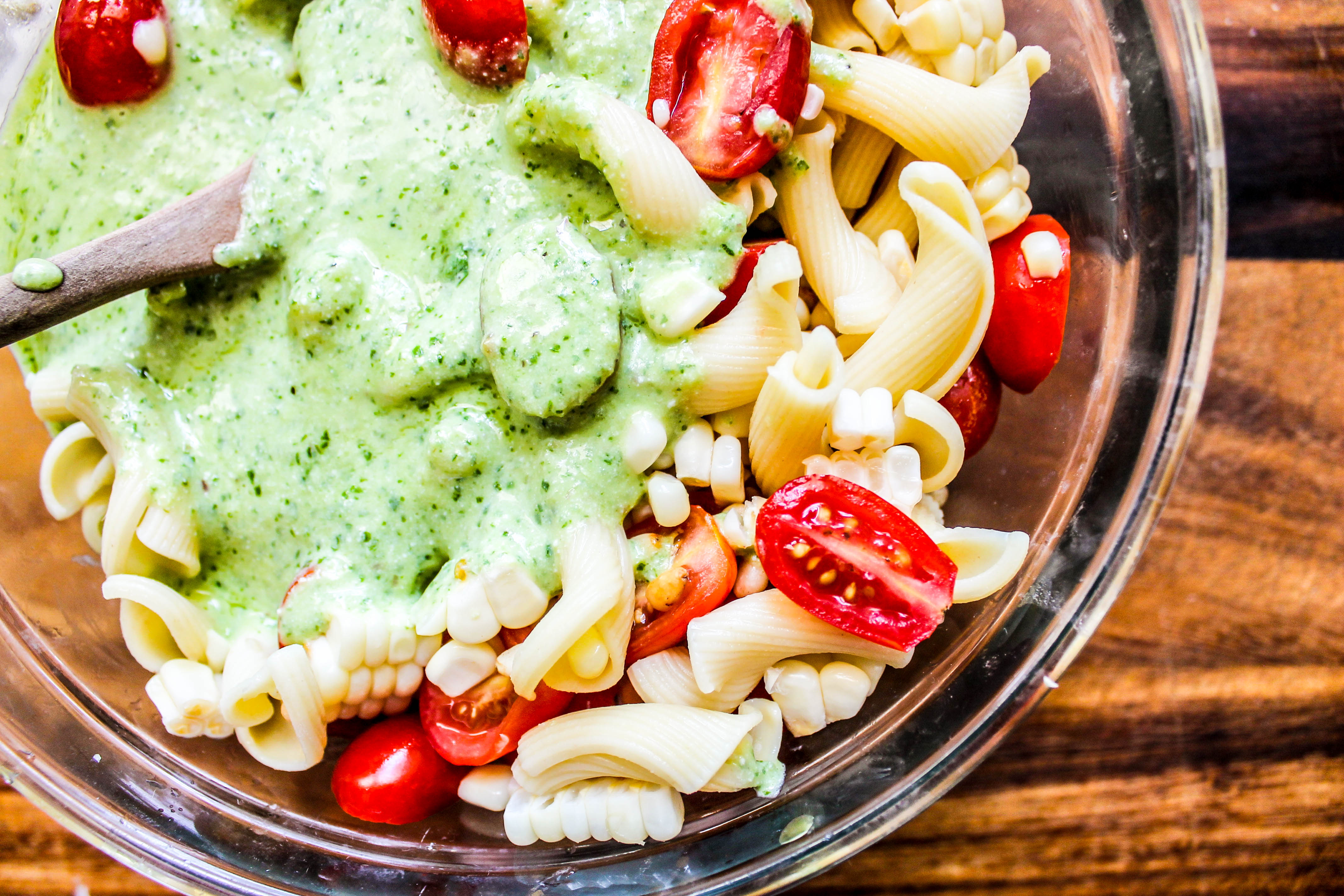 If you want to go a little more luxe, feel free to garnish the pasta salad with a ball of sliced Burrata cheese (as a nod to the Trader Joe's Pasta), but I think the salad is plenty delicious as is. I say, go with the recipe as is, you can always make changes, or add your sliced Burrata cheese garnish the next time around.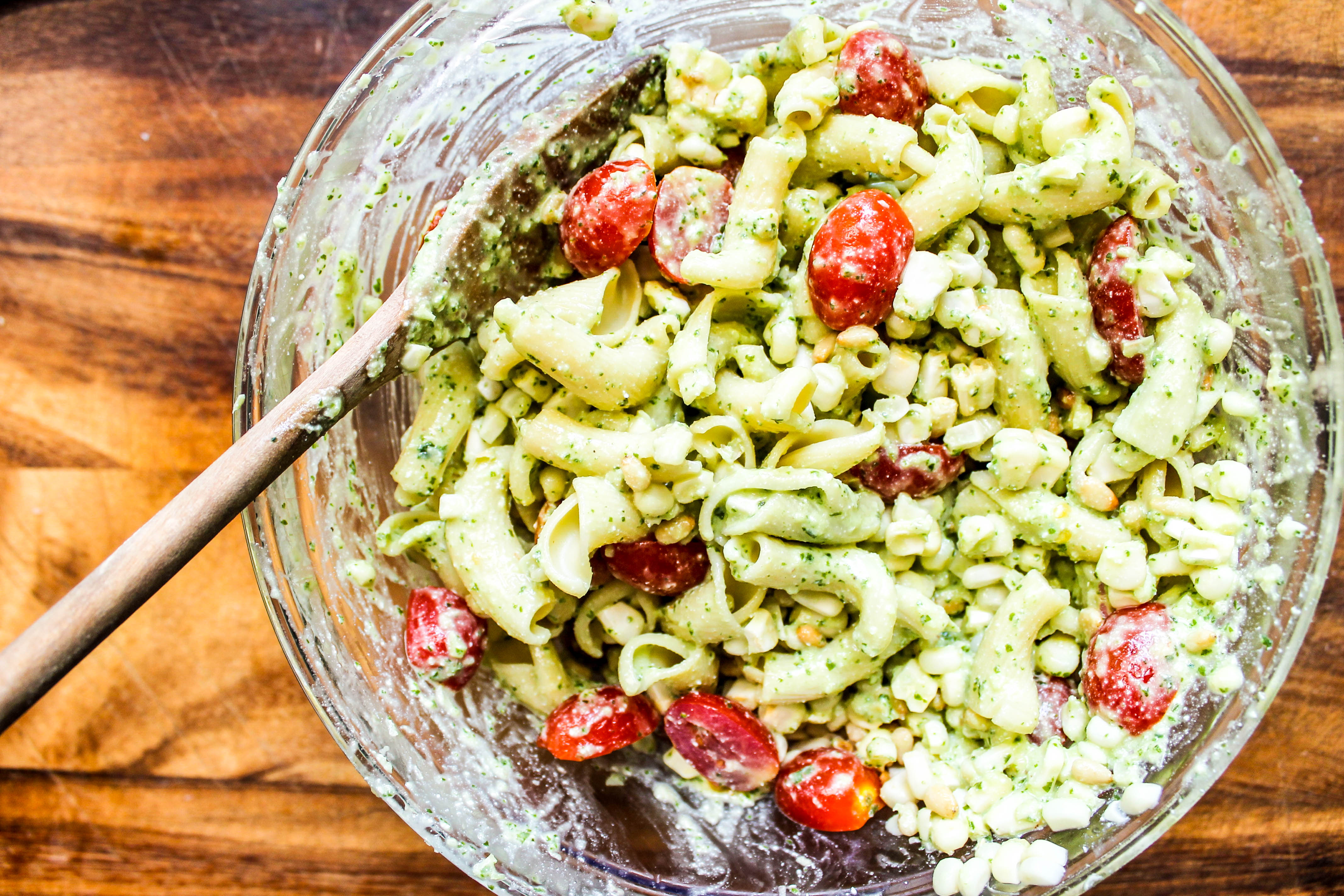 This dish would make a hearty enough vegetarian entree or great side dish for any cookout meal that packs the bright flavors of summer in a bowl.   This is about the time that tomatoes are beginning to (finally) get to their red and beautiful ripeness, the basil in the garden is flourishing, corn is coming out – it is a great time for home gardeners to really highlight their summer garden offerings, this dish will be one that will enhance and show off these fresh ingredients.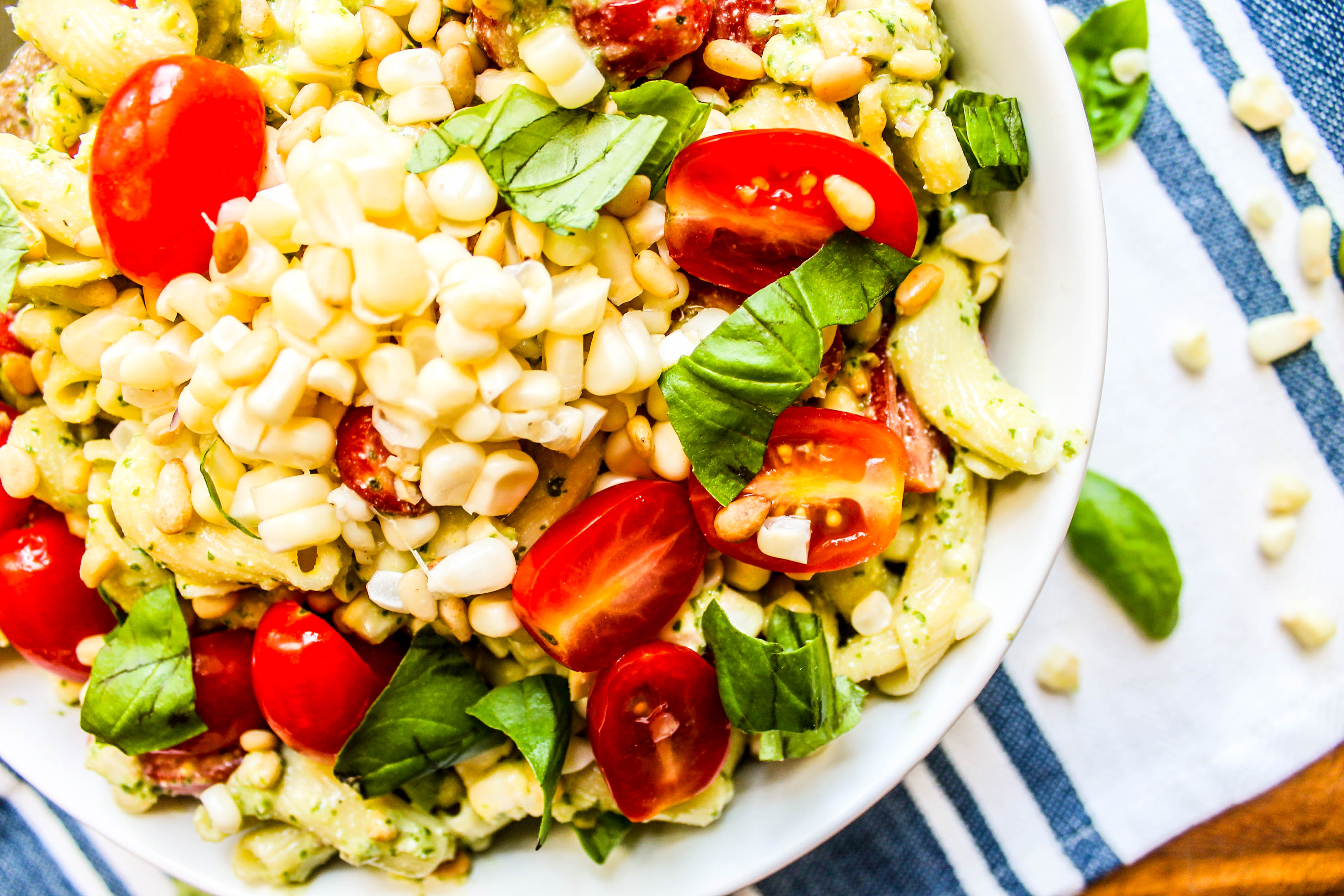 Enjoy this great dish, as a side dish or entree, it is a great compliment to summer entertaining, or for just having a quiet evening in the last weeks of August on your porch, with wine of course!
Basil Vinaigrette adapted from David Lebovitz.

Basil Corn and Tomato Pasta Salad
Ingredients
3 ears corn, husks and silk removed
½ pound pasta
1 pint cherry tomatoes, sliced in half
1 batch Creamy Basil Vinaigrette (recipe follows)
¼ cup pine nuts, toasted
¼ cup Parmesan cheese, grated
For the Creamy Basil Vinaigrette:
2 cups loosely packed fresh basil leaves, plus more for garnish
2 tablespoons white wine vinegar
1 tablespoon water
1 small shallot, peeled and sliced
1 teaspoon Dijon mustard
1 tsp. honey
¾ teaspoon kosher salt
½ cup (125ml) extra-virgin olive oil
¼ cup ricotta cheese
Instructions
Bring a large pot of salted water to a boil. Add the ears of corn and cook for 3 minutes. Using tongs or a slotted spoon, remove the corn from the pot (reserving the water) and run under cold water to stop the corn from cooking further.
Return the pot of water to a boil, then cook pasta according to package instructions. Drain and let cool to room temperature.
Slice the corn kernels off the cobs and discard cobbs.
In a large bowl, toss pasta, corn, tomatoes, Basil Vinaigrette , and pine nuts until well combined, reserving a bit of the corn, tomatoes and pine nuts for garnish. Taste and season with some salt and pepper if needed. Garnish with con, tomatoes, pine nuts, Parmesan cheese and a few torn basil leaves. Refrigerator for at least an hour - to get the pasta salad sufficiently chilled and allow the flavors to meld - before serving.
To make the Creamy Basil Vinaigrette, place basil leaves, white wine vinegar, water, shallot, dijon, honey and salt in a food processor and pulse until well combined. With the motor running, slowly stream in the olive oil until fully incorporated. Add the ricotta cheese and blend for 30 or so seconds, until fully blended. Taste and add salt and pepper if needed.
Please follow and like us: