Kyle recently went on a road trip to Vermont where he brought home a tub of fresh cheese curds. The entire way home the scrumptious curds were practically burning a hole in his pocket – a recipe search was brewing. His cooking instincts were slowly leaning towards poutine – oh, how there are so many poutine options, Breakfast Tater Tot Poutine, Vegetarian Poutine Baked Potatoes, and the list goes on. But, alas, those dishes are a bit too heavy for early summer fare.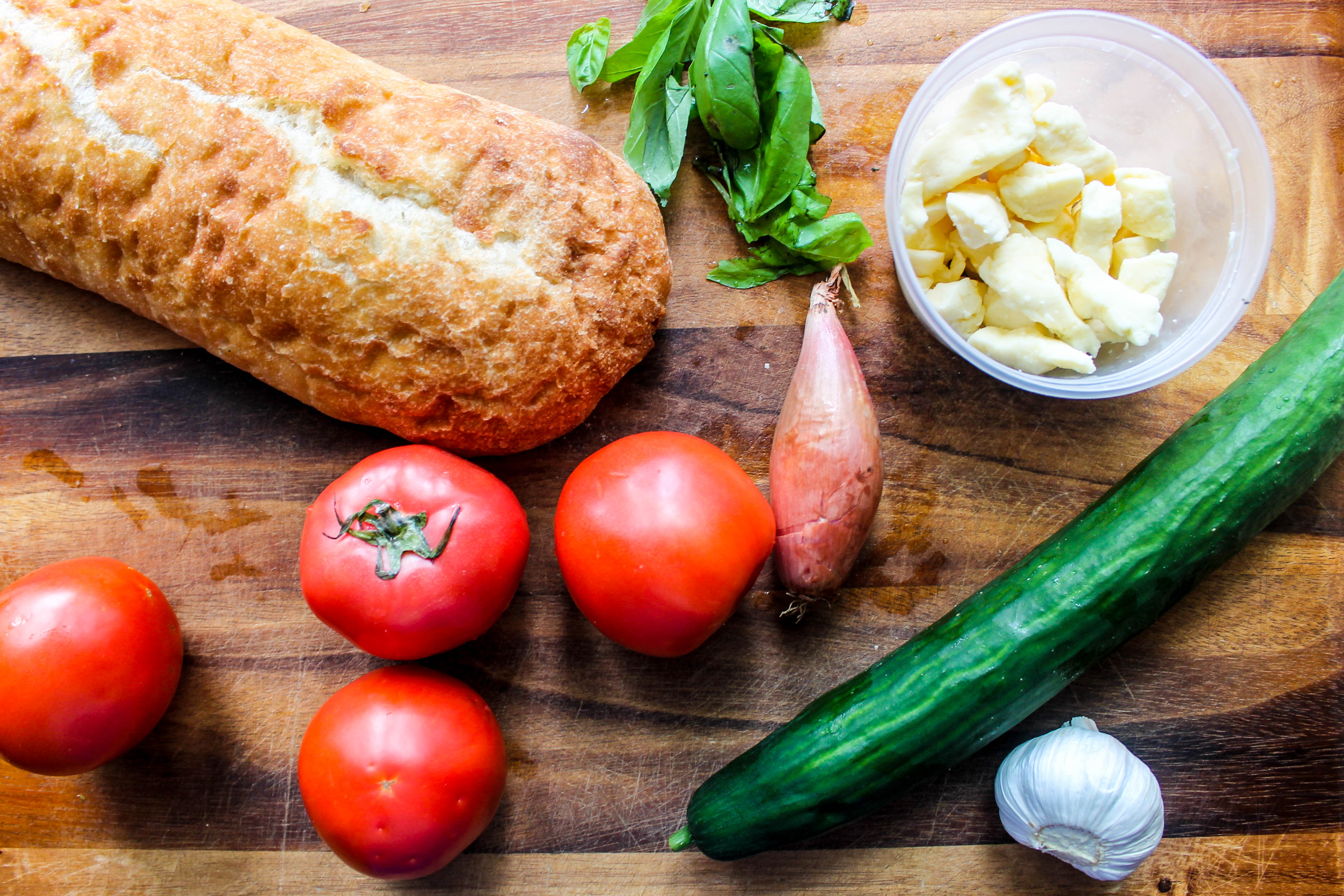 While exploring for a lighter-ish dish that would easily incorporate those ever so delightful and squeaky cheese curds, he came across a recipe for Grilled Cheese Curd Panzanella from Serious Eats. It appeared to fit the criteria Kyle was searching for to satisfy his curd-licious cravings. The recipe is made with stale bread and tomatoes – with possible additions of other great summer ingredients, like cucumbers and basil. This Italian salad encapsulates summer in a bowl.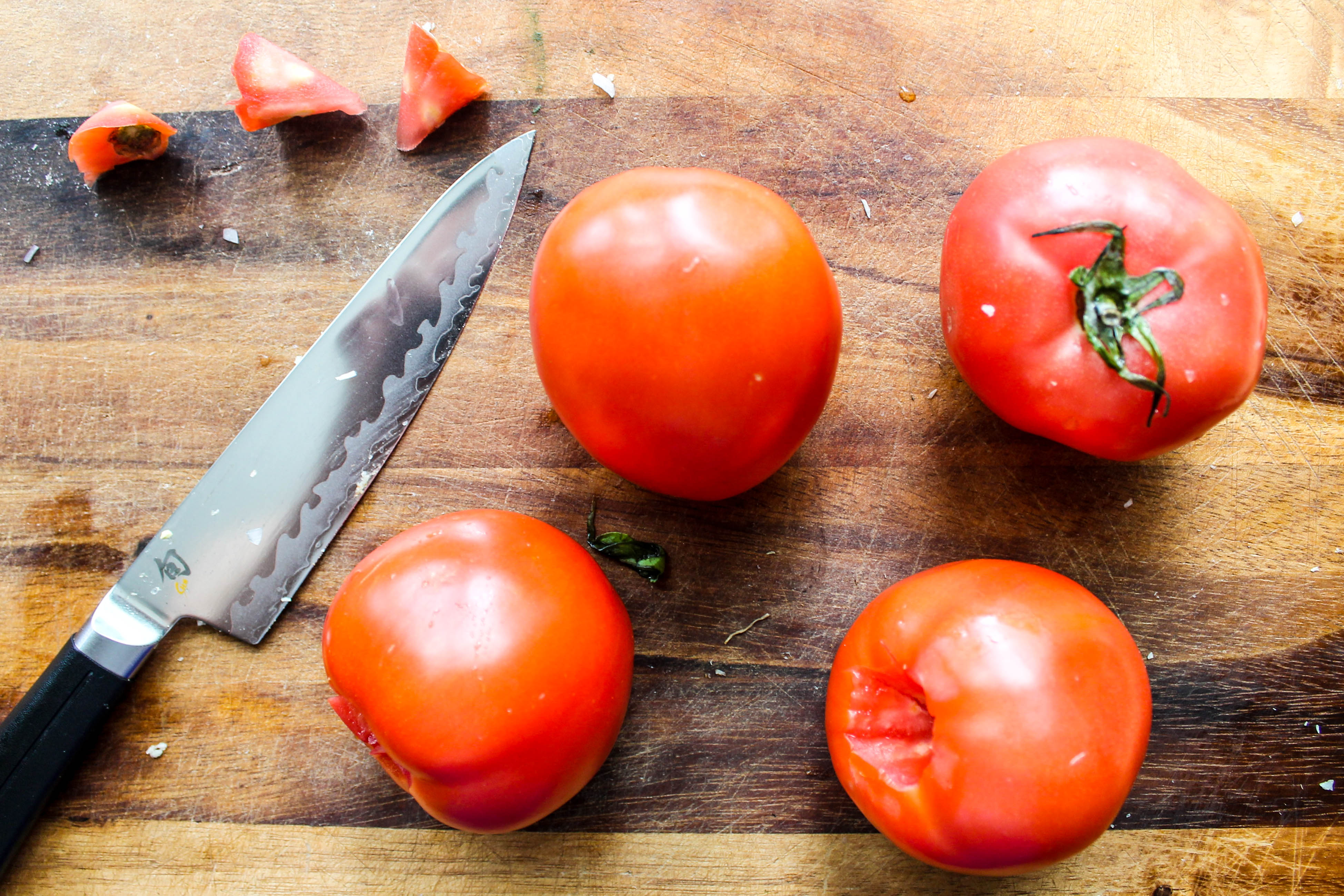 Serious Eats sears the cheese curds on one side to get them crispy and melty while preserving the squeakiness of the raw curds, then tosses them into the panzanella. Once Kyle came out of his cheese curd trance, wiped the drool off the keyboard, he was off to make this cheesy tomato salad.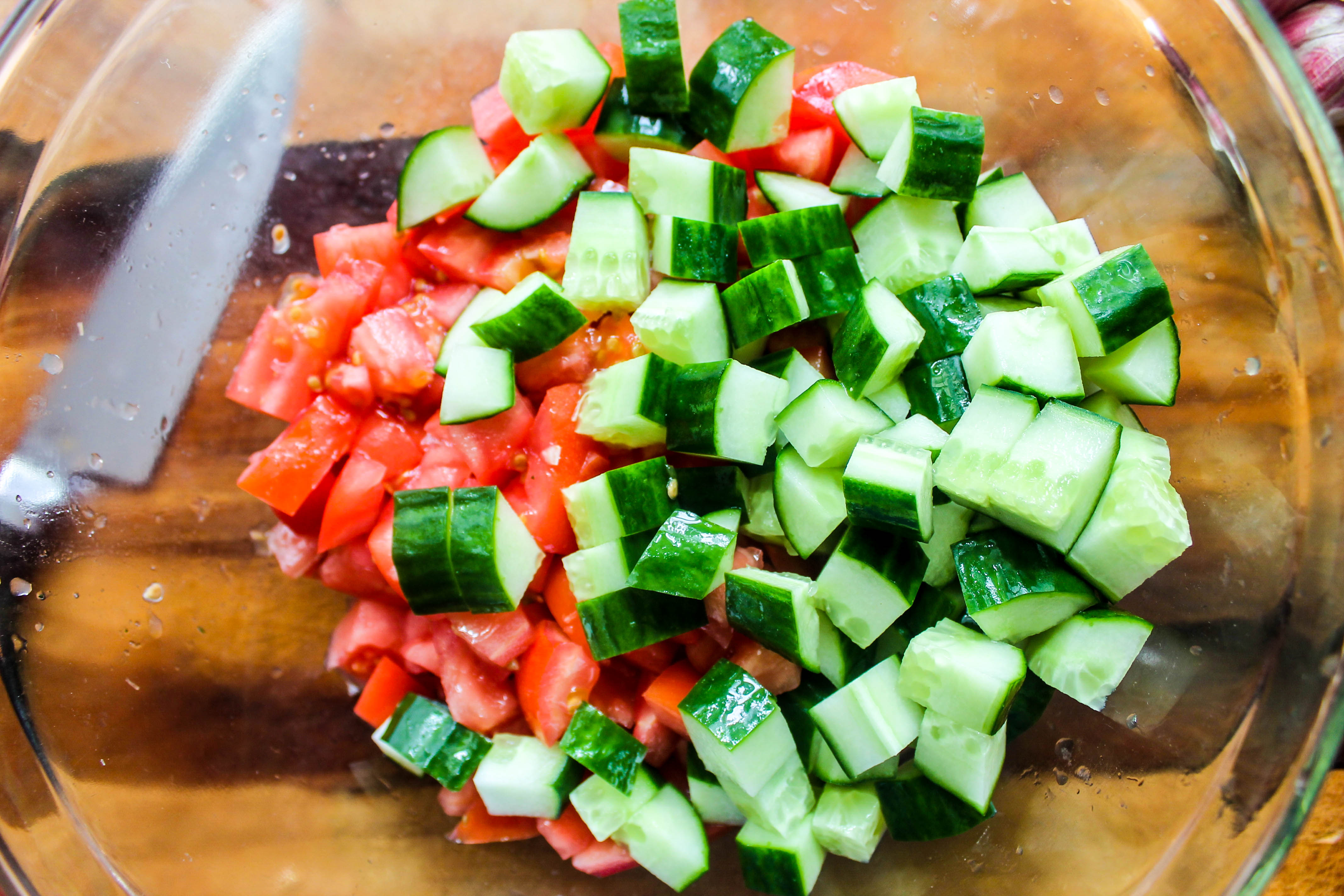 Purists might argue against toasting the bread or incorporating other ingredients, such as cucumber, into the salad, but the addition of the cheese curds to an Italian classic throws all adherence to tradition out the window, so why not go for it? While Kyle took the grilled cheese curd recipe from Serious Eats, he used Ina Garten's Panzanella recipe for the dressing of the salad.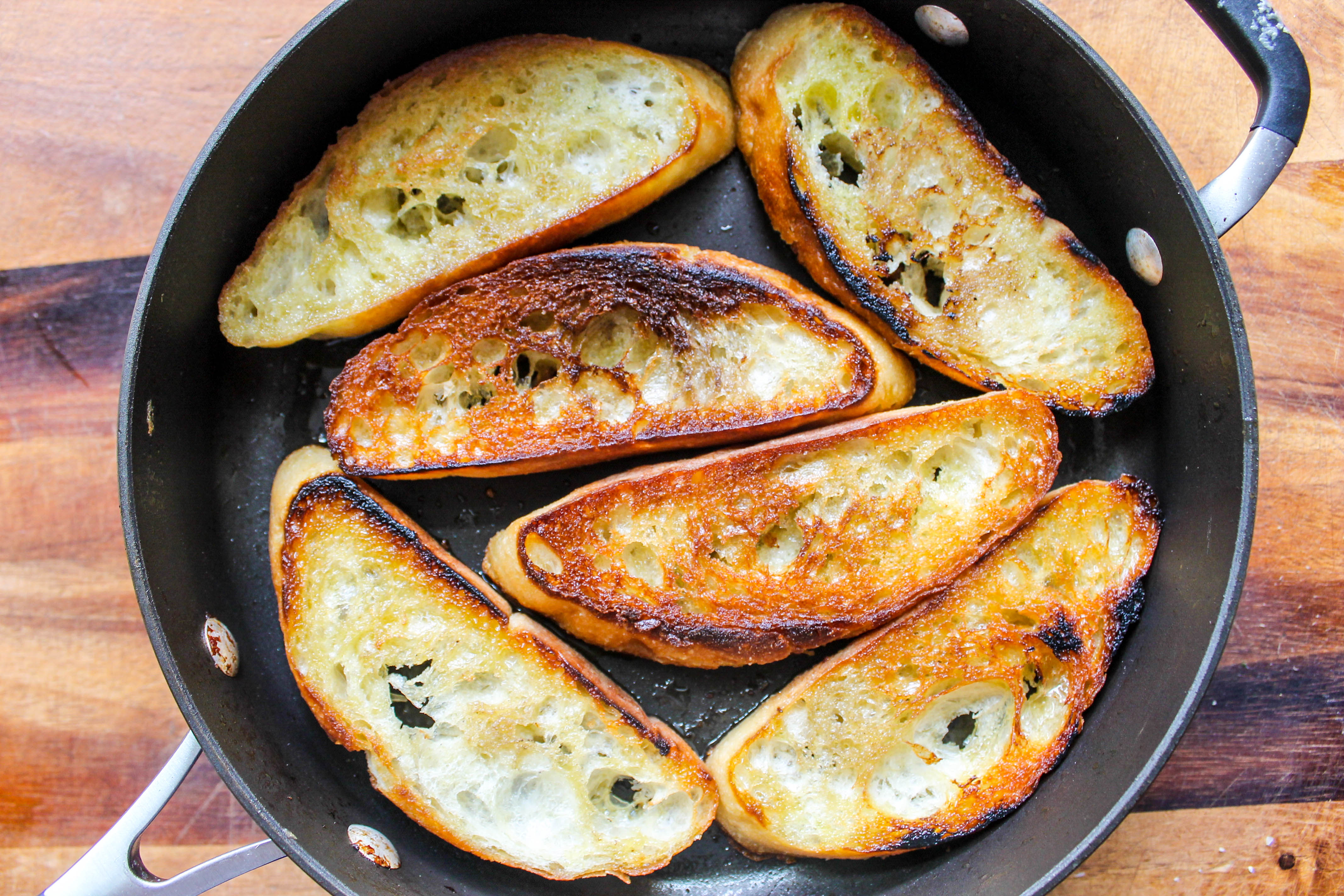 Ina's recipe also called for bell peppers, red onions and capers for her Panzanella – which might be quite delicious, but, those ingredients were not incorporated into Kyle's recipe. Maybe those additions will be good for another time, this time, the recipe was simple, with a touch of indulgence.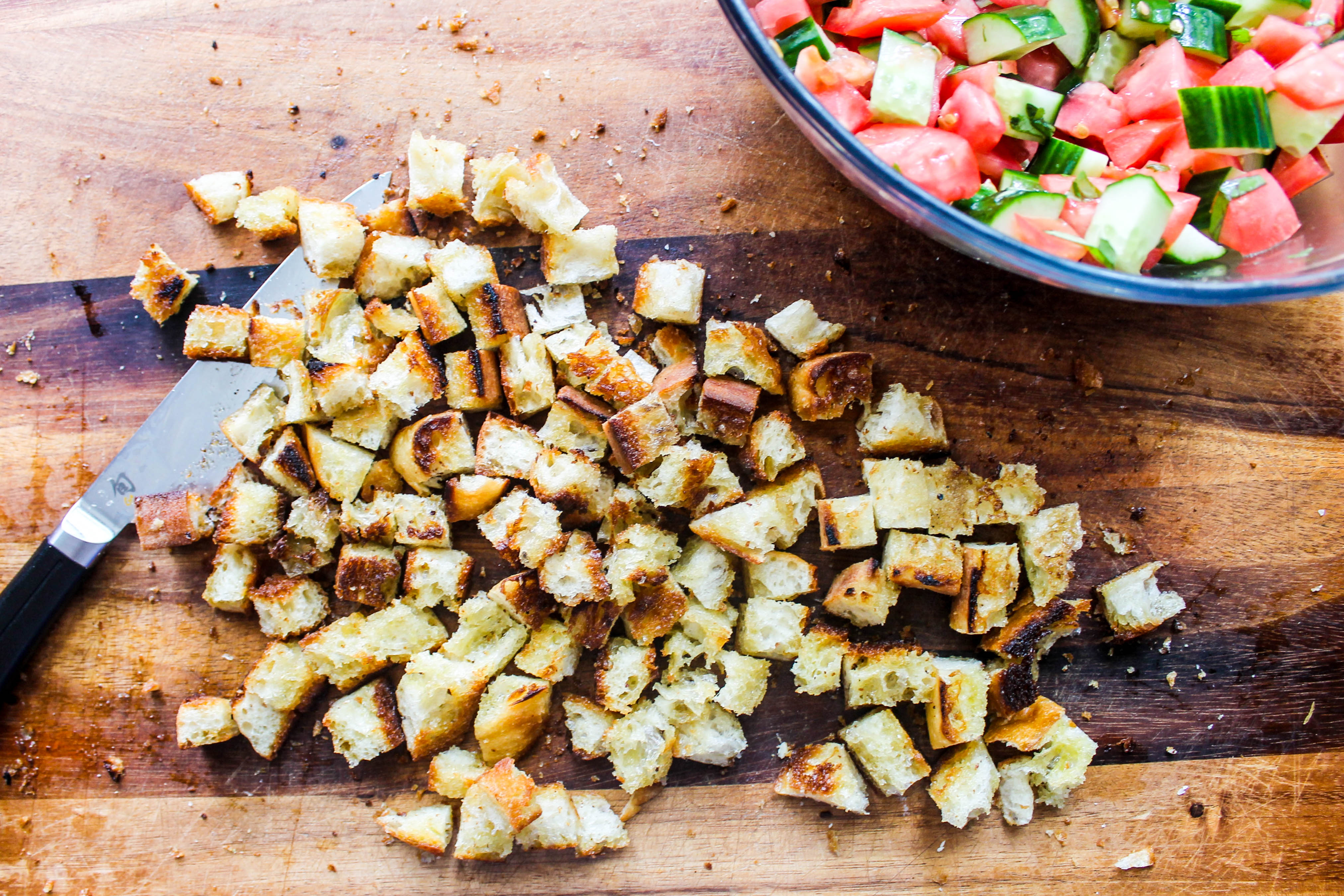 However, the versatility of this recipe is endless. If you wish to add any variety of great summer vegetables to this salad it would still prove to have delicious results. Experimentation is key to having fun with creating and cooking in the kitchen, use what you love!!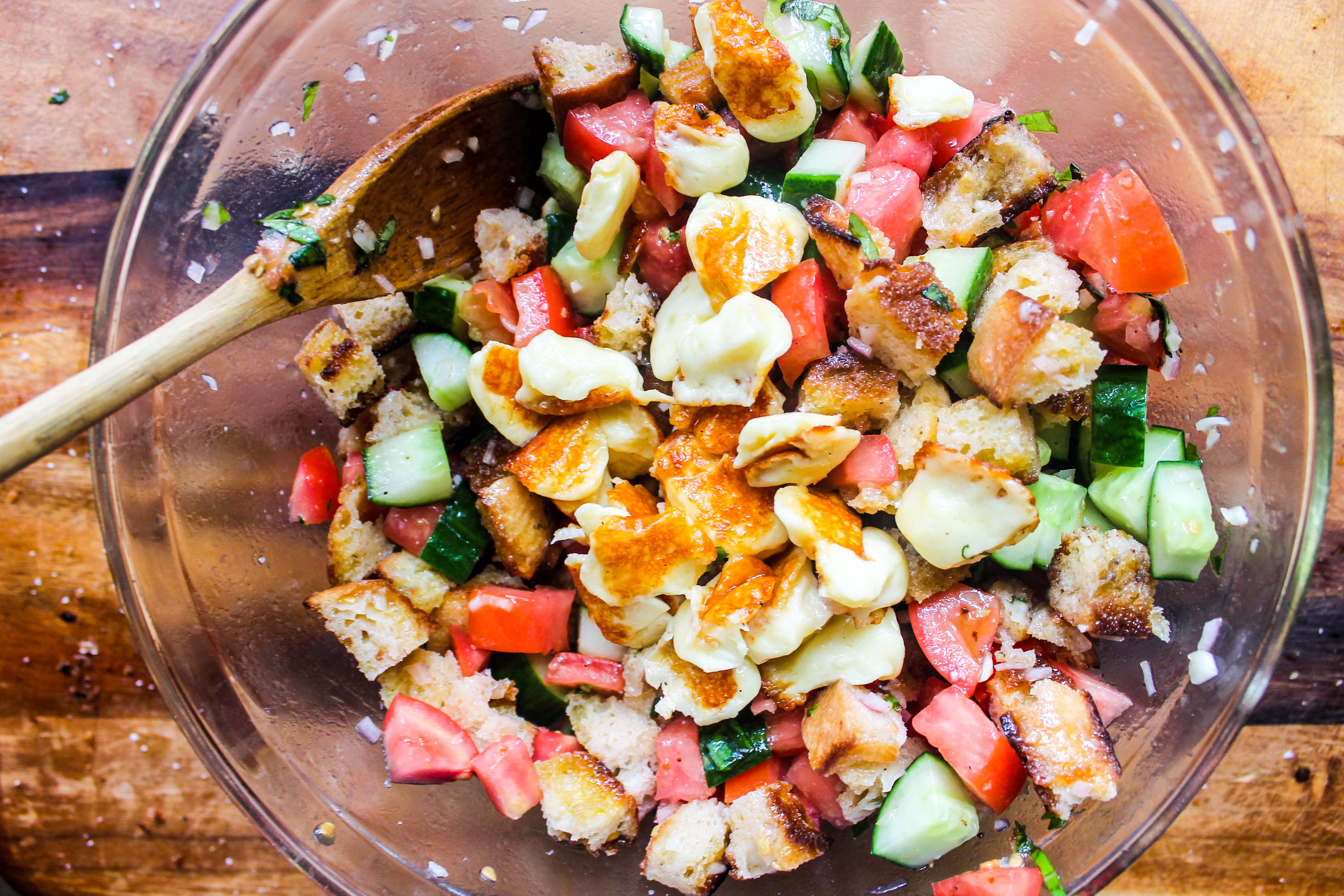 If you have difficulty finding cheese curds at your market, try some torn fresh mozzarella. It would be a great substitute, however, we do not recommend grilling it, it wouldn't get crispy and squeaky like the cheese curds.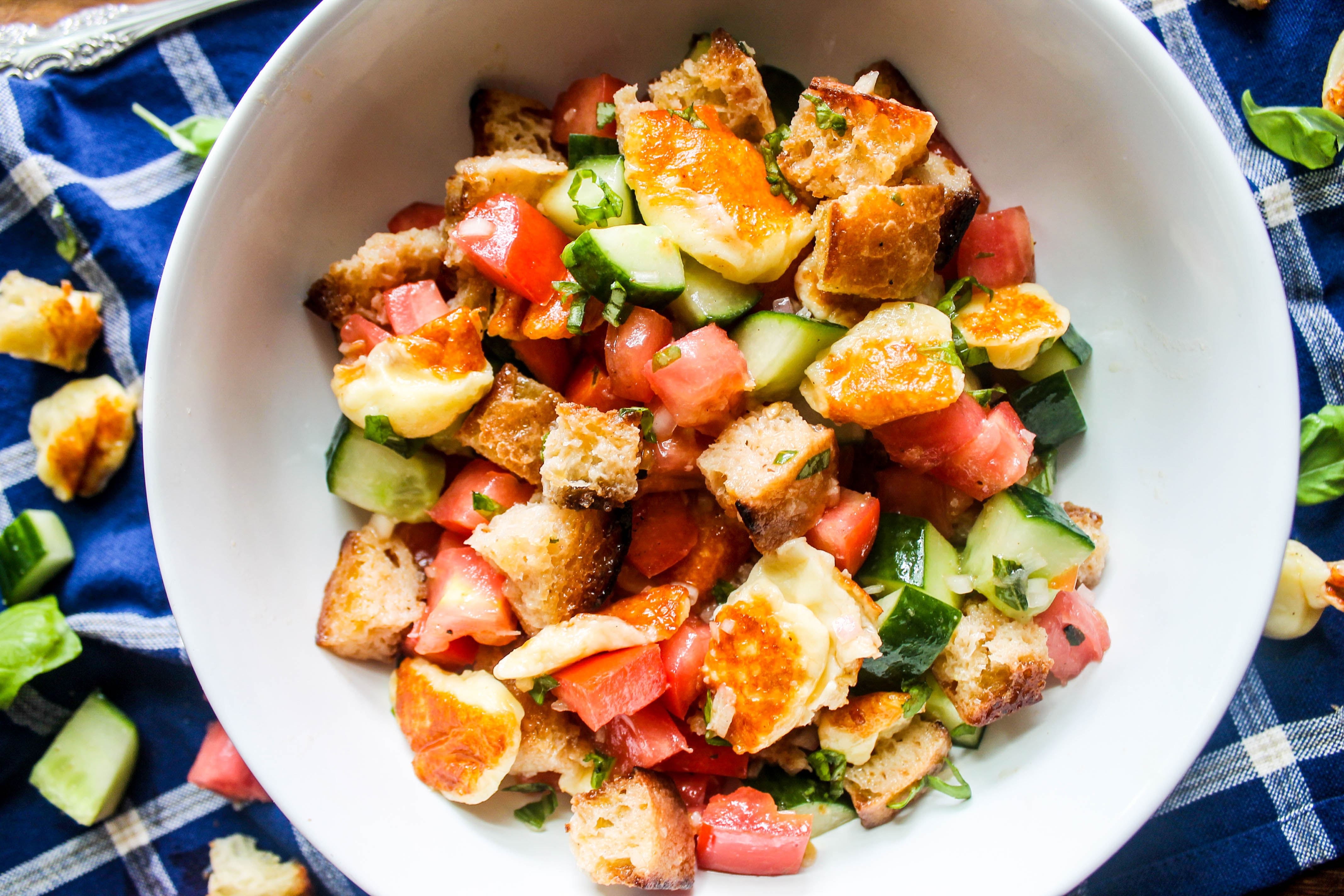 Whatever you decide as your chosen ingredients for this summer salad, it will be a delicious addition to any meal! Whether you are eating inside or outside, it will compliment a variety of entrees. Happy cheese curd-ing!!
Adapted from Serious Eats and Ina Garten.

Grilled Cheese Curd Panzanella
Ingredients
4 tomatoes (about 1 ½ pounds) stemmed and chopped into 1 -inch pieces
1 cucumber, unpeeled, chopped into 1 -inch pieces
12 - 15 basil leaves, thinly sliced (plus more for garnish)
3 tablespoons olive oil
6 slices (8 ounces) ciabatta bread
6 ounces cheese curds, cut into 1 -inch pieces
For the Vinaigrette:
1 shallot, minced
1 garlic clove, minced
3 tablespoons white wine vinegar
½ teaspoon dijon mustard
½ teaspoon kosher salt, plus more if needed
¼ teaspoon fresh black pepper
½ cup olive oil
Instructions
In a large bowl, combine the chopped tomatoes, cucumbers and basil. Stir well and set aside.
Heat 2 tablespoons oil in a large pan over medium heat. Add the ciabatta bread and cook, flipping occasionally, until the bread is crisp and golden brown. Set bread aside on a cutting board to cool for a minute.
Meanwhile, reduce the heat on the pan to medium-low. Wait a minute or two for it to cool down, and then add the remaining tablespoon of olive oil. Add the curds and cook until they are browned and crisp on the bottom, but not completely melted on top, about a minute or so. When done, use a spatula to carefully remove the curds from the pan and set aside on a plate.
Chop the bread slices into 1-inch cubes and toss well with the tomato and cucumber mixture. Add the cheese curds and toss well.
For the vinaigrette, whisk together the shallot, garlic, white wine vinegar, dijon, salt and pepper. While constantly whisking, slowly stream in the ½ cup olive oil. Stir the vinaigrette into the tomato mixture and mix well. Taste and add a bit more kosher salt if needed. Garnish with extra basil and serve.
Please follow and like us: