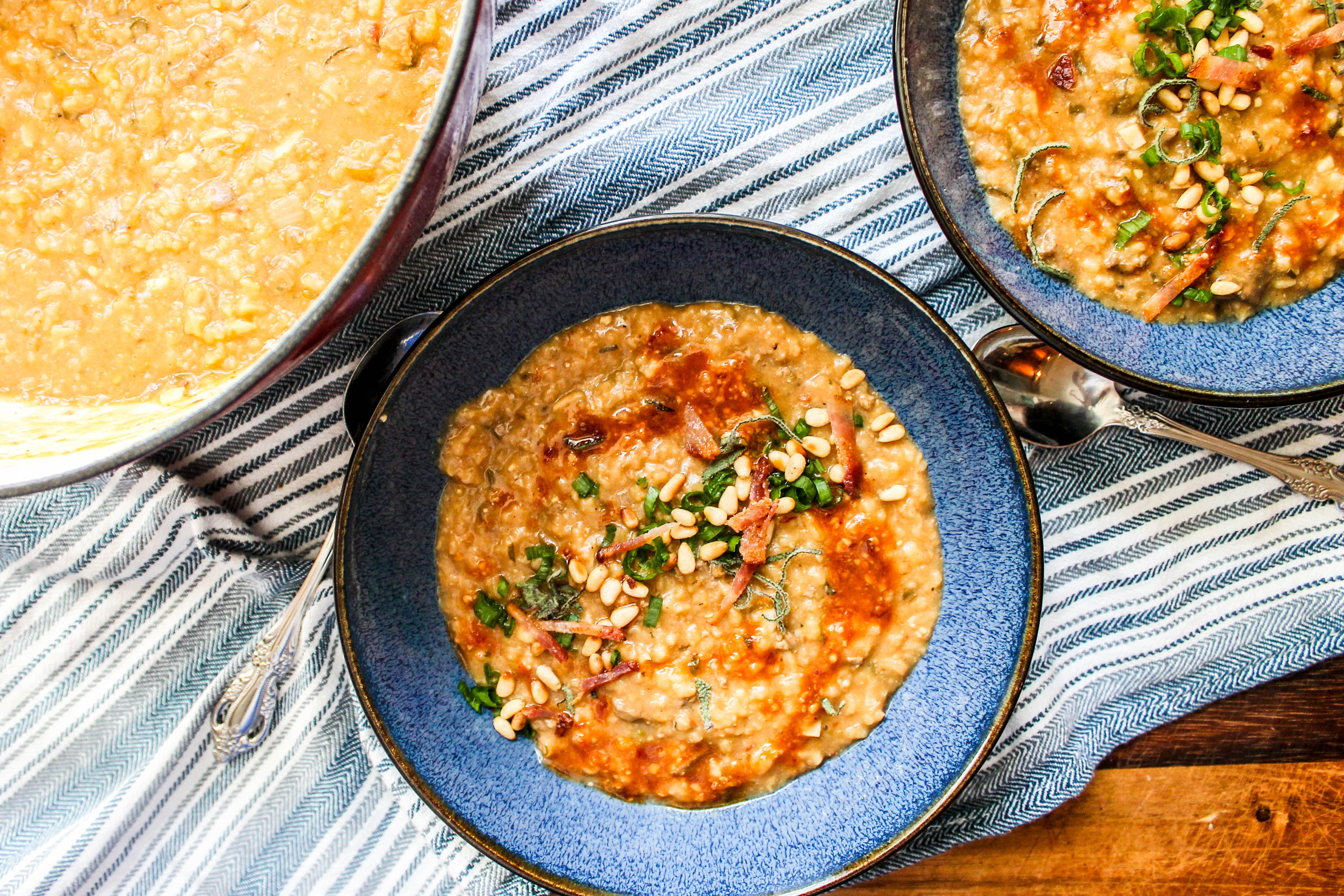 Time to celebrate! What are we celebrating? Well, this recipe will commemorate our 200th post on the Allons-Eat blog! While brainstorming recipes, Kyle really wanted to do something special, if not undorthodox, to celebrate this milestone. So, hold on to your whisks, here we go….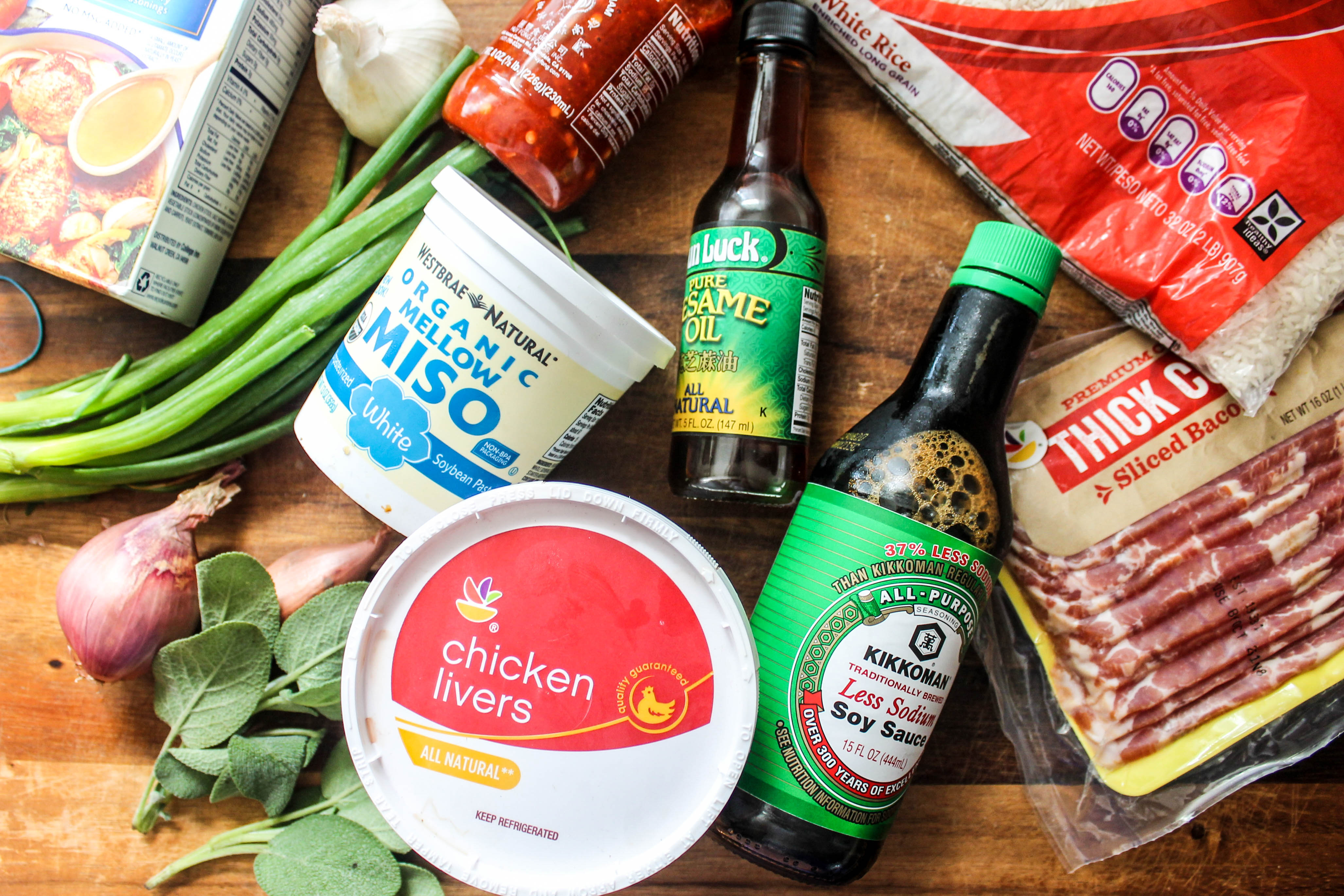 Though many people turn their noses up at chicken livers (Kyle included, though I love them -most of the time), and yes, this recipe contains chicken livers. However, please bear with us while we regale you with the story that leads to the the inspiration for this very dish. It all began during a Restaurant Week dinner at Osteria (also the source of inspiration for the  Squash Toasts with Burrata Cheese and Balsamic Reduction); where one of the menu options was a Chicken Liver Rigatoni, which sounded way too interesting and off-the-wall to pass up.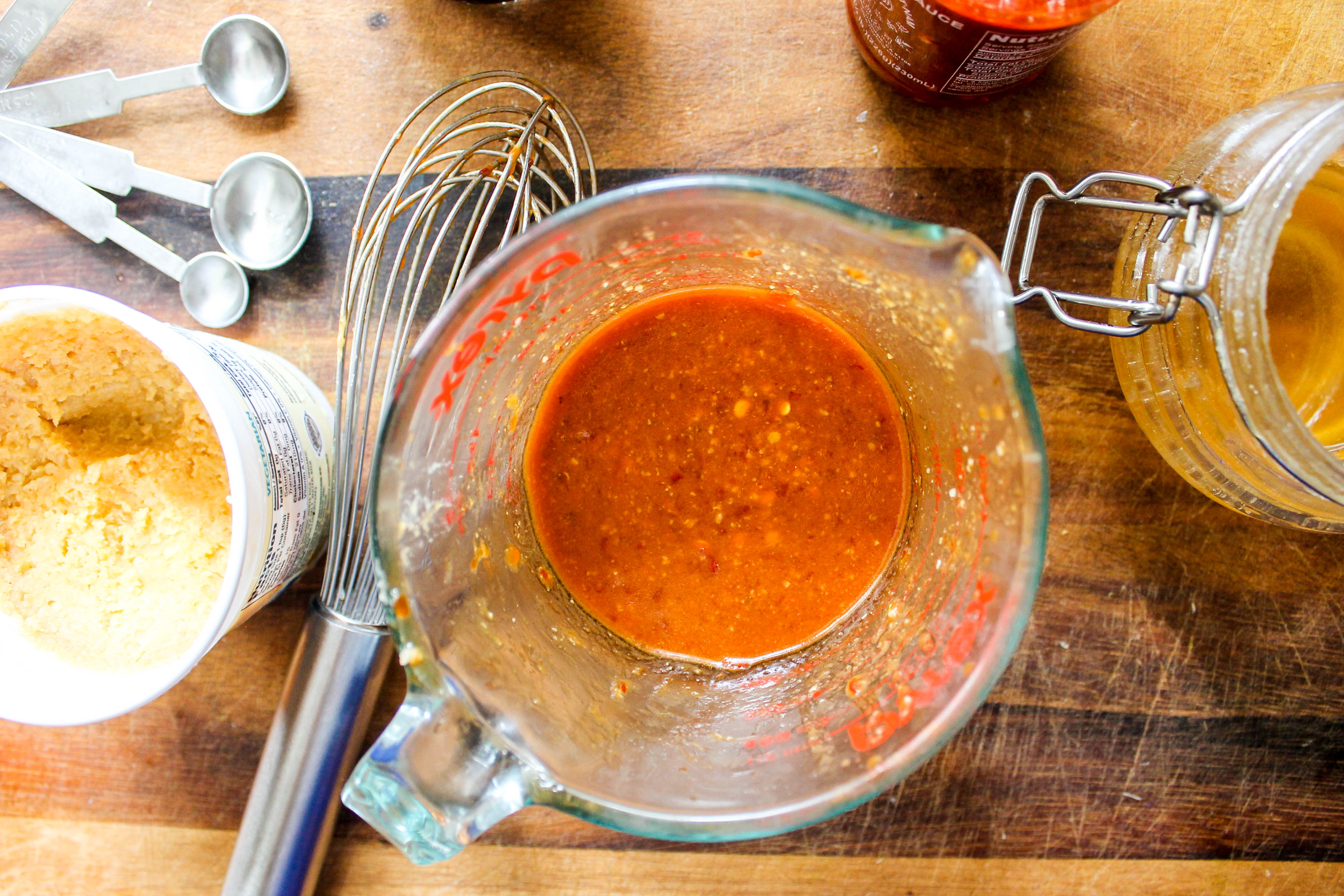 No regrets to this decision! The pasta dish was rich and satisfying with a complex flavor that didn't have that, well, liver-y taste that turns so many people off from the ingredient. While inhaling the savory scents from this delightful dish, Kyle immediately started thinking of ways to create something similar to include on the blog.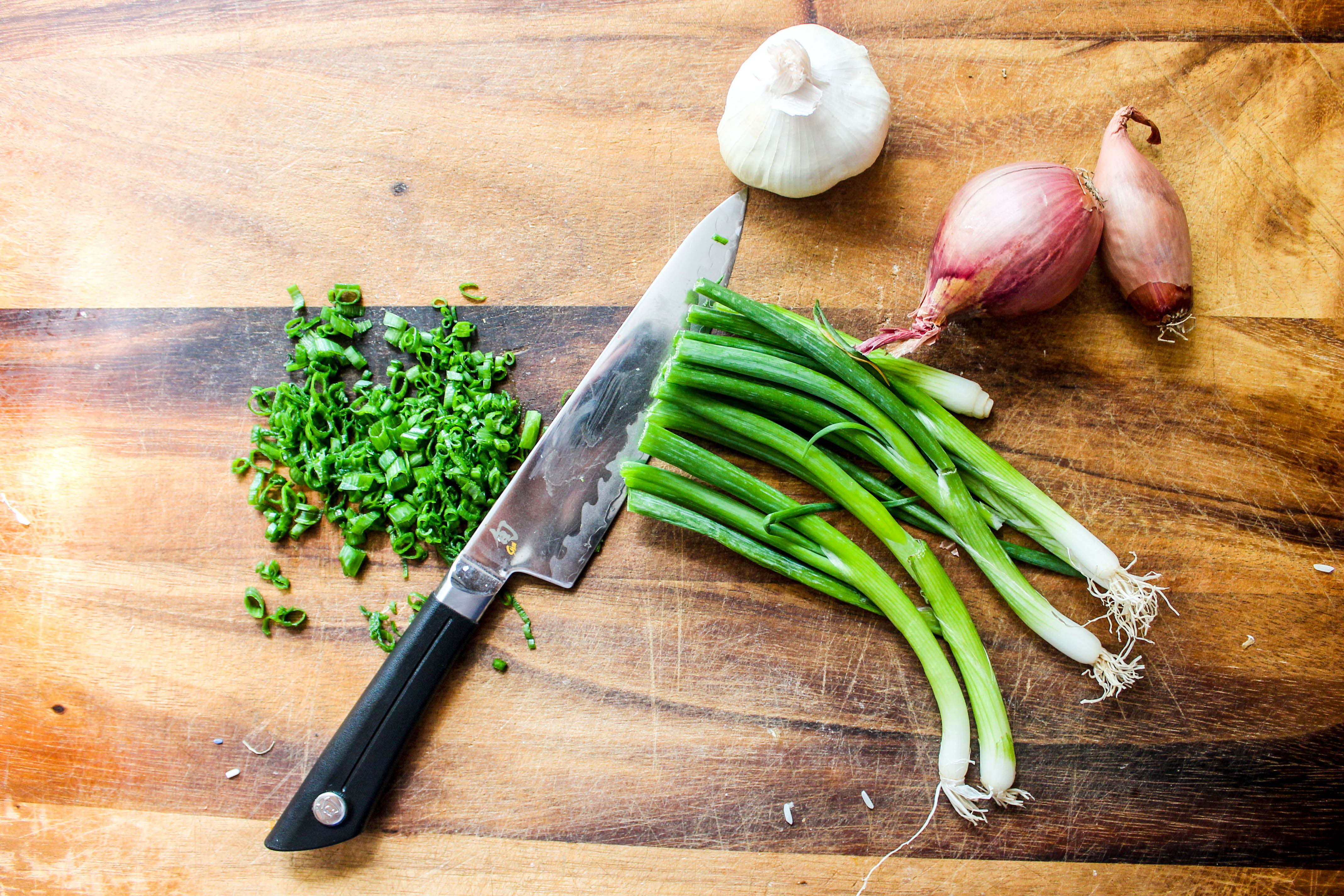 The original dish is delicious, intriguing and surprisingly simple to prepare, and its recipe is widely available around the internet (check it out here!)Kyle decided to forego recreating a widely published recipe, he wanted to take the concept one step further for our 200th recipe.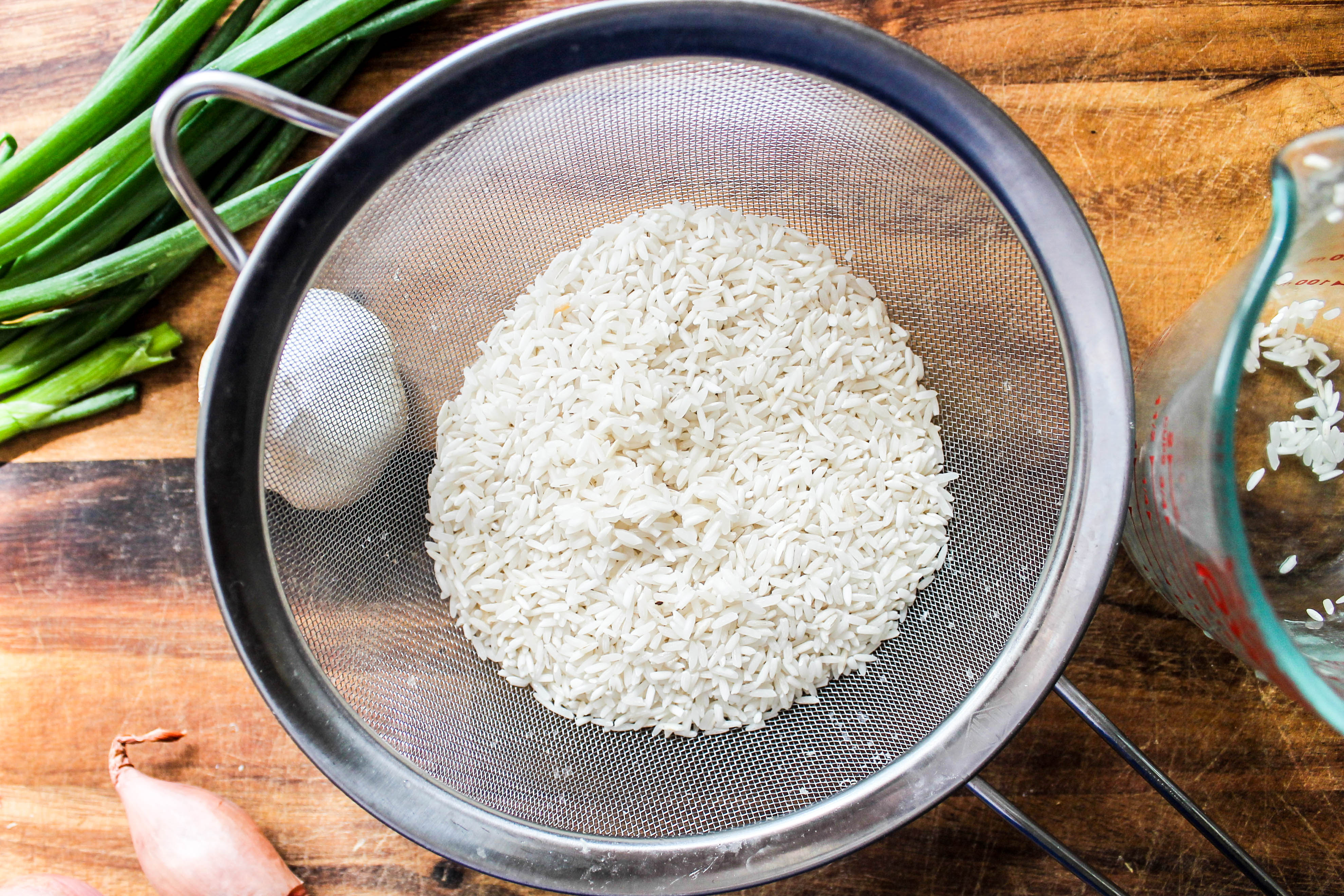 Enter the congee. Since this past winter (with our Congee with Spicy Pork), Kyle has been obsessed with this rice-based comfort dish. He felt it was the perfect base to incorporate the savory chicken livers. In a way, congee is almost like an Asian risotto – a richly satisfying rice dish that makes the ultimate comfort food. However, risotto is a bit of a high-maintenance dish: you have to constantly monitor the pot and stir, stir, stir the rice, gradually incorporating more stock until you've reached your desired consistency.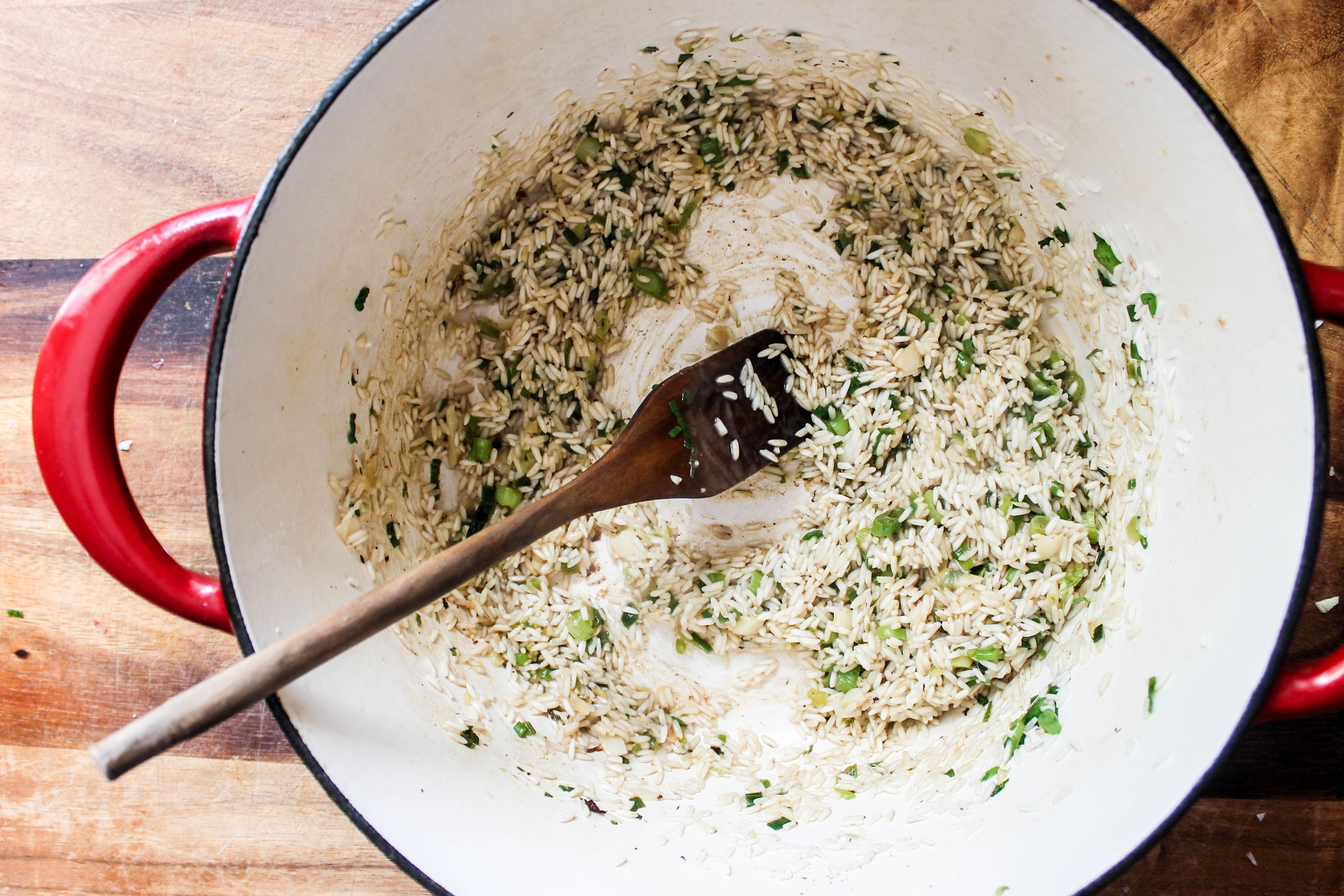 When one sets out to make risotto, you are making a committment to hovering over your stove for about 45 minutes to an hour. Congee offers an equally delicious and satisfying alternative that is much lower maintenance- you just bring all the ingredients to a boil, reduce to a simmer, then check on the congee every ten minutes or so to give the pot a good stir. I'm all for a low maintenance!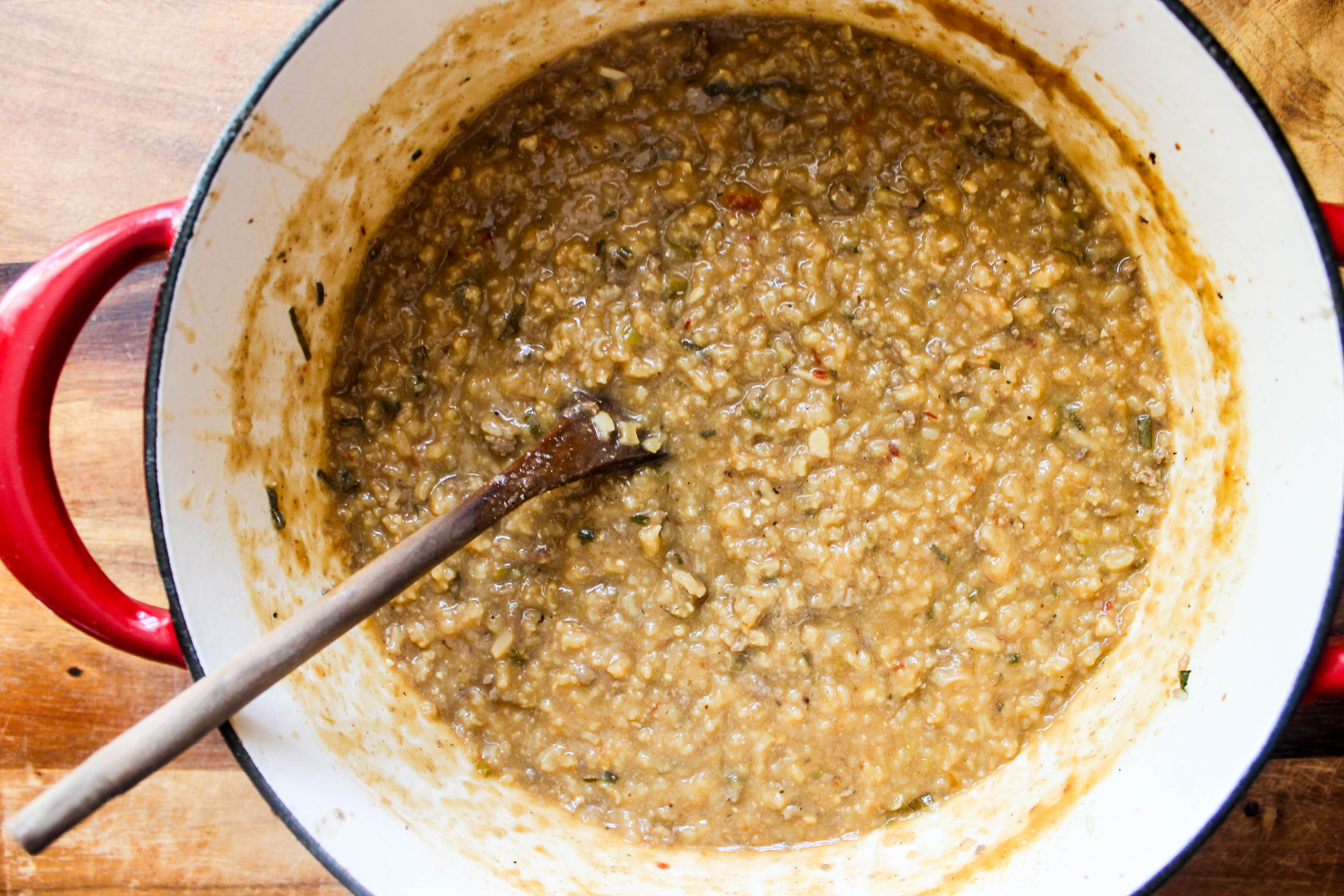 Kyle used the Serious Eats recipe for Osteria's Chicken Liver Rigatoni as the base for the minced chicken livers that he added to the congee. However, he seasoned the chicken livers with some soy sauce and swapped the Parmesan cheese from the original recipe with some white miso paste. The miso paste lent the same umami flavor while incorporating a more Asian-influenced ingredient.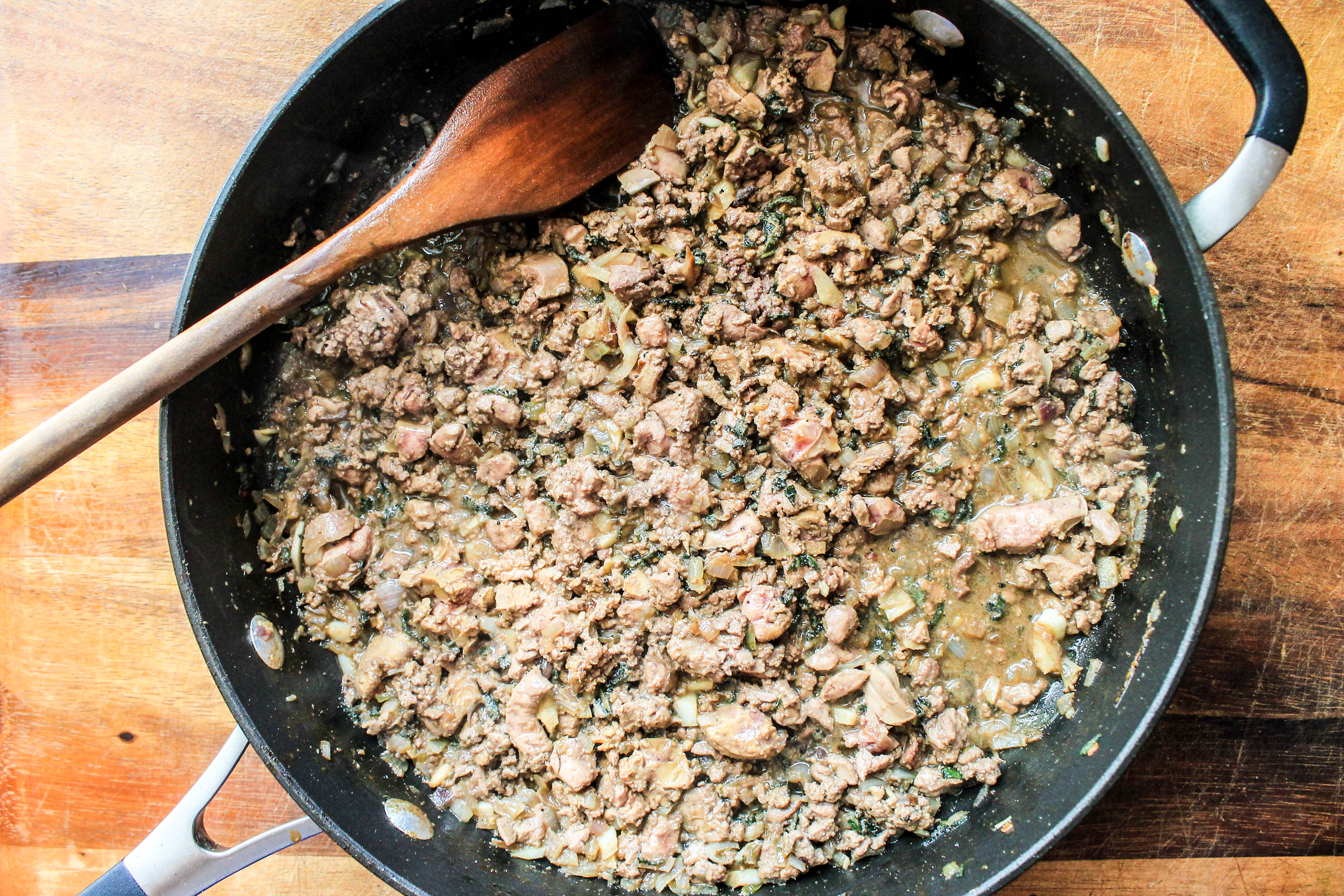 To further bridge the gap between the Asian and Italian inspirations for this recipe, the congee was topped off with some toasted pinenuts for additional crunch. To take that to the next level, you could even swap the bacon for some crispy pancetta. Of course, because Kyle had a difficult time NOT putting a poached egg on top, he couldn't help himself, and, come on, it's delicious. Though, that part's optional (however, you should totally try it!).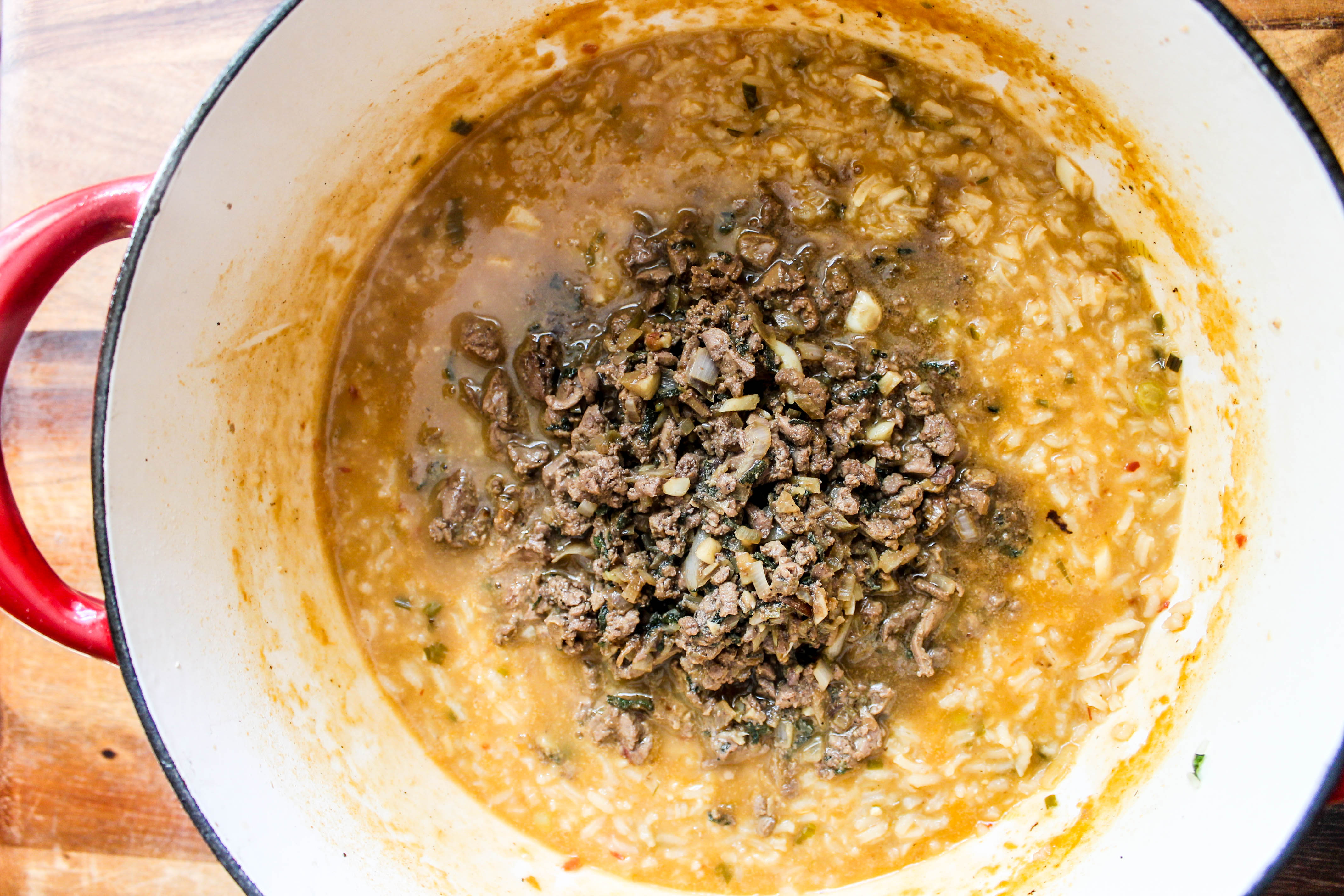 As you are cooking the congee, you won't be able to resist the savory scents eminating from your pot. The beautiful concoction blending scallions, wine, garlic, bacon and sage will fill your kitchen with a delicious aroma that almost no one will be able to resist. No more stigma for chicken liver-please!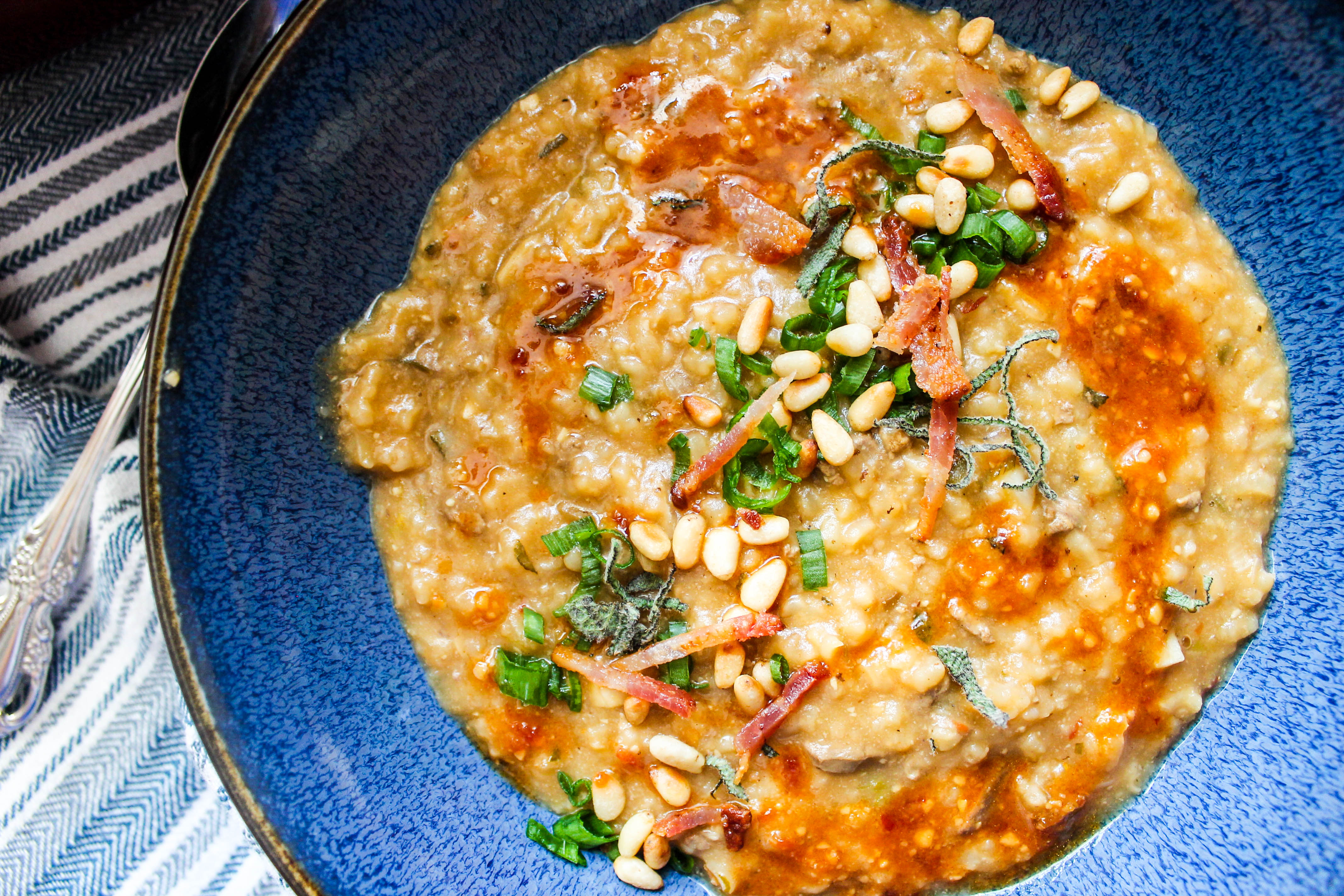 Overall, this Chicken Liver Congee checked off all the requirements Kyle was looking for in creating a recipe that embodies what this blog aims to accomplish (and at the same time, makes it the perfect commemorative post!).  The dish is unique and (hopefully) creative, it's inspired by a meal that we enjoyed at a favorite restaurant, it's gourmet yet easy to prepare at home, and finally, the recipe is infinitely adaptable and can be tweaked to accommodate a variety of allergies or dietary restrictions.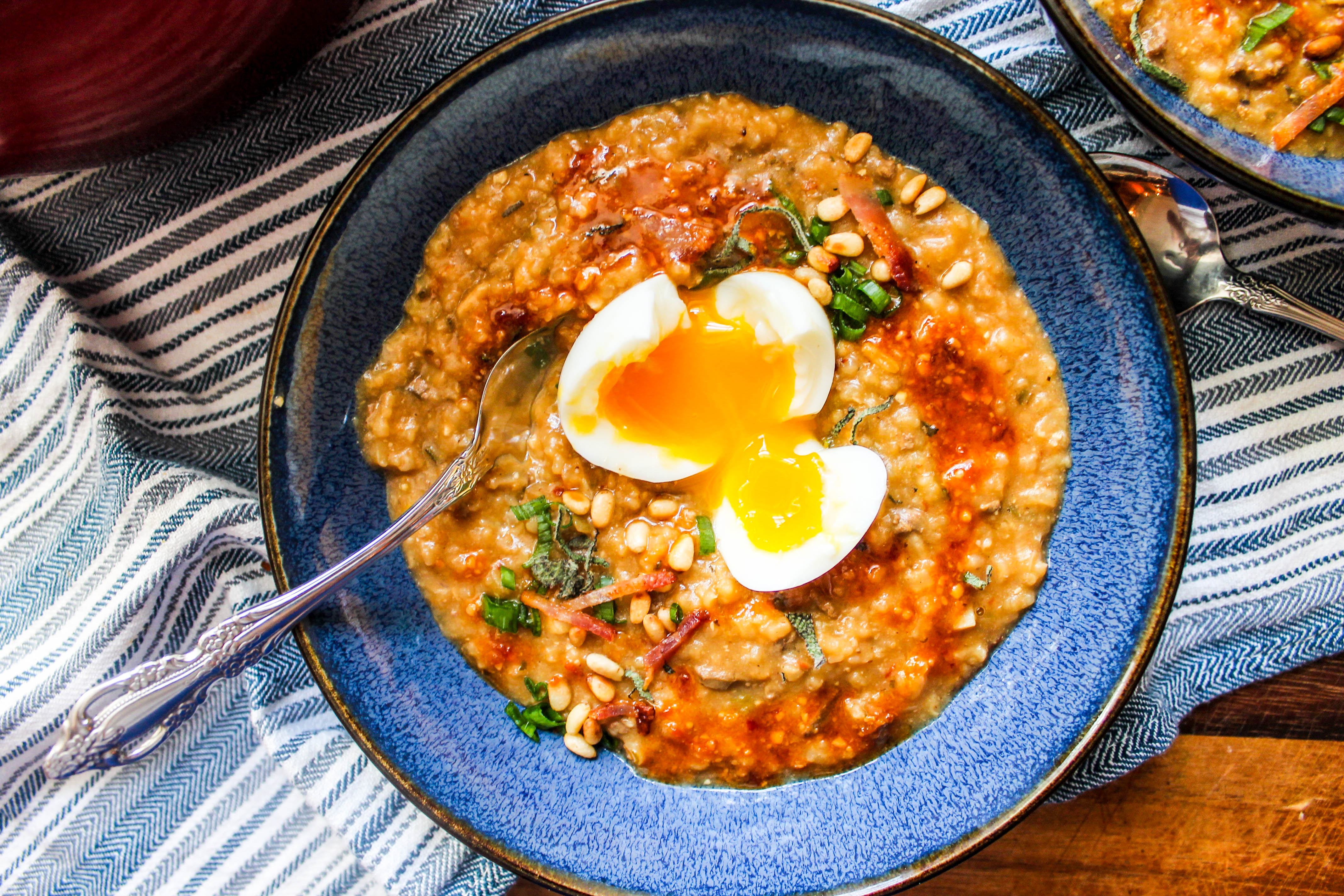 Please enjoy! And let us make a toast (insert a raised hand with libation – here) – cheers to 200 posts! May we bring you 200 more to come!!
Chicken Liver Congee
Ingredients
⅓ cup low sodium soy sauce
¼ cup white miso
2 tablespoon rice vinegar
1 tablespoon sesame oil
2 tablespoons chili garlic sauce, or more to taste
2 teaspoons honey
4 pieces bacon
1 bunch scallions, thinly sliced
6 cloves garlic, thinly sliced, divided
1 cup raw long-grain white rice, rinsed
½ cup white wine
6 cups chicken or vegetable stock (or a combination of stock and water), plus another cup more if needed
12 fresh sage leaves, thinly sliced, plus more for garnish
2 medium shallots, diced
Salt and freshly ground pepper
1 ¼ pound chicken livers, rinsed, trimmed of stringy pieces, and minced
To serve:
6 eggs, poached or soft-boiled (optional)
¼ cup toasted pinenuts
Instructions
In a medium bowl, whisk together the soy sauce, white miso, rice vinegar, sesame oil, chili sauce, and honey until thoroughly combined. Reserve.
In large pot, head bacon over medium heat until crispy, turning occasionally, about 6 to 8 minutes. Remove bacon from pot, cool, and cut into thin strip. Reserve for garnish. Remove 2 tablespoons of the rendered bacon fat and reserve for later.
Add scallions (reserve a handful for garnish) and half of your garlic to the pot. Cook, stirring frequently, until softened, about 4 to 5 minutes. Add the rice and cook for another minute. Add white wine and cook, stirring constantly, until most of the wine has cooked off, about 4 to 5 minutes. Add the stock and soy soy mixture (reserve about ¼ cup for serving). Bring the mixture to a boil, then reduce the heat to a low simmer. Stir occasionally so that the rice doesn't clump or stick at the bottom. Cook for 60 minutes, or until the porridge is thick and creamy. If the porridge begins to look dry, add a bit more stock or water as needed.
While congee is coming to a boil, prepare the liver. Heat the reserved 2 tablespoons bacon in a large sauté pan over medium-high heat. Add the shallot, reserved garlic and sage and cook until lightly browned, 3 to 4 minutes. Season generously with salt and pepper to taste and add the chicken livers, cooking for 1 to 2 minutes. Add a splash of soy sauce to deglaze the pan, then add entire liver mixture to the pot of simmering rice. Stir to combine and stir mixture occasionally throughout the rest of the porridge's cooking time. Taste, and adjust seasoning with a few dashes of soy sauce or ground black pepper, as needed.
To serve, ladle congee into bowls and garnish some pine nuts, the reserved bacon, sage leaves, and green onions and top with a drizzle of the reserved soy-miso mixture. Add a poached or soft-boiled egg to each bowl, if desired.
Please follow and like us: