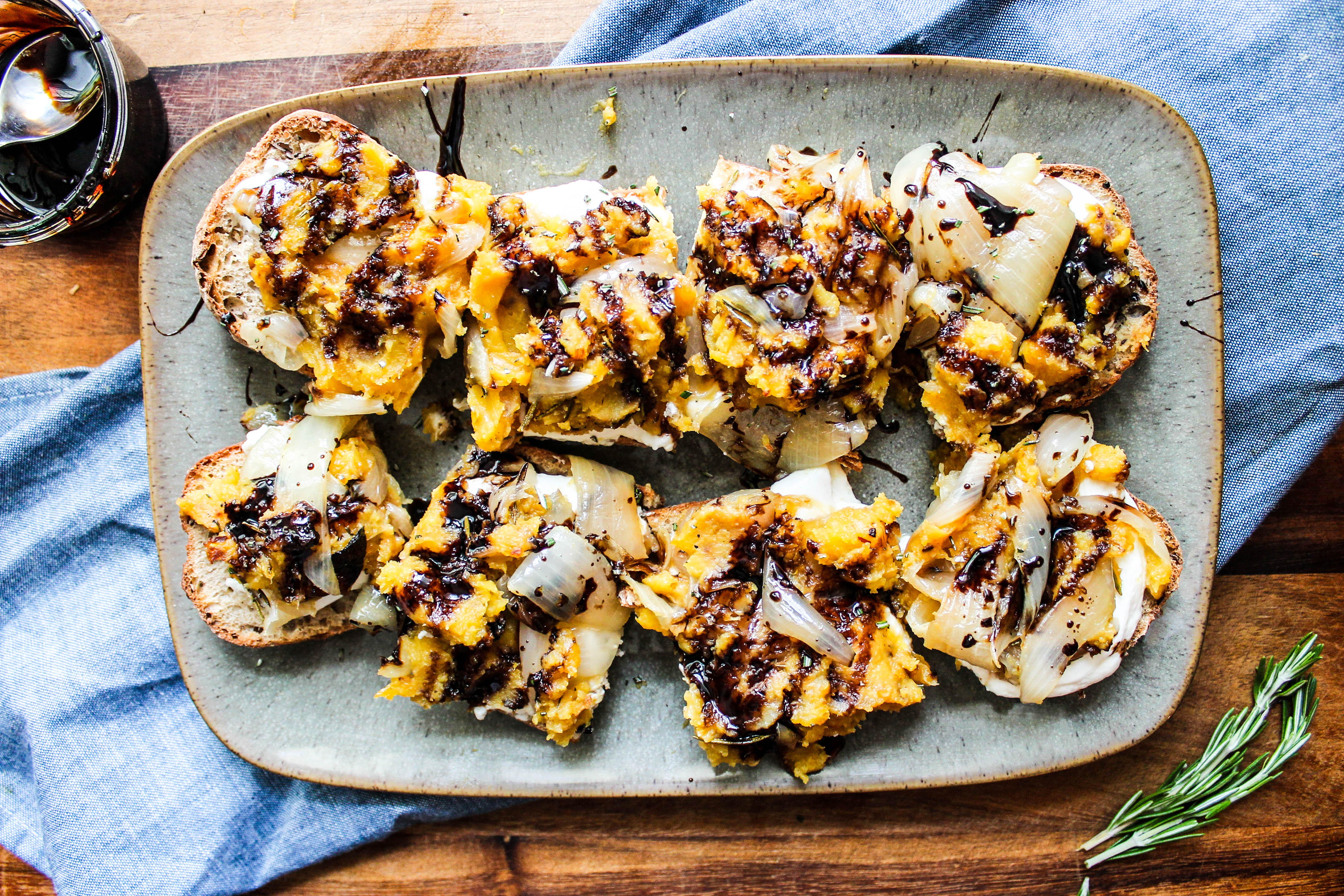 During one of Kyle's many food pilgrimages during Restaurant Week in Philly, he entered Marc Vetri's Osteria. One of the dishes that was the focus of much attention for the whole group was the Peach Panzanella. This is the dish that actually inspired the squash toast. Heh? How does a peach salad have anything to do with squash crostini? Bear with us while we connect the dots for you….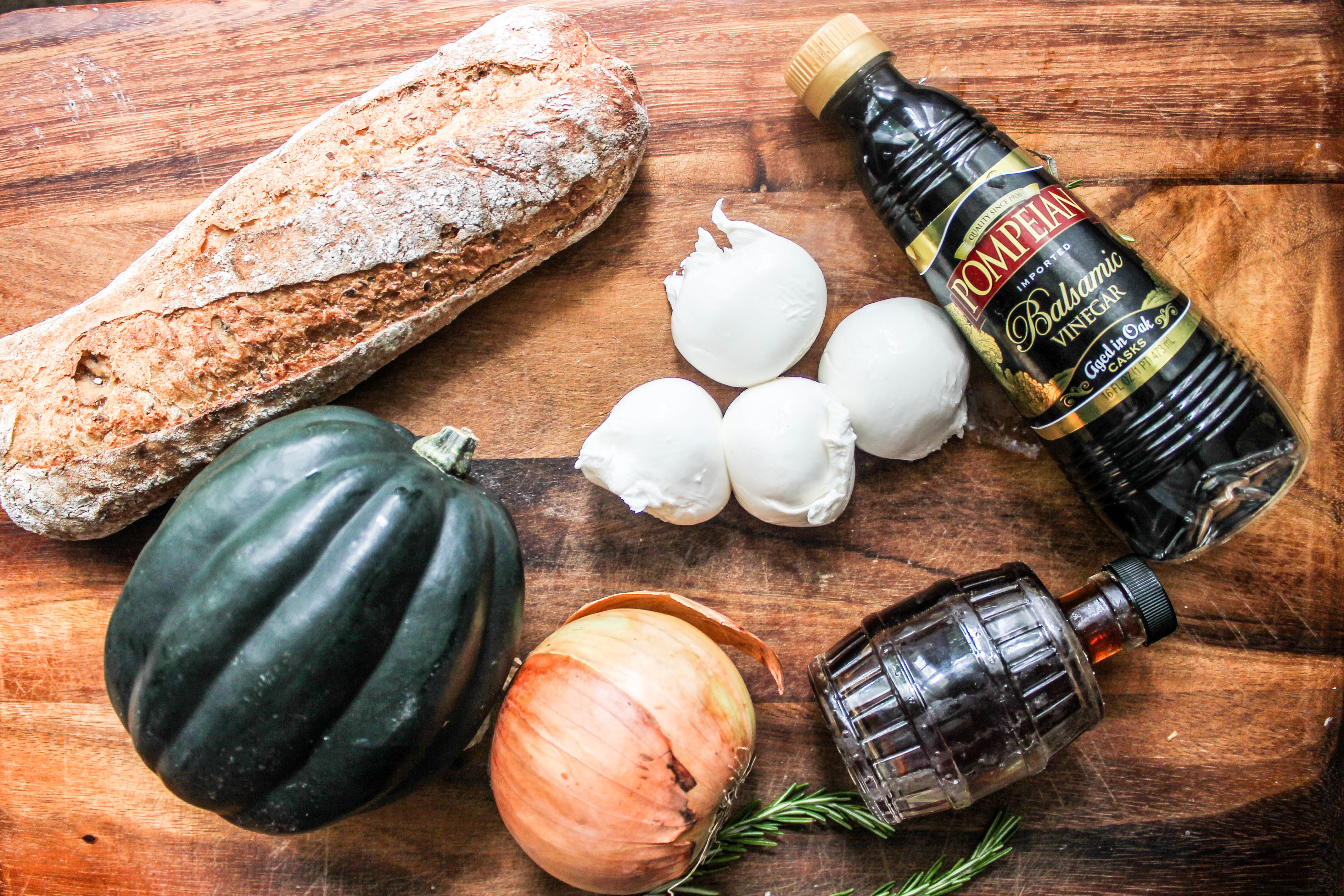 Traditionally, panzanella (a salad of Tuscan descent) consists of bread and tomatoes, usually a summer staple. The Peach Panzanella, consisted mostly of sliced peaches, freshly toasted croutons, and straciatella cheese – which is basically the gooey, stretchy center of Burrata  – so, yum! It was a beautiful, delicious salad that had a seamless light and fresh – rich and satisfying balance. This symbioscity was thanks to the sweetness of the peaches and the rich, gooeyness of the cheese.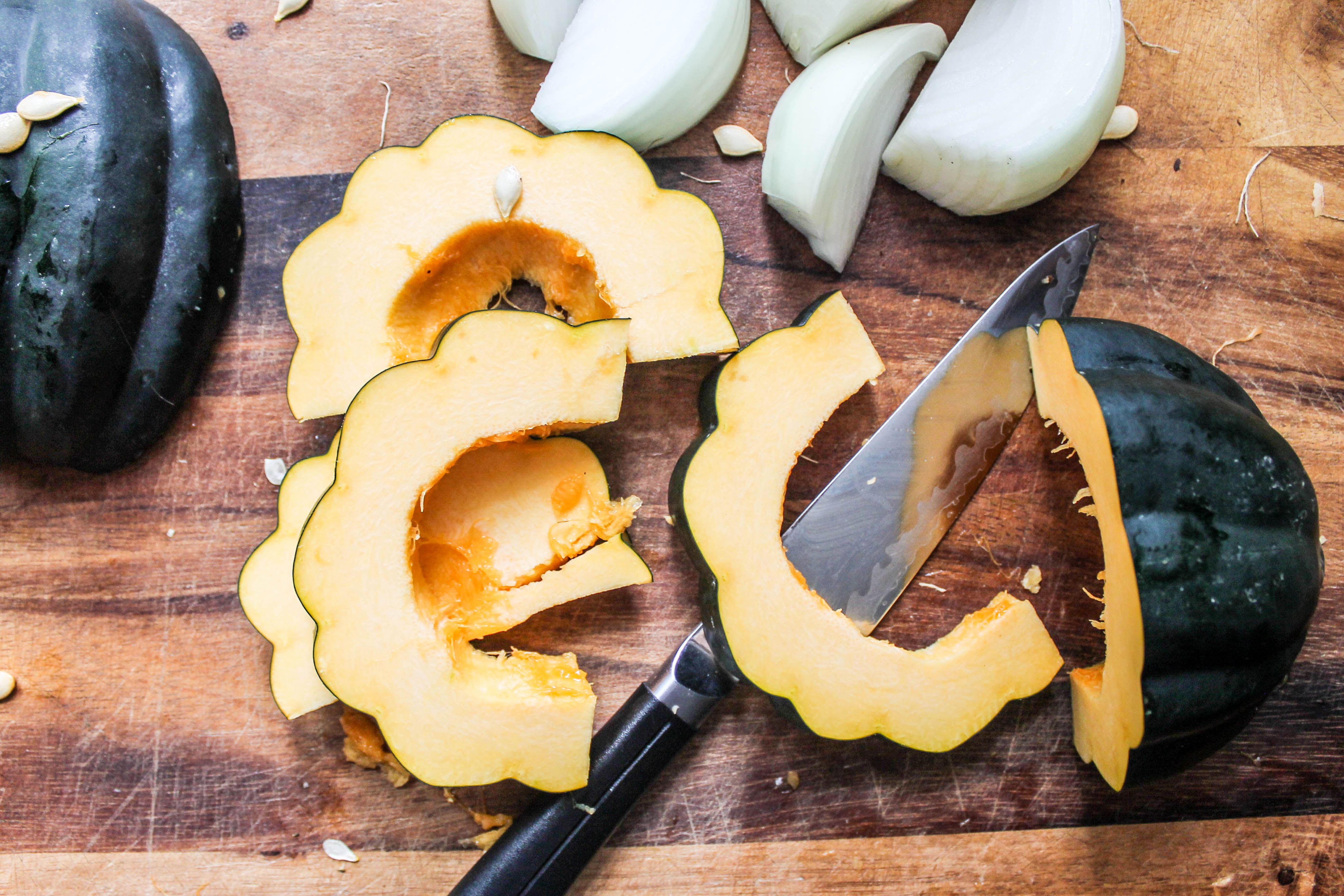 So, they fell in love. The combination of flavors and textures moved Kyle to want to pay homage to it on the blog. But, alas, this dining experience took place in the second week of September, as fresh peaches were making their swan song. Kyle's first modification was to swap the peaches with a more fall-friendly, seasonal ingredient. Enter stage right – the squash. It is autumn, most farmer's market and many a roadside farmstand will have large display acorn squash, so it isn't an ingredient that should be overly difficult to locate while on your ingredient shopping spree.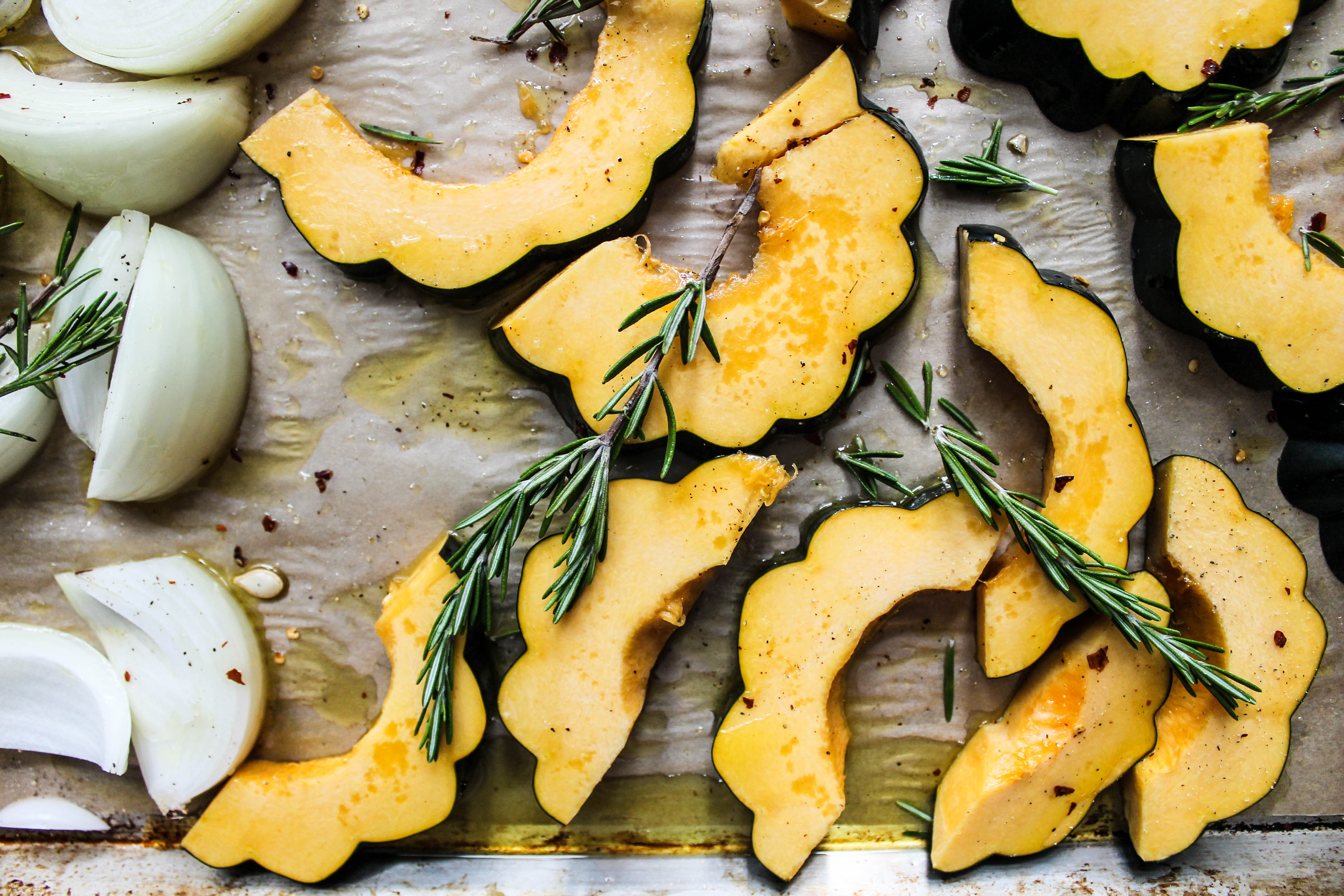 On the other hand, straciatella cheese is difficult to find around these parts, so Kyle decided to use the more available Burrata cheese. Now, onto presentation….the look of the Panzanella was quite beautiful. However, to make this dish a bit more meal-at-home friendly, serving the "salad" on crostini instead dicing the bread into croutons would create a dish that is much more accessible. All in all, this rendering to the presentation makes it ready to go, easy to pick up and indulge, no extra steps.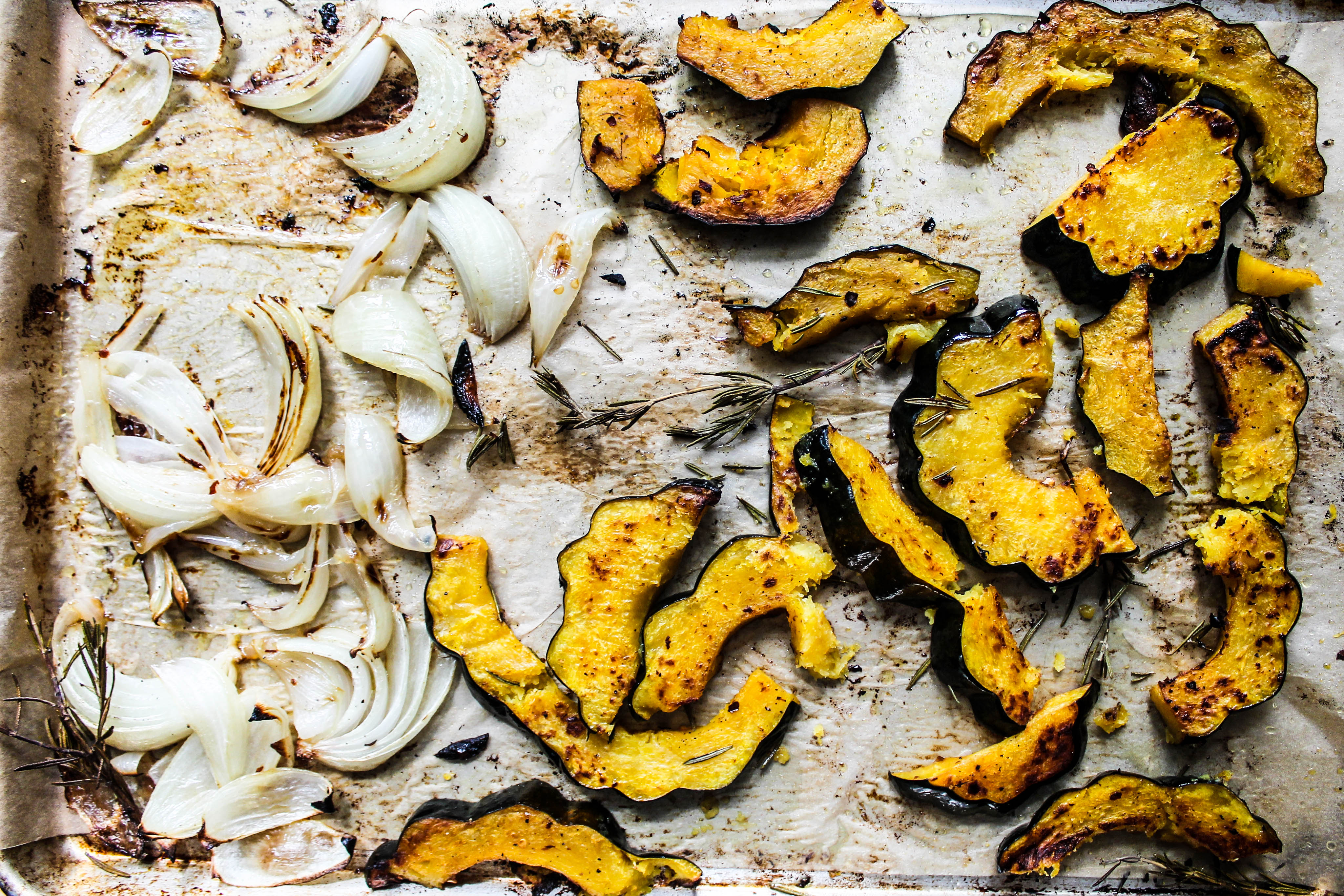 At this point, the panzanella had been morphed into an entirely different dish, and more greatly resembled a Squash and Ricotta Toast recipe that has been floating around the internet for a few years. The recipe, which Kyle picked up from Smitten Kitchen, who adapted the toast from NY Times Cooking, who based their recipe on a dish served at Jean-Georges' ABC Kitchen,  is basically a whisper-down-the-lane from incredible recipe sources.  In reality, most great recipes are created from the inspiration of another great recipe. It is the way of the universal cooking sphere.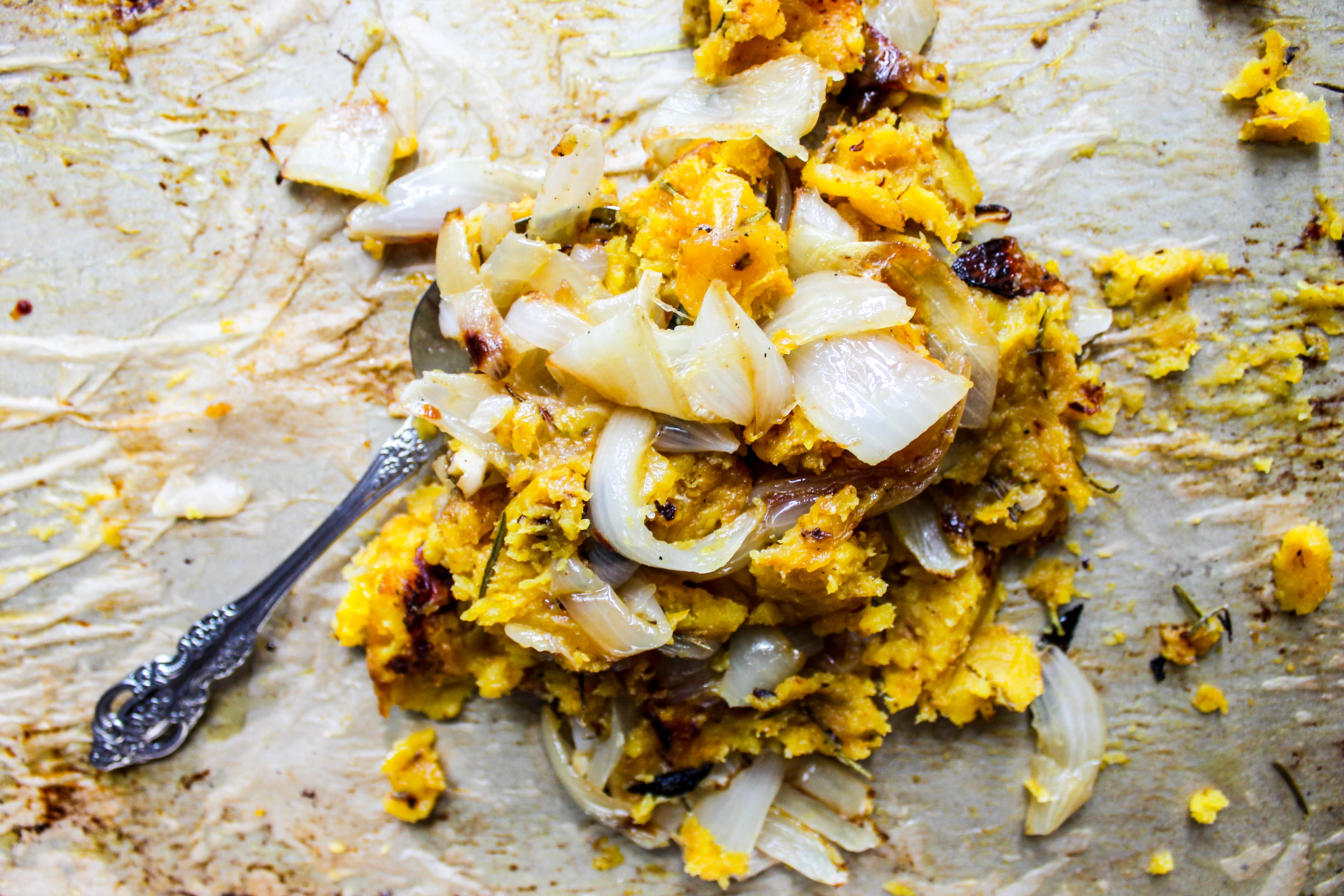 This is how Kyle's recipe came about from the Peach Panzanella to Squash Toast. All of the components of this recipe mirrored the toast that he had in mind, with a few minor tweaks along the way. The Burrata replaced the ricotta cheese, and instead of caramelizing the onions in an apple cider vinegar reduction he just made a balsamic vinegar reduction on the stove while the onions roasted with the squash.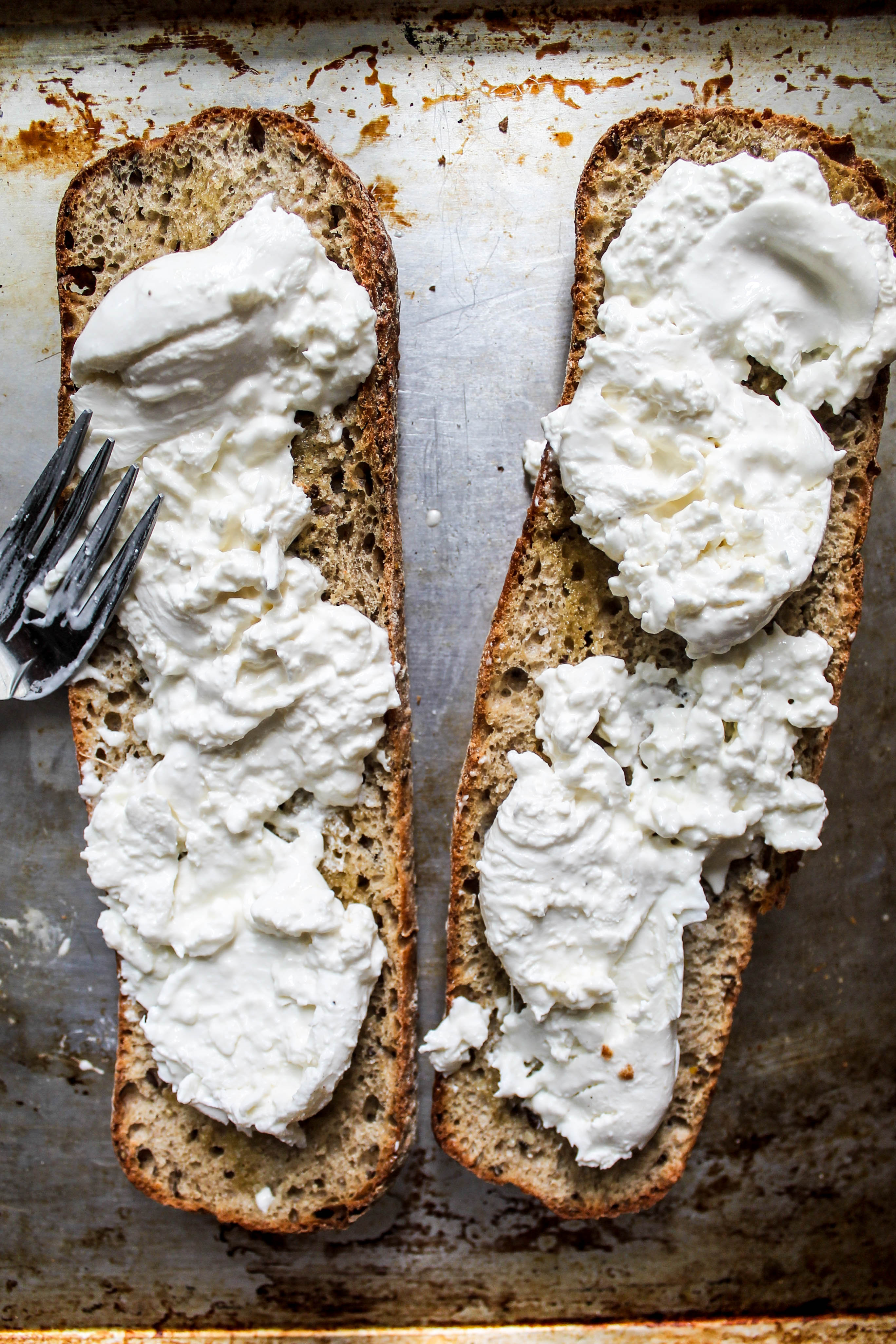 The combination created an assortment of textures and flavors that worked together to form the perfect autumn meal or starter. The crusty, toasted bread, creamy rich cheese, tangy balsamic reduction and slightly sweet roasted veggies are a delicious coalescence, formed from just making a few changes here and there throughout the process.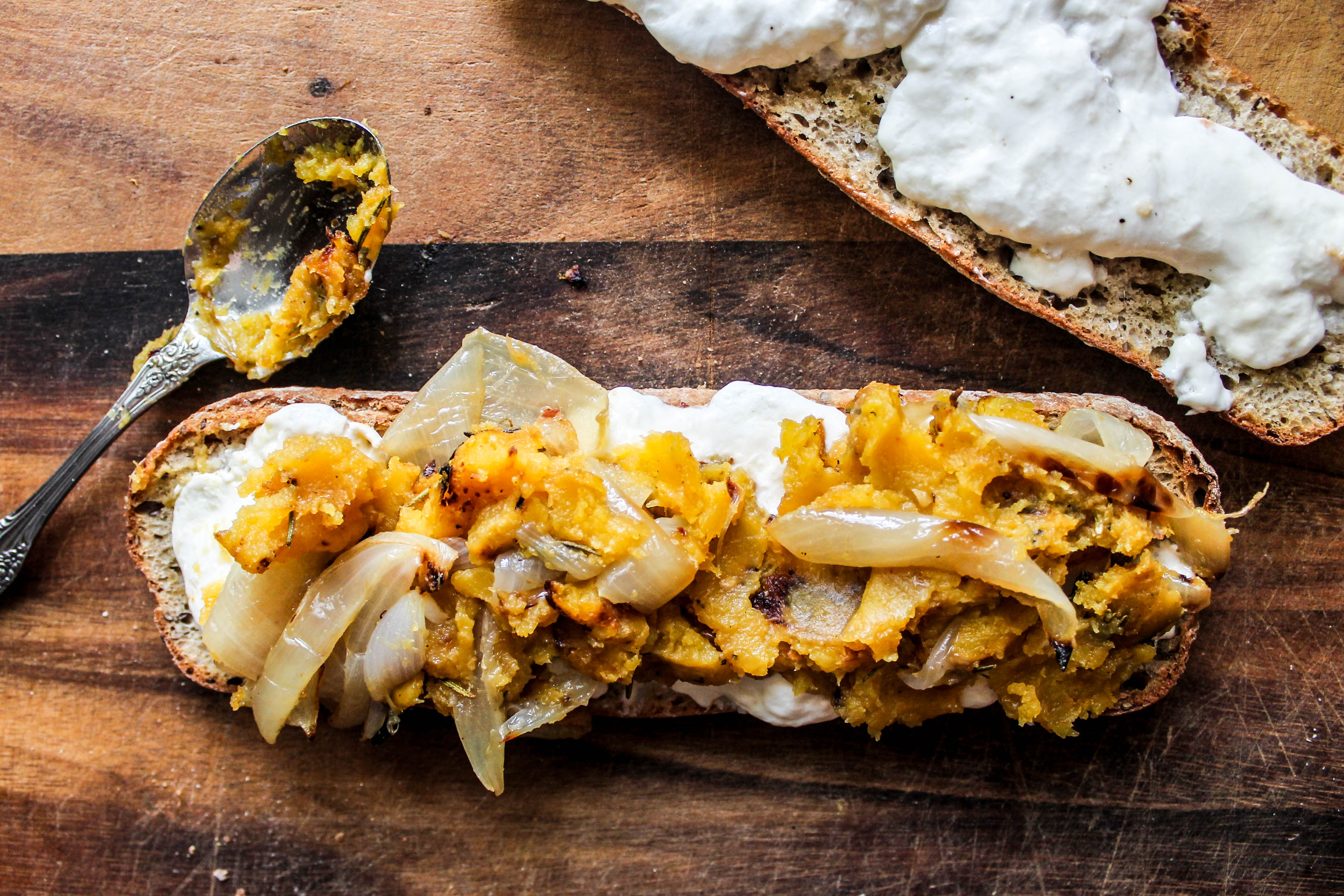 It all comes together once the vegetables are roasted. The bread gets drizzled with olive oil, seasoned with the salt and pepper, then toasted at 475 degrees for five minutes. Once it comes out of the oven (turn the oven off!), toasted and all ready for the next step – spreading the burrata cheese, popping the toast in the warm oven to let the cheese get nice and melty, gooey. At this point your stomach will be growling, your mouth watering to finally being able to gobble up the toast – with only the cheese. Stop! You still have a few more steps before you can entertain gorging on this deliciousness.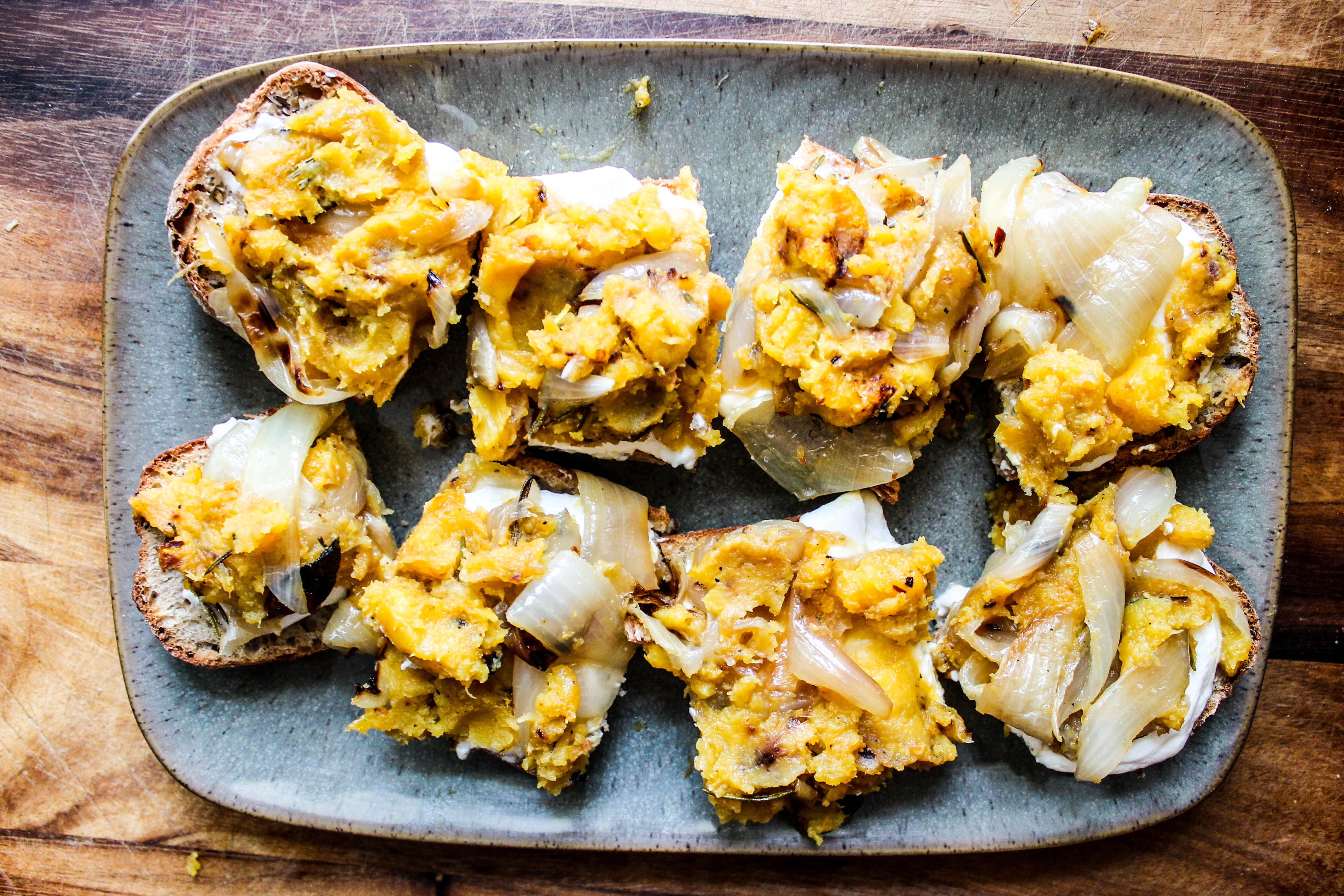 Once the toast comes out from the warm oven with the melty cheese you can now add the squash mixture to it and then drizzle your maple-balsamic reduction on top. Sprinkle the rosemary on, and you can just cut the bread and dive right into the symphony of flavors you have been so patiently waiting for all this time. Mmmmmm…heaven.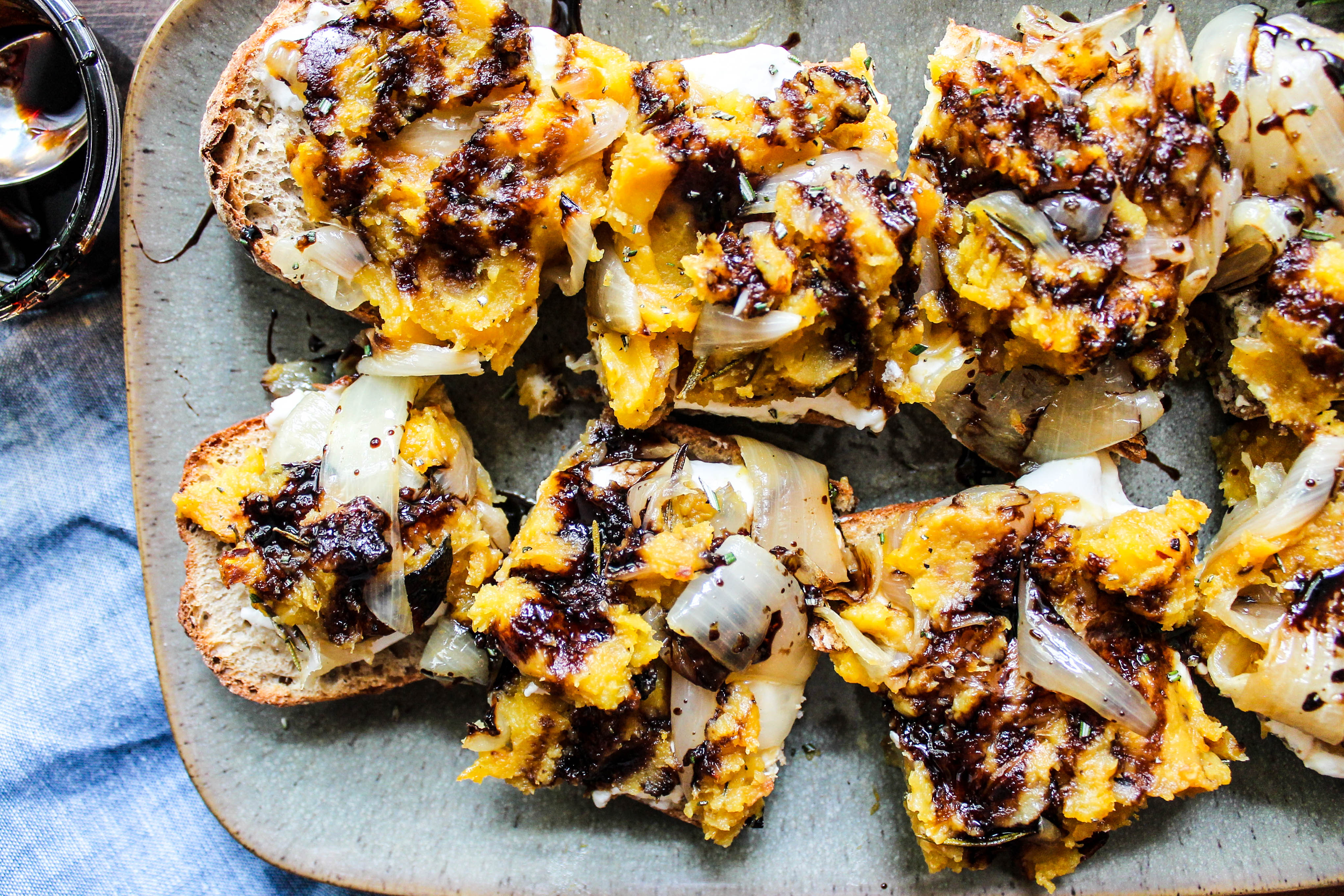 This can be served as a lovely appetizer for an autumn get-together, or  as a hearty, open-faced vegetarian sandwich. If you're feeling particularly fancy, you can cube the bread into fresh croutons, smear the burrata artfully on you plate, delicately arrange your roasted squash and onions, and serve a beautifully composed salad a la the Osteria Panzanella.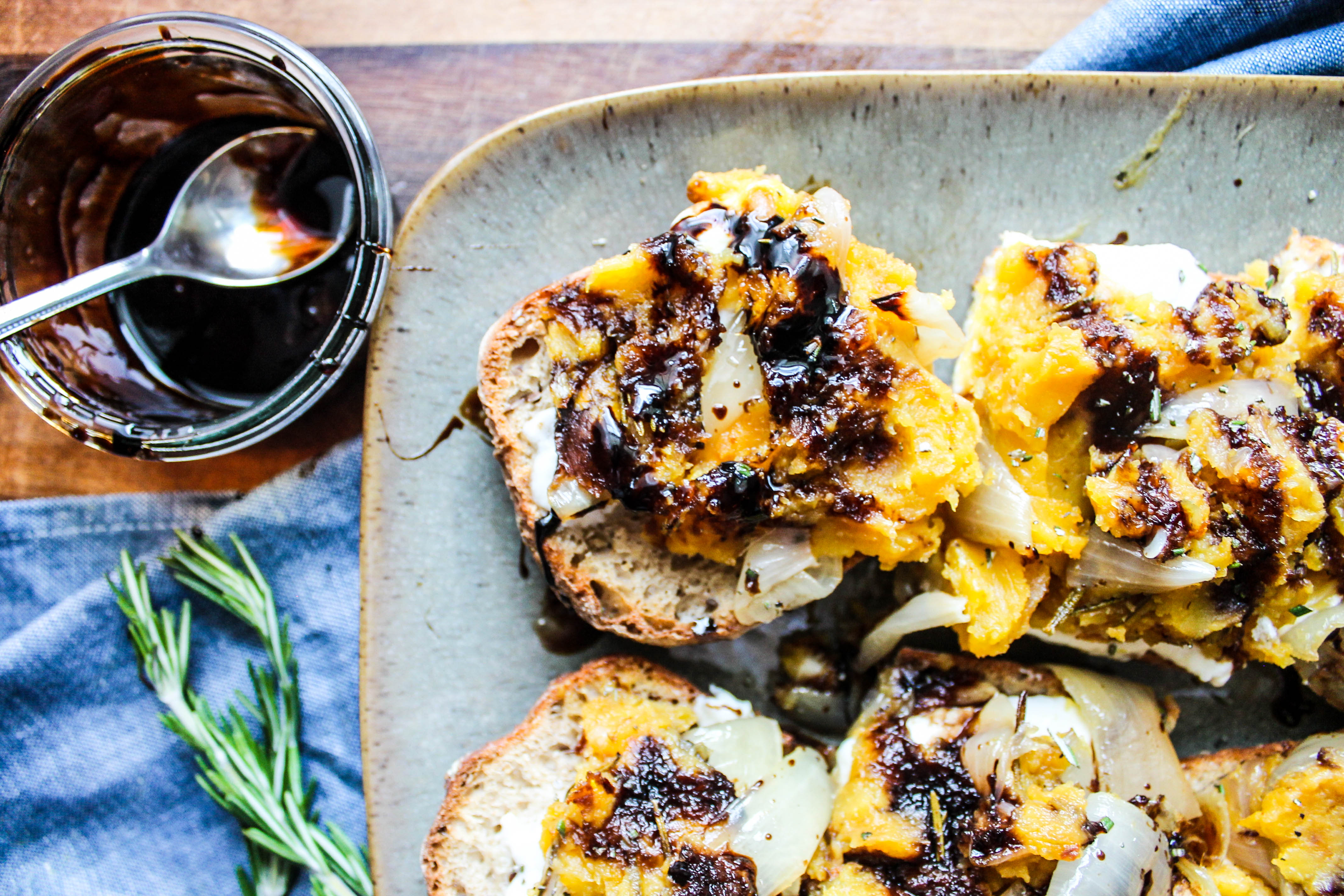 All in all this recipe is extremely versatile, you can serve it for a variety of fall and winter occasions. So crack open your favorite cider or put some mulled wine on the stove, make your Squash Toast, and get out to that fire pit with some friends and make some more memories!
Loosely adapted from NY Times Cooking via Smitten Kitchen.

Squash Toasts with Burrata Cheese and Balsamic Reduction
Ingredients
2 lb. acorn squash, cut in half, seeded and sliced into ¼ inch slices
1 onion, peeled and cut into eighths lengthwise
6 tbsp olive oil, divided
Salt, black pepper, and red pepper flakes
3 - 4 sprigs rosemary, plus more for garnish
½ cup balsamic vinegar
2 tbsp. Maple syrup
½ lb. baguette sliced in half lengthwise
½ pound burrata cheese
Instructions
Heat oven to 475 degrees F. Line large baking sheet with parchment paper. Add squash and onions to pan, making sure to keep them separate (you may need to remove the onions before the squash is completely roasted) . Toss with 4 tablespoons olive oil, 1 teaspoon kosher salt, some freshly ground black pepper and a few sprinkles of red pepper flakes until evenly coated. Scatter rosemary sprigs over the vegetables.
Roast the vegetables for 40 minutes, flipping once about halfway through cooking.Check the pan after 30 minutes. If onions are beginning to brown, remove them from the tray and leave squash to roast for final 10 minutes. Remove rosemary sprigs and discard. Once tender, you can cut the flesh from the skin and discard it. Leave roasted squash on the tray and fold in the roasted onions.
While onions and squash roast, add balsamic vinegar and maple syrup to a small saucepan over medium-high heat. Once mixture comes to a boil, reduce heat to medium-low and simmer, stirring frequently, until mixture reduces by about half, about 8 to 10 minutes. Remove from heat and reserve.
After the vegetables are roasted, drizzle bread with 2 tbsp. olive oil and season with salt and pepper. Toast bread for 5 minutes at 475 degrees, then turn oven off and remove toasted baguette. Smear the burrata cheese all over the toast and place in the oven for a minute or two to get the cheese all melty.
Add the onion-squash mixture to the cheesy bread, drizzle with the maple-balsamic reduction, and sprinkle with some finely chopped fresh rosemary. Cut toast into slices and serve.
Please follow and like us: