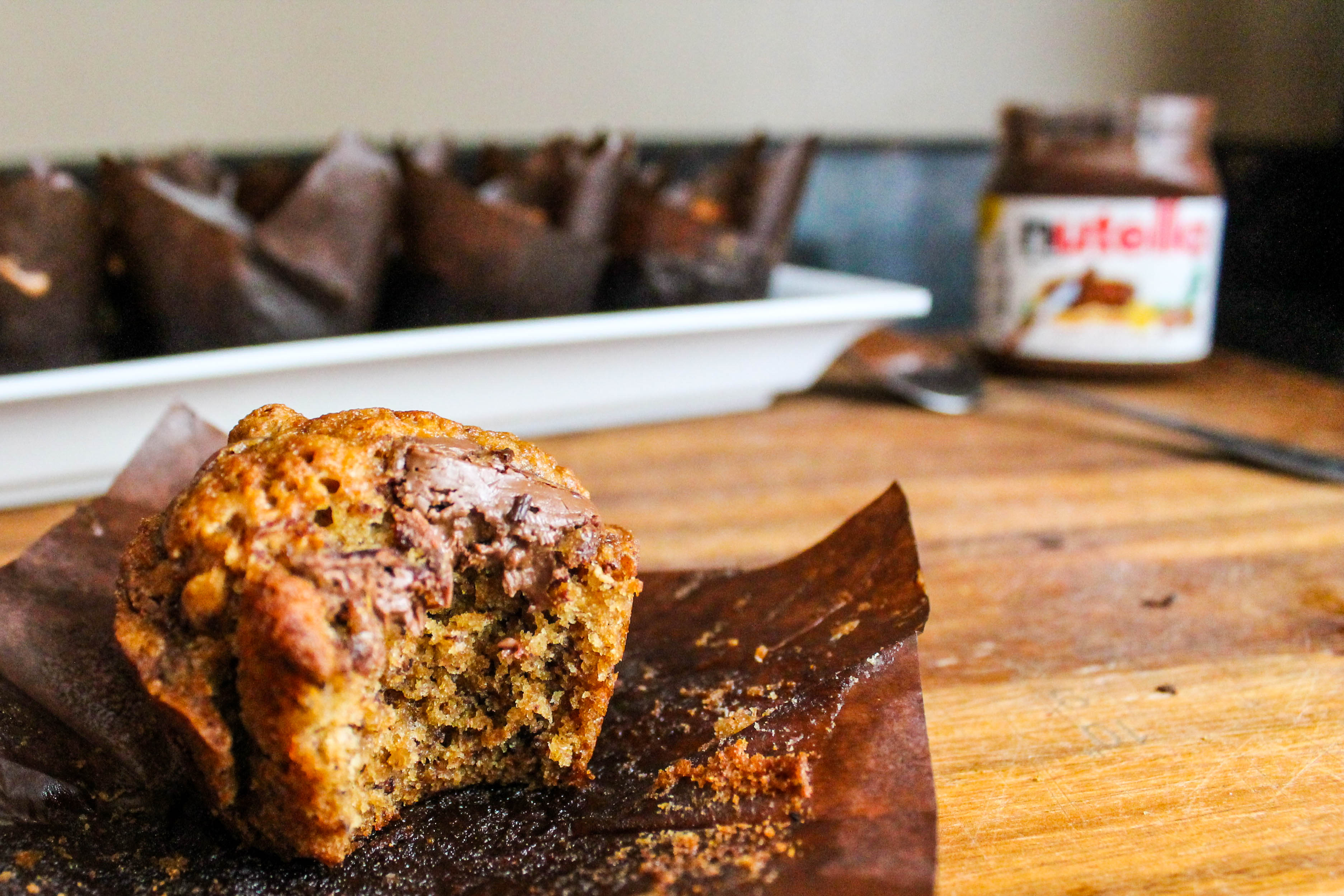 Bananas, peanut butter AND Nutella. Enough said. Well no, this is a blog, so I suppose I must say a tad more about this combination of deliciousness. This particular recipe, providing this astounding grouping of ingredients, is the third iteration of the original recipe to appear on our blog. The original recipe, adapted from Baked: New Frontiers of Baking, provided the platform from which Kyle tailored the most rich and moist GF Pumpkin Bread– EVER!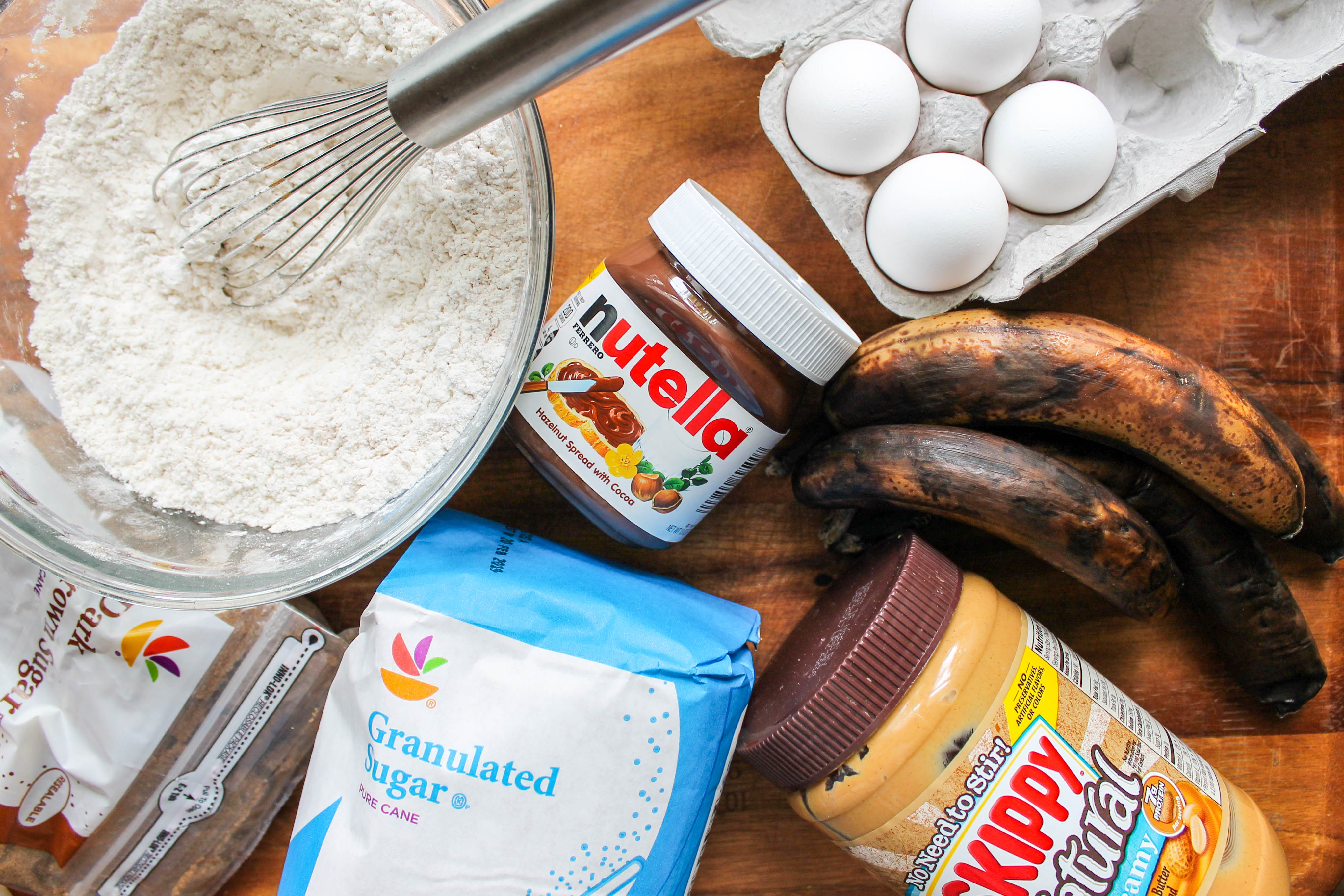 So, of course, he naturally keeps coming back to this recipe when he is experimenting with his GF quick breads, such as his Chocolate Spice Zucchini Bread. The experimenting included swapping many different fruits, vegetables and spices, allowing the crafting of some pretty phenomenal treats for us to enjoy.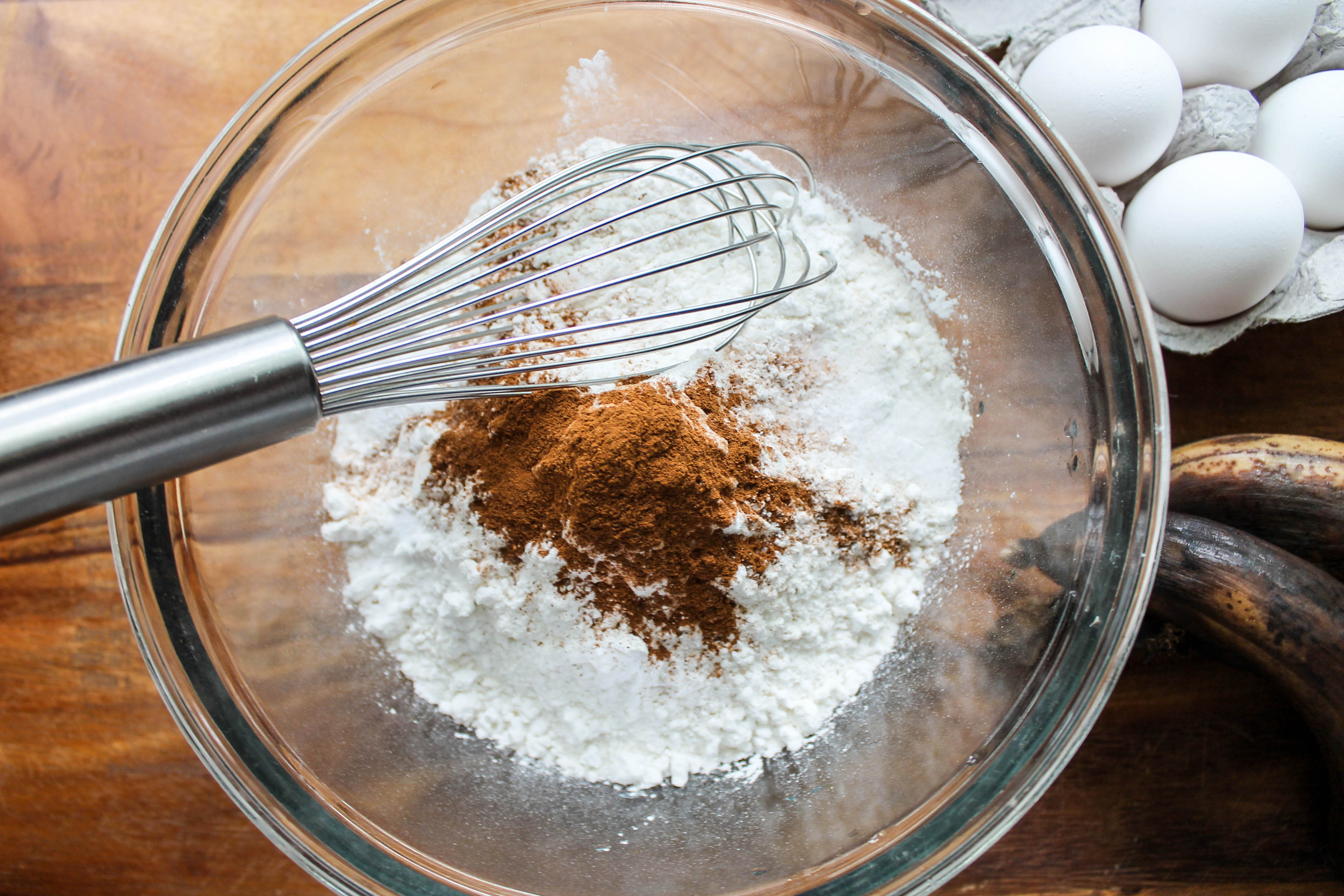 When Kyle first made the Pumpkin Bread, he went what he considers "out of control". In my opinion, it was heaven. He made grilled Fluffernutter and Nutella sandwiches with the Pumpkin Bread. Then, last year, he made GF Banana Bread, making us the same grilled treat for us on our annual trip to Cape Cod.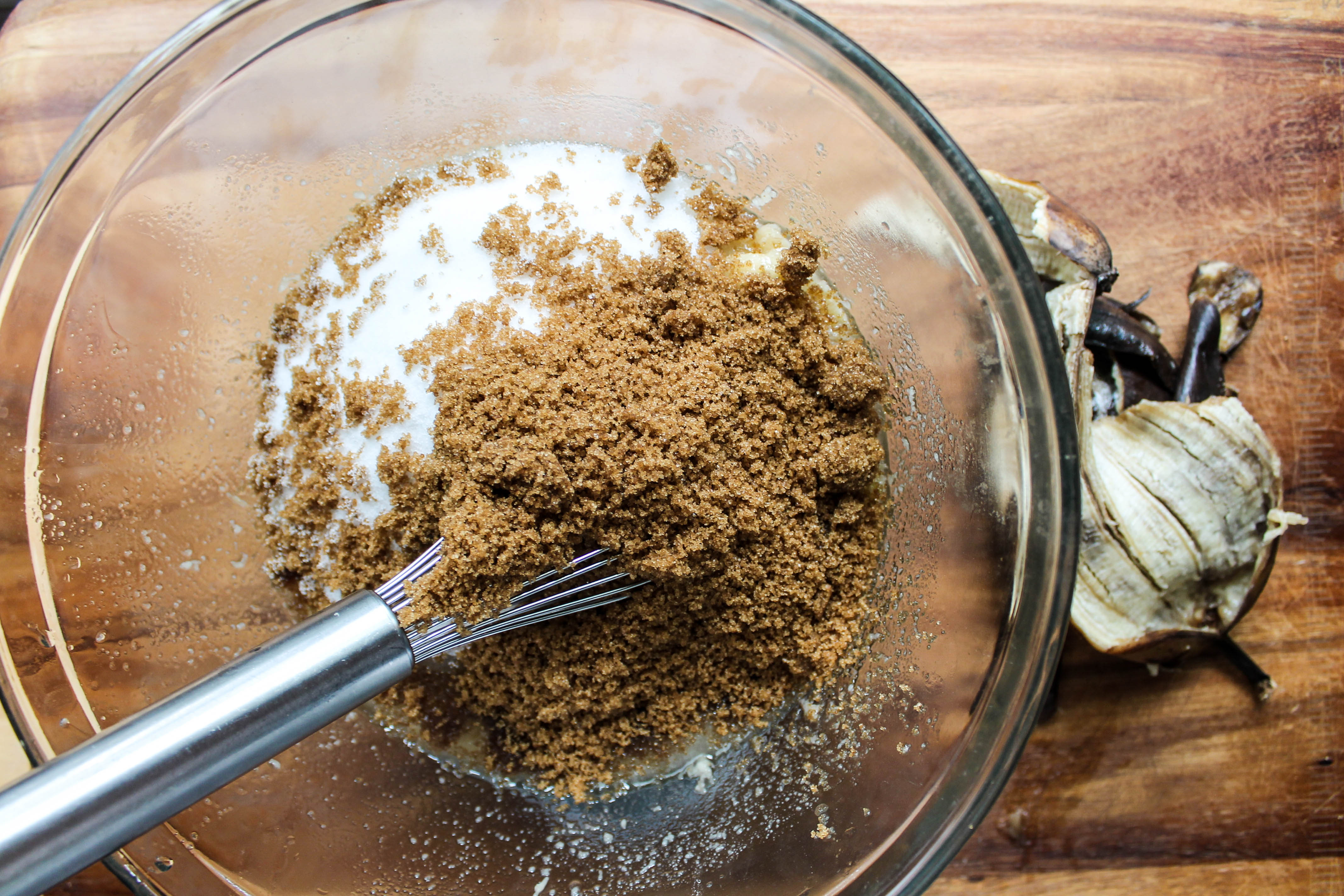 Since that time, Kyle has wanted to make muffin variations of these grilled delicacies. He did so by swirling peanut butter and Nutella into – rather than filling – them as he did with the sandwiches.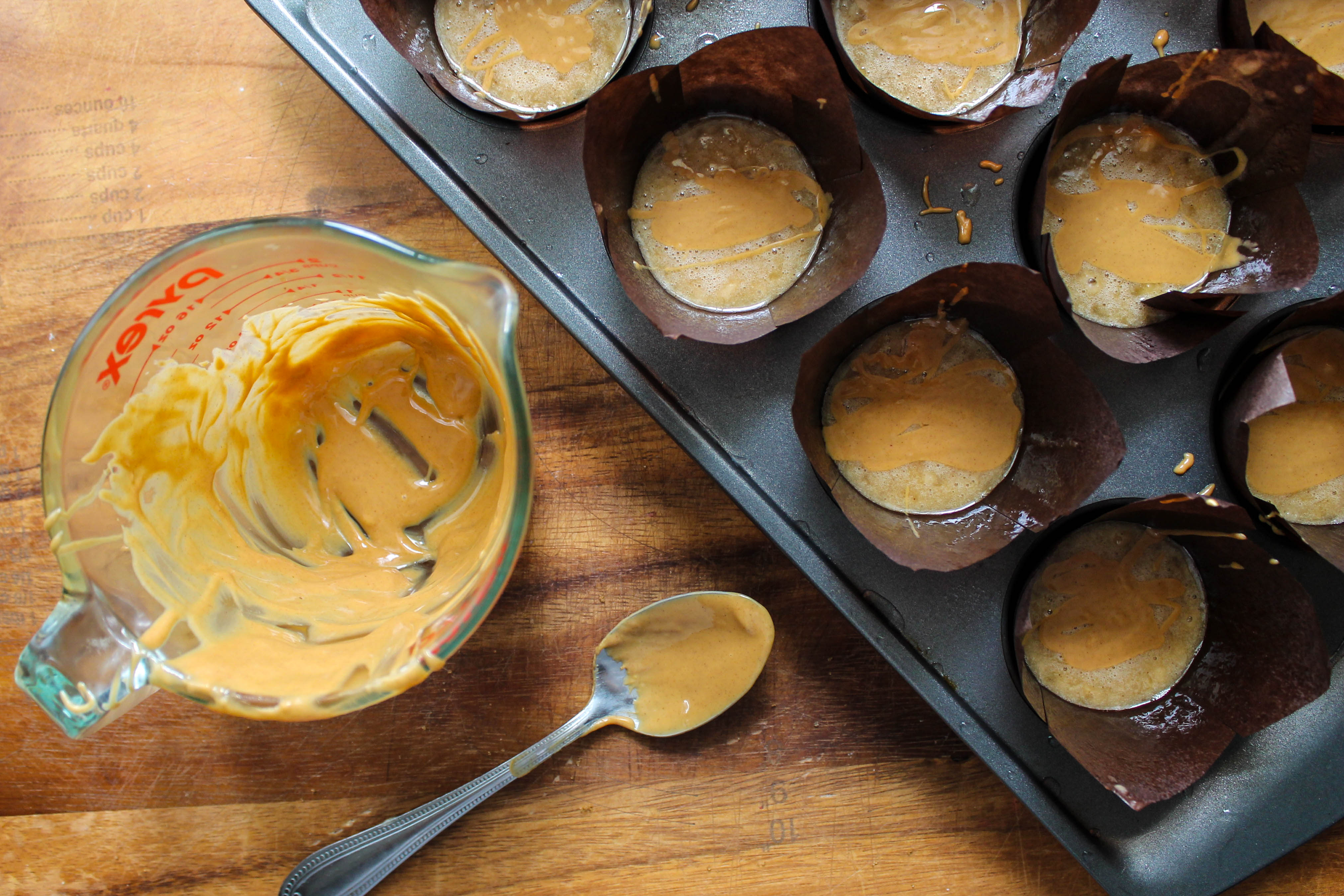 He heated the peanut butter and Nutella in the microwave for 20 seconds, making them easier to drizzle over the muffin batter. This created a perfect swirl effect without the excess effort. Kyle's muffin pans also had the look of a Jackson Pollock painting, artists all around!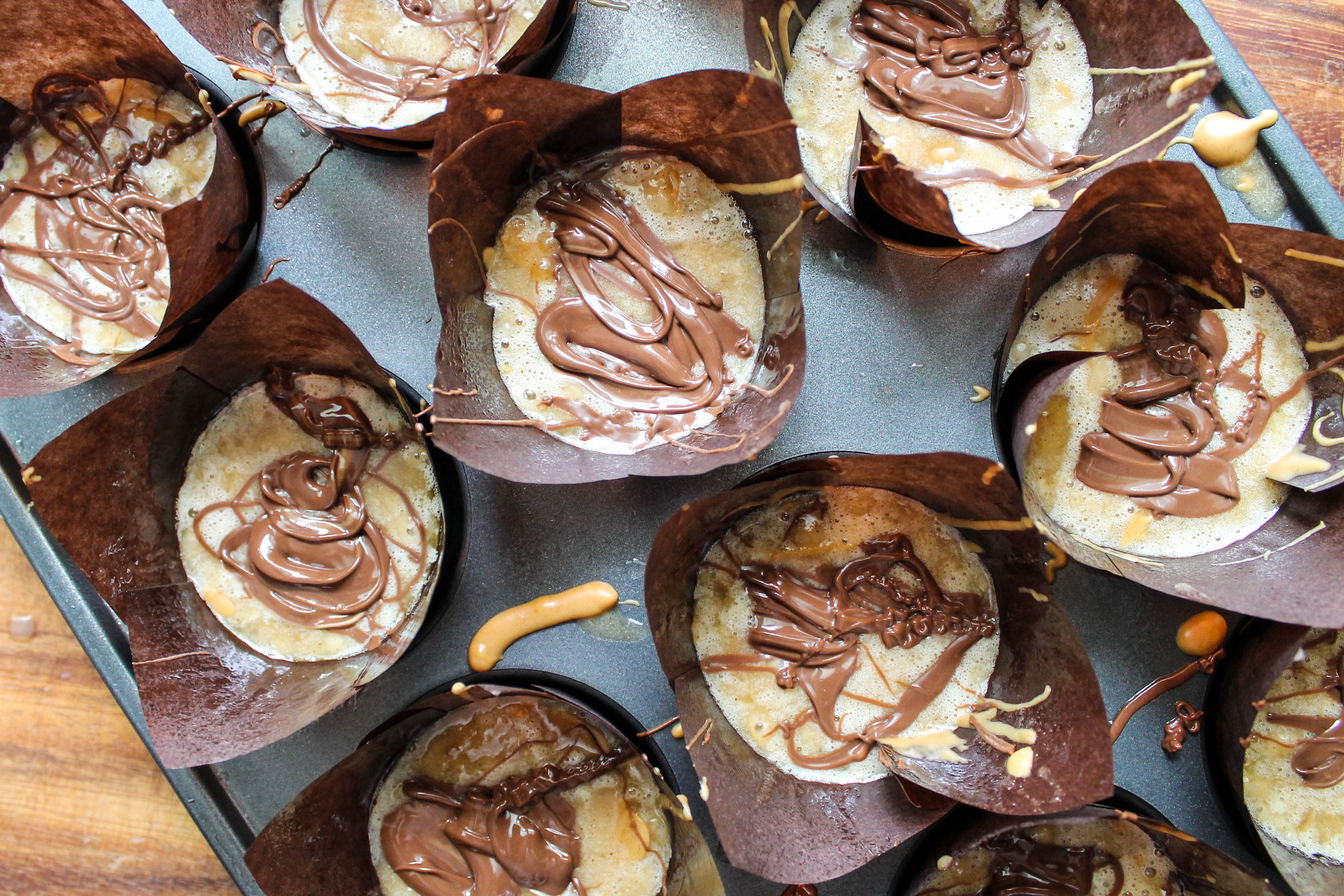 So, moving into this past week, overripe bananas proved to be the catalyst for Kyle to finally test his great muffin experiment. The recipe yields two full loaves, or 2 dozen muffins. This gives one plenty to share or, my preference, to hoard.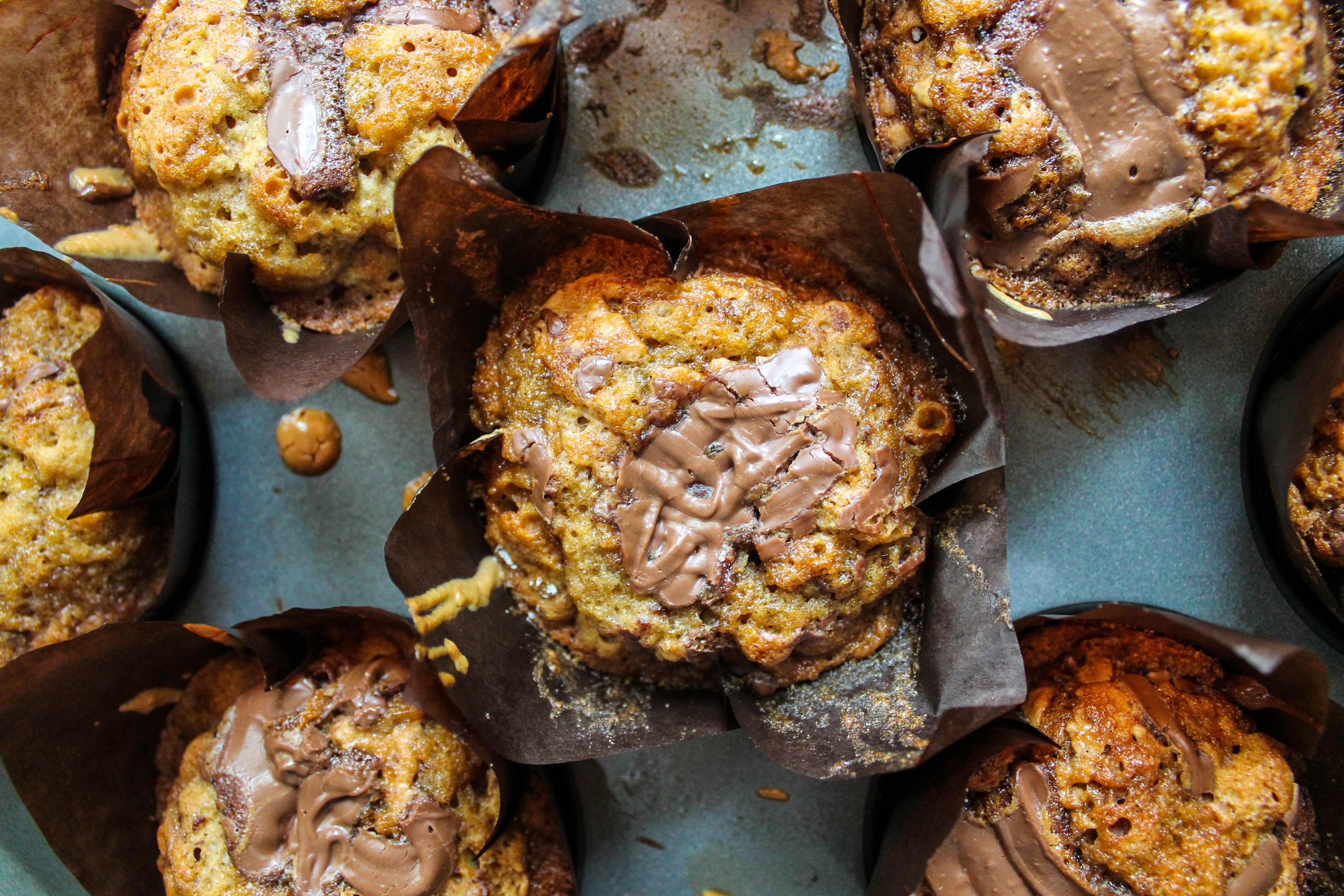 They are especially delicious right from the oven, when the peanut butter and Nutella are all molten and gooey. However, one can pop them in the microwave for 15-20 seconds to achieve the same yummy effect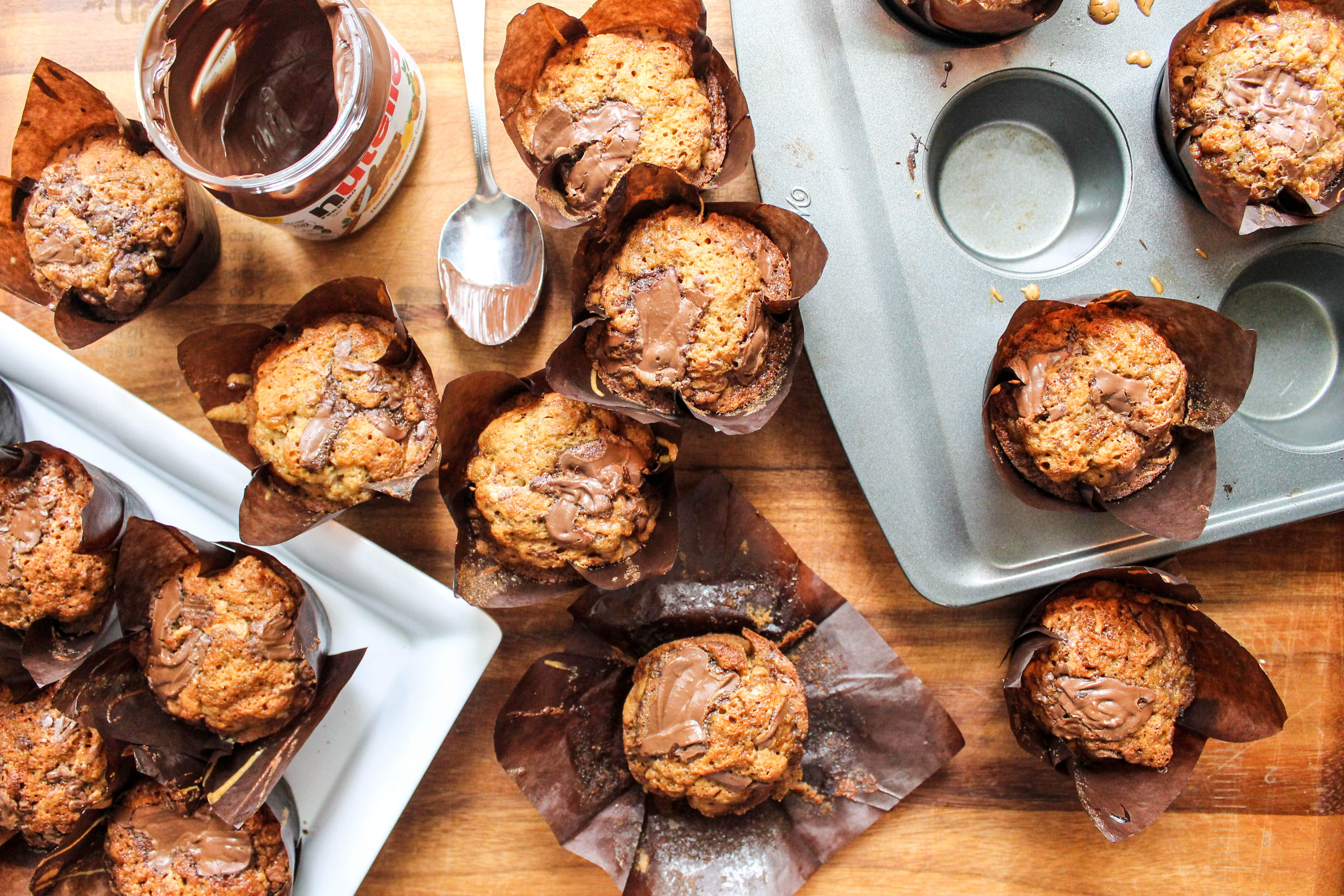 Another plus for this recipe is its longevity. This quick bread has a much longer shelf life than other typical GF baked goods. Anyone who is familiar with GF items going bad or moldy in the blink of an eye can appreciate this quality in a baked treat. Now, Kyle wishes to swap in coconut oil or agave nectar or coconut sugar at some point to make these treats healthier as a breakfast snack. Whatever. Thank goodness he got distracted and just loaded them up with gobs of peanut butter and Nutella. Healthy shmealthy.

Gluten Free Banana Muffins with Peanut Butter and Nutella
Ingredients
16.25 ounces (3 ¼ cup) AP GF flour blend
1 ½ tsp. xanthan gum
1 tsp. cinnamon
2 tsp. baking soda
2 tsp. salt
4 overripe large bananas (About 15 ounces)
1 cup vegetable oil
14 oz. (2 cups)white sugar
5.25 ounces (¾ cup packed) dark brown sugar
4 large eggs
1 tsp. vanilla extract
⅔ cup warm water
½ cup nutella
½ cup peanut butter
Instructions
Preheat oven to 350℉. Line two muffin pans with muffin liner; then spray liners with cooking spray..
Combine flour, xanthan gum,cinnamon, baking soda and salt in a medium bowl.
In a large bowl, whisk together bananas and vegetable oil. Whisk in sugars. Add eggs one at a time, then whisk in vanilla and water.
Fold dry ingredients into the wet ingredients. Warm the nutella and peanut butter separately in the microwave for about 20 seconds (this will make them easier to swirl). Fill the muffin liners about halfway with the banana bread batter. Swirl or drizzle the melted peanut butter over the top of the batter. Add the rest of the batter to the pans (about a tablespoon of batter per muffin), then swirl/drizzle the warm nutella over the batter. Bake for 20 to 25 minutes, until a toothpick inserted into the center of a muffin comes out clean. Cool on a wire rack before diving in.
Please follow and like us: