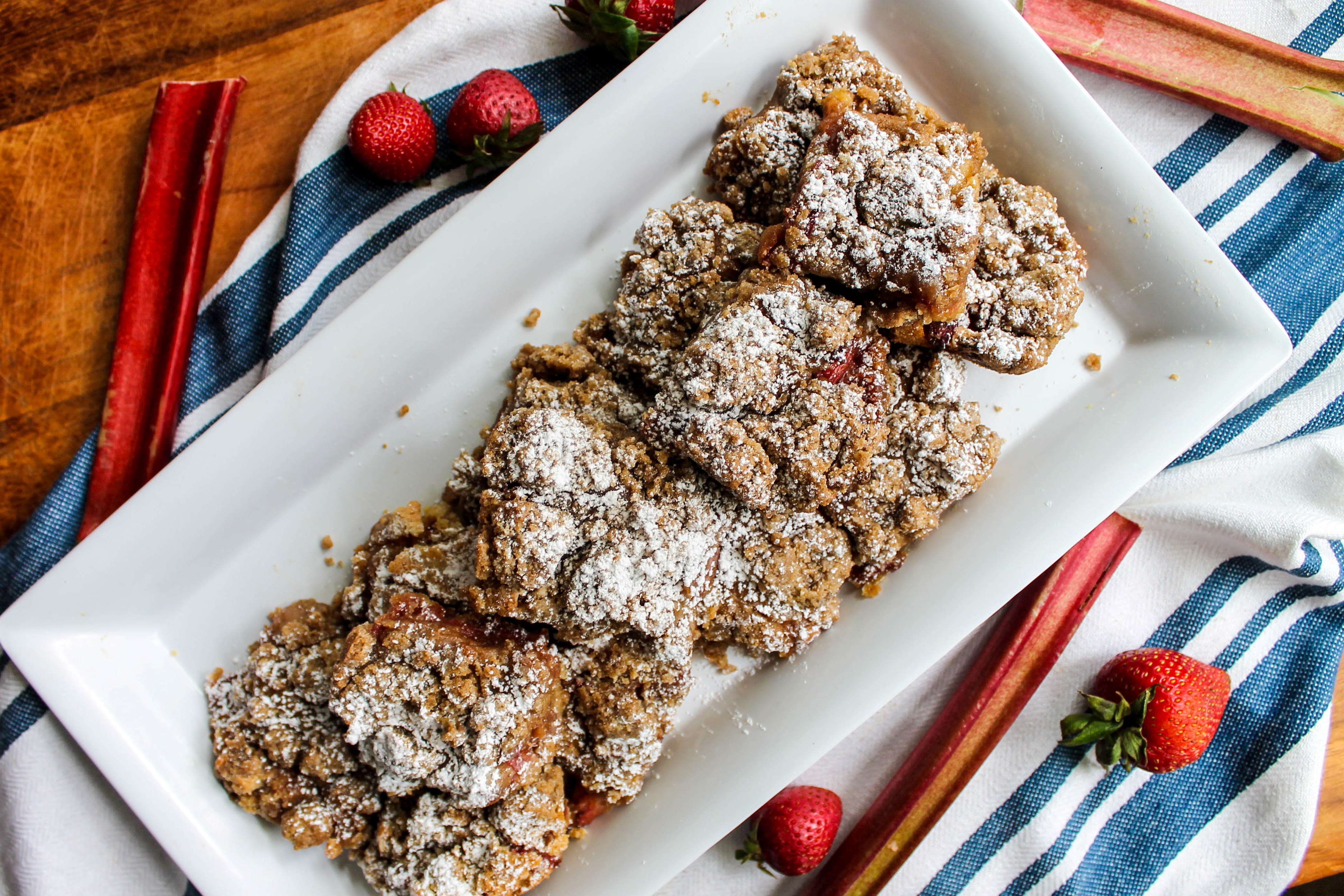 Here we have an interesting mathmatical baking puzzle for you, can a baked delight be part-dessert, part-snack, part-crumbcake and also be considered as part of our breakfast meal? Well, I say yes, however, some may disagree. In reality, snacking, desserting and crumbcaking is all a matter of personal choice, no puzzles needed. Do what feels right and when it feels right.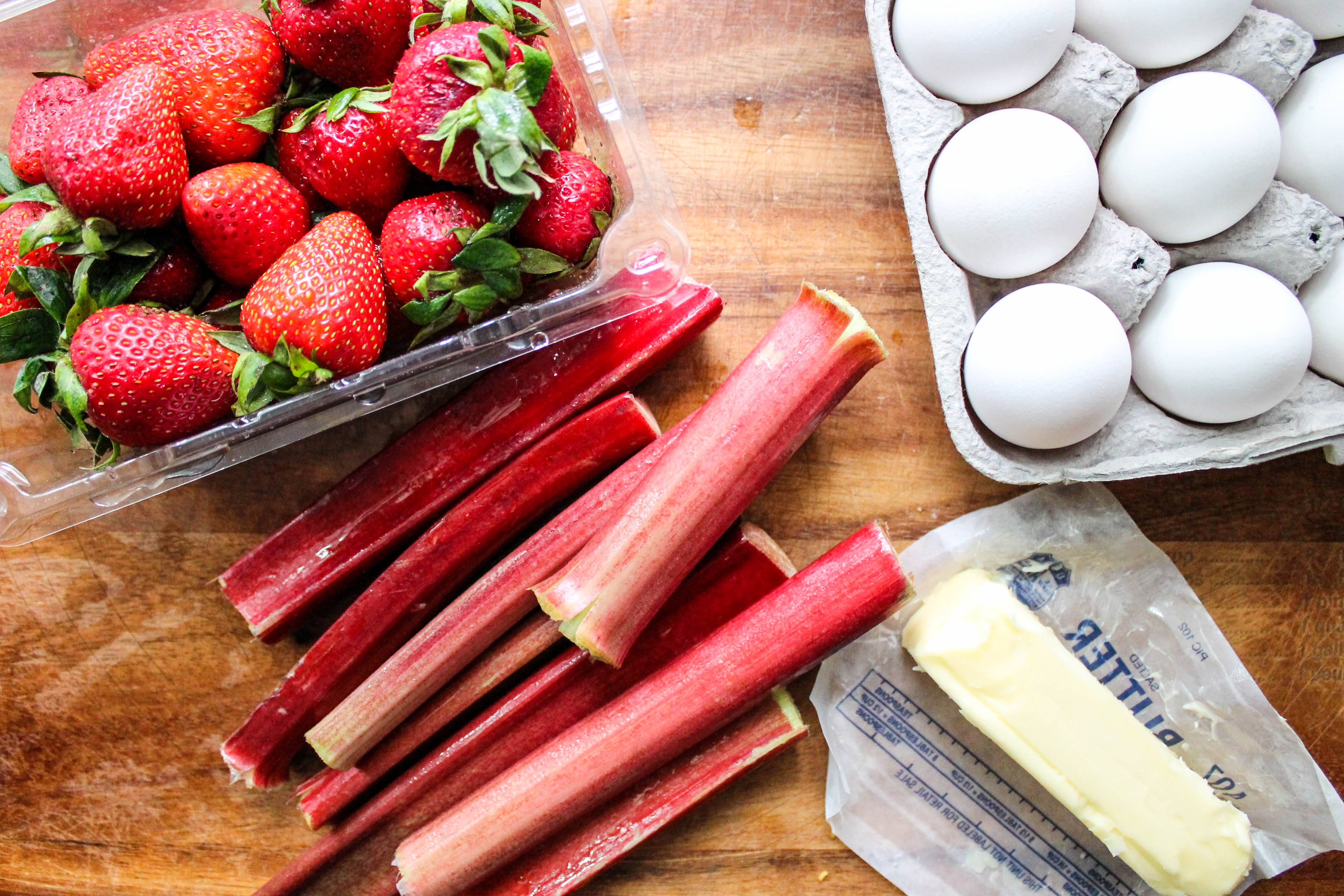 The recipe we have for you today is a spring update to the Apple Crumb Bars that we featured during Allons-Eat's blog infancy. The updates for this sweet treat are the use of fresh rhubarb and strawberry – both abundantly available in the markets as we speak (or write).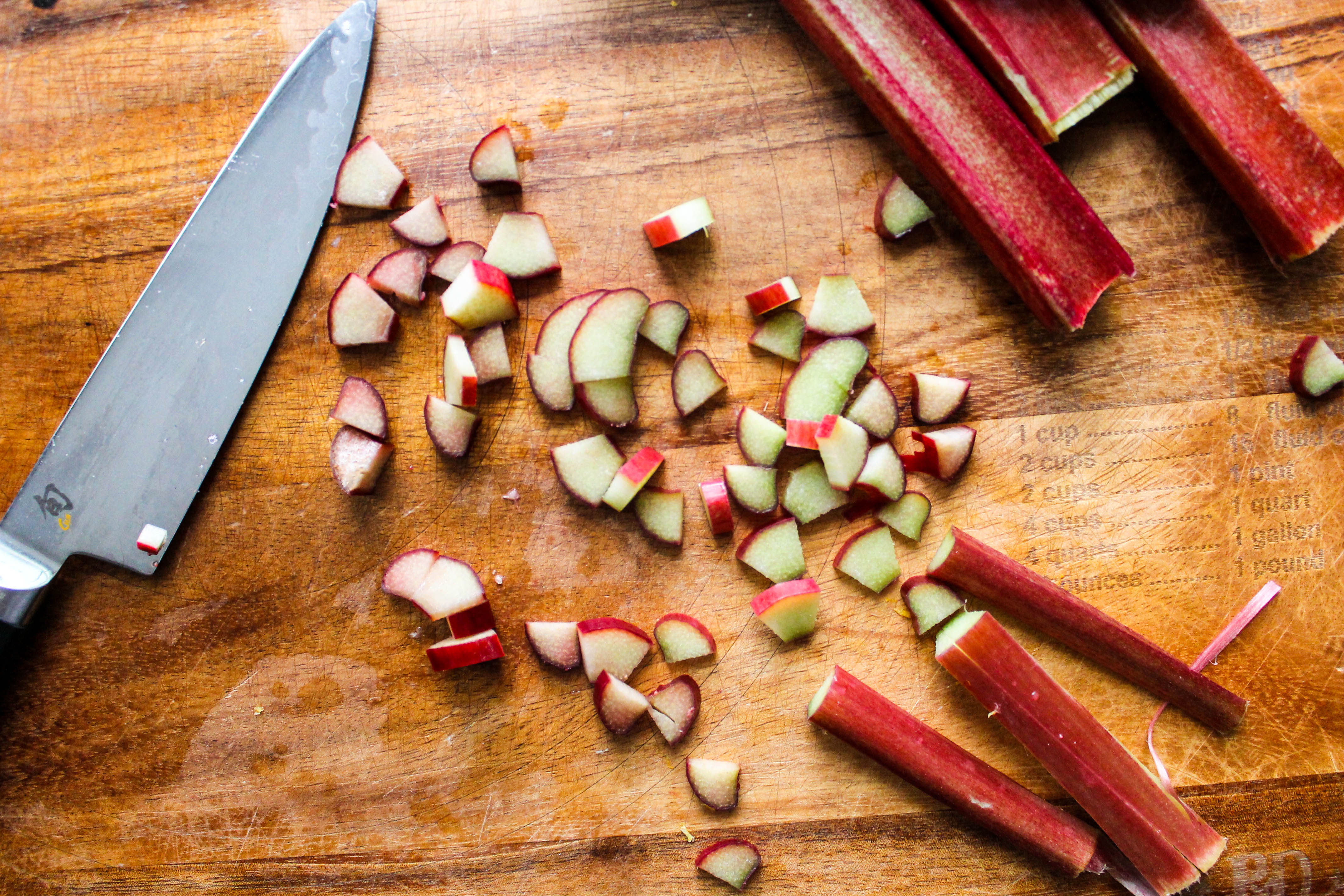 The tartness of the rhubarb complements the sugary sweetness of the strawberries – baked good soulmates, if you will. In addition to the wonderful flavors the rhubarb and strawberry add to the mix, they also lend their water content to the bars. This amazing characteristic yields a gluten-free baked treat with as-of-yet-unseen levels of moisture.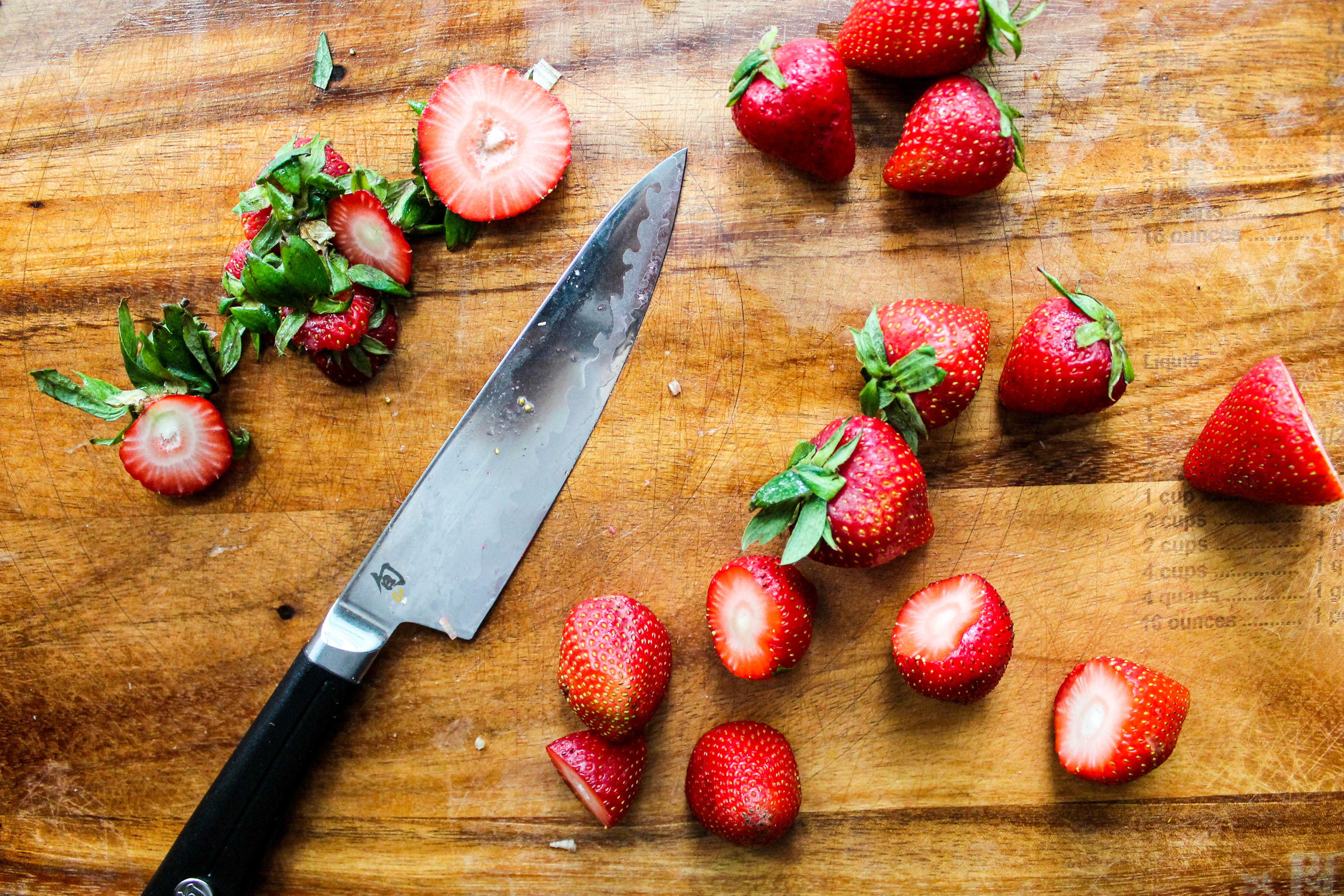 Kyle wanted to really increase the cinnamon sugar crumb ratio for this recipe (he wanted boulders, not pebbles of cinnamon sugar crumb topping resting on top of the fruit and cake), so he doubled the amount of crumb ingredients while halving the cake batter.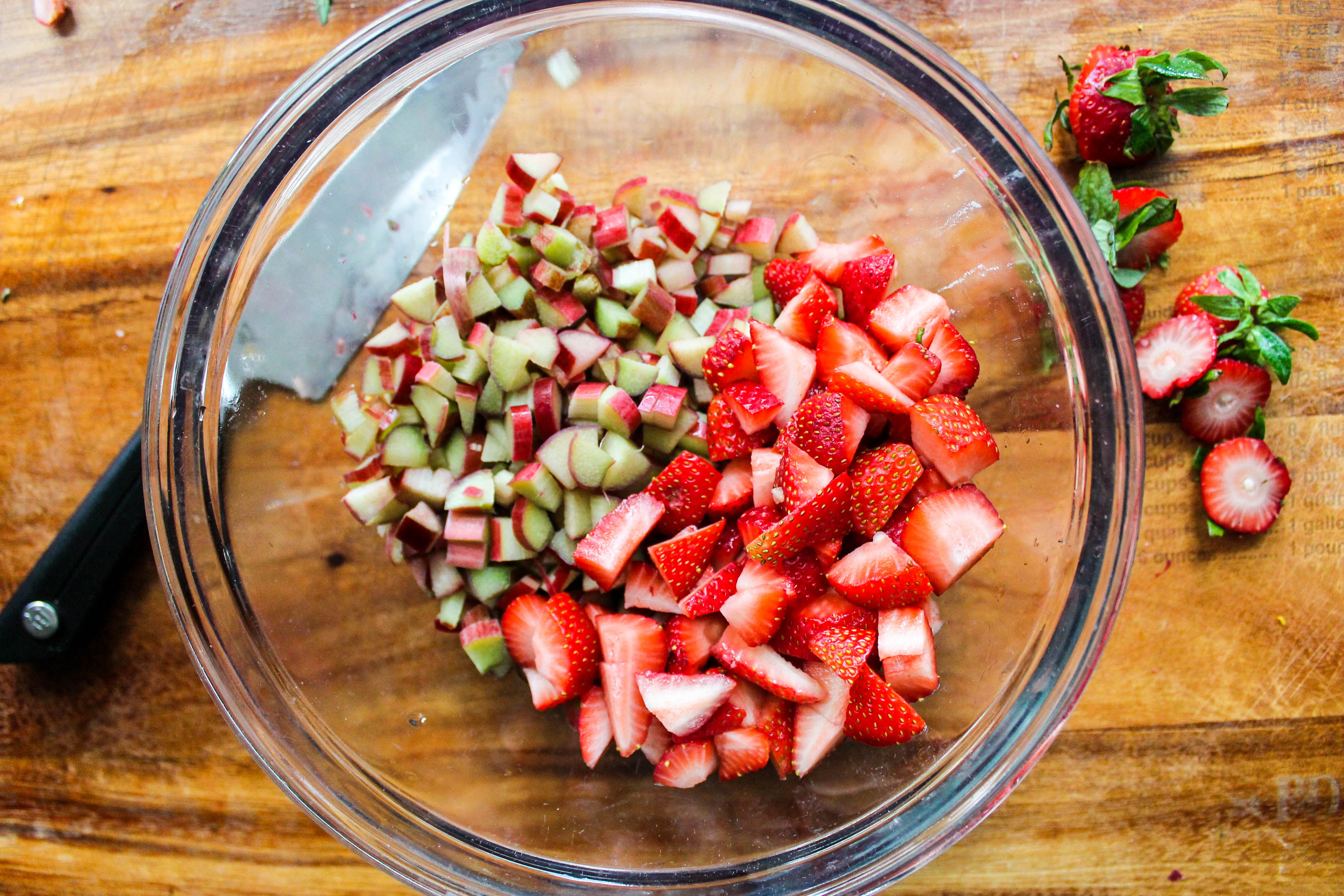 The other change was to bake them in a 8-inch square pan instead of the 9 X 13 inch pan. Just a few changes, and something magical happens.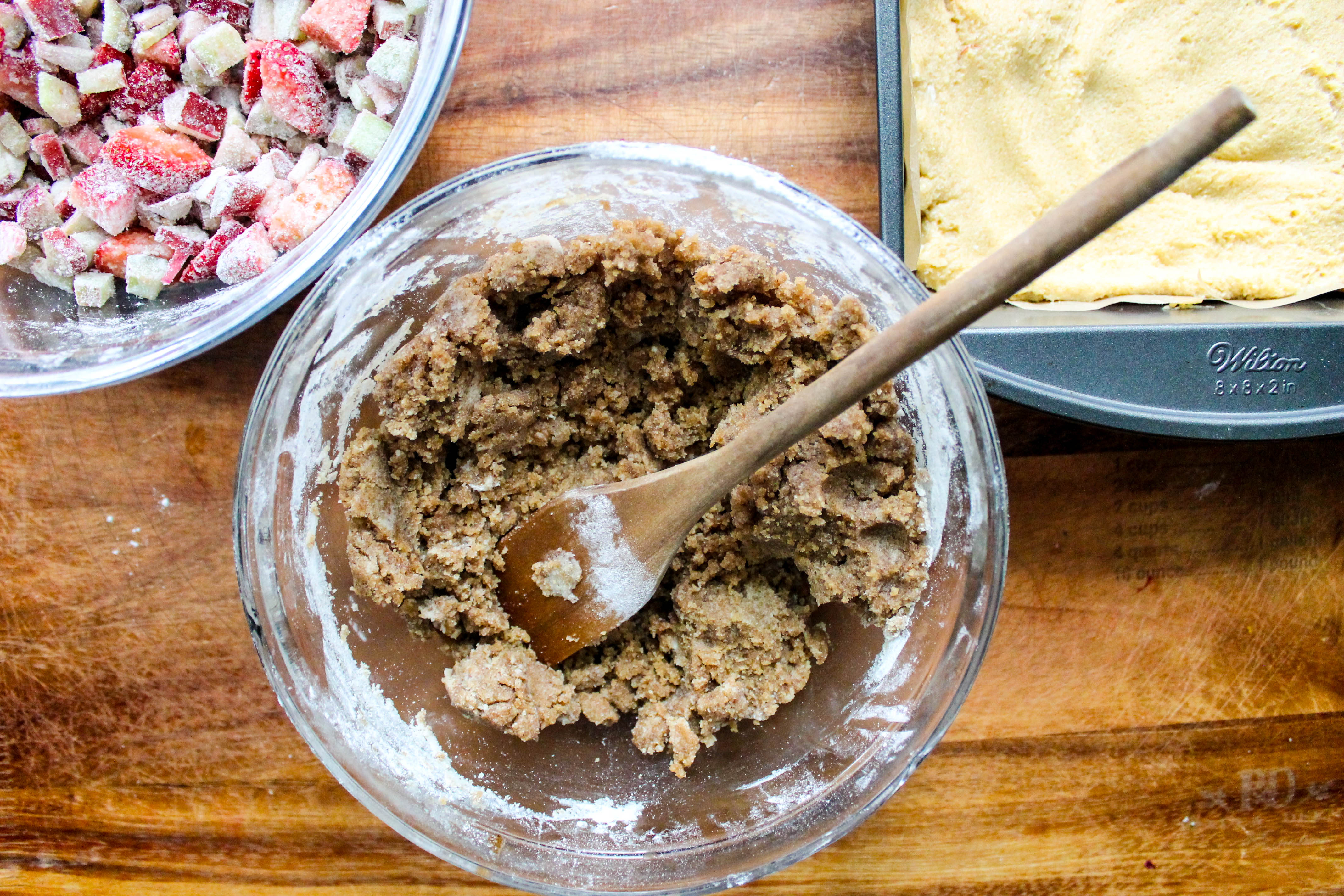 The magic lead to the quadrupling of the crumb-to-cake ratio. Now, sweet, cinnamon laced crags, make inroads into the proportions of the delicious coffee cake.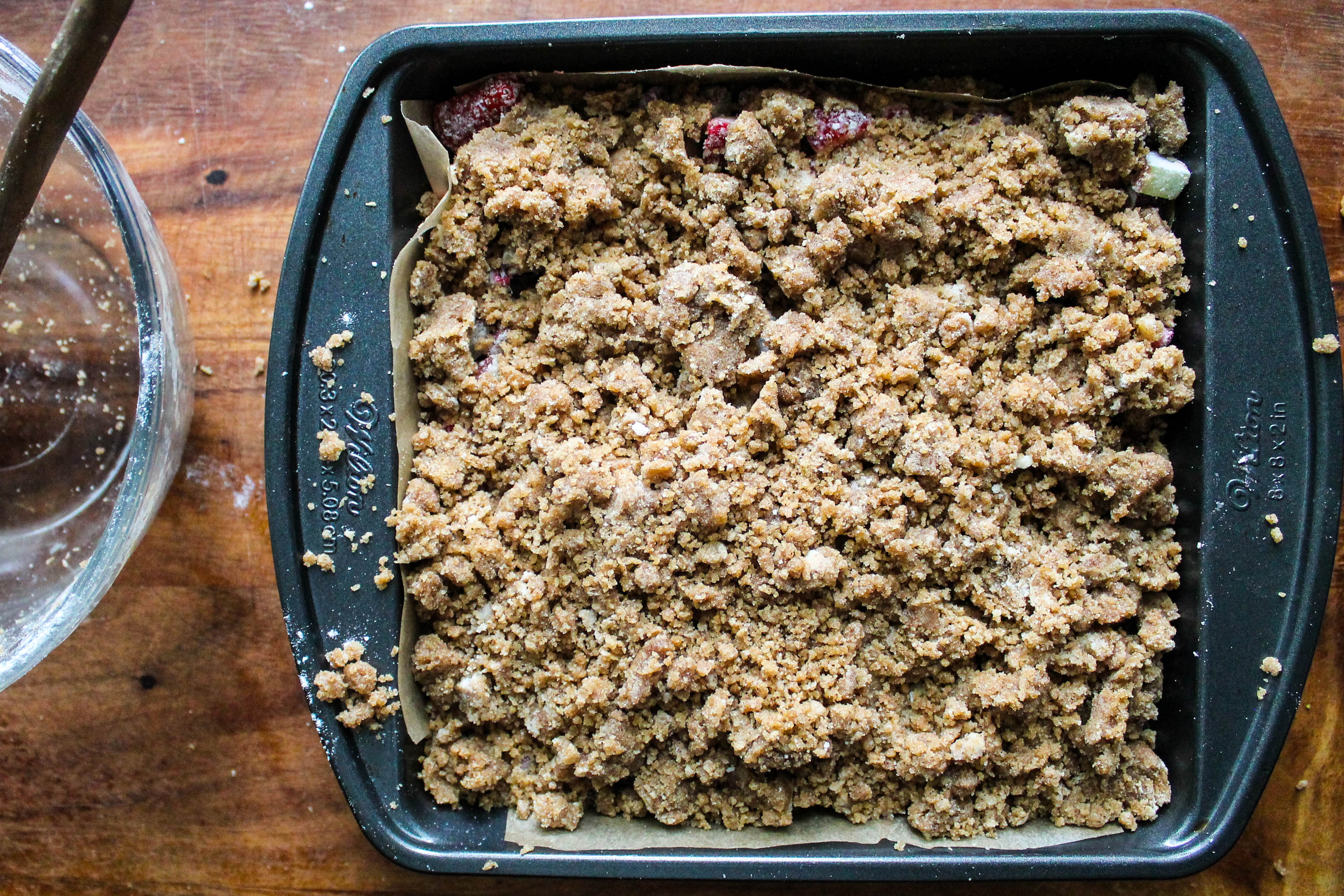 Kyle borrowed a page from Smitten Kitchen's Big Crumb Coffee Cake to develop the technique for the ginormous crumbs. Mix the melted butter into the cinnamon, sugar, and salt, THEN stir in the flour (this is done instead of mixing all of the crumb ingredients together at once). Doing it this way creates a dense, hefty crumb dough that will hold its shape and form the massive crumbs while the cake is baking.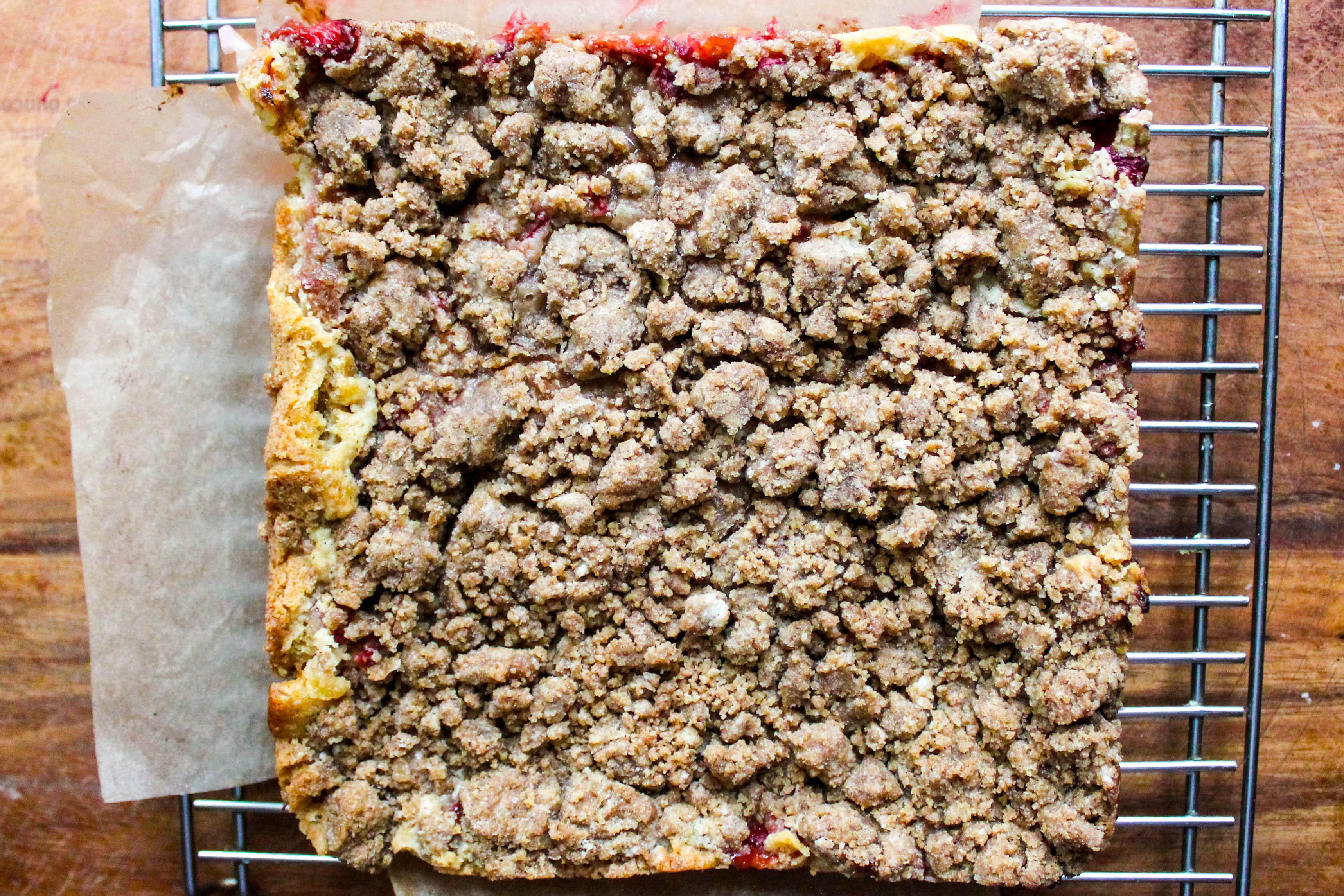 Important tip: Be sure to give these bars at least an hour to cool before cutting them! They need some time to set. If you don't wait a possible mess will ensue.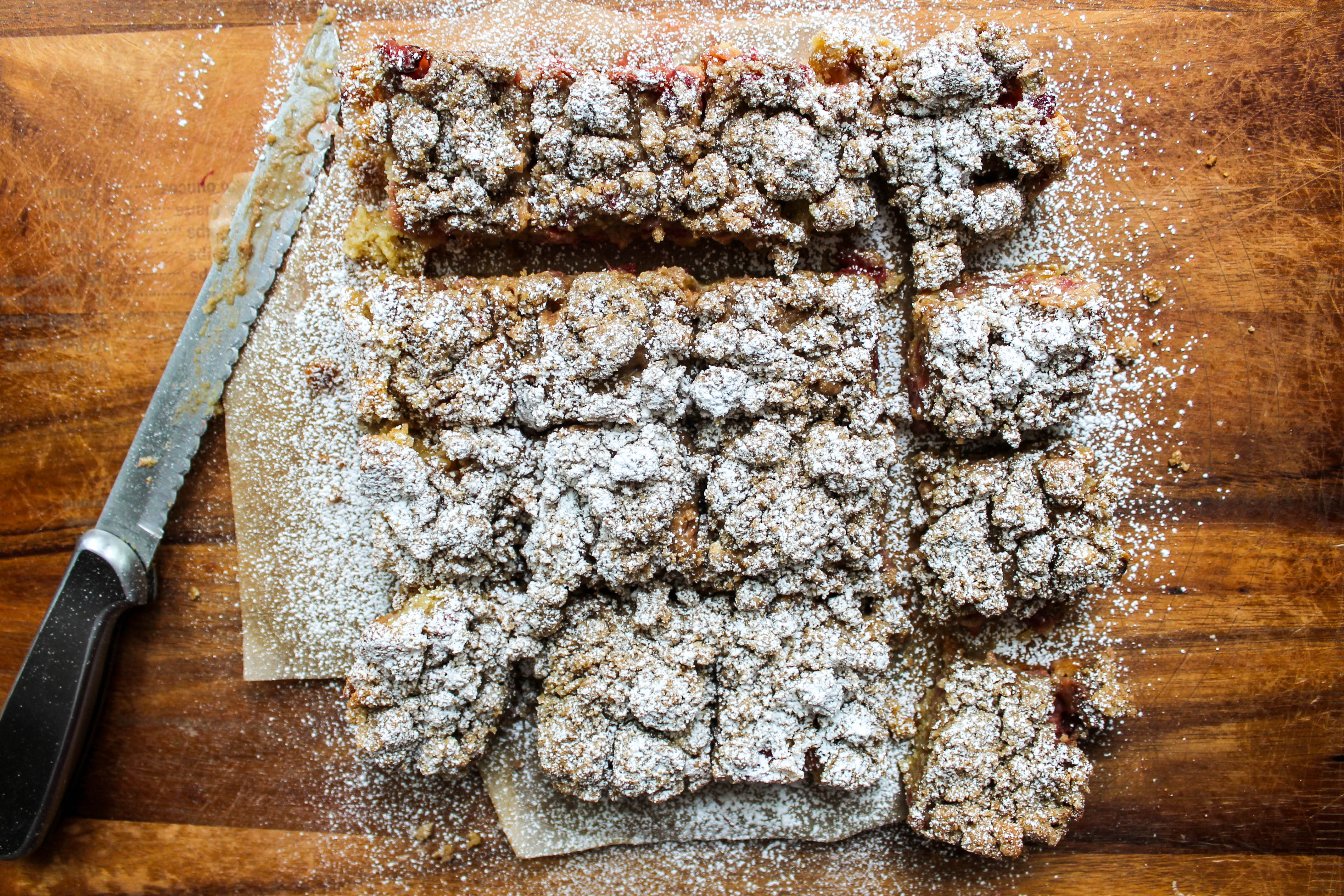 I know it will be hard to wait, just look at them! You will also be deceived by the intoxicating aromas of the rhubarb and strawberry filling, sweet cinnamon crumb rubble, and vanilla-butter cake as they waft through your kitchen.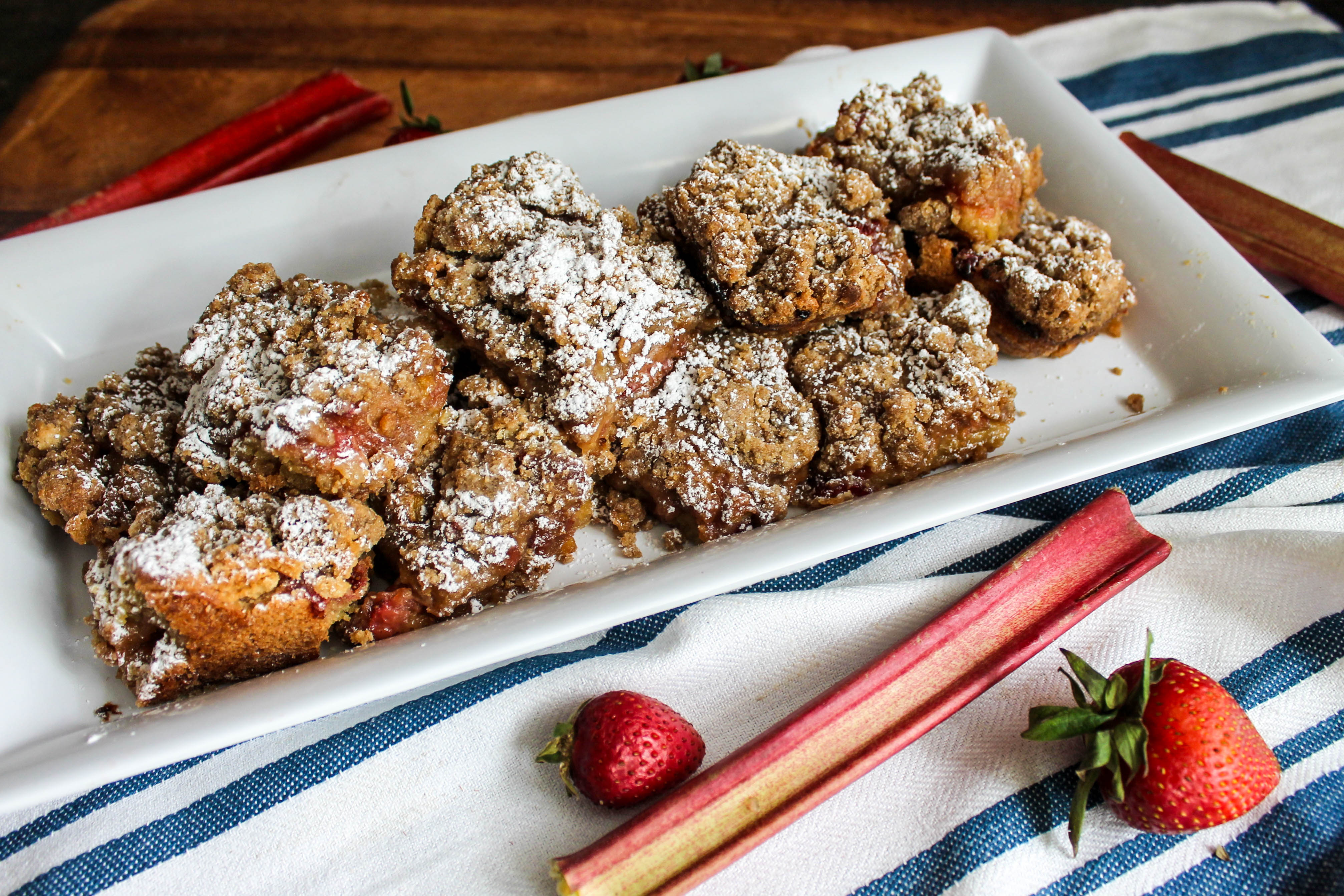 Your willpower will be tested – but you can do it! The end results will be worth the wait! We promise!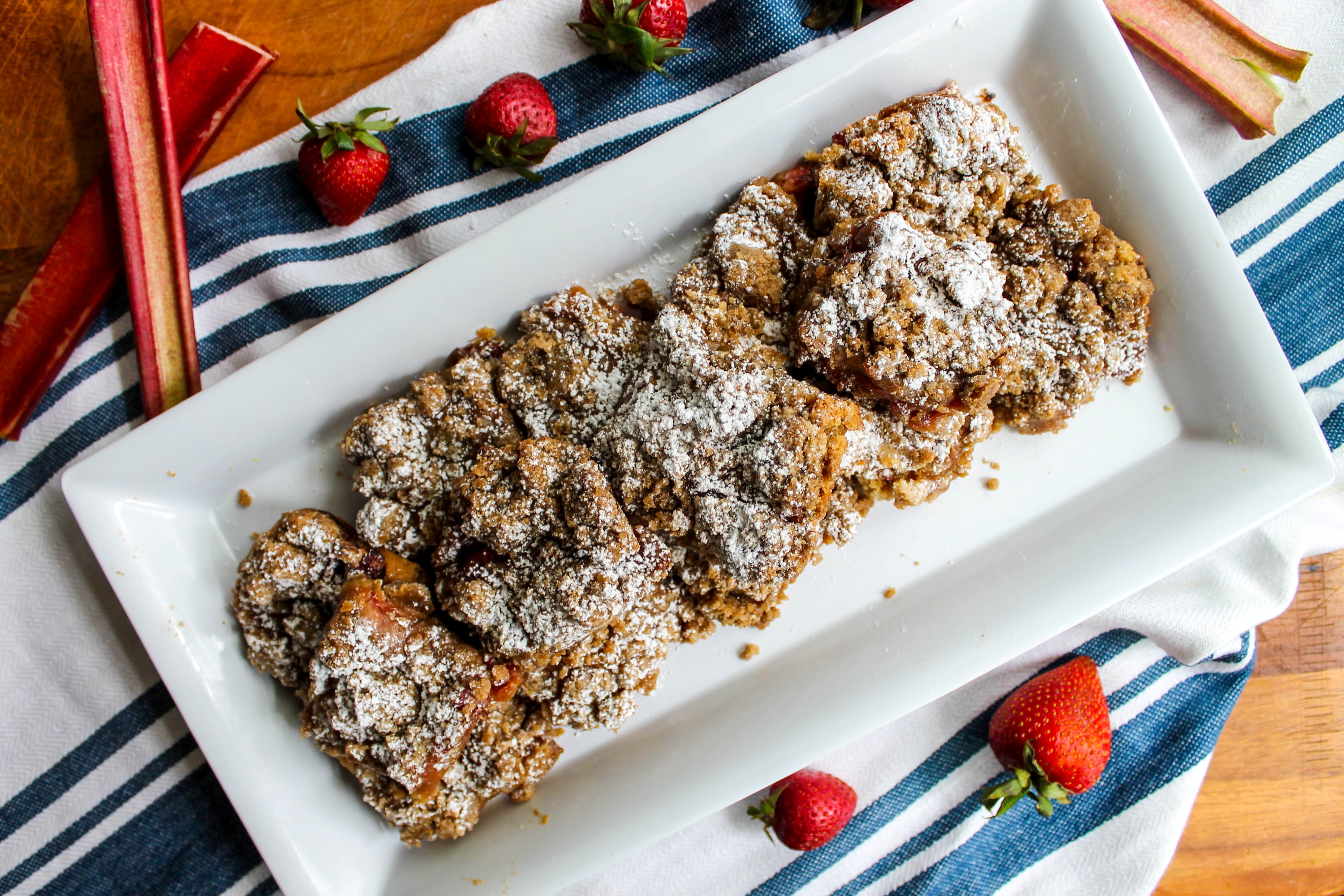 We suggest a visit outdoors. Mix a Rosemary Gimlet and head outside while waiting for your bars to set. Kyle tempted fate and dove into cutting the bars to early and they weren't fully set. Don't do this to yourself, in the end, jammy, gooey cinnamon, cakey bars will be your reward. Immediately after the gimlet.

Strawberry Rhubarb Crumb Bars
Ingredients
For the Rhubarb Filling:
½ lb. rhubarb, cut into ¼'' pieces
½ llb. strawberries, hulled and sliced ¼" thick
2 tbsp. Dark brown sugar
¼ cup (31 g) gluten free all-purpose flour
For the batter:
1 cup (125 g.) All-Purpose Gluten-Free Flour Blend
½ tsp. xanthan gum
½ tsp. baking powder
¼ tsp. salt
6 tbsp. butter, softened
½ cup (198 g.) granulated sugar
¼ cup (51 g.) dark brown sugar
1 large egg plus 1 egg yolk
1 tsp. vanilla extract
For the Crumb Topping:
1 cup (206 g.) brown sugar
1 tsp. cinnamon
¼ tsp. salt
1 stick butter, melted
1 cup (125 g.) All-Purpose Gluten-Free Flour Blend
1 or 2 tbsp. Confectioner's sugar, for garnish
Instructions
For the filling, mix the rhubarb, strawberries, sugar, and ¼ cup gluten-free flour blend in a medium bowl. Set aside.
Preheat oven to 350° F. Line bottom of an 8-inch square baking pan with parchment paper and grease with cooking spray or butter. In small bowl, combine flour blend, xanthan gum, baking powder, and salt.
In a large bowl, beat 6 tbsp. butter with electric mixer on high speed until creamy. Beat in sugars. Add egg, egg yolk, and vanilla and beat until combined. On low speed, mix in dry ingredients until combined.
To prepare the crumble, combine sugar, cinnamon, salt and melted butter in a small bowl. Stir in remaining 1 cup of flour.
Spoon the batter into pan; spread evenly. Spread the strawberry-rhubarb mixture evenly over the batter. Sprinkle the crumble evenly over the fruit mixture.
Please follow and like us: