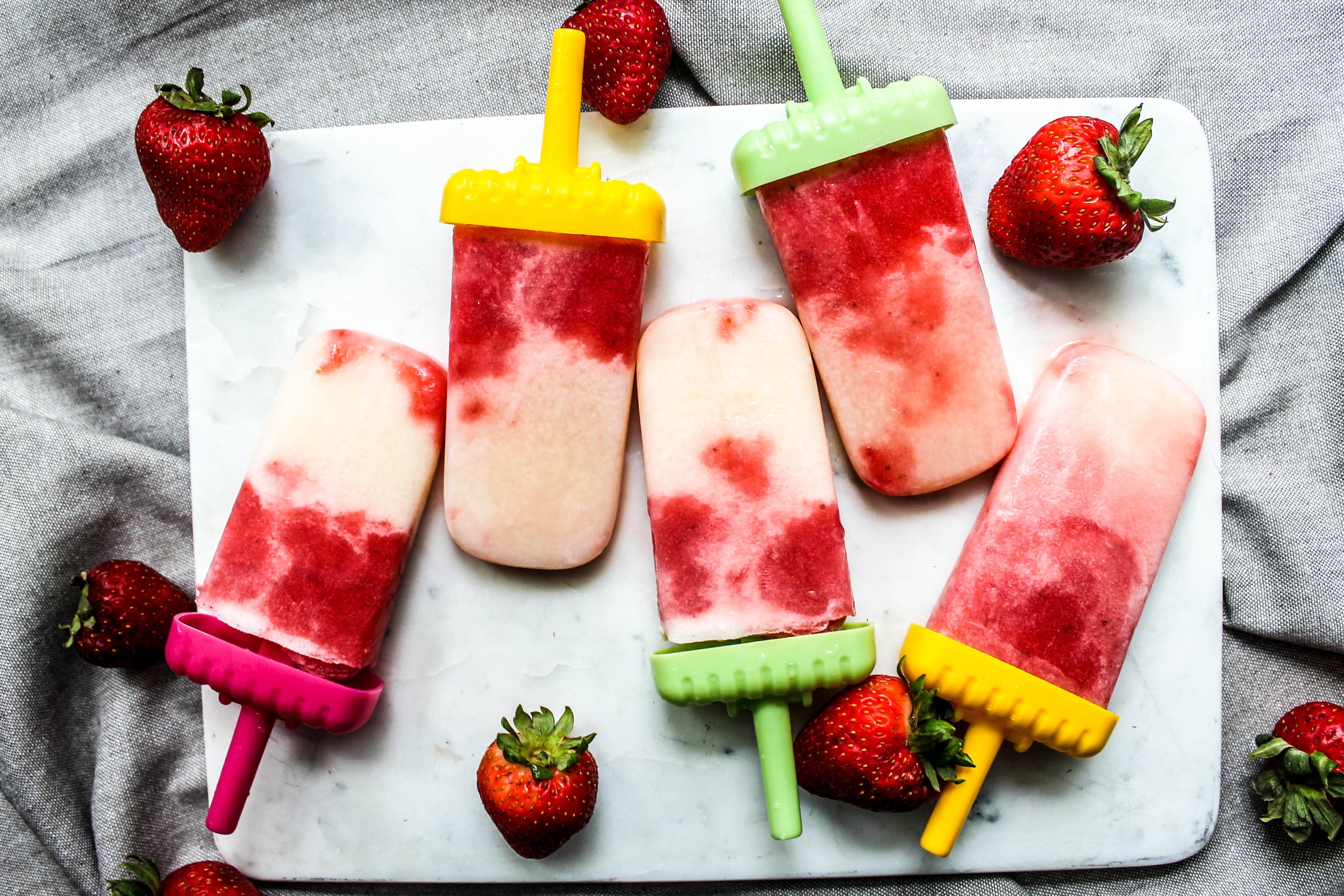 POPSICLES! This popsicle post comes to you courtesy of Kyle's current obsession with wine slushies (See: Aperl Spritz Slushies). At one of our local wineries, Buckingham Valley Vineyards (http://pawine.com/), they serve refreshing wine slushies in a variety of delicious flavors that are seriously habit-forming.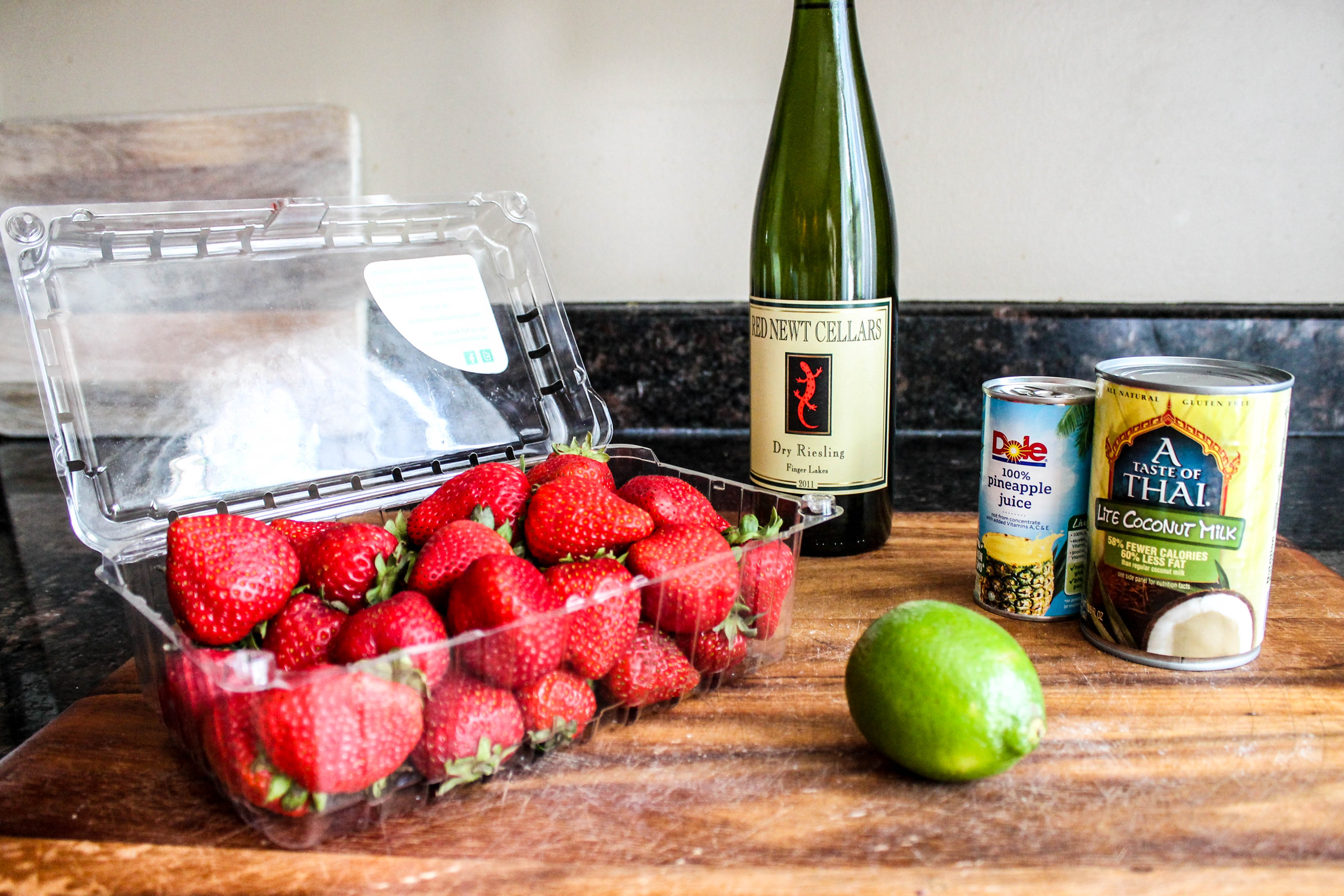 Only a mere week after enjoying a "Pinot Colada" slushie – a delicious blend of coconut, pineapple, and white wine – the flavor ideas started to form for Kyle's very own wine slushies.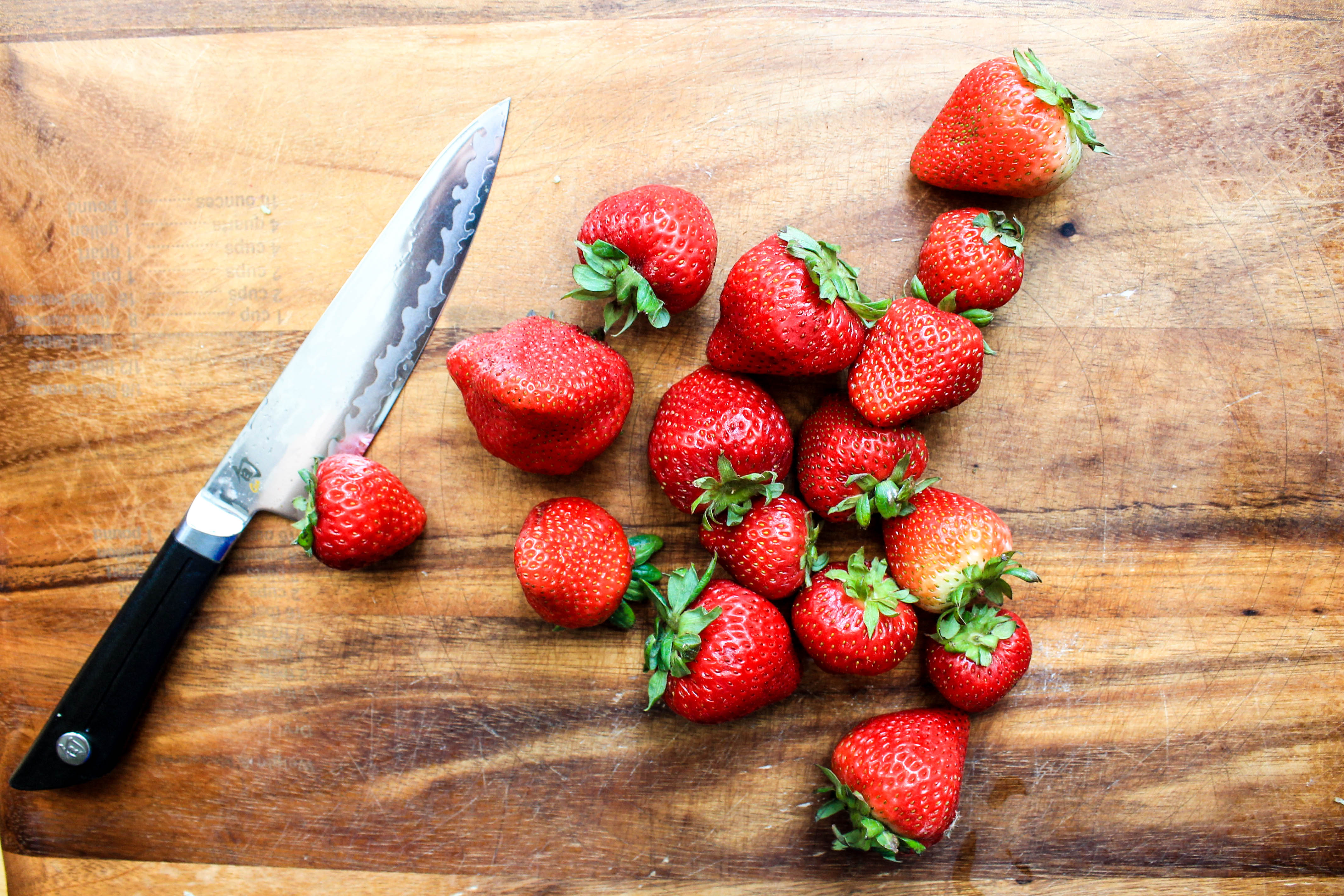 Kyle's mind wandered to the Miami Vice cocktail for flavor ideas. Apparently, this can be the bane of many a bartenders' existence. If one wishes to annoy your friendly neighborhood bartender, maybe even make them cry, go ahead, order this drink. It requires not one but two blenders. Now I am sure Kyle has never, ever experienced this emotional breakdown over a cocktail order. Who could begrudge any customer a drink that it so refreshing, with its sweet/tart strawberries and rich, creamy coconut? Not Kyle, that is for sure, not even on a busy evening.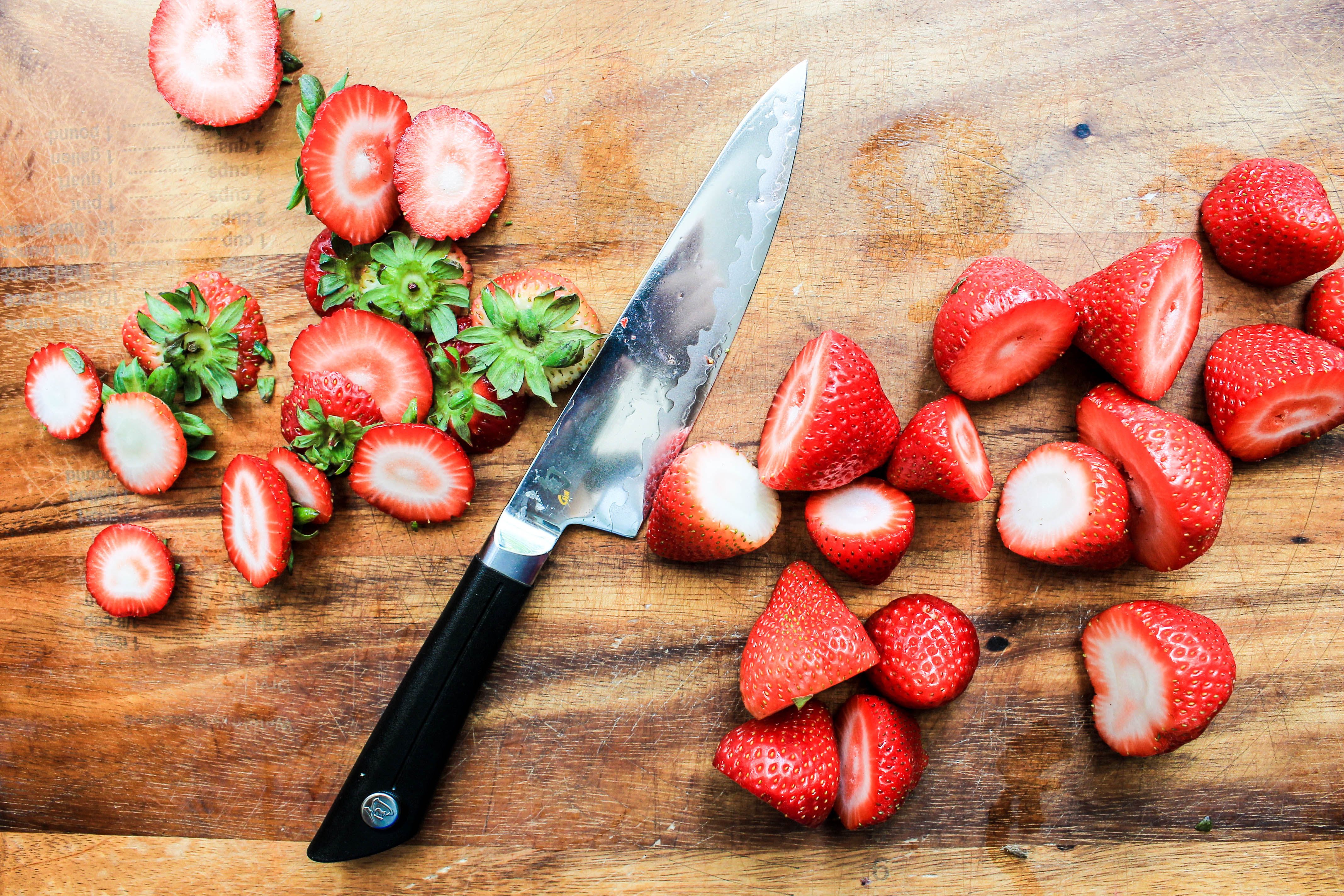 Using the "Pinot Colada" inspiration as his jumping off point, he created a strawberry daiquiri-esque layer with strawberries, lime and sugar. Instead of using the traditional rum, he spiked both the coconut and strawberry layers with white wine. He used Riesling, but any sweeter white will do.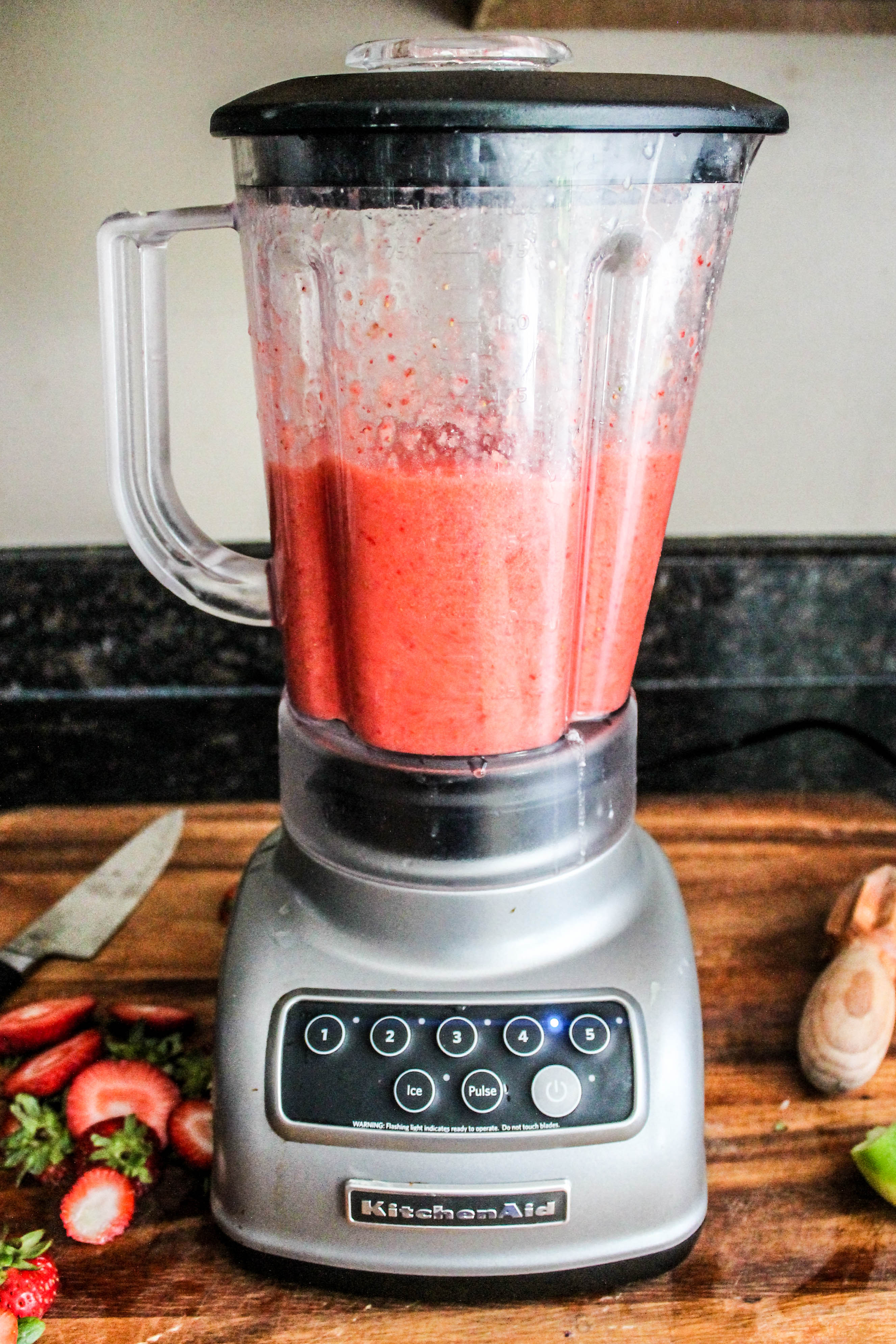 Kyle tossed around the title "Miami Vine Pops" as a cheeky ode to the "Pinot Colada" slushies for the wine popsicles, but he fretted over how eye-roll-inducing that name might be. He went with the ode to the Miami Vice cocktail. A shout out to bartenders everywhere pulling the two blender magic on a busy Saturday night.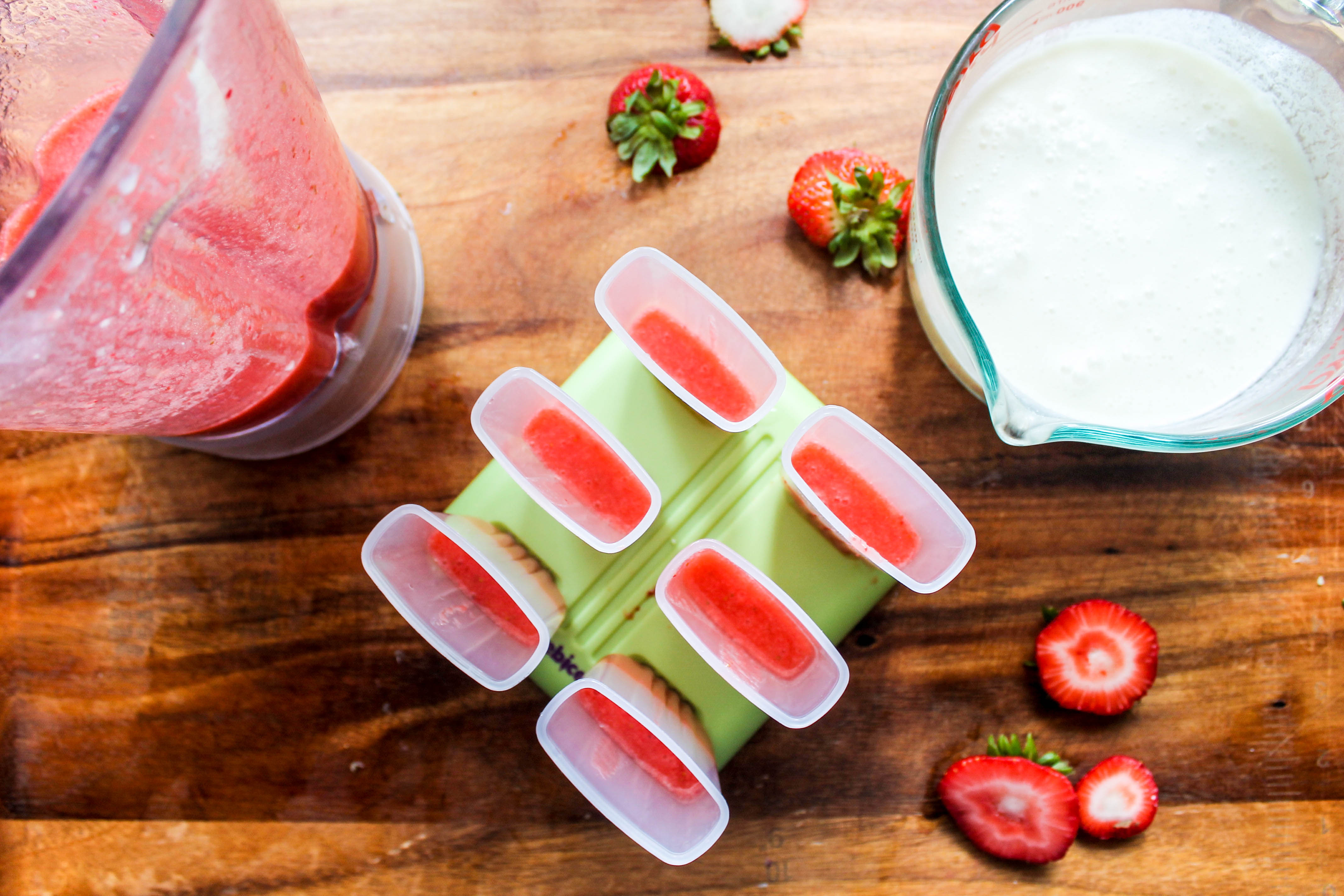 Instead of making these into slushies, Kyle went a step further. He  filled his popsicle molds with the purees to create a nostalgic grownup treat that would be welcome at any summer cookout. What could be better in the heat than a sweet frozen spiked treat – other than a non-spiked frozen treat, I guess.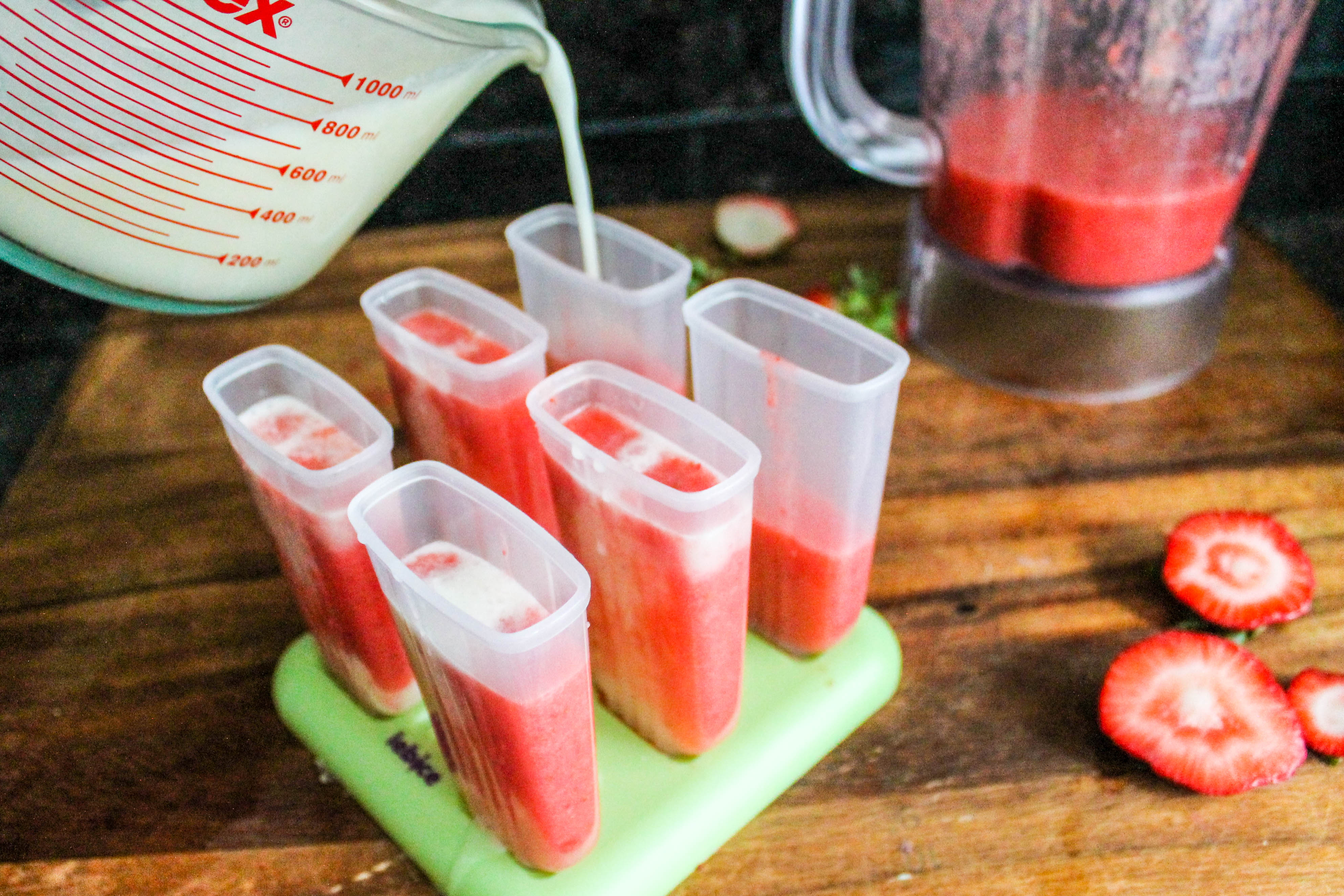 The coolest thing about them is that you can achieve the swirling effect of the layers simply by pouring the coconut mixture on top of the strawberry puree – gravity/density will do the rest of the work for you!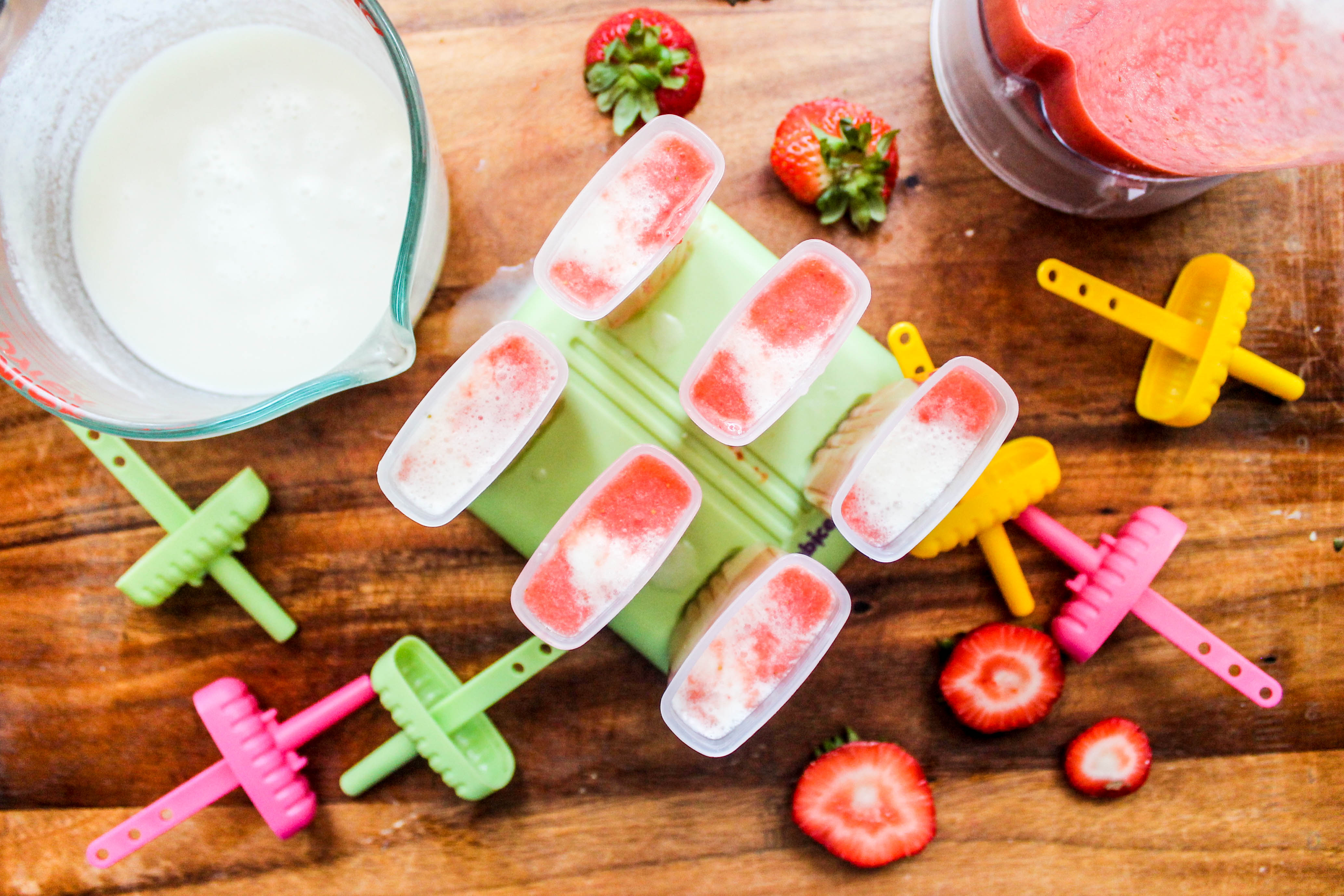 The most difficult part for me is waiting the entire 4 hours for the popsicle molds to set in order to enjoy them. I will say to please remember to run them under the warm water for those 5-10 seconds, that will allow for an easy wine pop retrieval!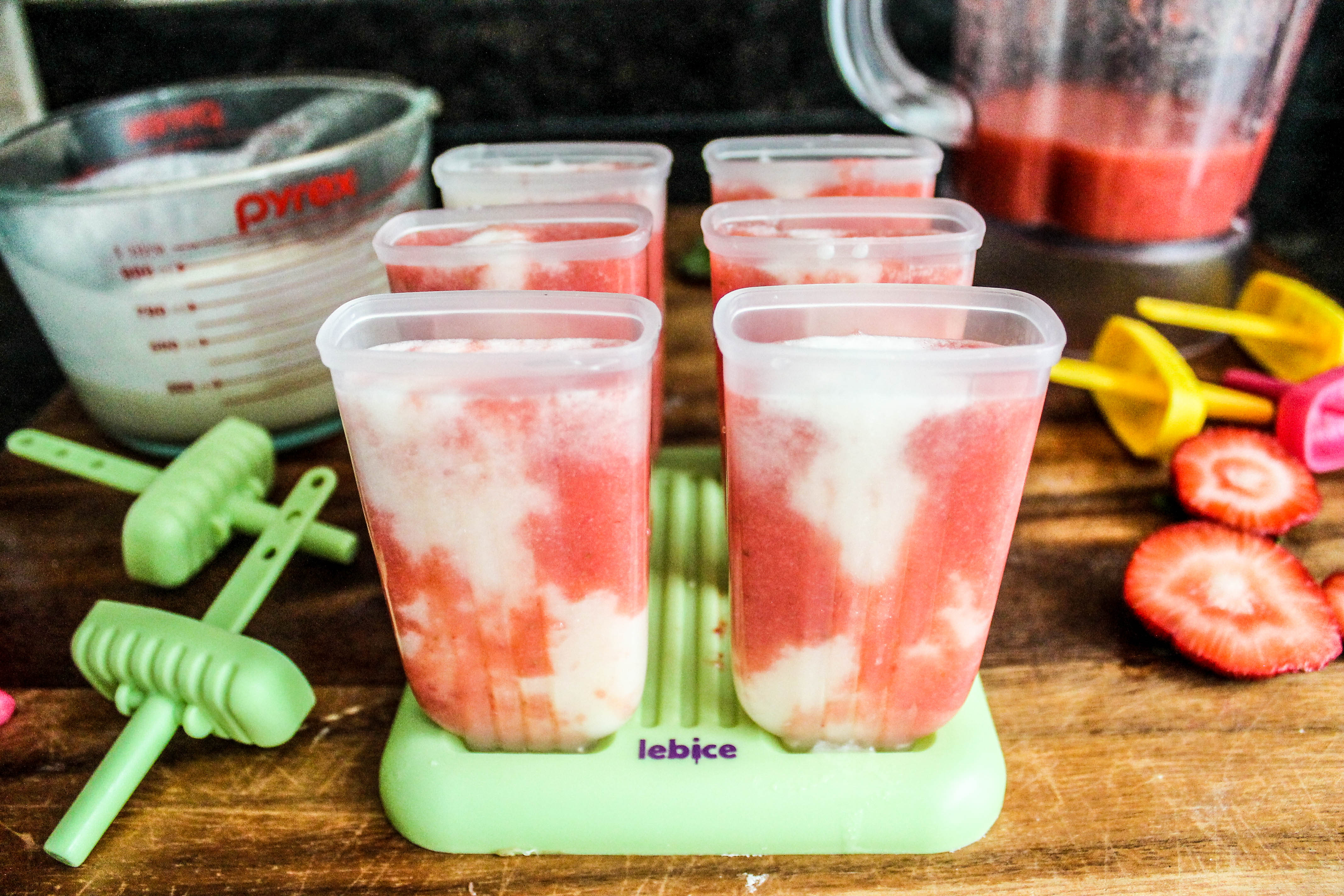 If there is leftover puree once you're popsicles molds are filled (or if you don't have any popsicle molds to begin with), simply layer them in a storage container and pop them in the freezer for a Miami Vice Slushie!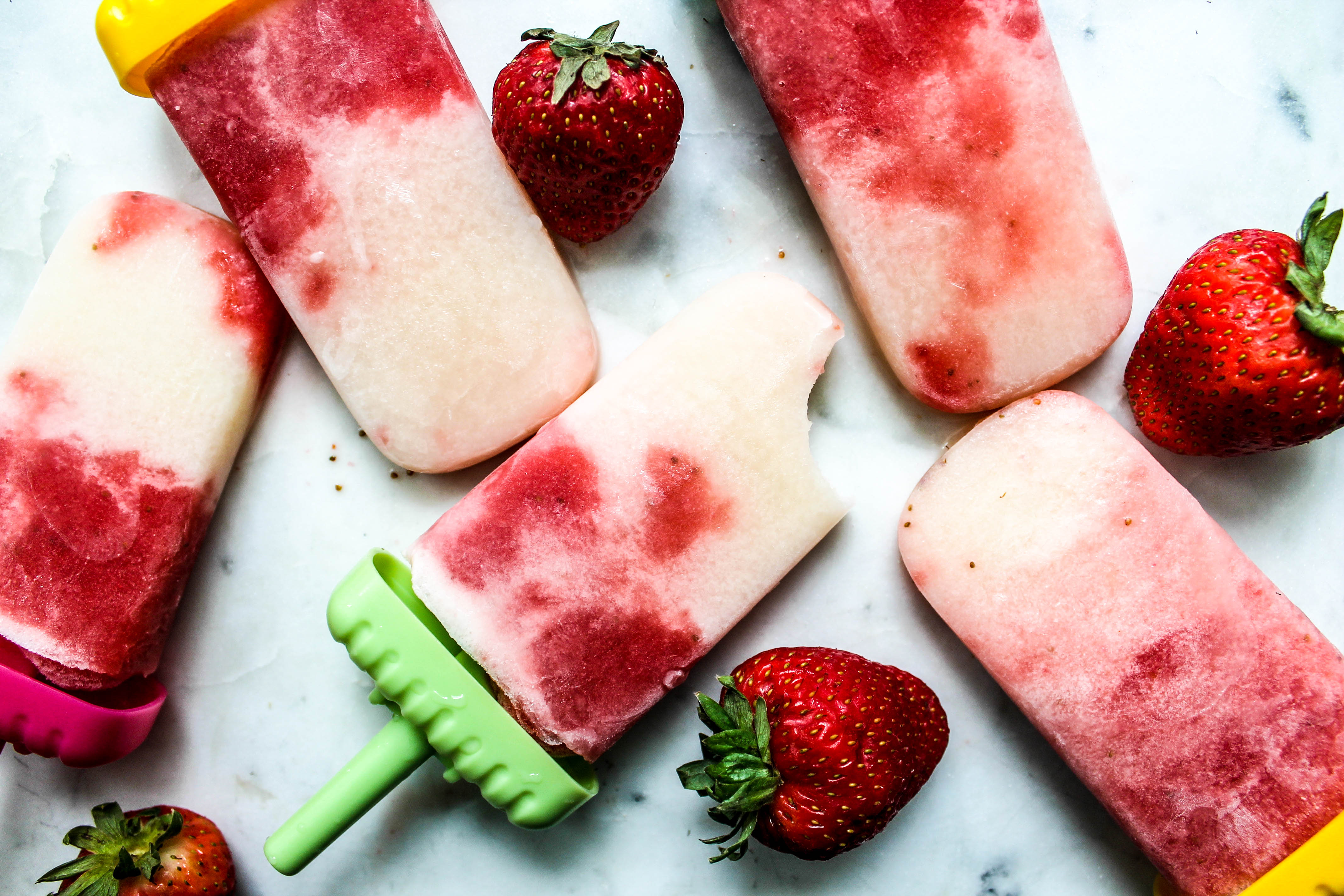 This popsicle is great treat for your summer family barbeque (adults only, of course), a girls' night out, bachelorette party – any fun get together! But for now, it is a fabulous summer treat to beat the heat in an adults-only manner! Cheers, again!

Miami Vice Wine Popsicles
Serves:
About 12 Popsicles
Ingredients
For the Coconut Layer:
1 13.5-ounce can light coconut milk
½ cup white wine (I used Riesling, but any sweeter white wine will work)
1 6-ounce can (or ¾ cup) pineapple juice
juice of 1 lime
¼ cup sugar
For the Strawberry Layer:
1 lb. strawberries, hulled
2 tbsp. sugar
juice of 2 limes
½ cup white wine
Instructions
To make the coconut layer, add coconut milk, wine, pineapple juice, lime juice and sugar to a blender and puree on high speed for about 30 seconds. Pour coconut mixture into a large measuring cup.
For the strawberry layer, add the strawberries and remaining sugar, lime juice and wine to the blender (no need to worry about cleaning it out) and puree on high speed for 60 seconds, or until fully pureed.
Fill your popsicle molds about ¼ way with the strawberry puree, then pour in the coconut mixture until mols are about ¾ full. Top with remaining strawberry puree.
Freeze until completely firm, about 4 hours. Run popsicle molds under warm water for 5 to 10 seconds to make them easier to unmold.
Please follow and like us: