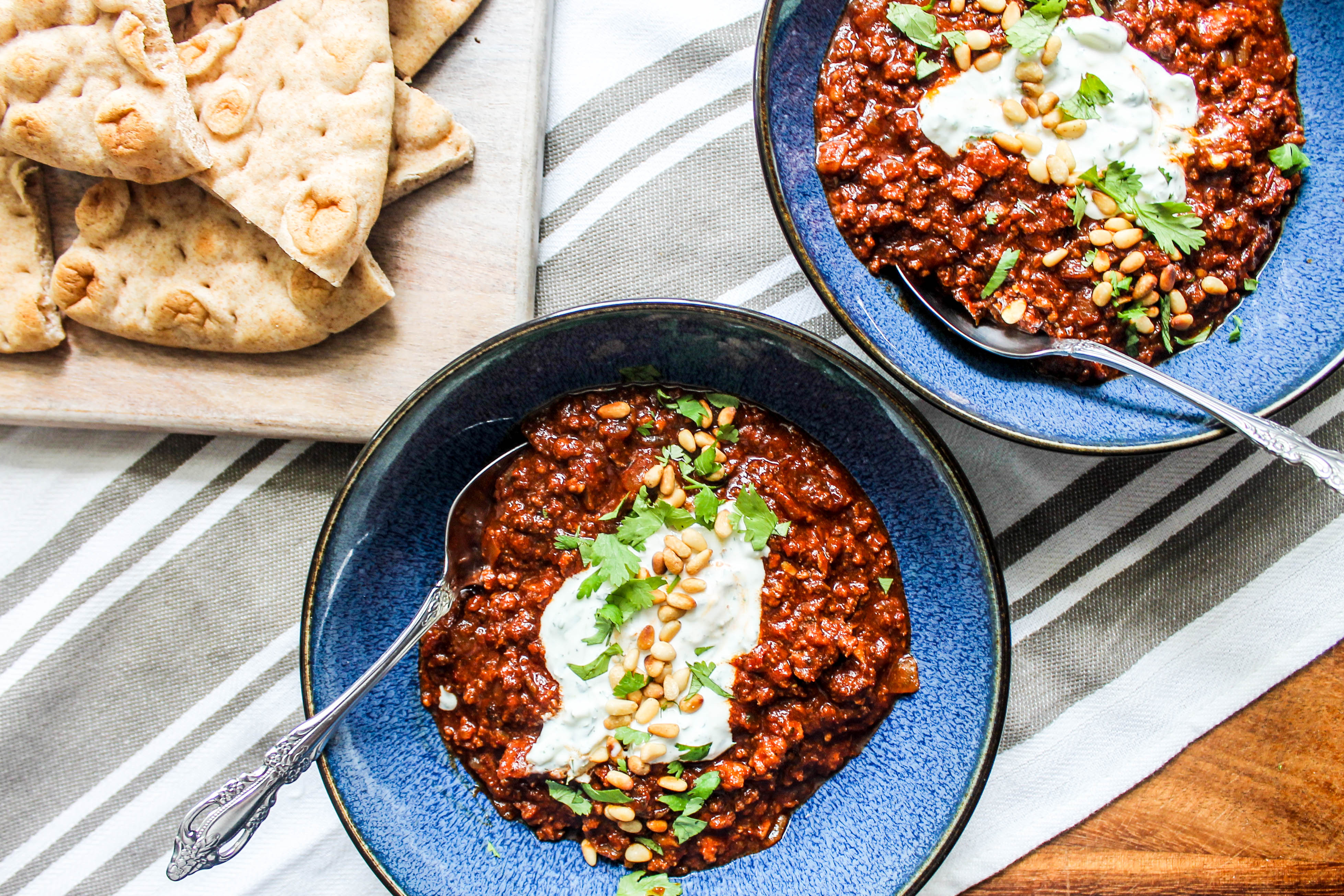 This chili came about when Kyle and a few of his coworkers planned a Chili Cook-Off at work.  Of course Kyle wanted to make a chili that would really  stand out, making it's mark against the competition. He decided to go with a Middle Eastern spice-inspired idea, and he felt the Lamb and Chorizo Chili recipe from Bon Appetit would provide the perfect starting point for the dish.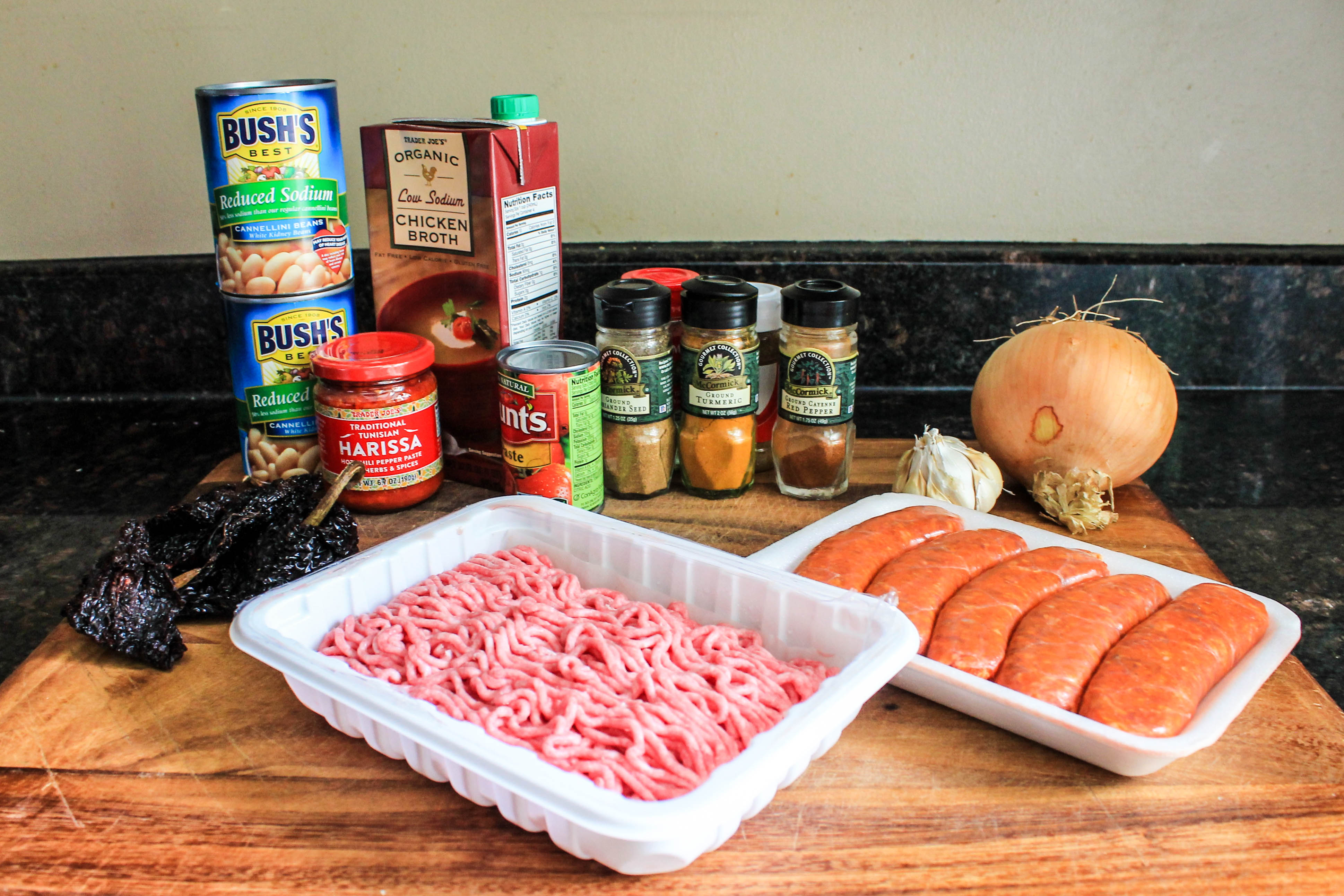 So, Kyle concocted a Franken-recipe style using Mario Batali's Lamb Chili as a jumping off point to build the basic list of spices and seasonings that would bring his chili recipe to life. In addition, due to his obsession with it's fabulous fusion of flavor, he added Za'atar spice blend. He has used this product in various recipes on the blog, such as Hummus, a Roasted Beet Puree, and even a Za'atarBloody Mary (seriously, what can't be added into a cocktail?).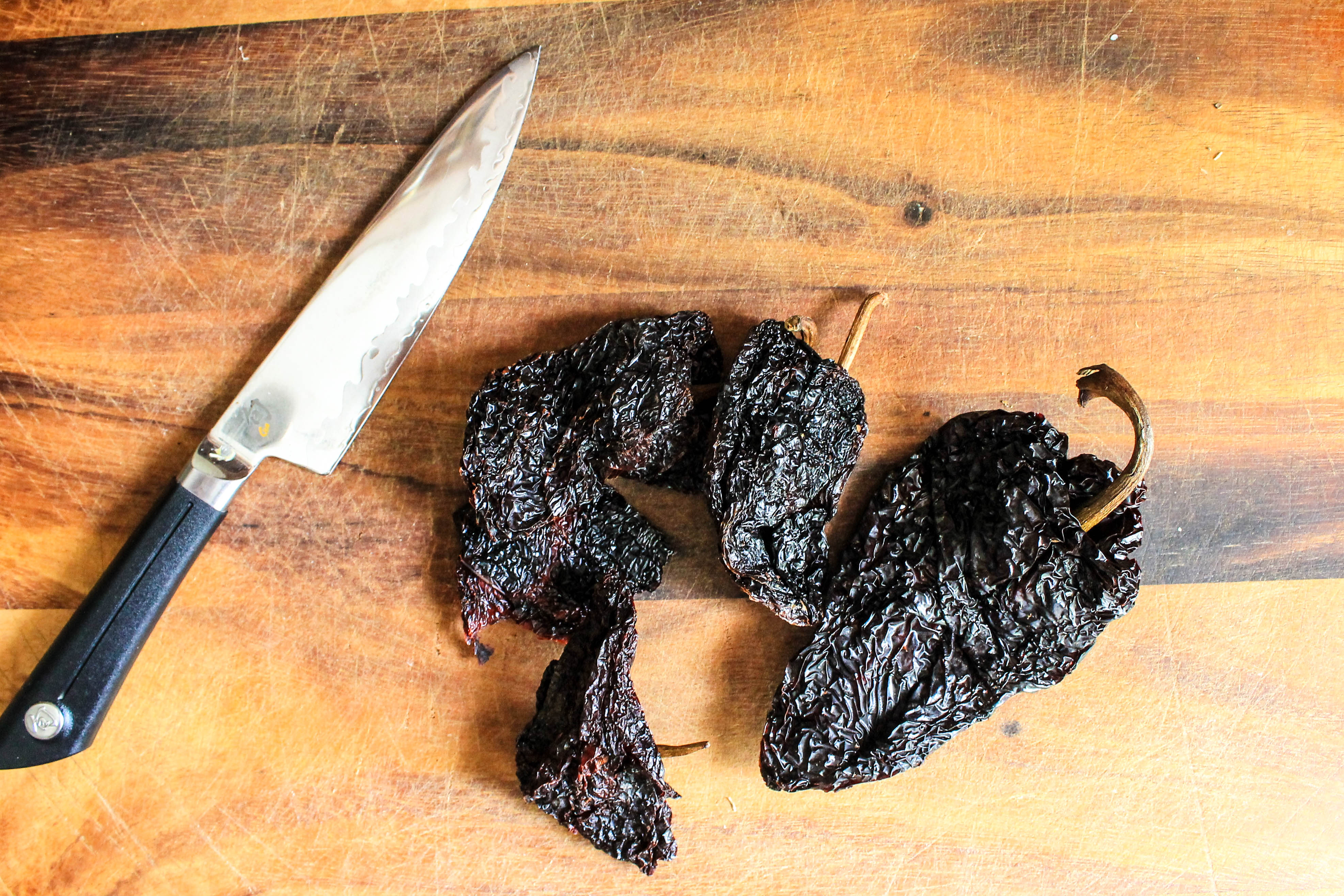 One of the star ingredients of this chili was the ancho chili puree from the Bon Appetit recipe. The puree includes dried ancho peppers that are simmered in chicken stock until soft, then blended to form a rich, spicy, and smoky sauce that provides an incredible depth of flavor to the chili. The simmering and blending may have added an extra step to the chili-making process, but it was well worth it! As an added bonus, the ancho chili puree can be made a few days ahead and refrigerated until you're ready to get your chili on!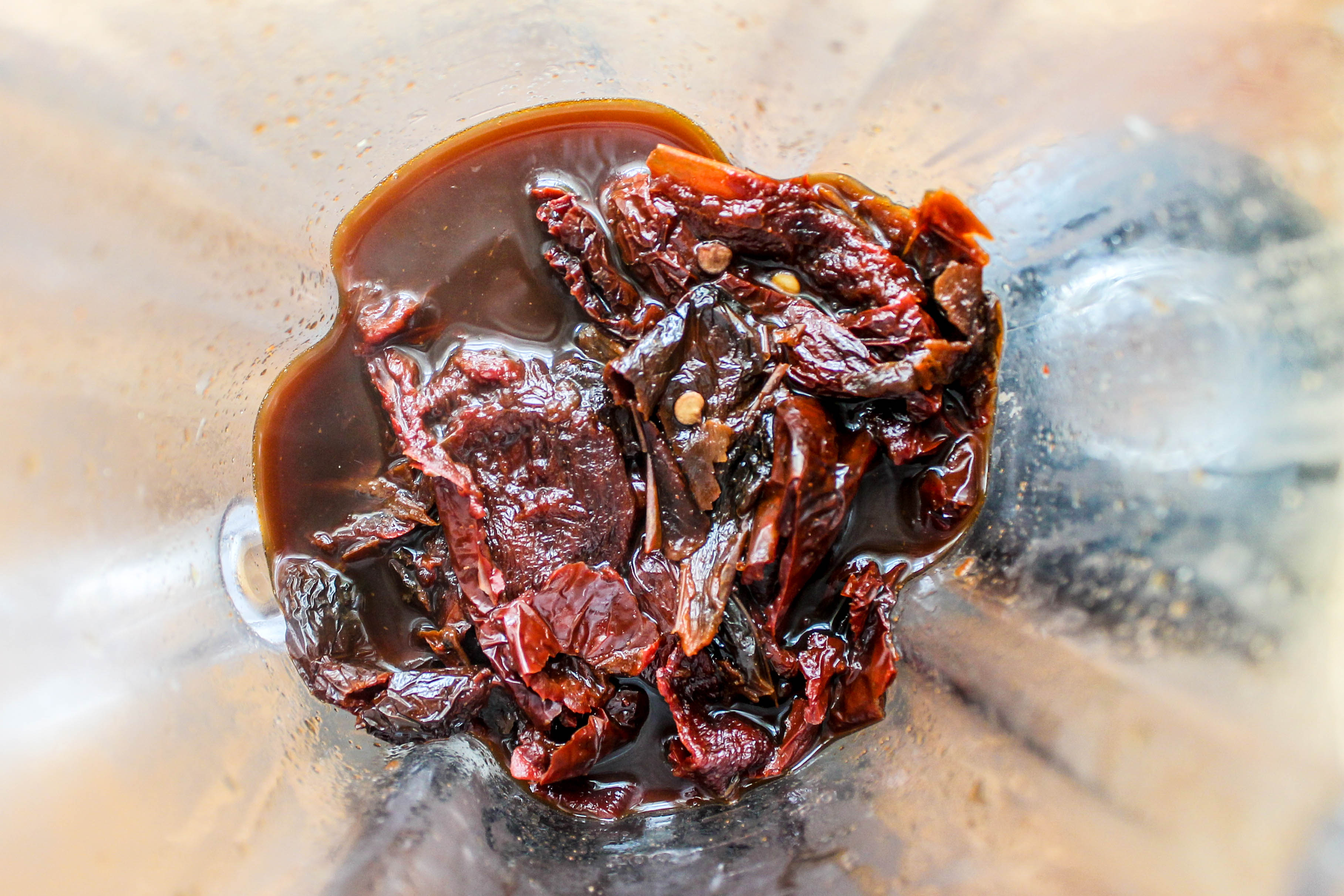 Creating the puree may add a tad of extra time to the chili making extravaganza, but whether you are making a more traditional beef chili or the more adventurous lamb and chorizo chili, Kyle feels incorporating this step in all future chili preparations is crucial; it's that much of a game-changer.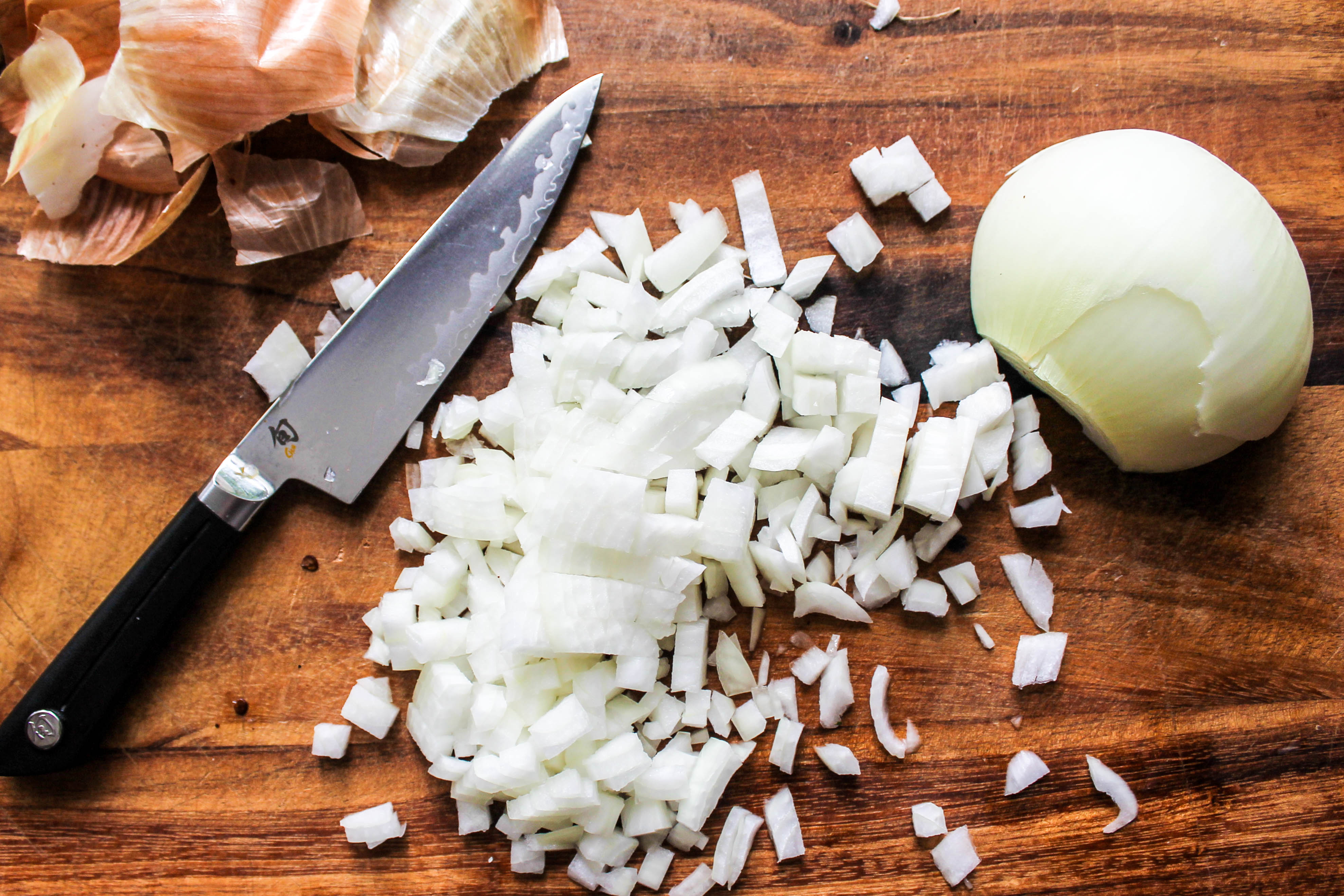 In this chili creation Kyle chose a relatively mild chorizo, in terms of it's spiciness. It also didn't yield that much fat; if you run into this issue, simply add a tablespoon or two of olive oil to your pot before cooking your onions and garlic in the chorizo renderings. Since this chorizo was mild, a second tablespoon of Harissa paste was added to incorporate a little heat. If you wish to amp up your heat level even more, by all means do so, BUT start with one tablespoon, then gradually increase it to get to your desired heat level.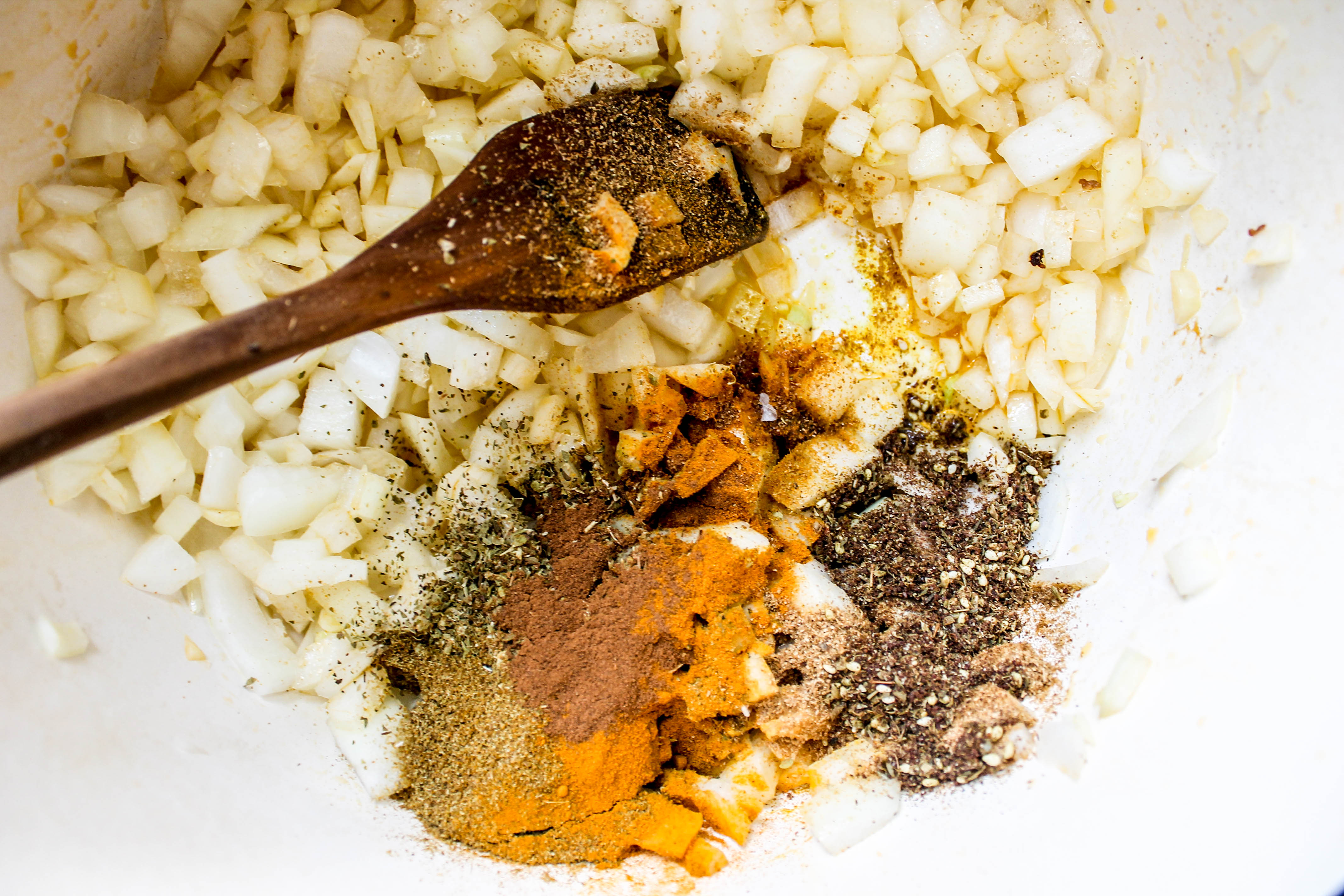 It was in the initial plan to incorporate white beans into the chili, however, Kyle was so pleased with the flavor and texture of the dish that he decided against it. He enlisted the basic motto of "don't mess with a good thing" and applied it to this particular batch. However, keep in mind that adding cannellini beans would not in any way ruin the recipe. In fact, it would be a delicious and inexpensive way of yielding many more serving of chili. The recipe is scrumptious with or without the beans.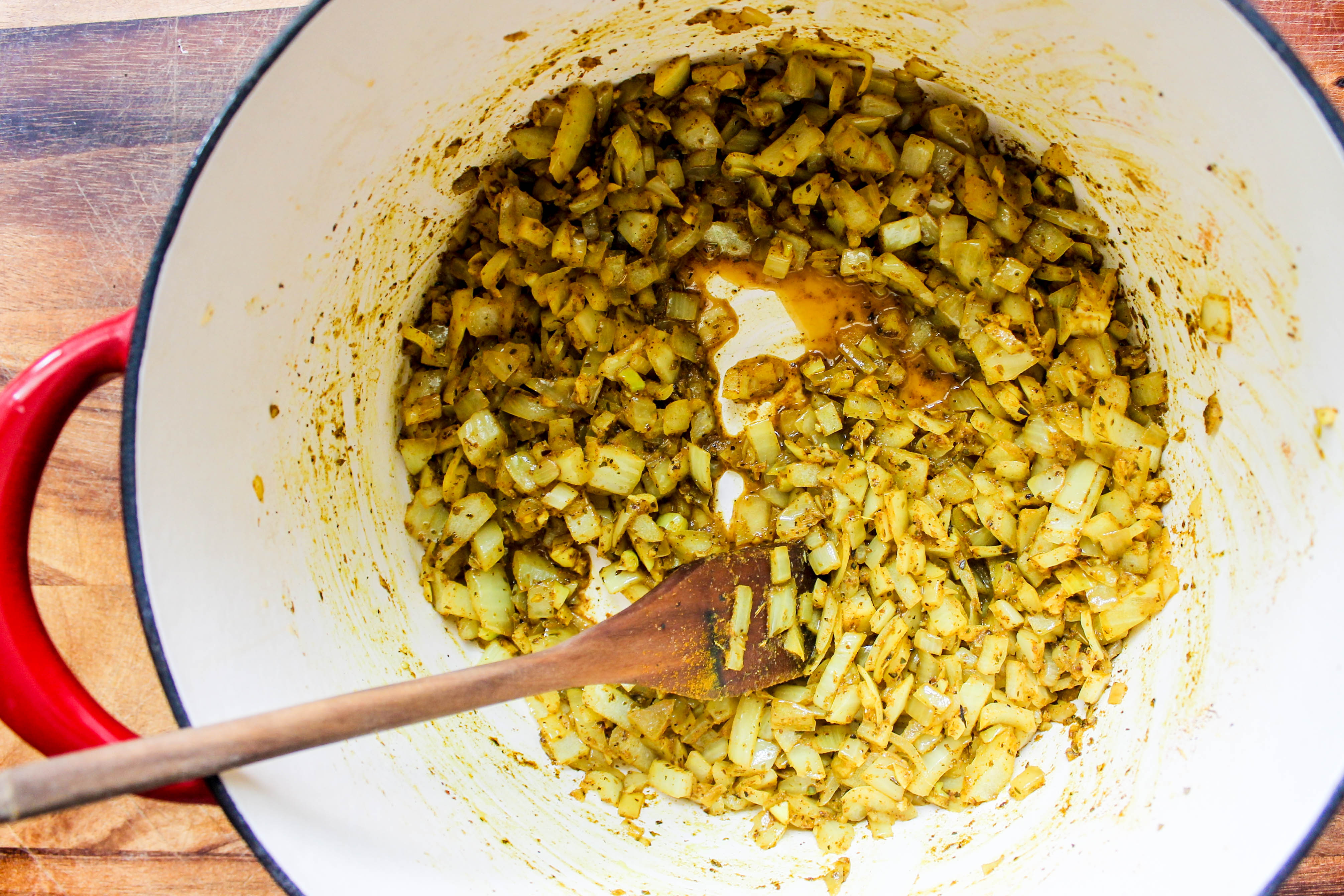 Now, there are some chili purists out there who may believe that beans have no place in a traditional pot of chili. This chili is a far cry from conventional, so at least Kyle can to follow tradition sometimes. There are some of us who cannot enjoy a good chili that has beans included in the recipe, so, Kyle's chili works for us!! Yay!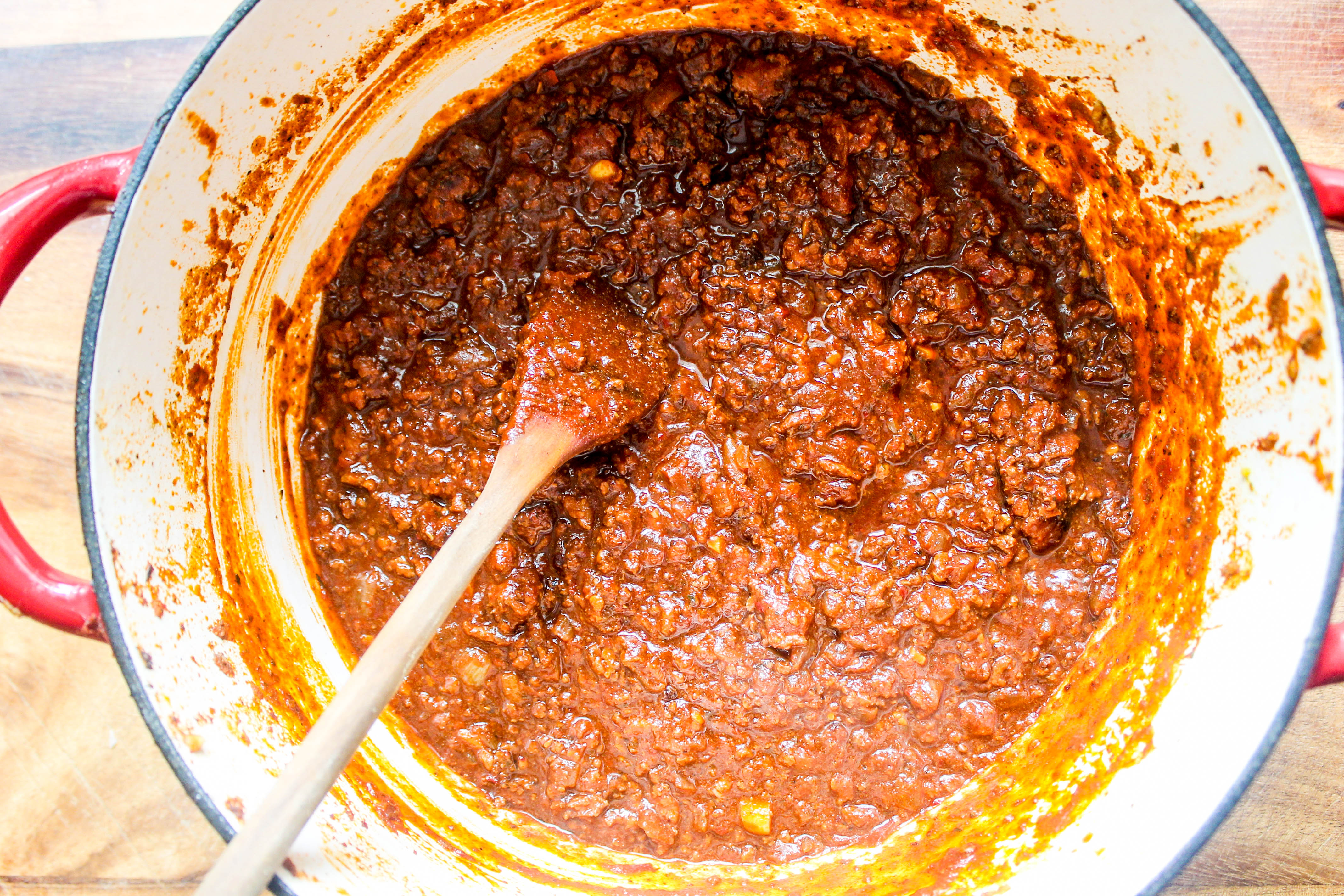 On to the toppings!  There was a move to transform the stand-by sour cream chili topping into a raita-inspired sauce.  Feta, lime zest, cilantro, mint and cucumber were added to it and, Voila! – a Cucumber Crema was born. For a garnish, Kyle really loved the toasted pine nuts in the Jerusalem Hummus, so he incorporated that into this chili for a bit of toasted, nutty crunch on top. Keep in mind, you can still use traditional toppings for this recipe, but I recommend having both available. This will please die hard chili traditionalists, yet also appease those with a sense of foodie flair.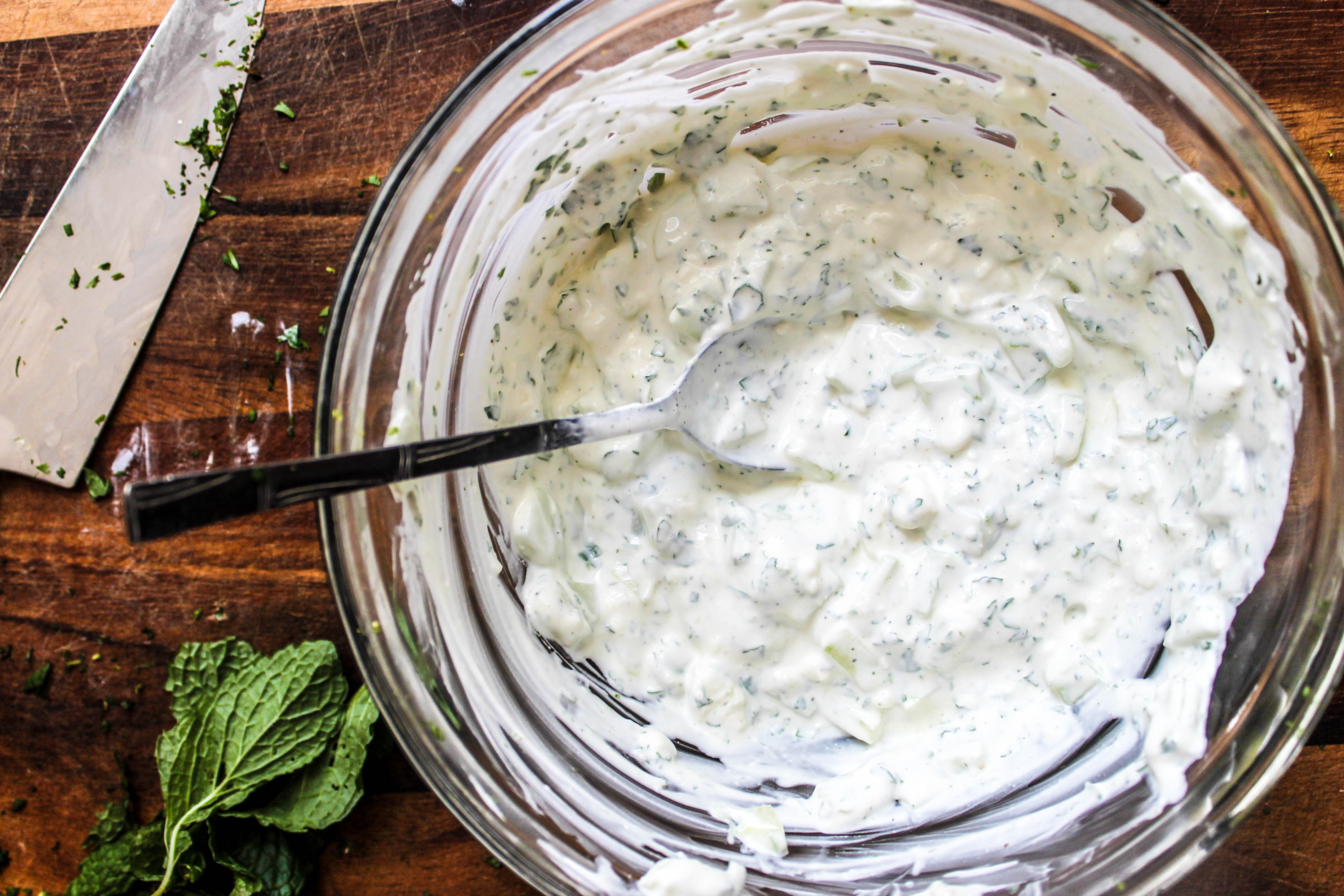 If you are lamb averse, feel free to swap in ground beef, but if you're willing to branch out, we strongly suggest you  try the recipe once with the ground lamb. The sweet gaminess of the lamb really complements the layers of spices and flavors for a unique, unforgettable combo!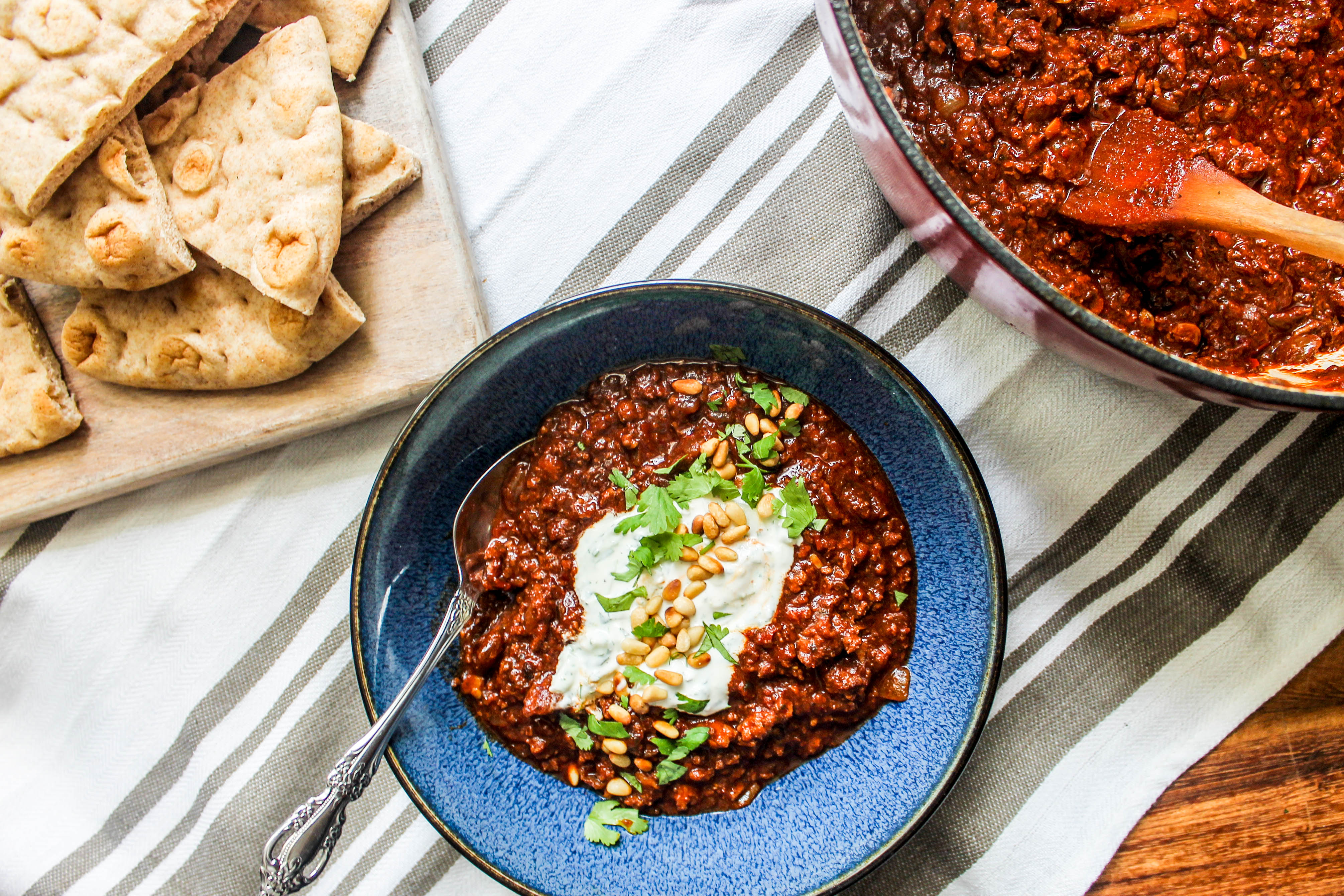 Some of are readers may be clinging on to the hope of an extended summer, but, at some point autumn will be creeping in, and with it, all of the flavors that make the season a spice wonder. This Lamp and Chorizo Chili will be a great way to celebrate the incoming fall season, whether it be for watching football on a Sunday or for entertaining guests out by the fire pit.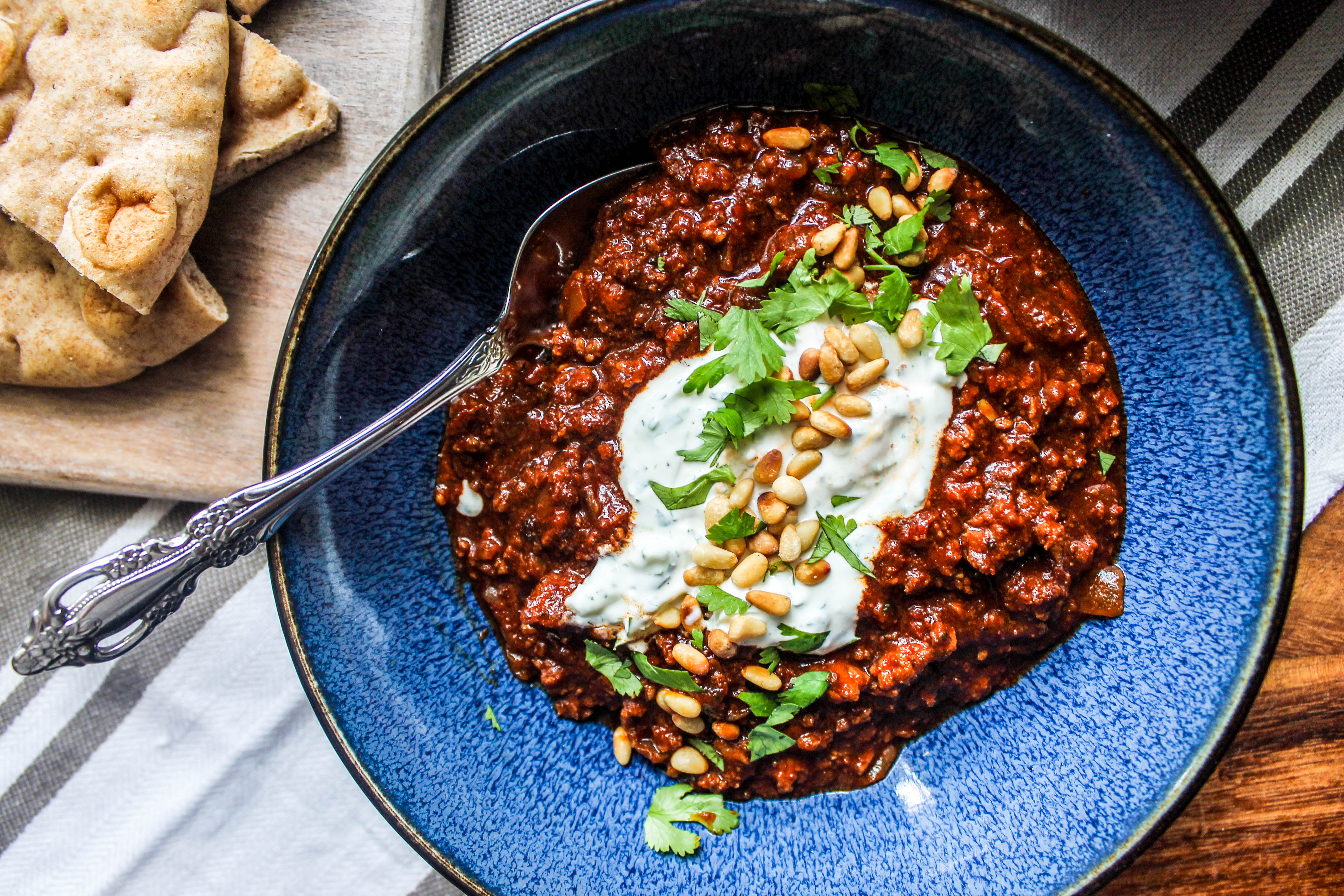 Kyle's work chili cook-off only yielded three competitors (and there were no official judges… cook-off fail!),  so there were no official winners. In my book it wins hands-down! Making this creation for your upcoming autumnal celebration will allow everyone to win!
Inspired by Bon Appetit and Mario Batali.

Lamb and Chorizo Chili
Ingredients
2 ½ cup low sodium chicken broth
2 ounces dried ancho chilies (about 3 - 4 large), stemmed, seeded, torn into pieces (it's OK if a few seeds get stuck in there)
½ teaspoon cayenne pepper
1 pound beef or pork chorizo, casings removed
1 large yellow onion, finely chopped
8 large garlic cloves, chopped
1 tablespoon dried leaf oregano
1 tablespoon ground cumin
½ teaspoon Ground Turmeric
¼ teaspoon Ground Cinnamon
1 teaspoon coriander
2 teaspoons smoked paprika
1 tablespoon za'atar
1 pound ground lamb
¼ cup Tomato Paste
1- 2 tablespoons Harissa (but any chili sauce, such as sriracha, would work in a pinch)
¼ cup white wine vinegar
½ cup dry red wine
For the Crema:
½ cup sour cream
2 tablespoons crumbled feta cheese
1 tablespoon finely chopped cilantro leaves
1 tablespoon finely chopped mint leaves
Zest of 1 lime
½ cup finely diced cucumber, peeled and seeded
Salt and pepper
To Serve:
¼ cup pine nuts, toasted
A few tablespoons chopped cilantro leaves
A few pieces of pita or naan bread, sliced
Instructions
Combine chicken stock, ancho chiles, and cayenne pepper in heavy medium saucepan. Cover and simmer over medium heat until chilies soften, about 12 minutes. Puree chili mixture in blender and reserve.
Stir chorizo in heavy large pot over medium-high heat until drippings come to simmer, breaking up meat with spoon.Using a slotted spoon, transfer chorizo to a paper towel-lined plate.
Remove all but 2 tablespoons drippings to from the pot and place over medium-low heat (discard remaining drippings). Add onions, garlic, oregano, cumin, turmeric, cinnamon, coriander, paprika and za'atar spices . Sauté until onions begin to soften, about 5 minutes.
Sprinkle lamb with salt and pepper; add to pot. Increase heat to medium and sauté until lamb is no longer pink outside, about 10 minutes.
Add the Tomato Paste, and stir to coat everything, allowing the Tomato Paste to darken, about a minute, then add the Harissa, red wine vinegar, and red wine. Bring to a boil and cooking, stirring frequently, until wine mixture is reduced by half.
Add chili puree and drained chorizo. Bring chili to boil, stirring occasionally. Reduce heat to medium-low, cover and simmer 1 hour. Remove lid and simmer uncovered until liquid thickens, stirring occasionally, about 15 minutes. Season with salt and pepper to taste. DO AHEAD Can be made 3 days ahead. Chill uncovered until cold, then cover and keep chilled. Rewarm before serving.
To make the Cucumber Crema, stir sour cream, feta cheese, cilantro, mint, lime zest and cucumber in a medium mixing bowl. Season with salt and pepper to taste.
To serve, spoon ladles of the chili evenly among 6 to 8 bowls. Top each with a dollop of the Cucumber Crema, some toasted pine nuts, and a few extra cilantro leaves. Serve with naan or flatbread to mop up the sauce.
Please follow and like us: