These sweet potato fries were an offshoot from one of our themed get-togethers. They were served as a side dish for "Bel-Gin" Night, an end-of-summer party in which we ate a bunch of our favorite Belgian foods while indulging in gin-based cocktails. Since the season finale of Game of Thrones finale debuted on the same evening, it was then nicknamed "Gin of Thrones Night." I'll be honest, we just really needed an excuse to get together and drink gin.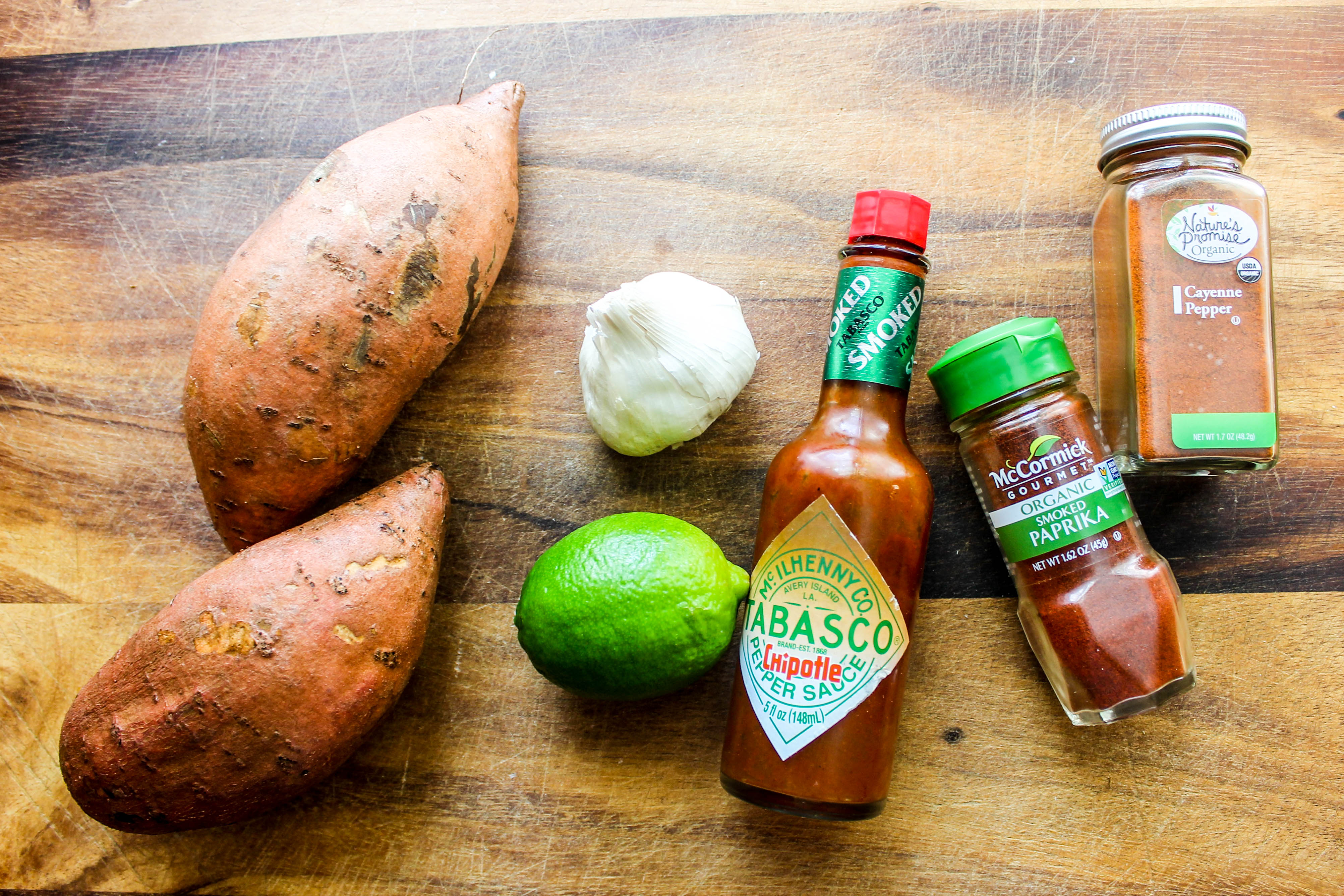 When Kyle was in Belgium a few years ago, one of the goals was to visit as many of the frite stands that dotted the streets Bruges as possible. The frite mission was, of course, all in the name of culinary research (uh-huh, sure….). While strolling through Bruges they stopped by the stands, one by one. The fries were served with a variety of sauce options, some of which were quite familiar – such as mayonnaise, ketchup and tartar sauce. Meanwhile there were other sauces with names that gave absolutely no indication of the contents – such as Hannibal Sauce, Samurai Sauce, and American Sauce. The group's favorite part of visiting the frites stands was playing Frite Roulette with everyone in the group: instead of simply asking for descriptions of the curious sauces at the stands, each person would order a different sauce on their fries, and they would take turns sampling each other's selections.
Samurai Sauce, which turns out to be a combination of mayo and sambal oelek, ended up being the favorite of the group. Kyle decided to pay tribute to the Samurai Sauce by making a smoky and spicy chipotle aioli to serve with his fries. Chipotle Tabasco was used in this sauce since Kyle has been obsessed with it ever since the Insanity Burgers. However, the sauce from chipotle peppers packed in adobo would work great for this sauce as well.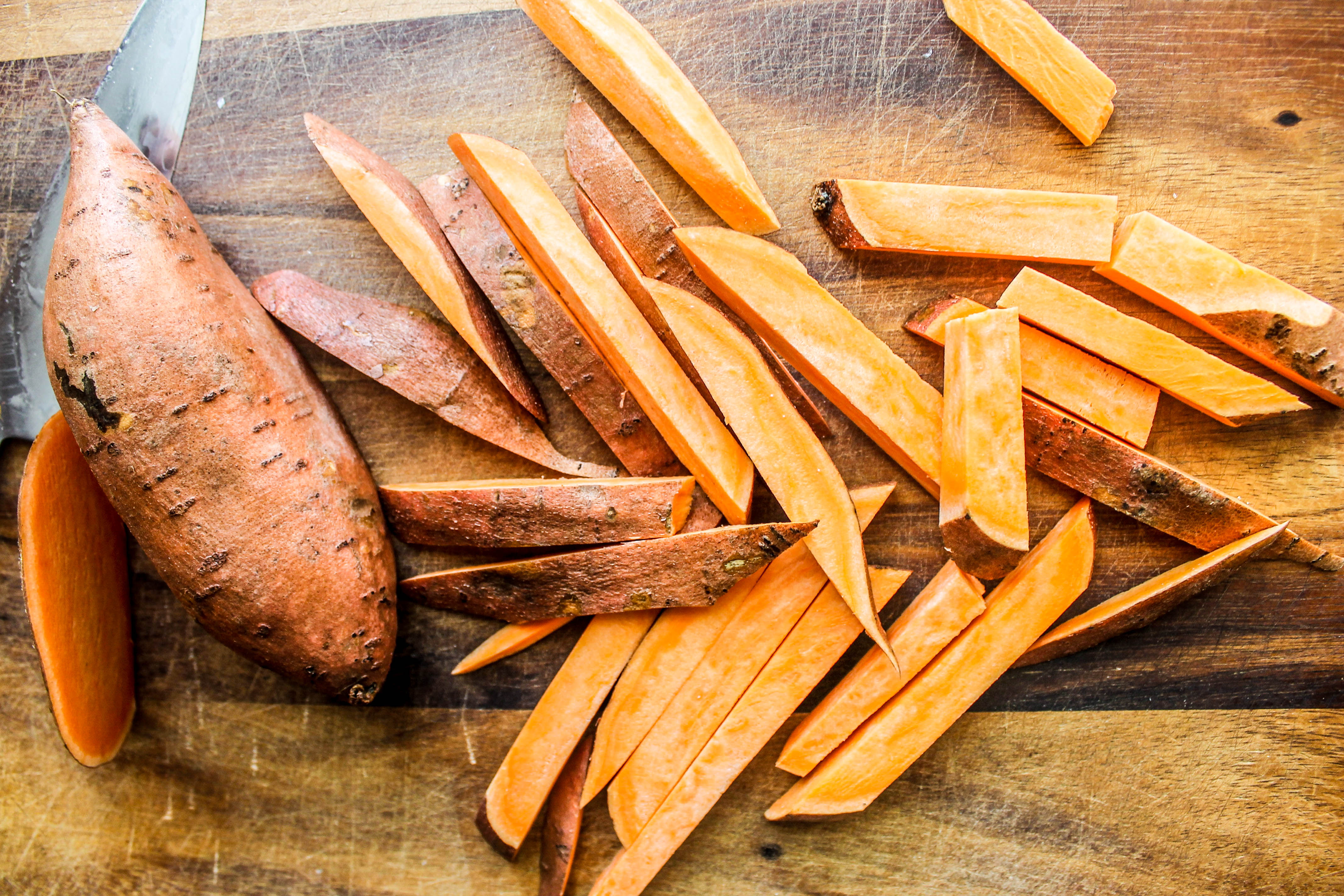 Kyle was trying to eliminate all of the mess and tons of extra work of making frites to order for everyone at the Bel-Gin shindig. The sampling of many cocktails throughout the party was also being factored into the equation. So, he instead followed a method detailed by Smitten Kitchen, where the fries are gently cooked in simmering water for about 10 minutes before being tossed in some oil and roasted at high-heat in the oven.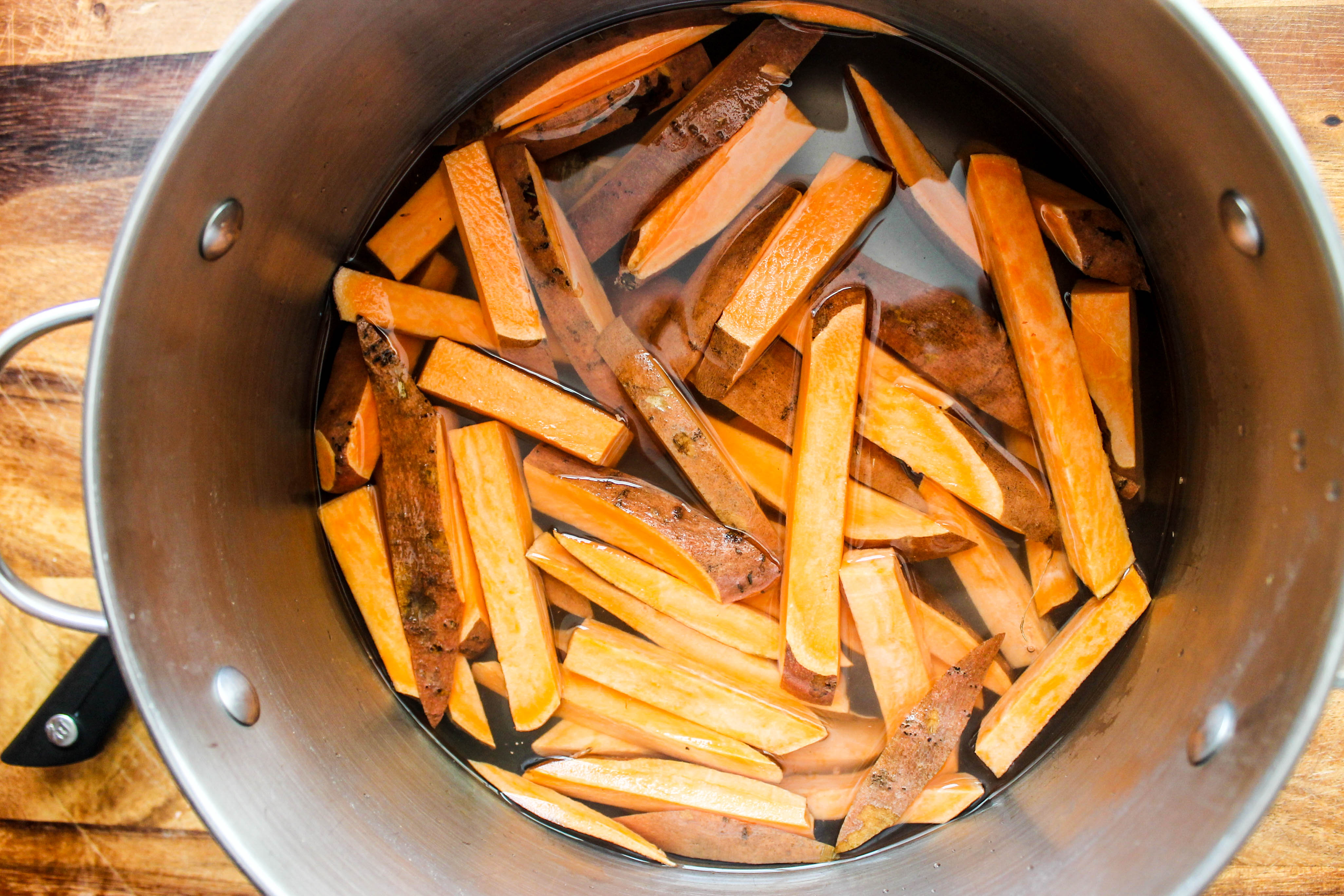 The simmering step helps soften the potatoes, this then yields soft, fluffy interiors, while the high-heat roasting makes the exteriors bronzed and super crispy. An added bonus to this method was he could cook the frites all in one giant batch. As we have come to find out, the friteries in Belgium actually cook their frites twice as well. In Belgium, however, both steps involve  deep-frying; the first at a lower temperature, the second at a much higher heat. Showering a generous dose of flaky sea salt made the fries oven-roasted perfection. Home-cooked fries never tasted so good, this is the way to go every time when cooking a side of fries.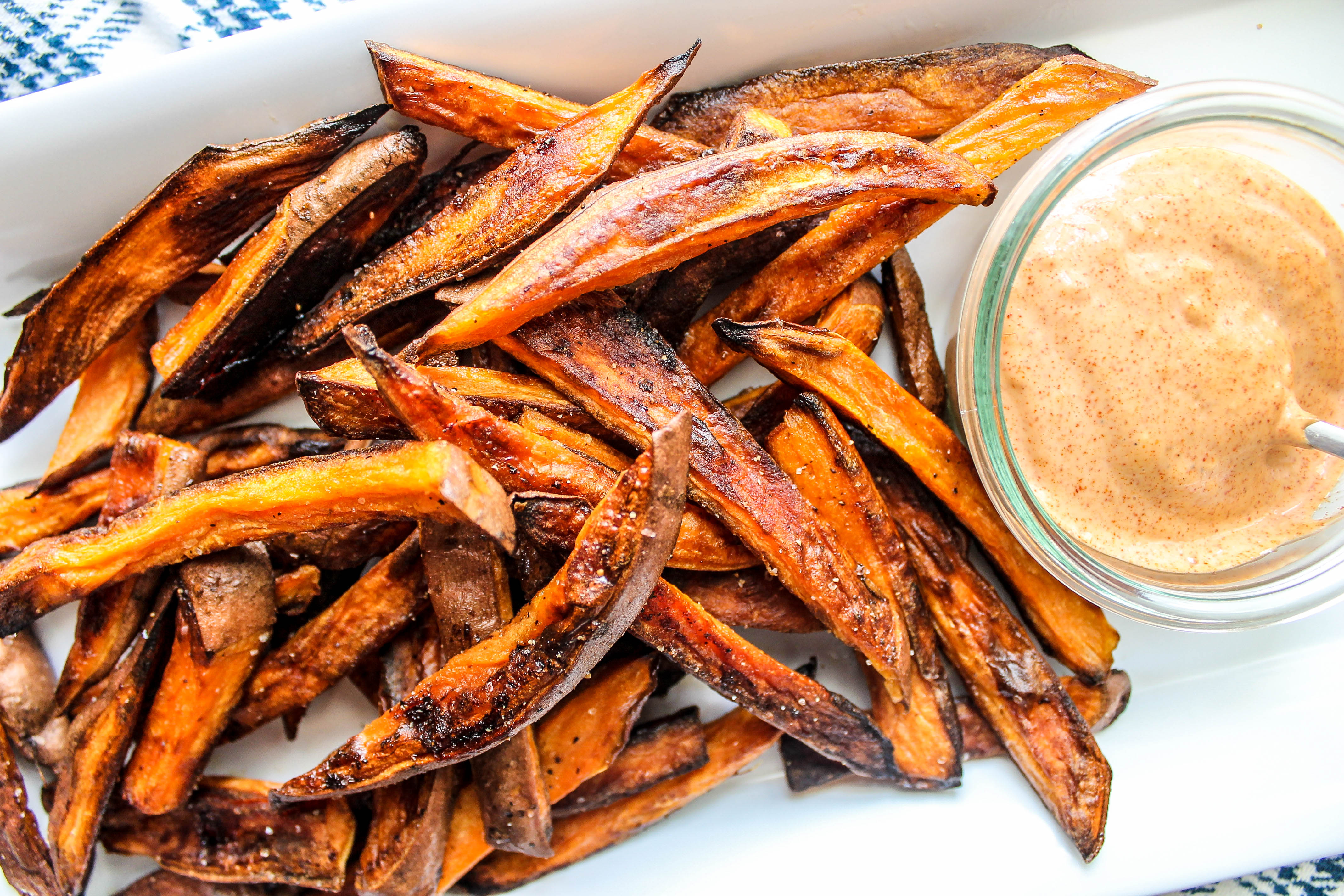 Yukon Gold Potatoes were used for the fries made during our Bel-Gin get-together. But- Kyle had another goal – sweet potato fries. He went ahead and used the two-step cooking technique to tweak a recipe that has been evading him for years: crispy, homemade sweet potato fries. If anyone has made fries at home, they know how difficult it can be to get a crispy baked batch of fries, let alone making a serving of crispy sweet potato fries. Every other recipe and roasting technique Kyle had tried yielded sub-par results: the sweet potatoes would never get as crispy as their standard potato counterparts. This caused Kyle to have soggy, limp sweet potato fries (or on the other end of the spectrum – charred, burnt fries). Pushing the limits of the roasting time in hopes of achieving the ultimate crispiness, sadly, did not work either.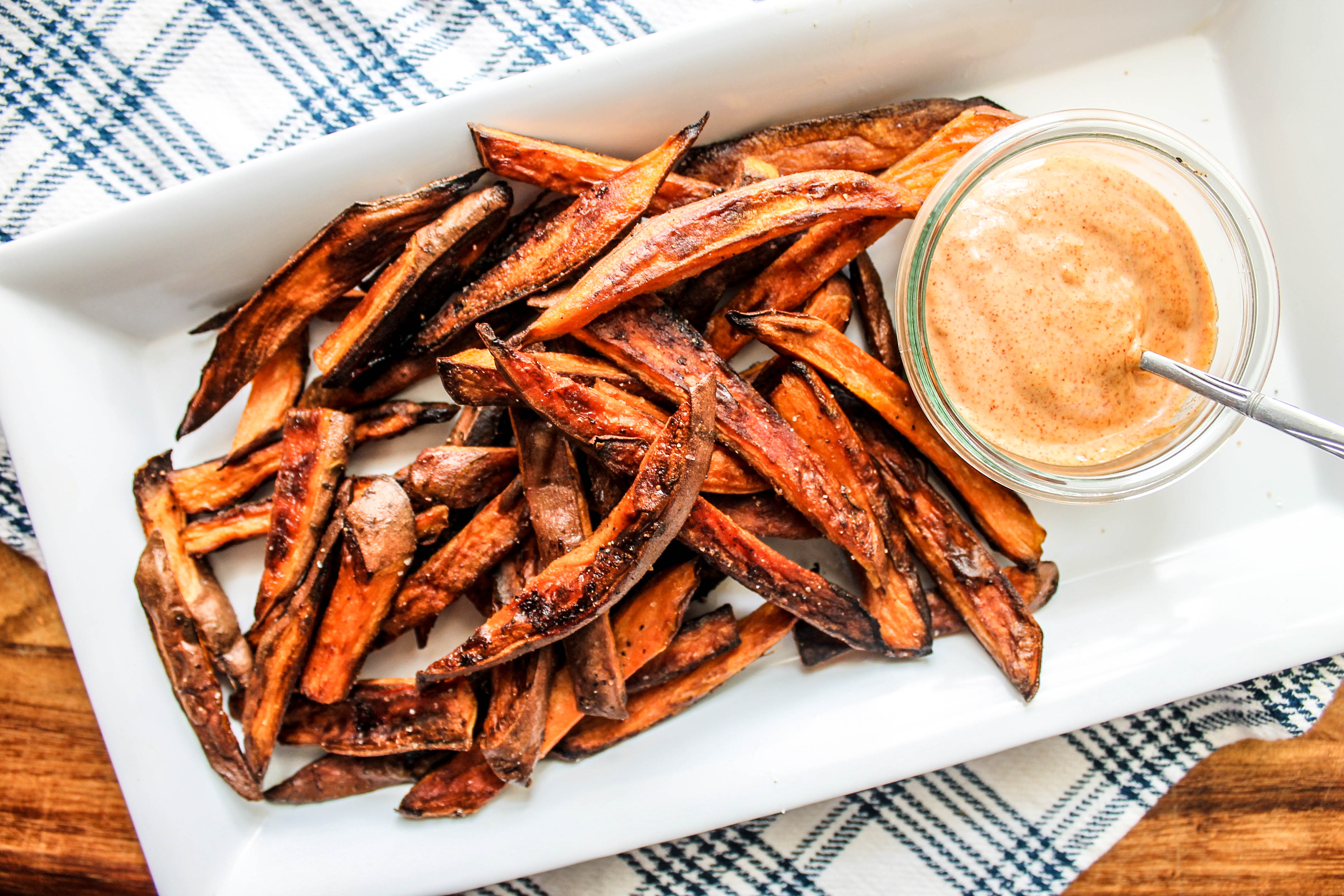 The two-step cooking process produced the best batch of sweet potatoes fries ever made that didn't involve a deep-fryer. The exteriors were extremely crisp and deeply browned, with light, fluffy interiors, and the smoky and spicy Chipotle aioli complemented the roasted sweetness of the potatoes. The sweet potatoes provide a somewhat more heathy version of everyone's favorite French fry treat. Of course, you have to make them for yourself to really know; after your third batch I bet you would agree.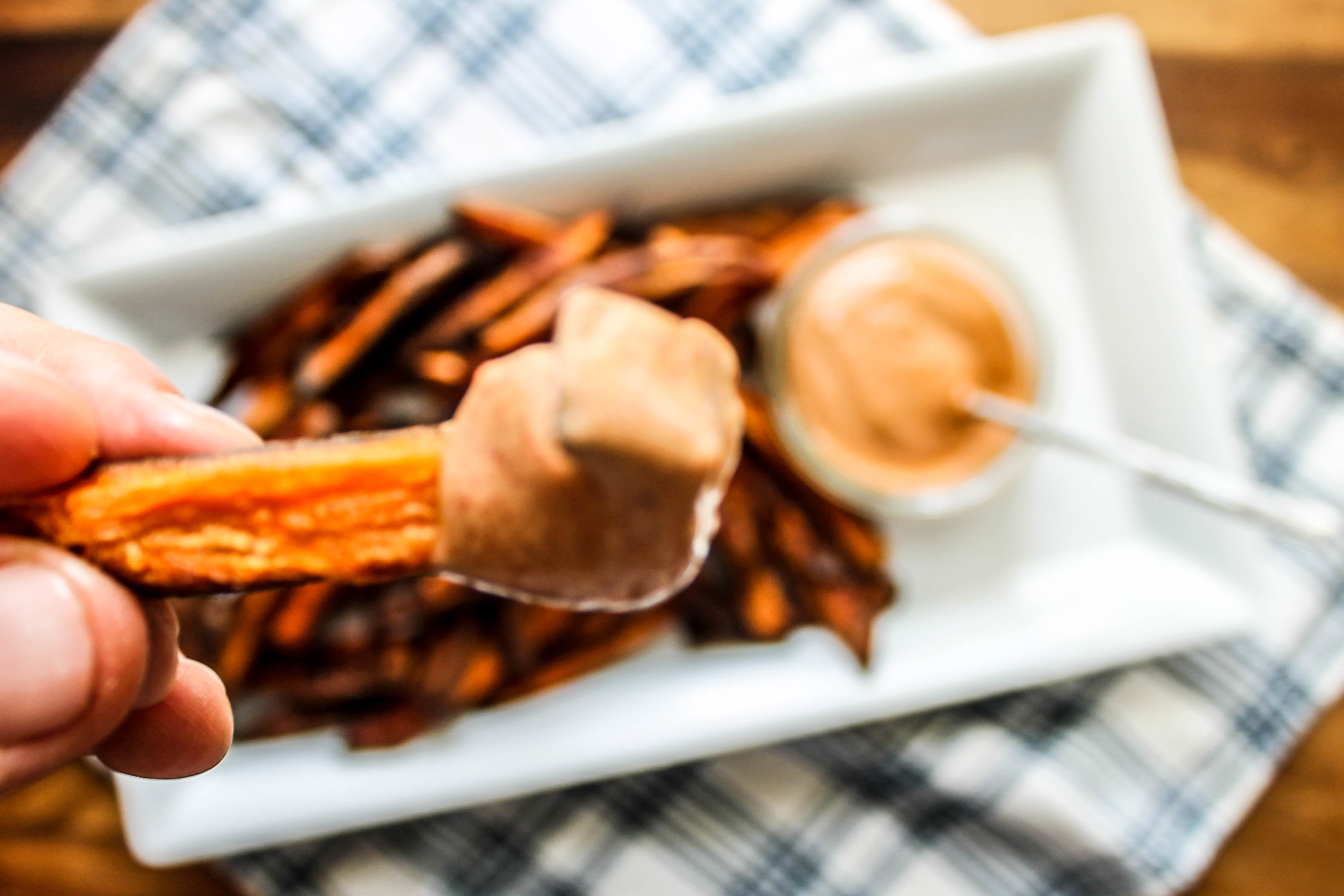 Now, I will warn you, no matter which version you prepare – Yukon Golds, Russets, or sweet potatoes – you will find the fries irresistible. You may even need to make an extra batch, you and whomever you may share them with (you can eat them all by yourself, I'll never tell) will be diving face-first into a pile of these deliciously crispy treats. The autumn season is upon us, so are multiple layers – go ahead, eat the extra fries!
Oven Fries inspired by Smitten Kitchen.

Sweet Potato Oven Fries with Chipotle Aioli
Ingredients
For the Oven Fries:
1 lb sweet potatoes (about 2 large)
¼ cup olive oil, divided
Salt and pepper
For the Chipotle Aioli:
1 garlic clove, finely minced
1 tbsp. lime juice
½ cup mayonnaise
1 tsp. Chipotle Tabasco Sauce (or sauce from chipotles in adobo)
1 tsp. smoked paprika
Dash of cayenne pepper
¼ tsp. Worcestershire sauce
Salt and pepper
Instructions
Heat oven to 450 degrees F.
Scrub sweet potatoes well and cut into ½-inch sticks. Place in a large pot and cover with an inch or two of water. Set heat to high and set timer for 10 minutes. After 10 minutes, whether or not the potatoes have boiled, test one. You're looking for a very "al dente" potato — one that has no crunch, but is too firm to eat enjoyably.
Meanwhile, coat a large baking sheet with 2 tablespoons of olive oil and place it in the oven for a few minutes.
Drain the potatoes and immediately spread them on oiled baking sheet in one layer. Drizzle with last 2 tablespoons of olive oil, sprinkle with salt and black pepper and roast for 20 minutes, until potatoes begin to brown underneath. Toss potatoes around to encourage them to color evenly and return them to the oven for another 5 minutes. Repeat this 1 or 2 more times until your "fries" are deeply browned and crisp at the edges.
Season with more salt while they're hot, and serve immediately.
For the Chipotle Aioli:
While the potatoes are roasting, combine, the garlic clove and lime juice in a medium mixing bowl. Let this sit for about 5 minutes, the acid in the lime juice will "cook" the garlic, mellowing its harsh raw flavor.
Add mayonnaise, chipotle sauce, smoked paprika, cayenne and Worcestershire sauce. Stir to combine and season with salt and pepper to taste. Serve with oven fries.
Please follow and like us: