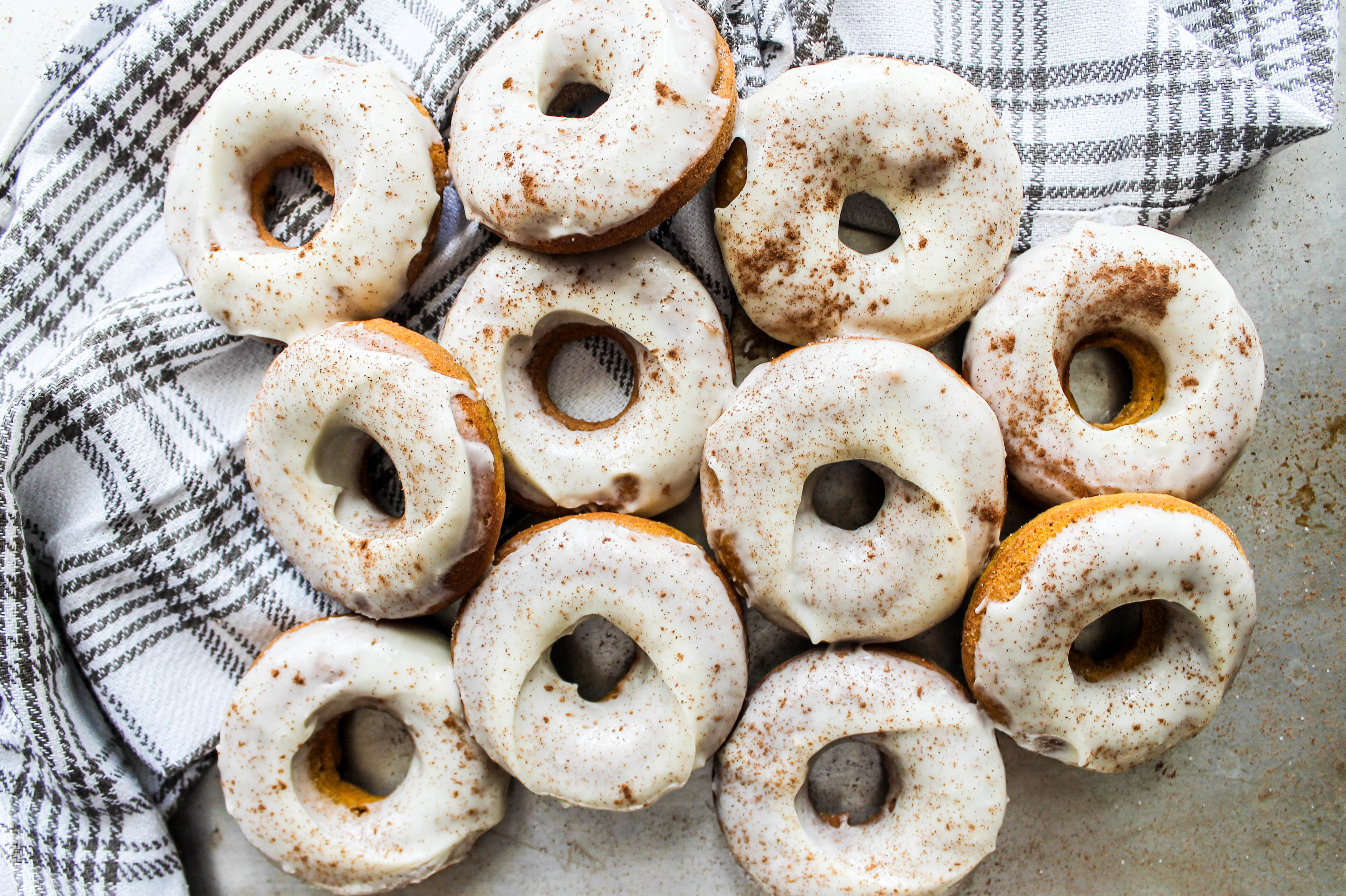 It is that time of year – the time where all things pumpkin are beginning to be celebrated in a jubilant fashion all over the country. This pumpkin frenzy appears to be starting earlier and earlier each year. Starbucks already has it's pumpkin line-up ready, the Pumpkin Spice Latte is in stores now. It is mid-September, the lines between the end of the summer season and the approach of autumn are becoming blurred. Pumpkin everything is on the horizon. So, get ready, pretend you are Cinderella – hop into your pumpkin carriage and get a move on! You need to hurry to get the recipe for the best pumpkin treat EVER. That's right, my absolute favorite sweet treat – doughnuts!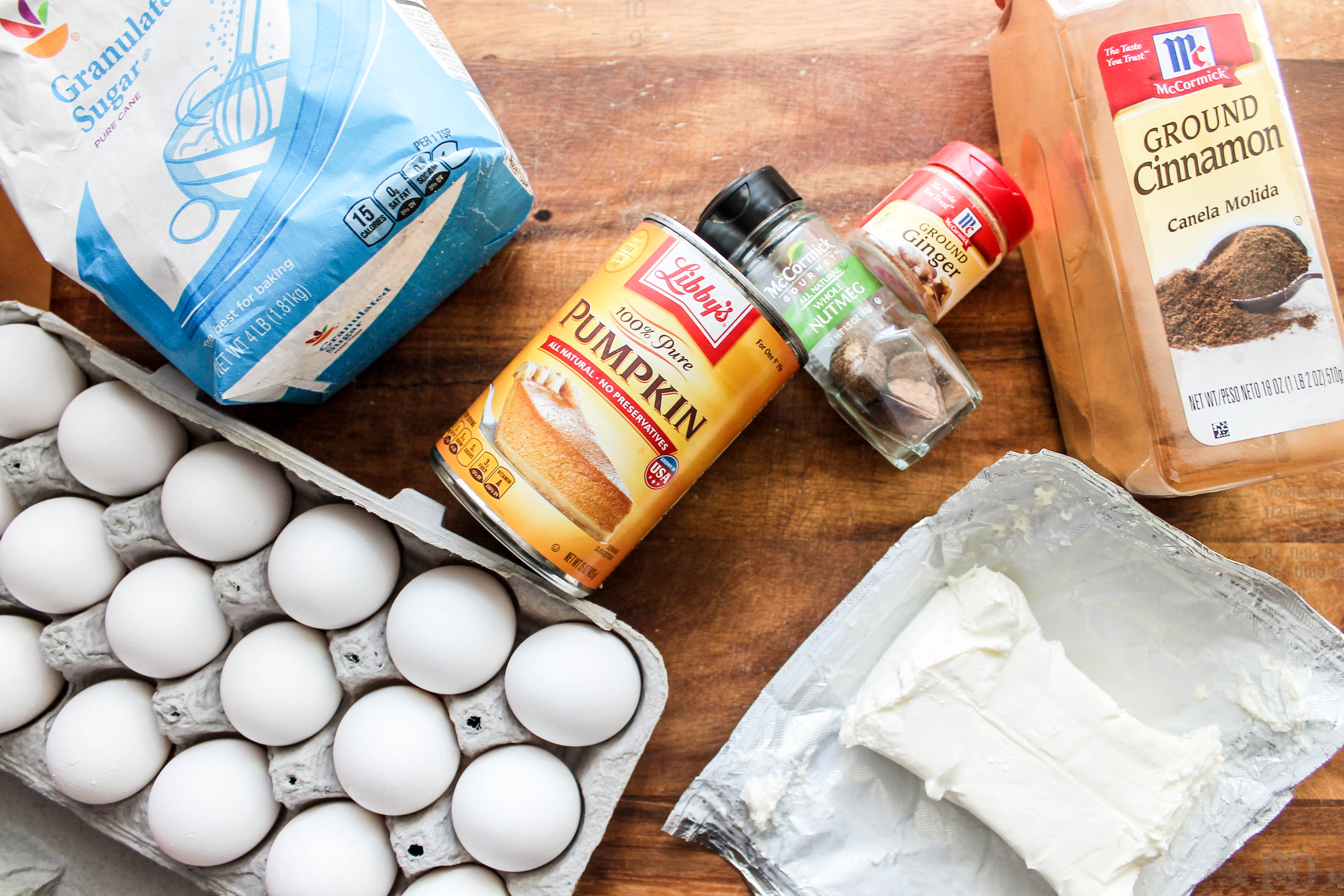 There are some that hold fast to their belief that no pumpkin-flavored items should be had until the middle of October. This is the same group who cries foul at early Christmas decorations and music. I say, if one likes these things, leave them alone. "Autumn is Coming" whether our perceptions of when the flavor of the season should be lauded differ or not.  So, we give you – the Gluten Free Pumpkin Doughnut. The doughnut that has been promised. (Sorry, Game of Thrones is still fresh in my mind….)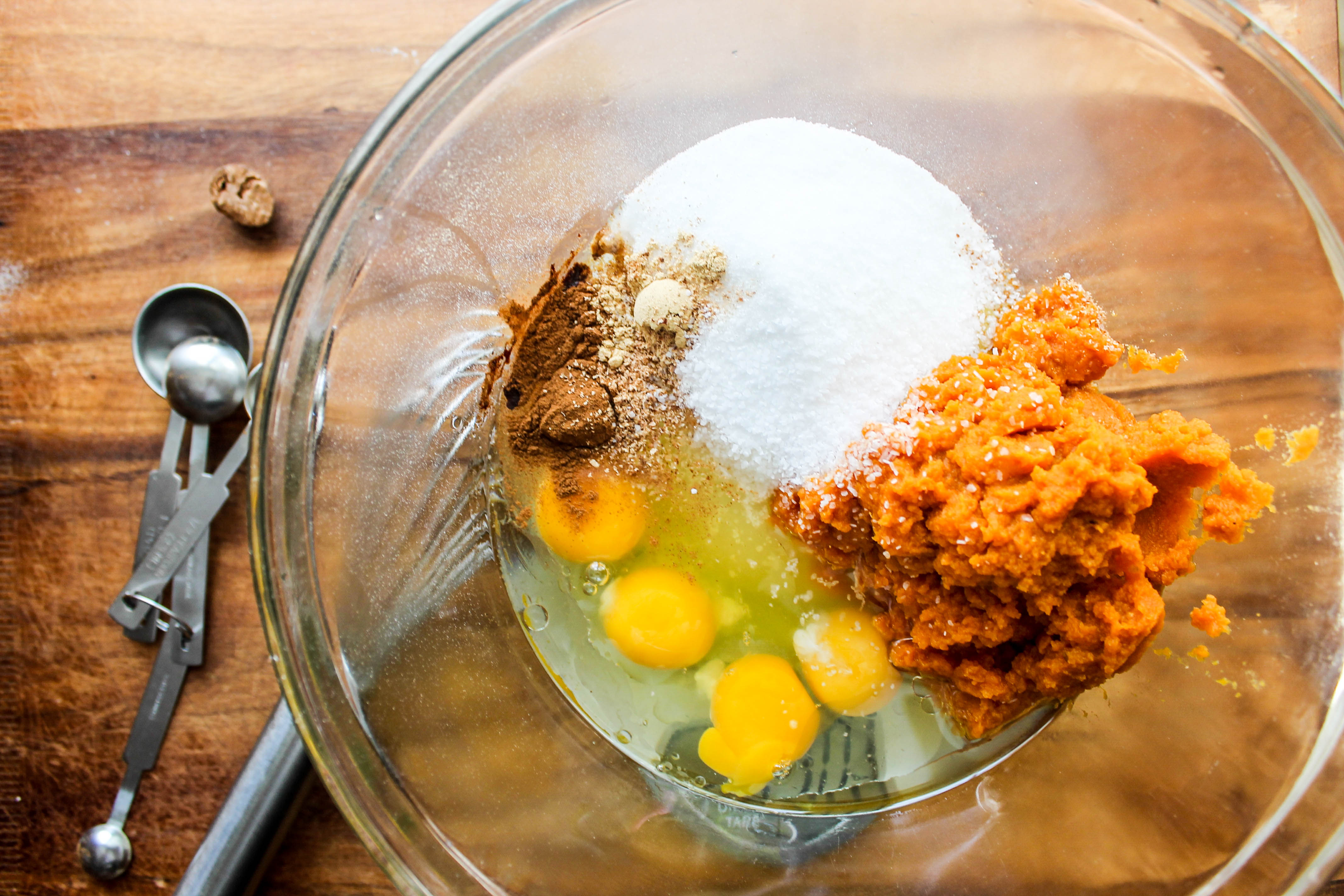 The doughnuts came about when Kyle was cleaning out the back of an often neglected cabinet. In it he discovered a pair of doughnut pans that he had picked up a few years ago. He purchased the pans with daydreams of making batches of delicious baked doughnuts every weekend. Then, as what happens to many a newfangled baking product – they were used once (maybe?) before they eventually made their way into the forgotten reaches of the kitchen cabinets.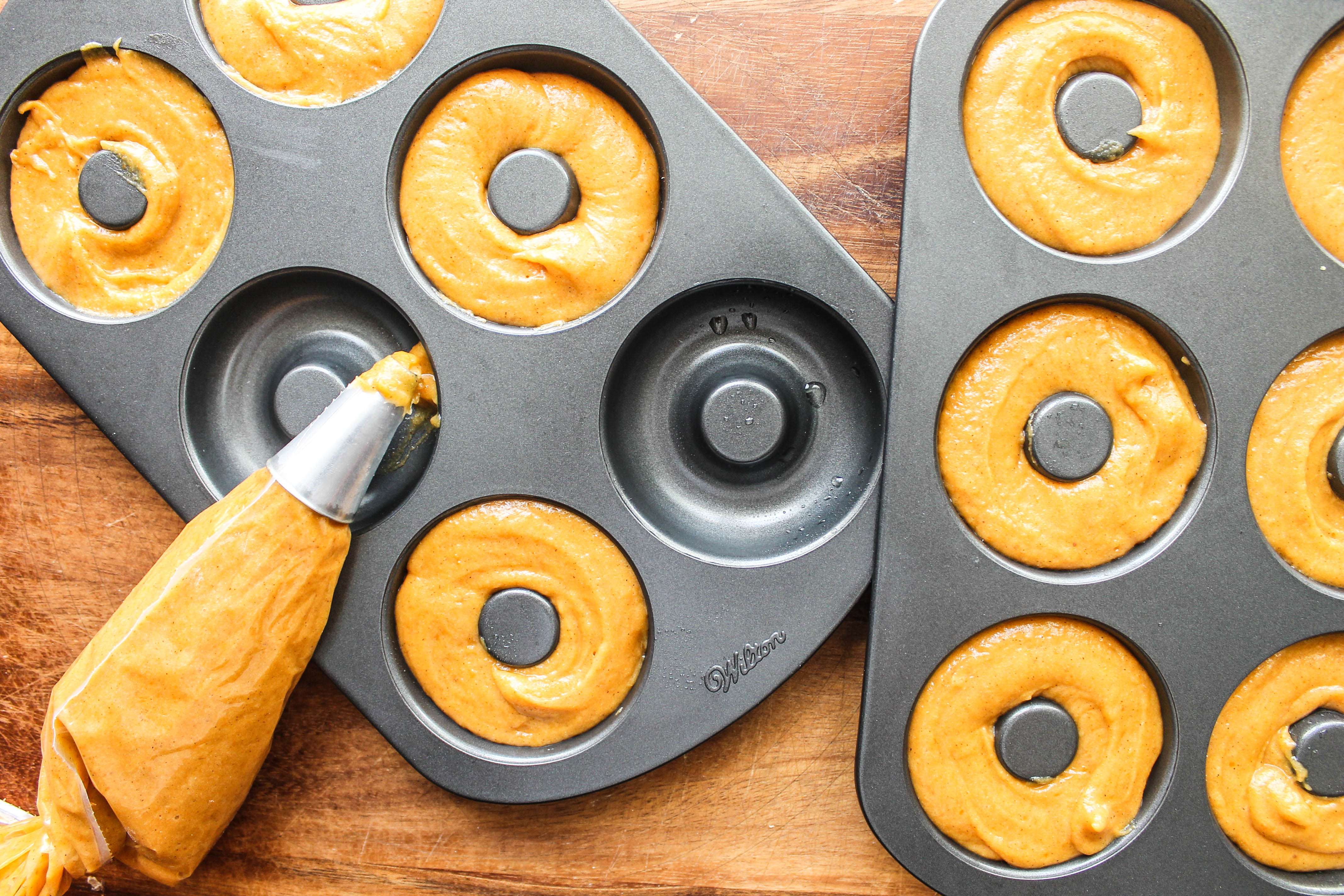 Looking to atone for his baking sins, pumpkin doughnuts seemed like perfect choice to expand the Pumpkin Archives on this site. He decided that while baked doughnuts are more traditionally more dense and cake-like than the yeasted and deep-fried varieties, they require far less time, work, and mess. This make them the perfect doughnut for at-home cooking projects. The doughnut batter couldn't be easier to prepare – it's just a matter of whisking the wet ingredients together then adding the dry ingredients (no mixer needed!). So even in an early morning groggy semi-stupor,  you now have the ideal pre-coffee baking project.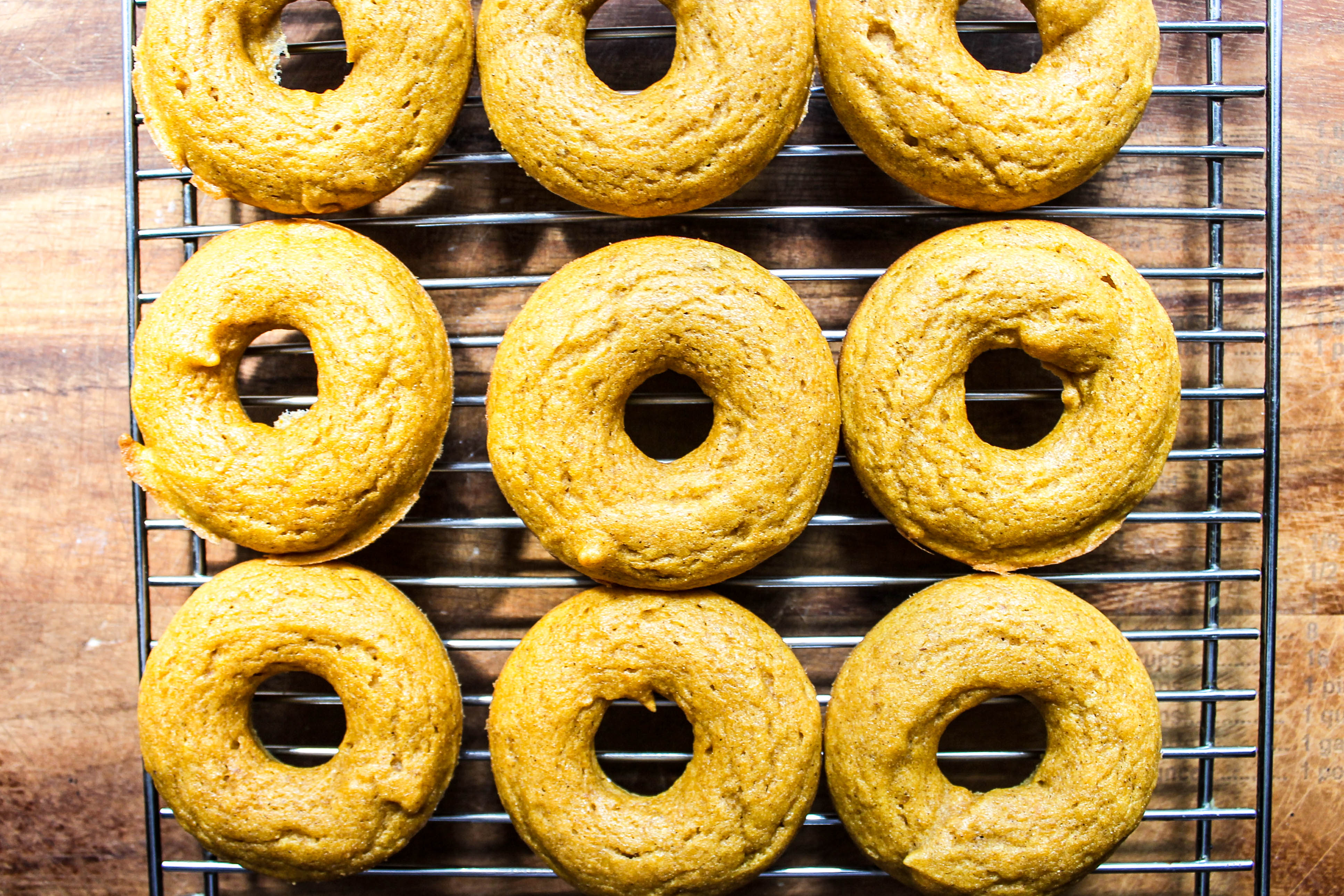 Once the easily prepared batter was ready (and to avoid a mess) a pastry bag was used to pipe the batter into the doughnut pan wells. This extra step does certainly save a lot of cleanup time. I can attest to trying it with a cookie spoon my first time around, what a mess! If you don't have a pastry bag on hand, filling a plastic sandwich bag and cutting off one corner will do the trick.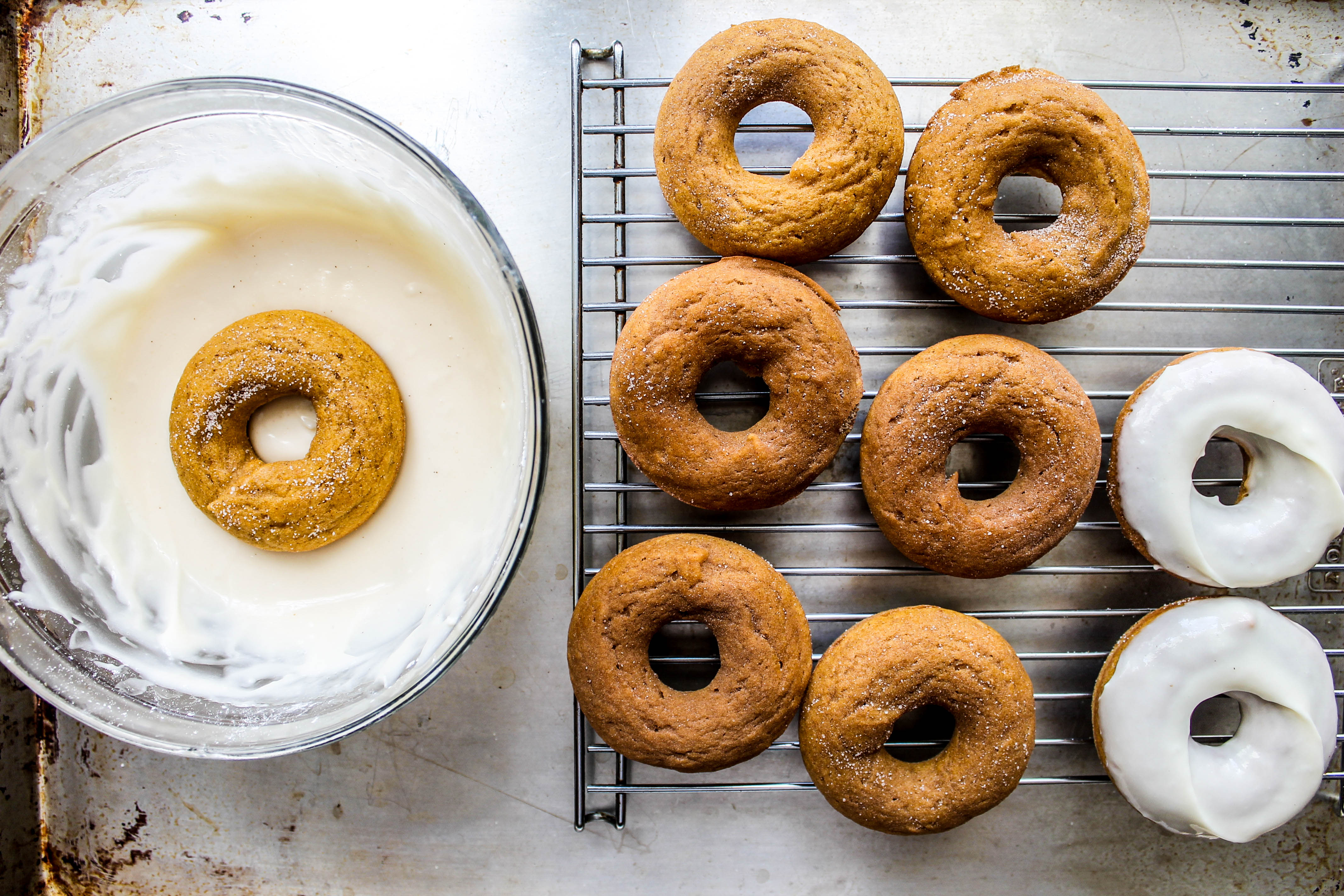 Kyle had a difficult time deciding between a pumpkin-spice-sugar coating or a cream cheese glaze for these pumpkin beauties, so, of course he made both toppings. The intention was to have a mix-and-match selection, but, in the end Kyle ended up coating AND glazing all of the doughnuts himself. Better for us – in my opinion! The pumpkin spice sugar really amplified the pumpkin flavor of the doughnuts, while the cream cheese glaze provided a much needed contrast from the sweetness of the doughnuts and sugar coating.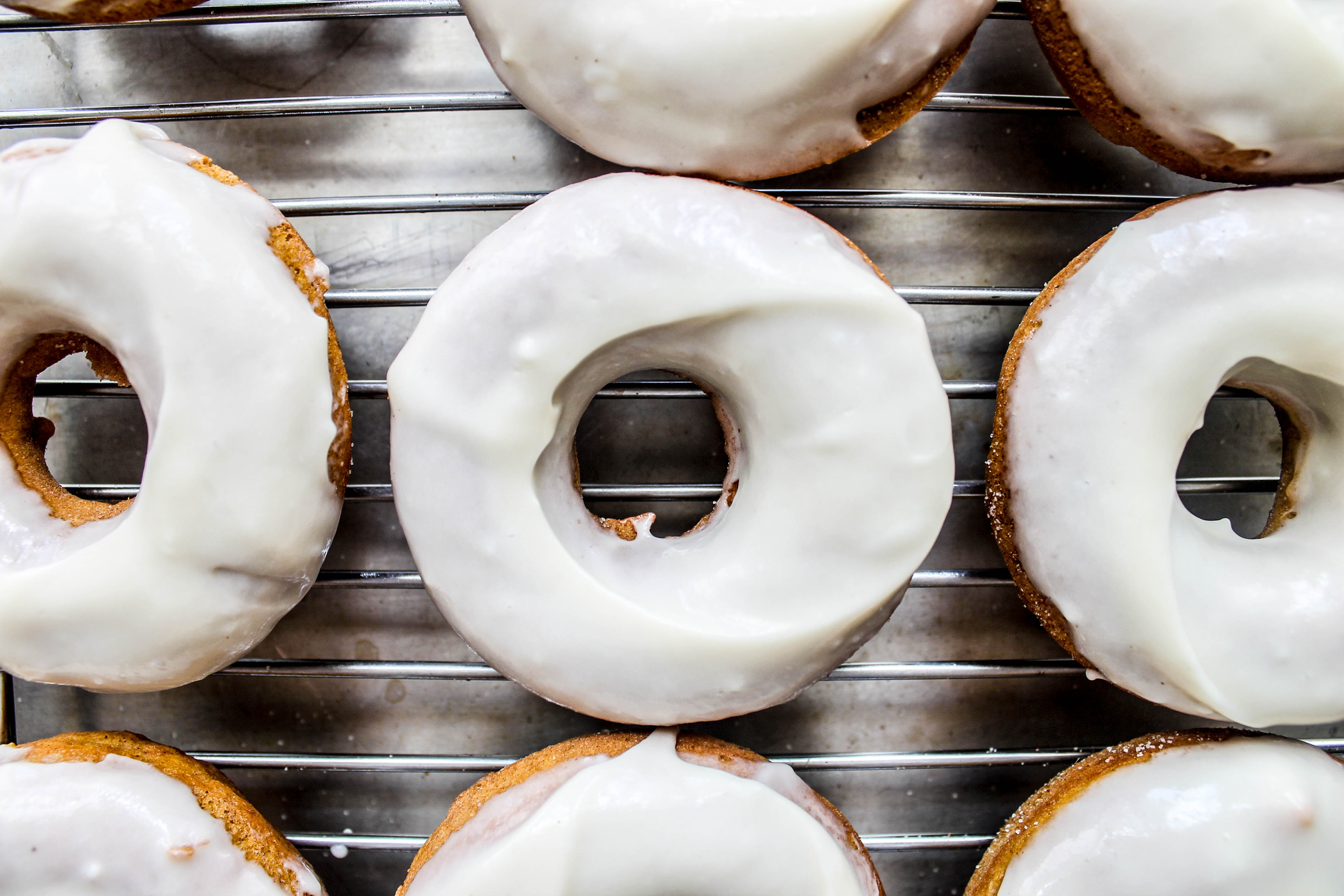 Make sure to toss the doughnuts in the spiced sugar while they're still warm – this will allow a more generous coating of cinnamon sugar to stick to the baked good – if you don't, there will be NO cinnamon sugar coating (again, personal experience). However, allow the doughnuts to cool before dipping them in the glaze. Otherwise, the warm doughnuts will melt the glaze, and you'll get gloopy cream cheese frosting all over your kitchen (been there, done that).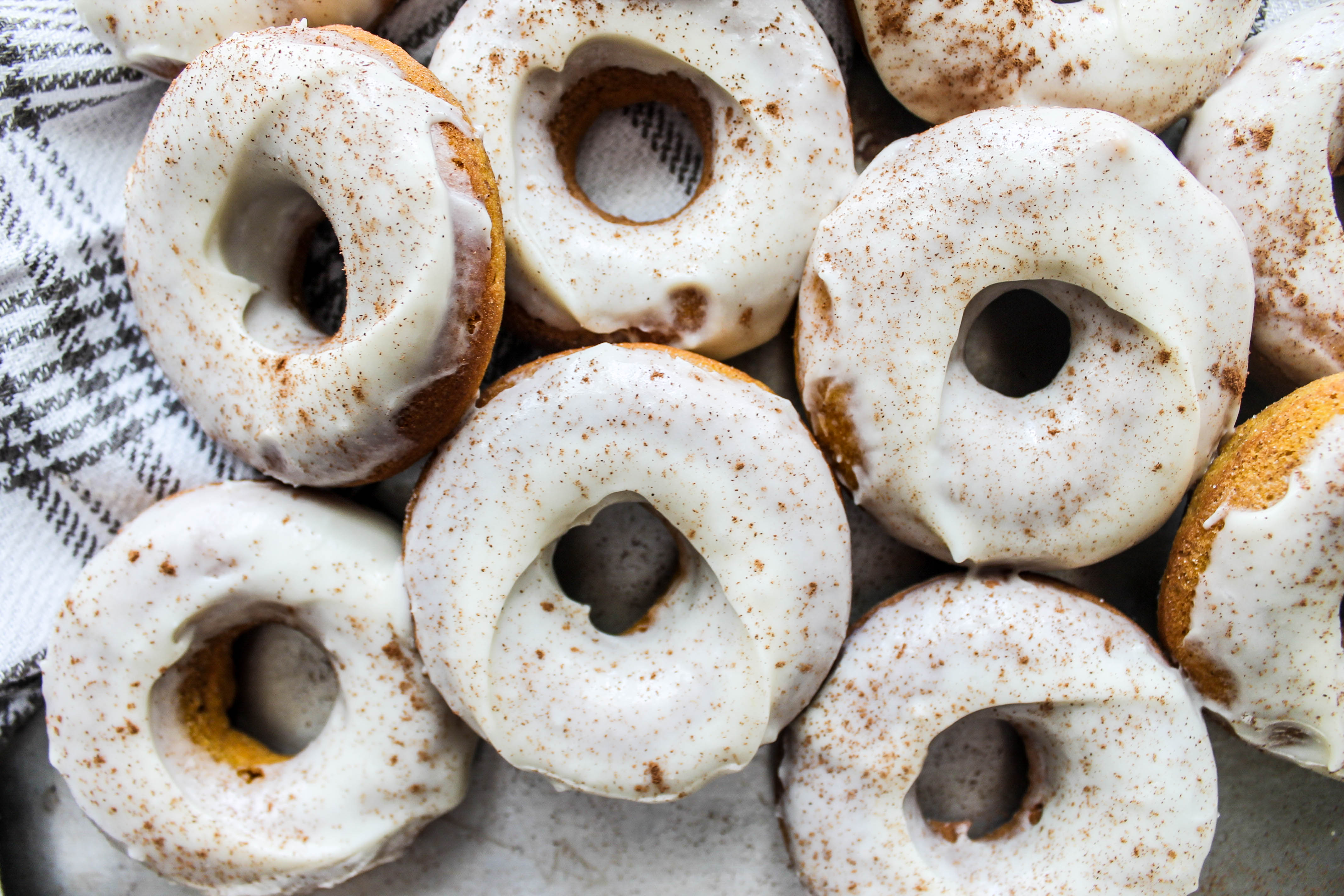 To make this recipe even more intriguing, the doughnuts seem to get better the longer they sit, AND they have a much longer shelf life than the typical gluten-free baked treat. A doughnut sampled several hours after they had cooled seemed softer and more moist than the doughnut that was gobbled up shortly after glazing them. Also, according to the King Arthur site, the recipe yields 12 doughnuts; however, there were 18 doughnuts in Kyle's batch. The recipe also calls for a "standard doughnut pan", Kyle's not completely sure his pan was standard. Is there a possibility that there is an abnormal doughnut pan? We just aren't sure.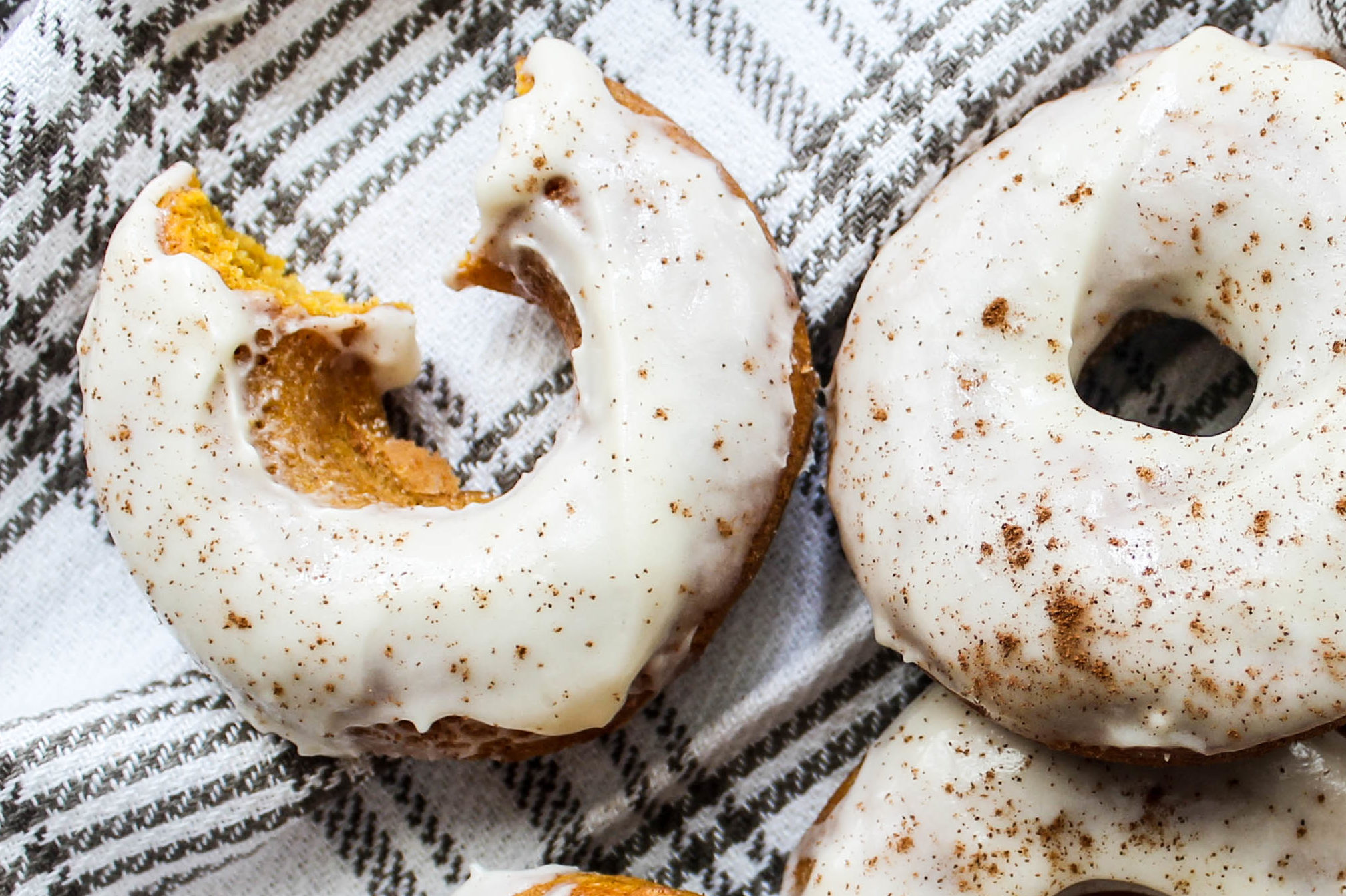 Either way, this just meant more doughnuts for us, a situation about which no one should ever complain! In all honesty, even with the extra doughnuts, the batch didn't last more than a full day before they were all gobbled up. So, enjoy your pumpkin treats – now or in October – but remember, doughnuts – no matter the flavor – are good at any time of the year!
Adapted from King Arthur Flour.

Gluten Free Pumpkin Doughnuts
Serves:
about 18 doughnuts
Ingredients
For the Doughnuts:
1¾ ounces (¼ cup) vegetable oil
4 large eggs
10½ ounces (1 ½ cups) granulated sugar
12 ounces (1 ½ cups) canned pumpkin
1 teaspoon ground cinnamon
¼ teaspoon ground nutmeg
¼ teaspoon ground ginger
1½ teaspoons salt
1½ teaspoons baking powder
10¼ ounces (about 1 ¾ cups plus 2 tablespoons) All Purpose Gluten Free flour
½ teaspoon xanthan gum (if your all purpose blend doesn't already include itP
For the Pumpkin Spice Sugar
¼ cup sugar
½ teaspoon ground cinnamon
Dash each of ginger and ground nutmeg
For the Cream Cheese glaze:
4 ounces cream cheese, room temperature
1 teaspoon vanilla extract
3 tablespoons milk
½ cup powdered sugar, plus more, if needed
Pinch of salt
Ground cinnamon, for garnish
Instructions
Preheat the oven to 350°F. Lightly grease two standard doughnut pans.
In a large mixing bowl, beat together the oil, eggs, sugar, pumpkin, spices, salt, and baking powder until smooth.
Whisk in the flour and xanthan gum until smooth.
Fill the wells of the doughnut pans about ¾ full (about ¼ cup of batter in each well) - I used a piping bag to make this part less disastrously messy.
Bake the doughnuts for 15 to 17 minutes, or until a toothpick or cake tester inserted into the center comes out clean.
Remove the the doughnuts from the oven and let them cool in the pan for about 3 to 5 minutes. After they've cooled a bit, loosen their edges, and transfer them to a rack.
For the Pumpkin Spice Sugar, combine sugar and spices in a paper bag. While the doughnuts are still warm, toss them in the bag with the Pumpkin Spice Sugar. Return each doughnut to the rack and cool completely.
For the Cream Cheese Glaze, whisk all ingredients in a large mixing bowl until smooth. If the glaze appears too runny, add another tablespoon or 2 of powdered sugar.
Dip one side of the cooled doughnuts in the cream cheese glaze and return to the cooling rack. Sprinkle with extra cinnamon.
Store in a partially covered container at room temperature for several days. Enjoy as is or slightly reheated.
Please follow and like us: