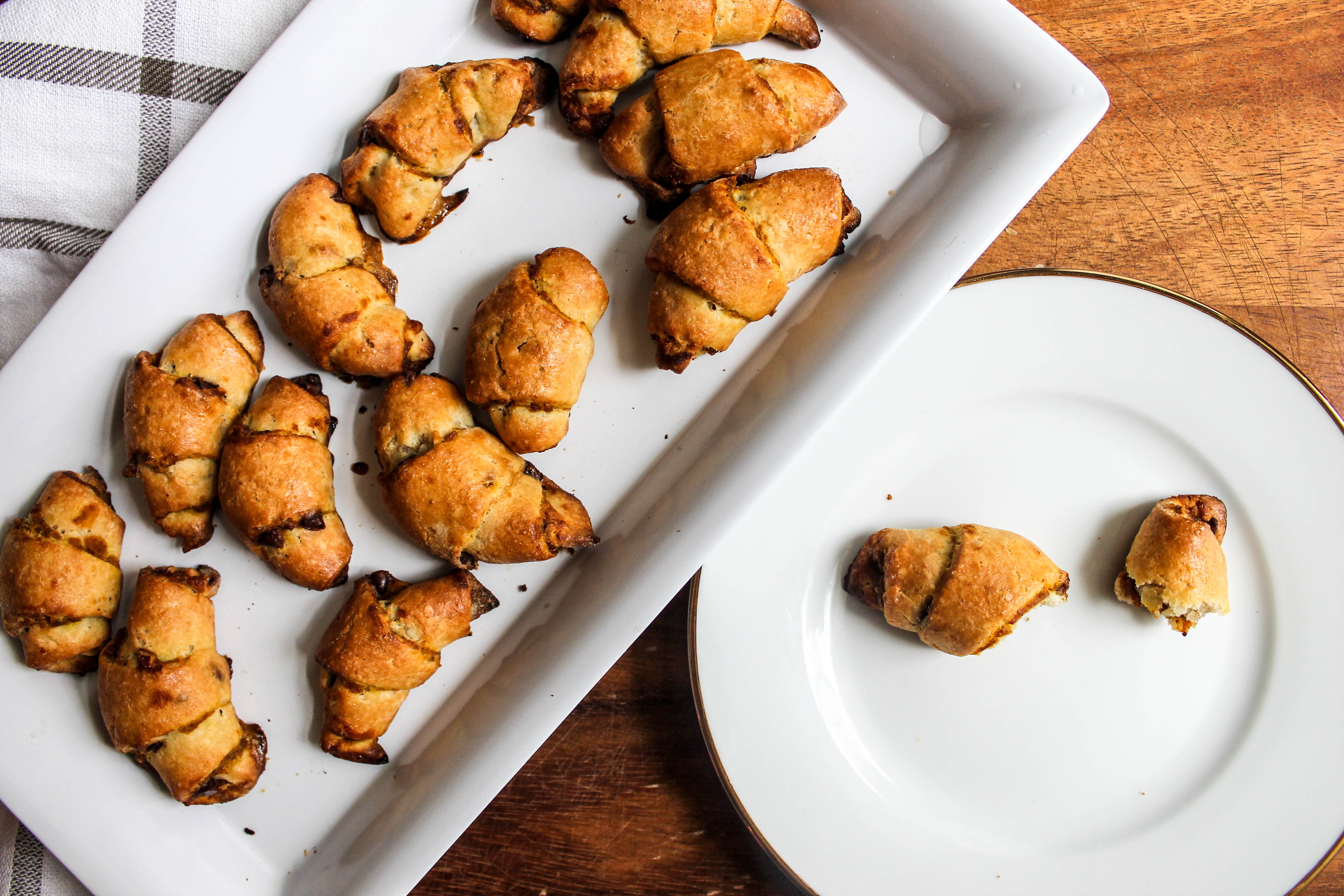 In order to stay true to the autumn season, Kyle has crafted a gluten free pumpkin rugelach that will knock your autumn baked good socks off! For those that are not aware, rugelach is known as a Jewish pastry, originating in Eastern European communities. Though traditionally a sweet treat, there has been a rise in bakeries and restaurants with offerings of a version of savory rugelach. Today we will share the sweet side of rugelach.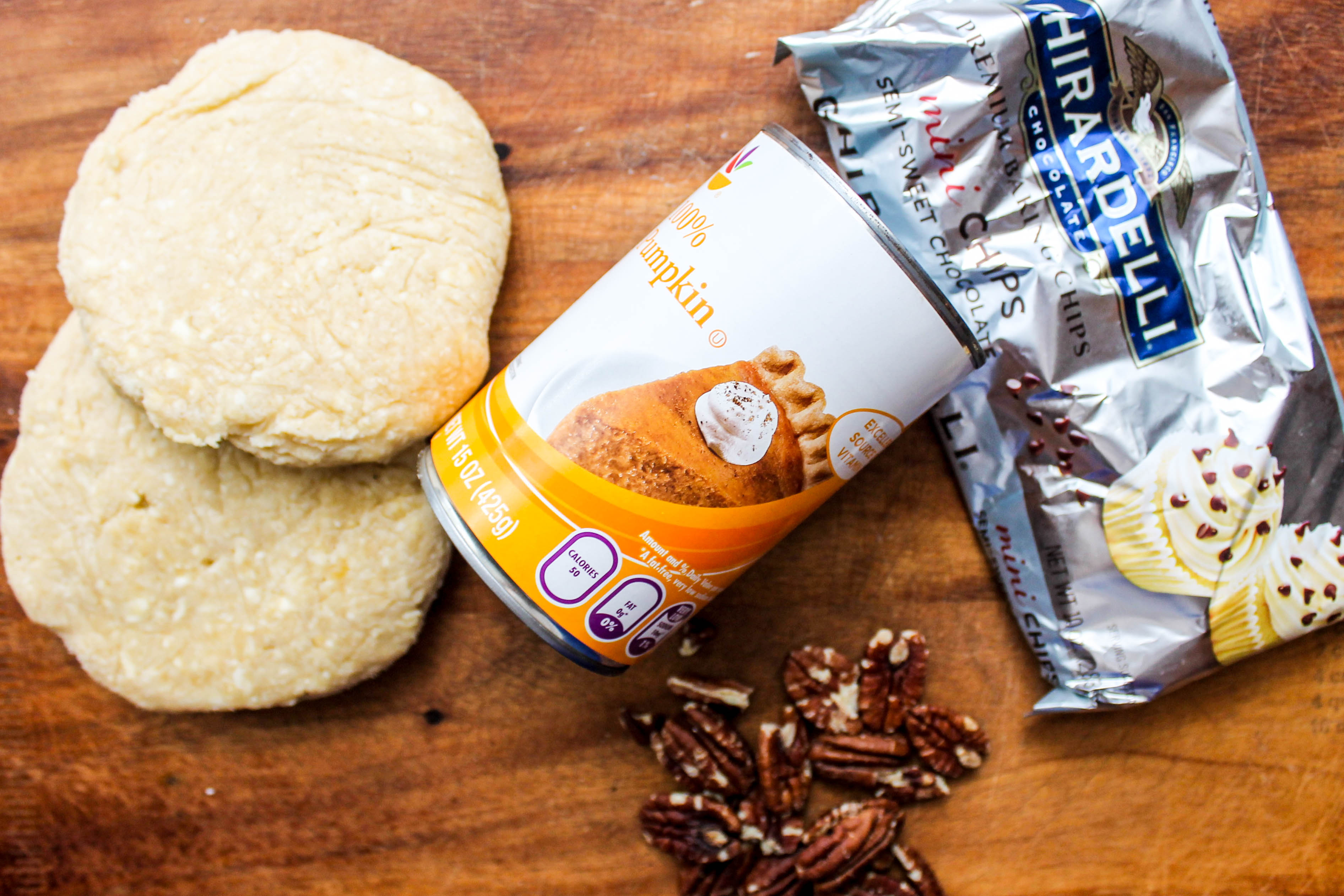 This recipe is yet another great use of the Gluten Free All-Purpose Pastry Dough that you may recognize from our Gluten Free Pop Tarts and Pie Crust. This dough is really a champion among all others in the gluten free baked good scene, it puts the all-purpose in all-purpose dough. It provides us with pop tarts, pie, sugar cookies and now….rugelach! The dough is a beauty- digestively challenged readers will hopefully agree!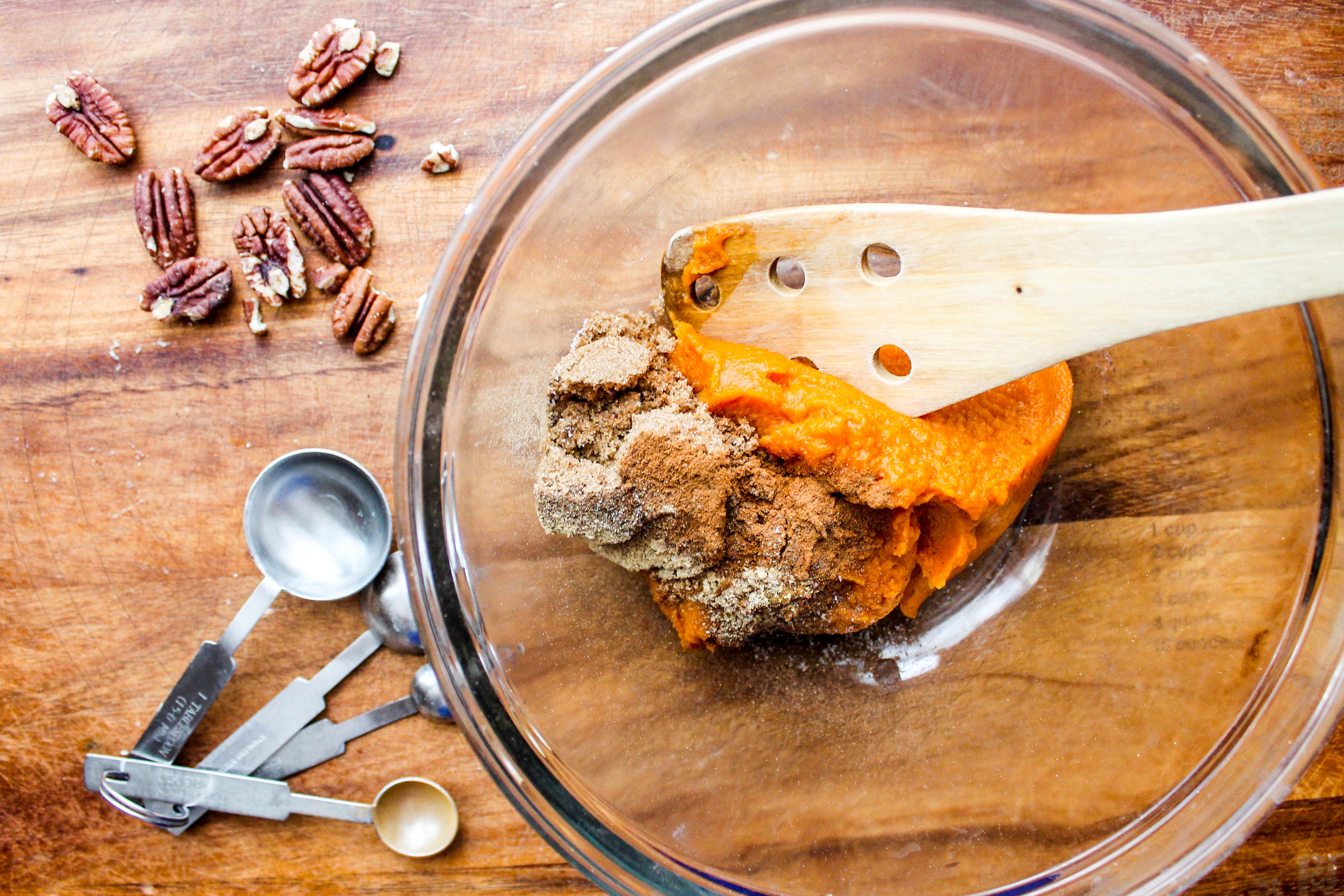 At Cramer's Bakery in Yardley you will find an offering of an impressive array of rugelach. This is where the inspiration for the recipe began. The tender, supremely flaky all-purpose dough serves as the perfect base for a homemade,  gluten free version of the popular crescent-shaped cookie. For this version Kyle filled the rugelach with a mixture of spiced pumpkin, chocolate chips, and toasted pecans. For a rugelach side-note: it is our belief that chocolate + pumpkin combiniation is a delicious and much underrated flavor duo. When you combine the chocolate with the cinnamon, allspice and ginger that typically flavors the pumpkin as well, it is a beautiful blend of flavors.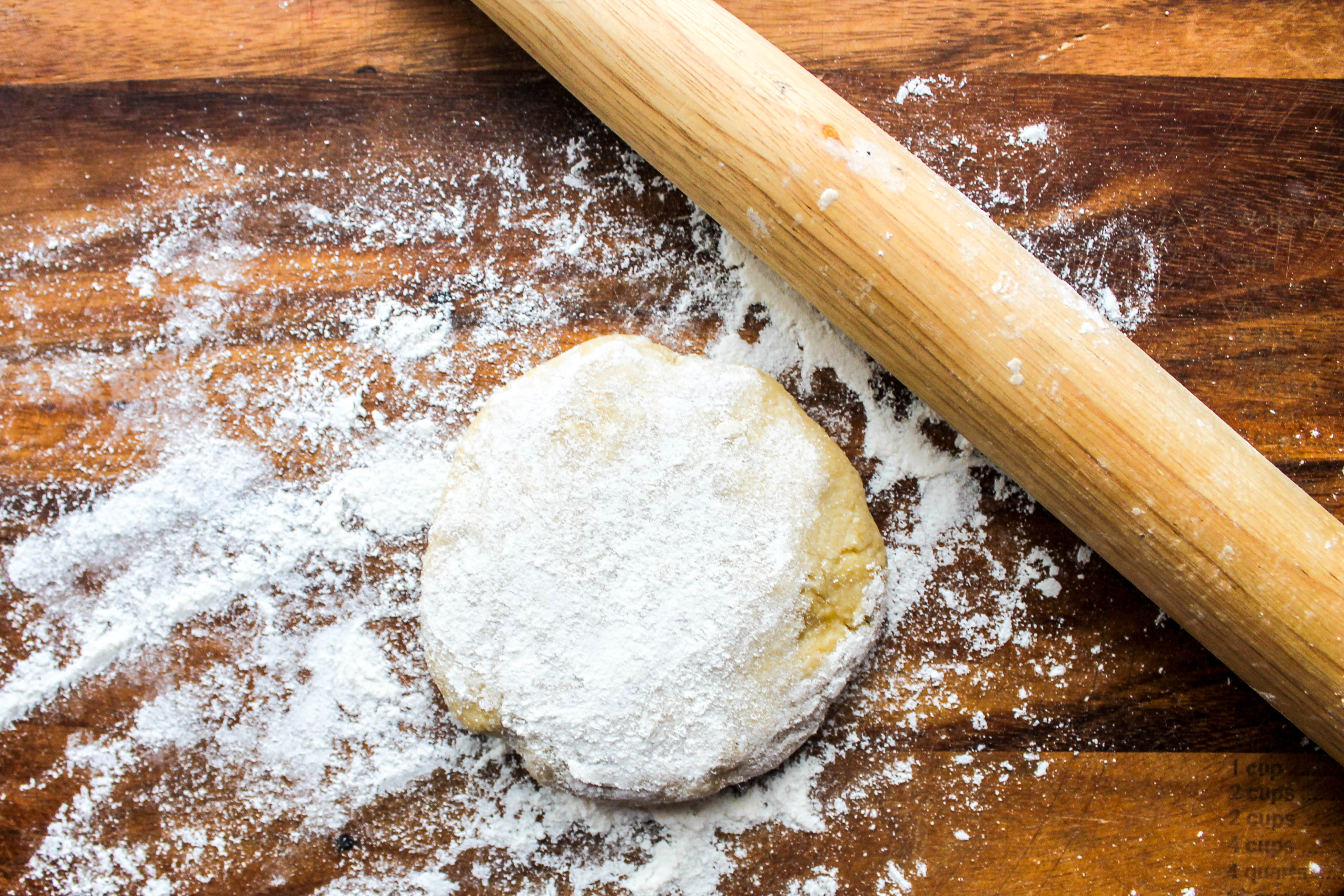 Once you have some of the GF Pastry Dough prepared, the sky is the limit with the gluten free rugelach. You can really adapt them to suit any occasion or craving. While we love the combo of pumpkin spice, toasted pecans and chocolate chips, trust and believe that Kyle is already dreaming of a Nutella version with the chocolate-hazelnut spread and toasted hazelnuts. Stay tuned for that….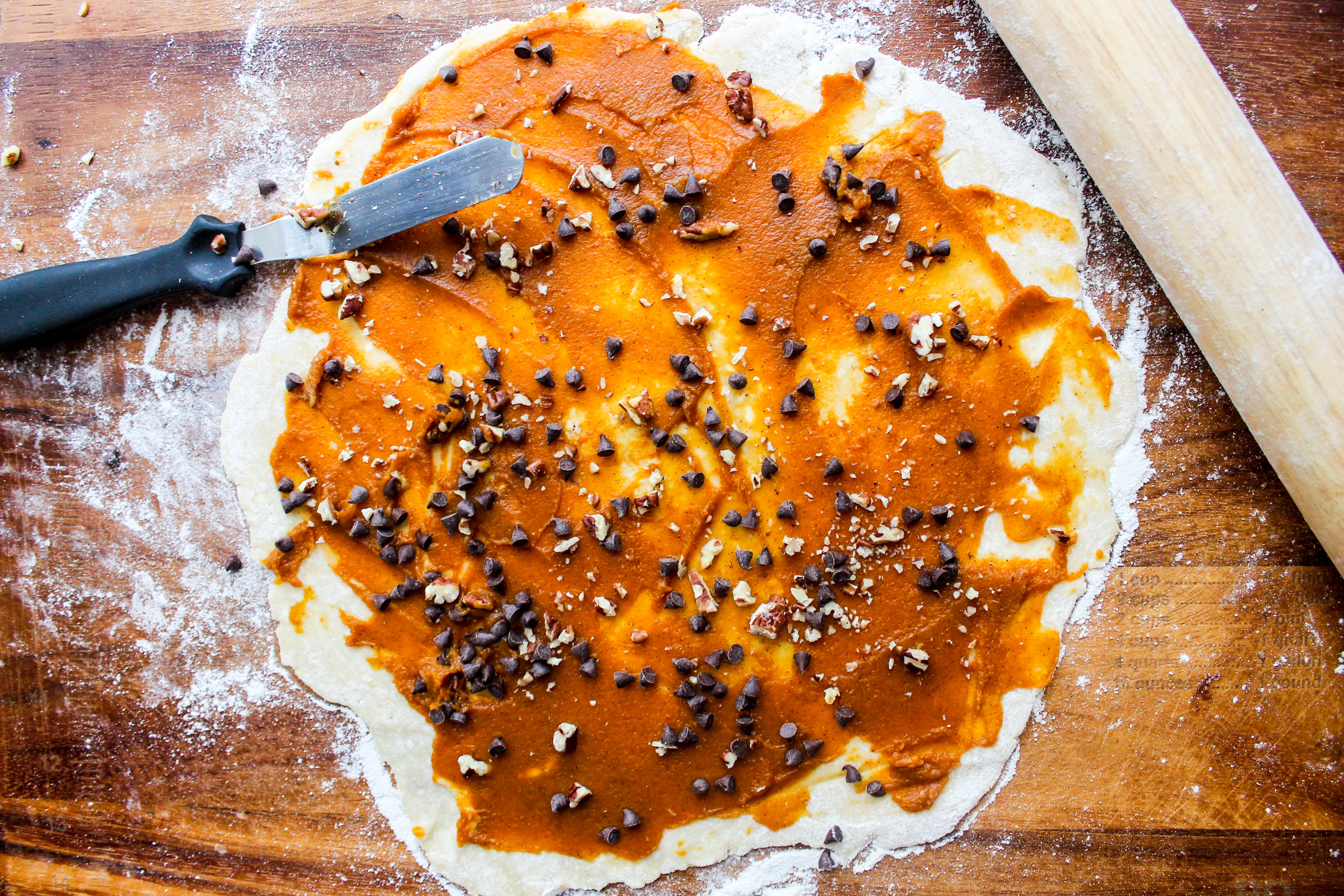 With the holidays fast approaching, you could knock out a great variety of cookies with a big batch of this dough, a couple flavors of jam, some nuts and raisins, and maybe even some of our gluten free cookie butter (Wipe your mouth, you are drooling a tad….).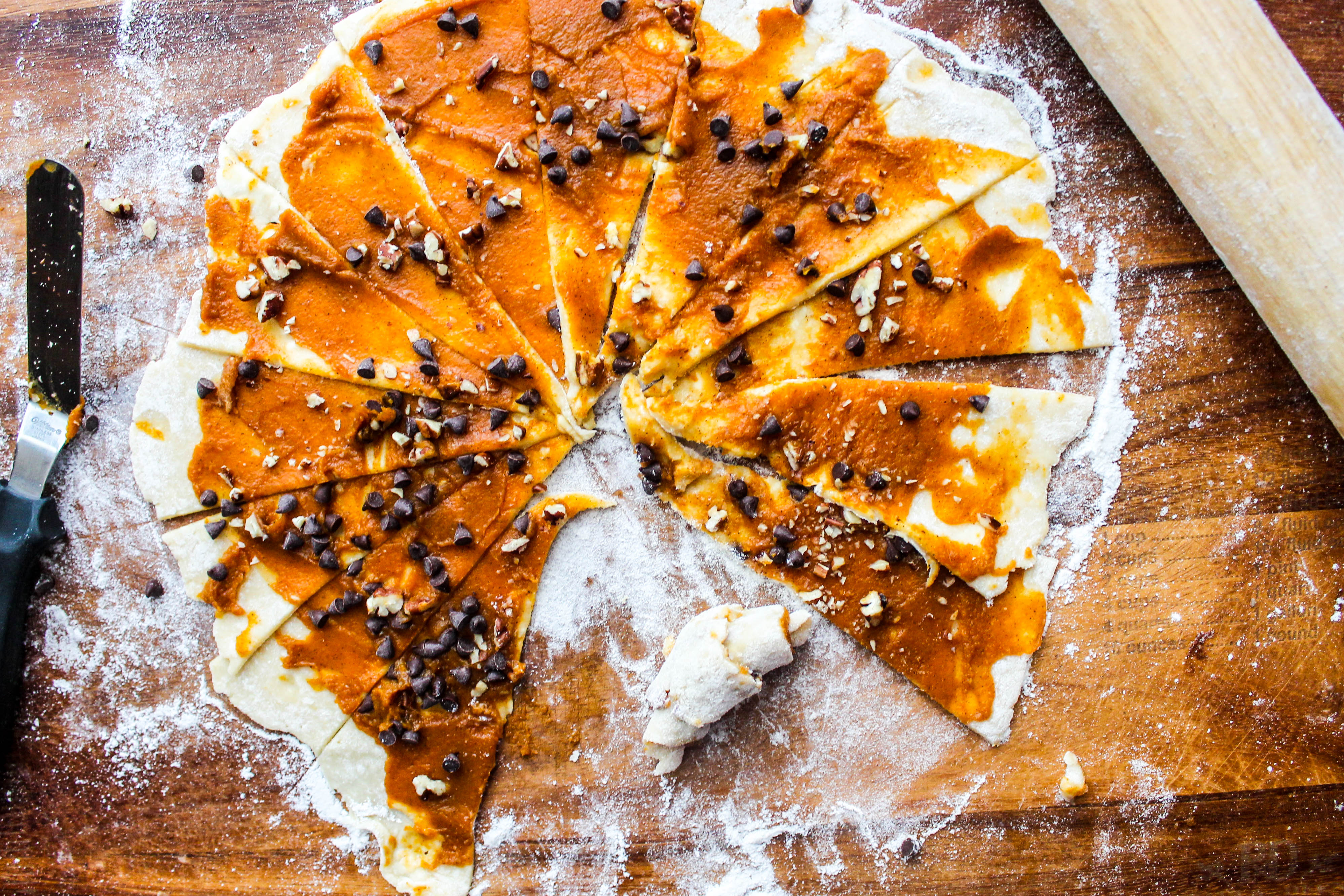 Preparing rugelach is admittedly a big production. More traditional "drop" cookies are definitely less intense to bake, however the flaky, golden brown results of the rugelach are well worth the extra steps.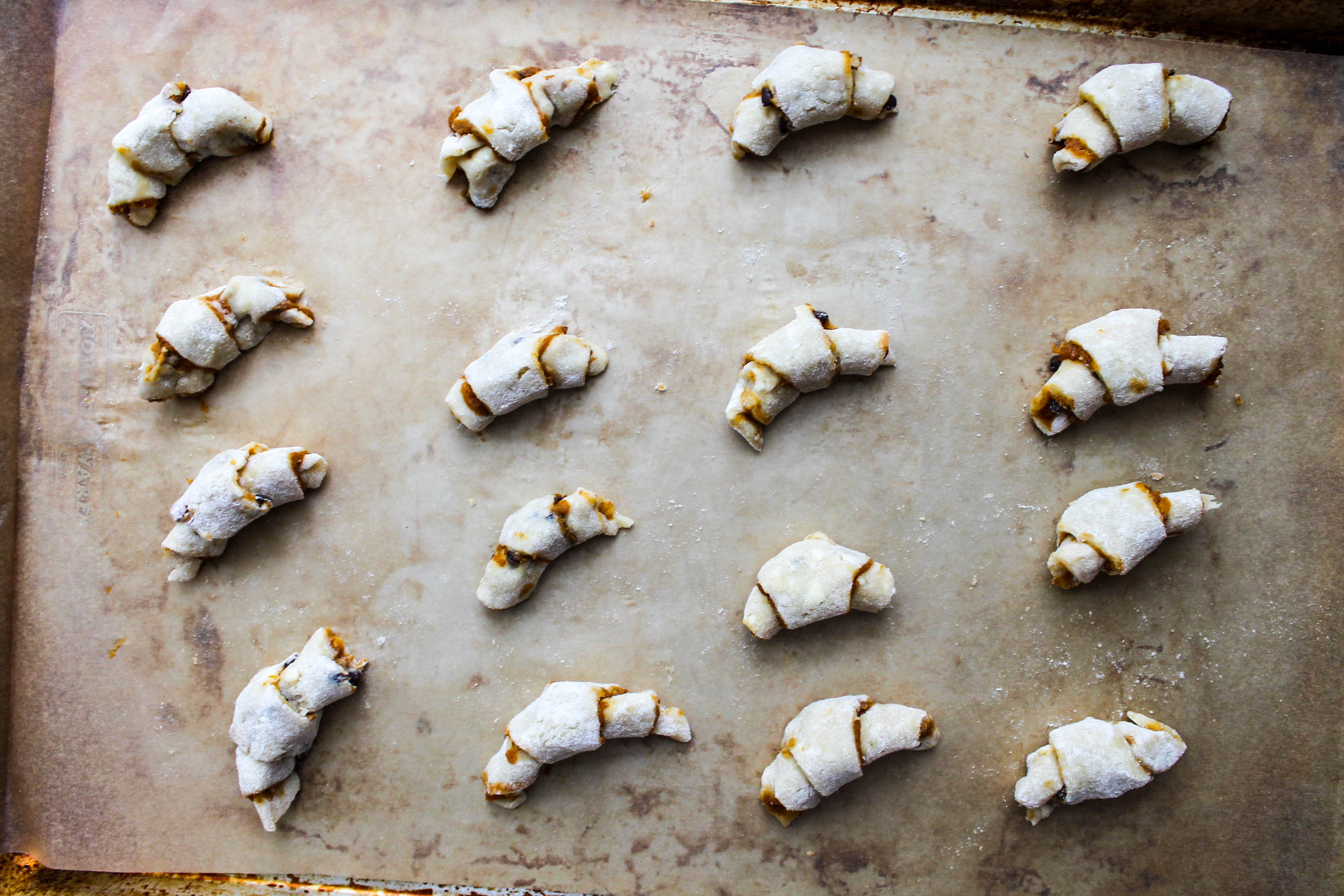 This is a recipe that rewards advanced planning. You can make a big batch of the Pastry Dough, portion it into discs, freeze it, wrap it in plastic wrap and then enclose it in a freezer bag for up to two months. When you know you are planning for baking the next day, simply defrost the dough in the fridge the night before. You will be rolling them out quickly and, voila! You've now made your baking production all that much easier.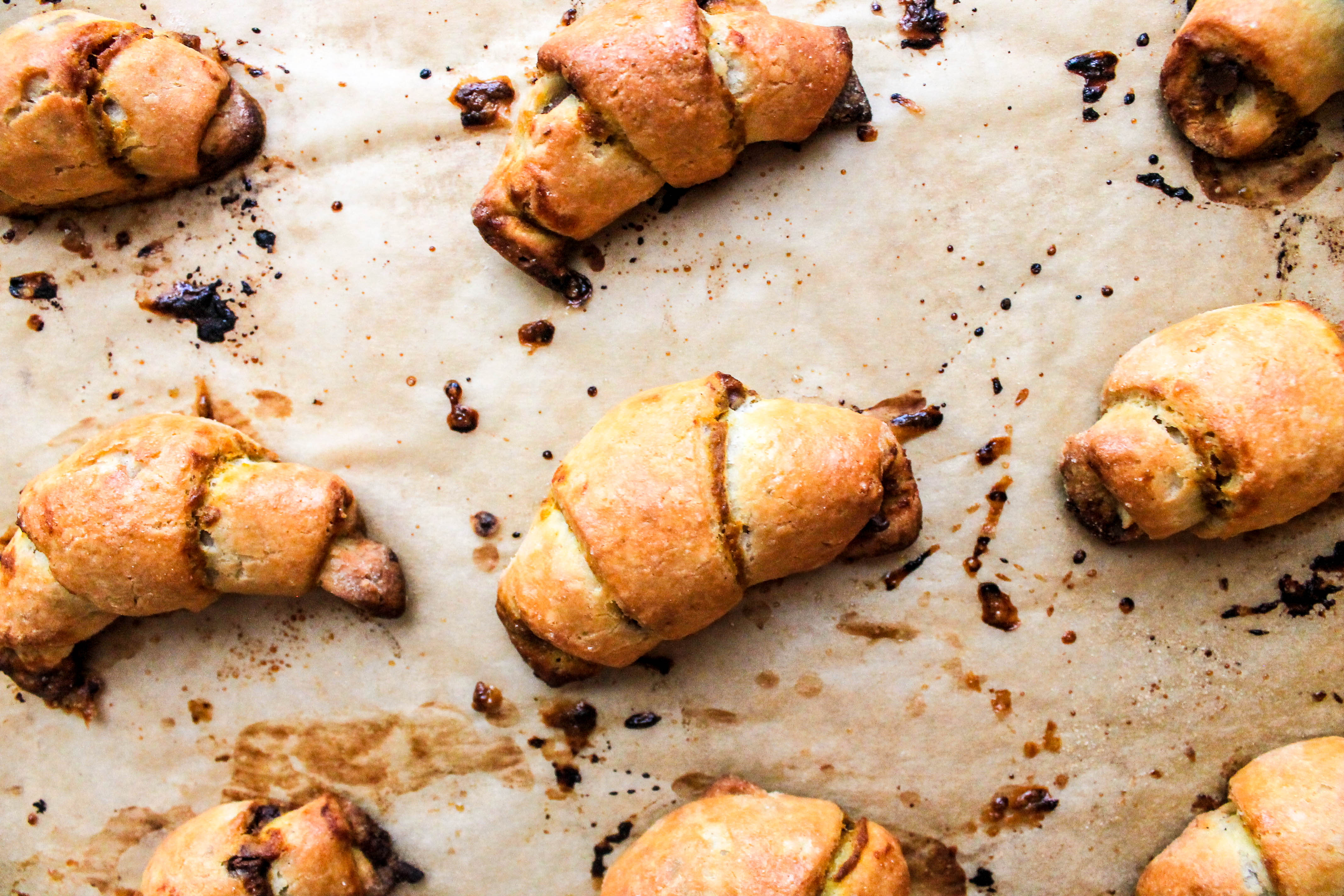 Additionally, you could also fill, roll and portion the cookies and then freeze them: portion and place the crescents on a baking sheet and pop in the freezer until frozen solid (about 30-ish minutes), then transfer the frozen cookies to a freezer bag a store for up to 2 months.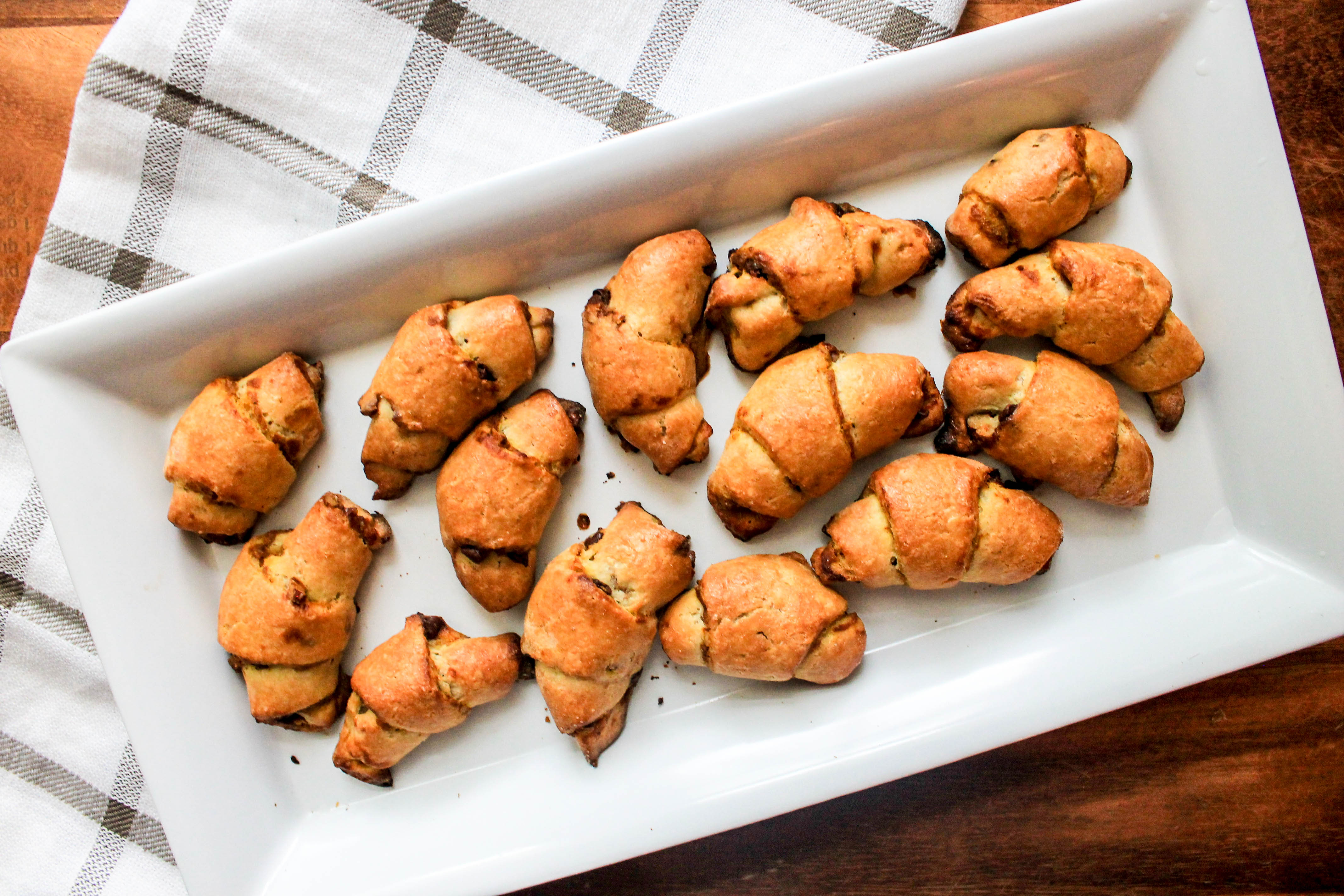 When you are ready to bake the rugelach, just place however many you wish to bake on a parchment-lined baking sheet, brush with the egg wash, and bake a couple minutes longer than the listed baking time. Your rugelach will be ready before you know it! Just a few words of caution, enlisting this method can be quite dangerous. If you have a big batch of frozen rugelach on hand, you'll need a lot of self-control NOT to bake off a few of these whenever the craving strikes.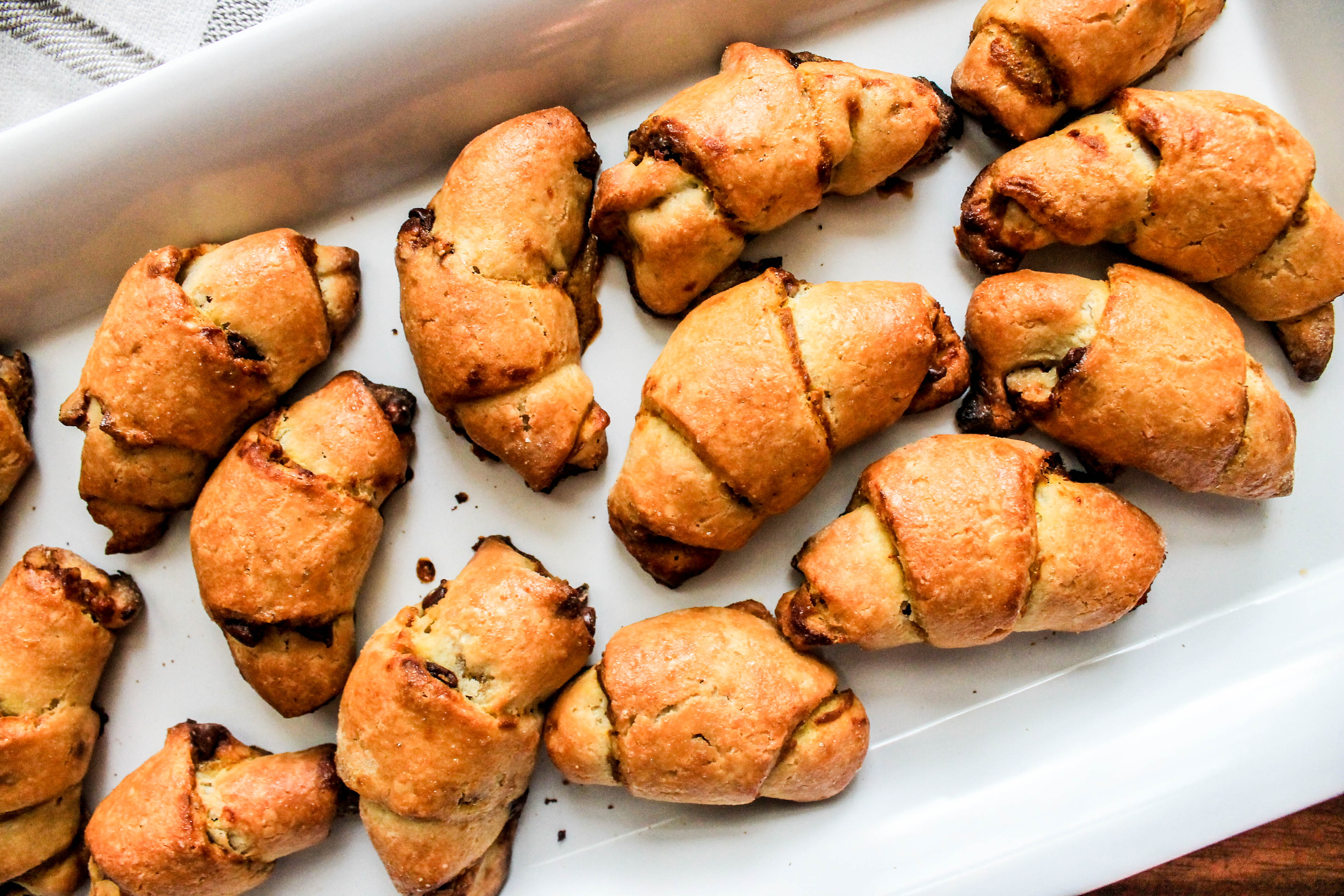 This recipe is great and will serve many purposes over the holiday season. The rugelach works if you are nuturing a sweet craving, presenting dessert for a holiday meal, or adding them to family brunch menu. So many ways to enjoy them!
Dough adapted from Epicurious.

Gluten Free Pumpkin Rugelach
Ingredients
1 cup pumpkin puree
¼ cup dark brown sugar
¼ teaspoon cinnamon
Dash each of ground ginger, ground allspice and salt
¼ cup miniature chocolate chips
¼ cup toasted and crushed pecans
1 recipe gluten-free pastry dough
1 egg plus 1 tablespoon water
Instructions
Preheat oven to 375 degrees F.
In a medium bowl, whisk together pumpkin puree, brown sugar and spices.
On a well (gluten free) floured surface, roll out half a batch of the pastry dough into a 14-inch circle. Spread half of the pumpkin mixture over the dough, leaving about ¼ -inch of space around the edge of the dough. Cut the dough into 16 even(ish) wedges. Starting from the wide side, roll each wedge into a crescent shape. Place the 16 cookies on a parchment-lined baking sheet and refrigerate while you prepare the second batch of cookies.
Repeat step 3 with the second half of the pastry dough. Refrigerate the second batch of cookies for at least 10 minutes before baking.
In a small bowl, whisk together the egg and water. Brush evenly over the cookies.
With wire racks in the upper and lower thirds of your oven, bake both sheets of cookies until golden brown, about 18 minutes, switching pans halfway through baking.
Remove pans from oven and immediately transfer cookies to wire racks to cool.
Please follow and like us: