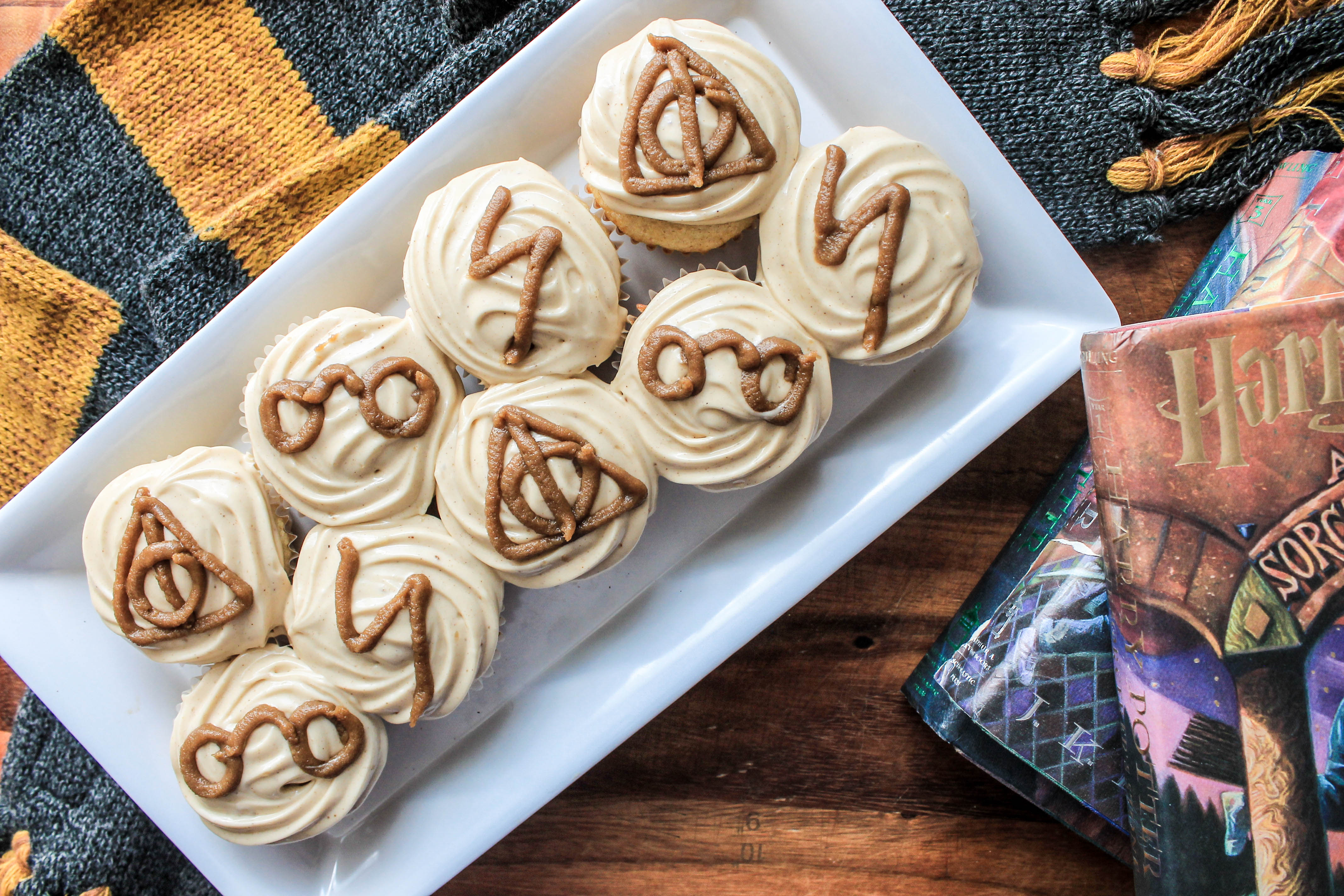 These bewitching, Harry Potter-inspired treats are the perfect addition to the Halloween season! Kyle has also admitted that the recipe was also to prove to all of our followers that he is capable of making a pumpkin-free baked good between September 1 and November 30. Butterbeer, the popular libation in the Harry Potter universe, is typically served warm in foaming mugs and tastes like a "less sickly butterscotch," according to J.K. Rowling. For just a bit a history trivia, there is a historic reference of real-life, Muggle Butterbeer (known as Buttered Beere), dating back to the Tudor Period from The Good Housewifes Handmaide for the Kitchin" (1588). Who knew? Maybe you? Certainly not me!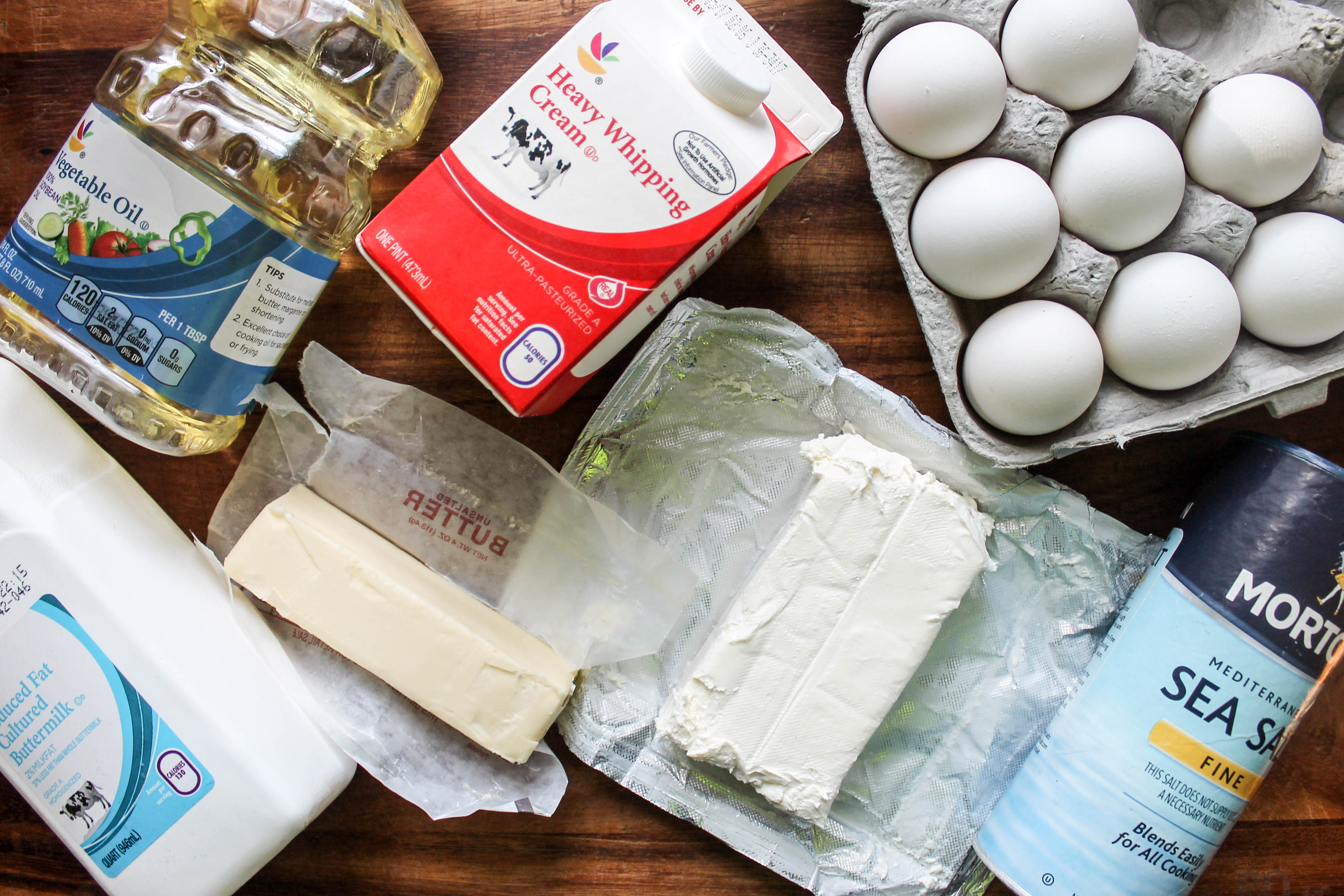 This version consists of warmed ale that is stirred into a mixture of sugar and egg yolks, seasoned with ginger, nutmeg, and clove, and enriched with a few pats of butter (of course), this is something that just may might pop up on the blog in the future. As a huge fan of both baked goods and Harry Potter, Kyle felt that a cupcake celebrating the intersection of the two was in order. He made these delicious cupcakes for the camp staff at Mercer Museum's Wizarding Academy. It was the perfect treat to celebrate all that is Harry Potter-ish!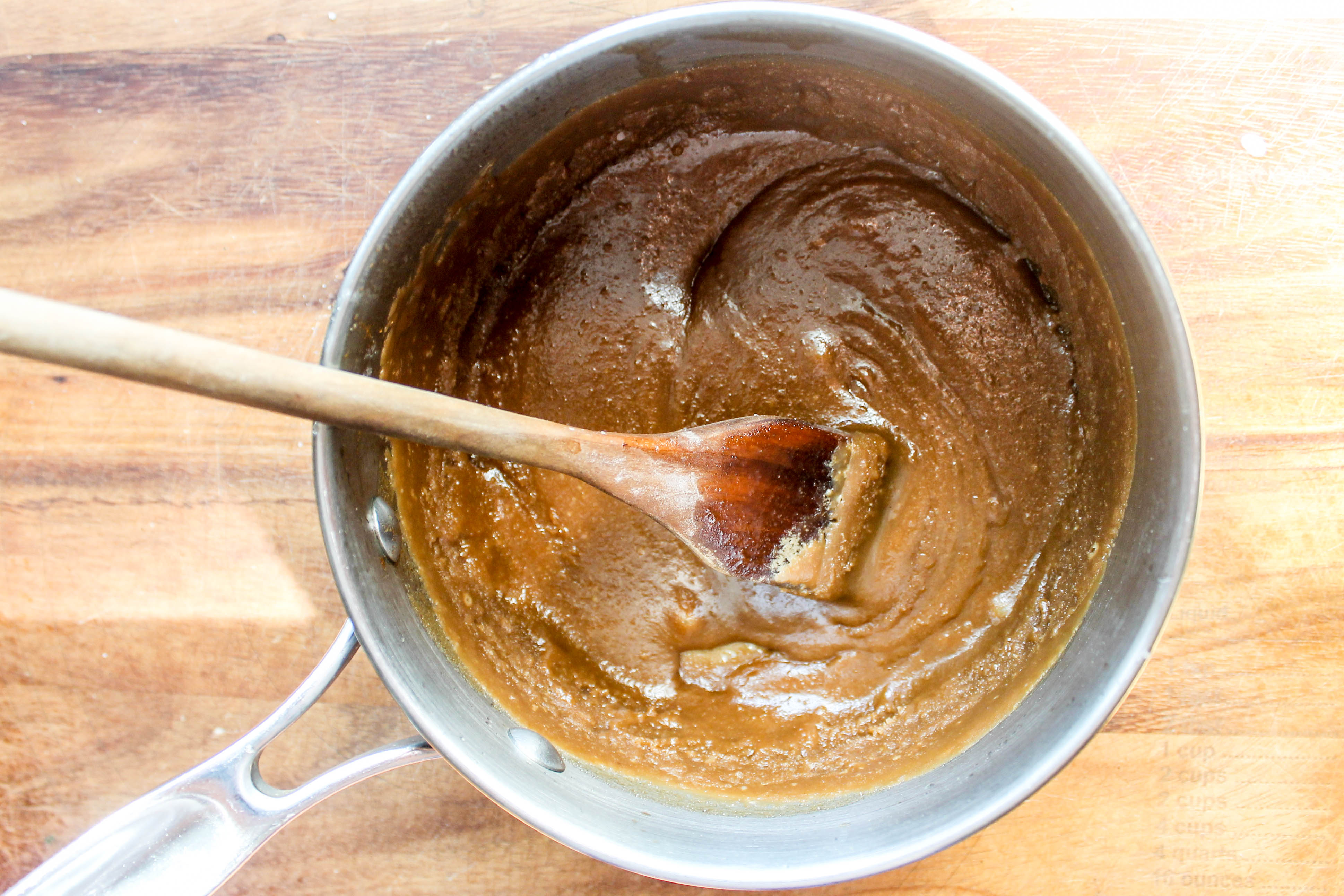 It is time to take a tiny side bar to vent about the Butterbeer sold at Wizarding World of Harry Potter: I know it's immensely popular among fans, but I don't get the appeal. The "cold" Butterbeer is basically just cream soda topped with a "head" of buttercream frosting to give it the frothy, beer-like appearance. Then there is the frozen option, it tastes like a butterscotch Slurpee topped with the same buttercream frosting. The two options are terribly sweet, too sweet. Kyle and I both thought the Wizarding World version was supposed to be the "less sickly butterscotch" aspect of Butterbeer. I suppose the aspect people most enjoy is the experience of drinking a Butterbeer while strolling through Hogsmeade.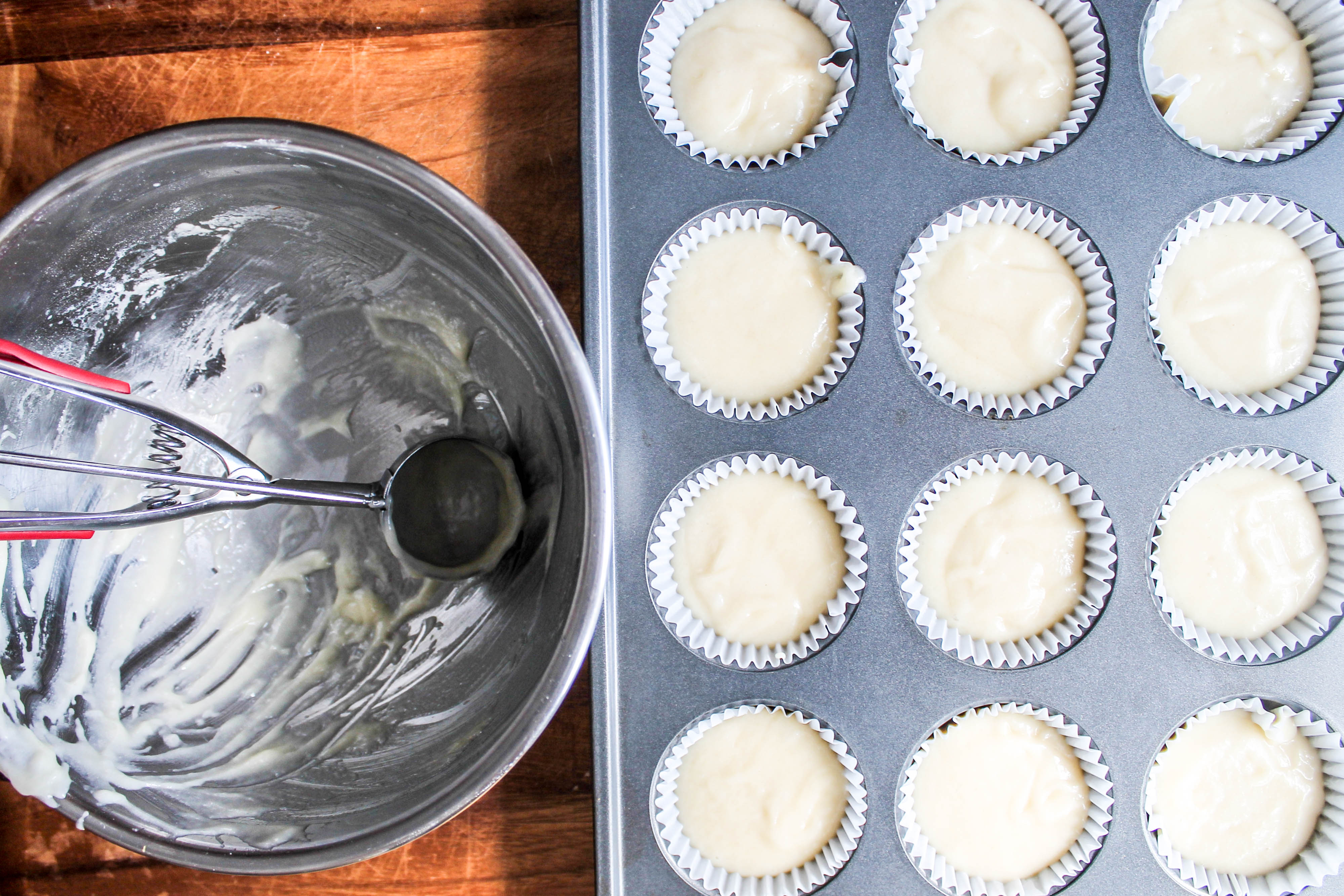 Are we the only crazy ones who don't enjoy it very much? Maybe. I'm going to be honest, I felt bad about not liking it. I love every other part of the Wizarding World experience, just not Butterbeer. When reading the books, I always envisioned Butterbeer to be more like a hot buttered rum drink and less like an overly sweetened soda with frosting on top, but hey, what do I know? I do make a very appealing Butterbeer Cocktail, it encompasses what I feel is the way real Butterbeer should taste. Of course, it has bourbon in it, so it isn't for children, but I bet if you omitted the bourbon, it would be very popular with young witches and wizards. However, I'm guessing they love the uber sweet version too, they are children, sweet stuff in giant doses is their thing. So, maybe someday, we can add that cocktail to the blog….onto the cupcakes!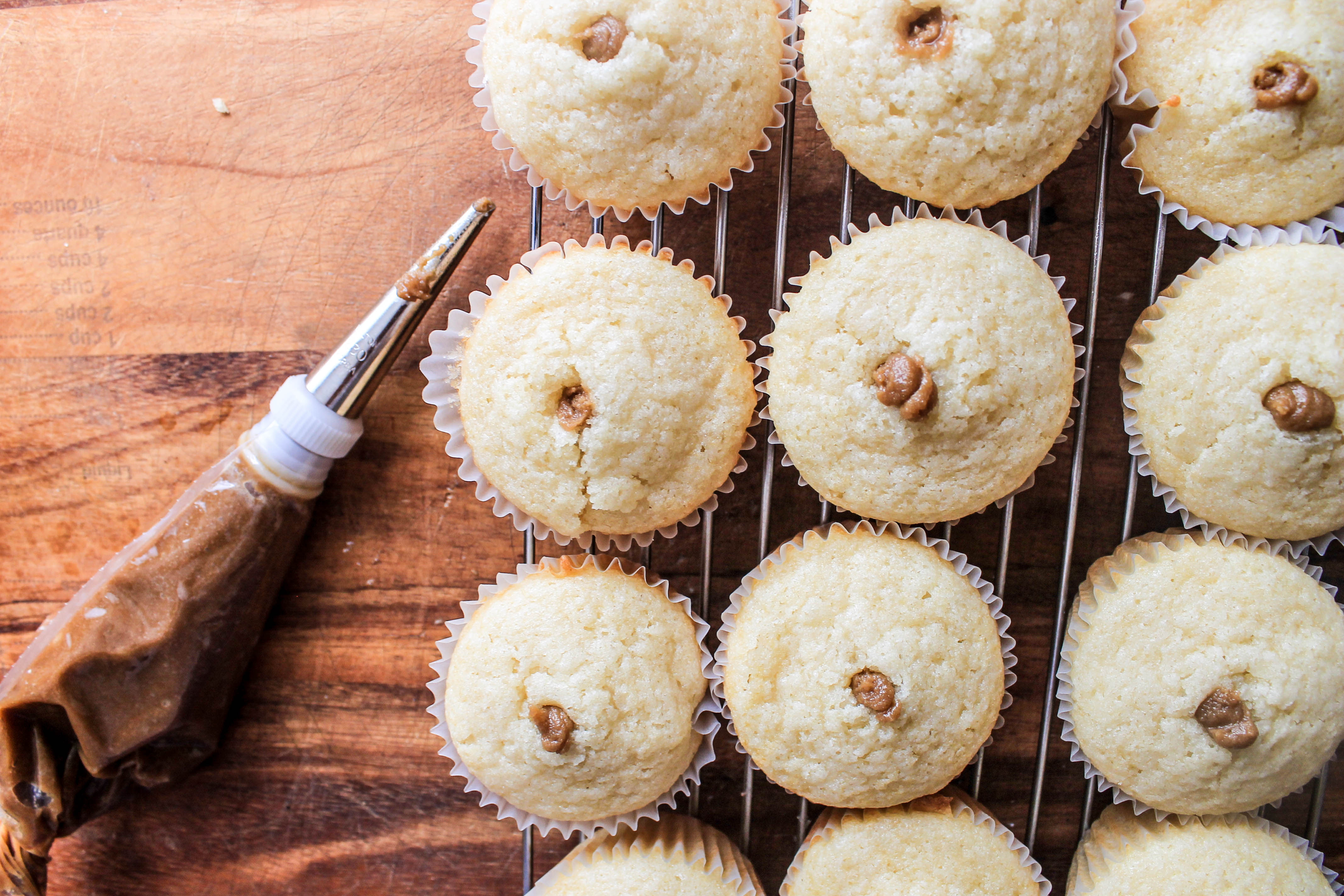 When Kyle was concocting the perfect concept of transforming Butterbeer into a cupcake, he wanted to focus on "less-sickly" sweet interpretation – taken from J.K. Rowling herself. The object was create a cupcake that was delicious and gleefully nerdy without murdering one's sweet tooth. He started with a buttermilk cupcake base that he previously used for the Snickerdoodle Cupcakes.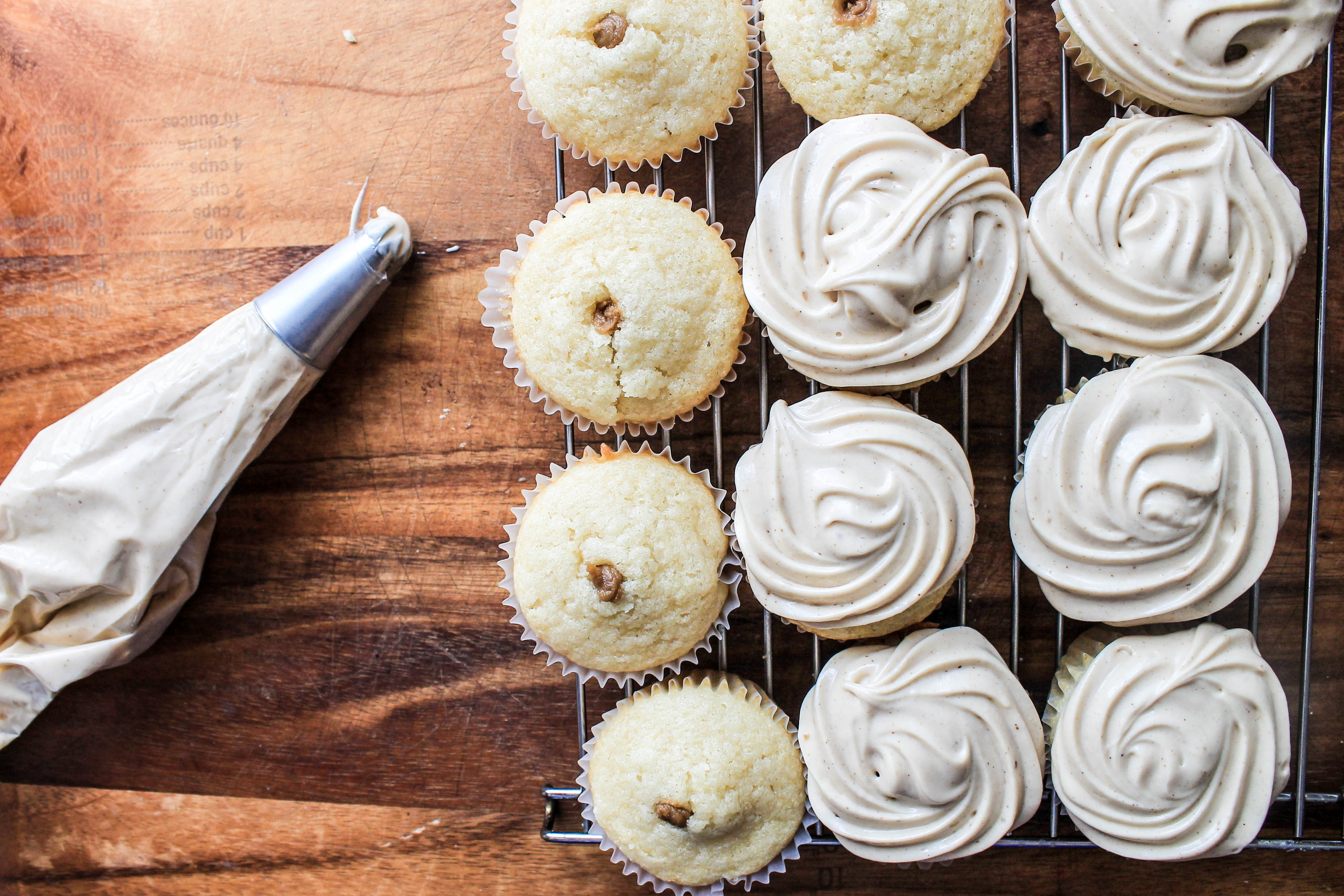 He filled them with a Butterscotch Sauce, adapted from dessert King David Lebovitz. He increased the salt from this original recipe to cut through any sweetness from the cupcakes and give the filling a major Salted Butterscoth vibe. If you don't have one of those cupcake-piping-injector-things (the actual technical term for the tool), fret not.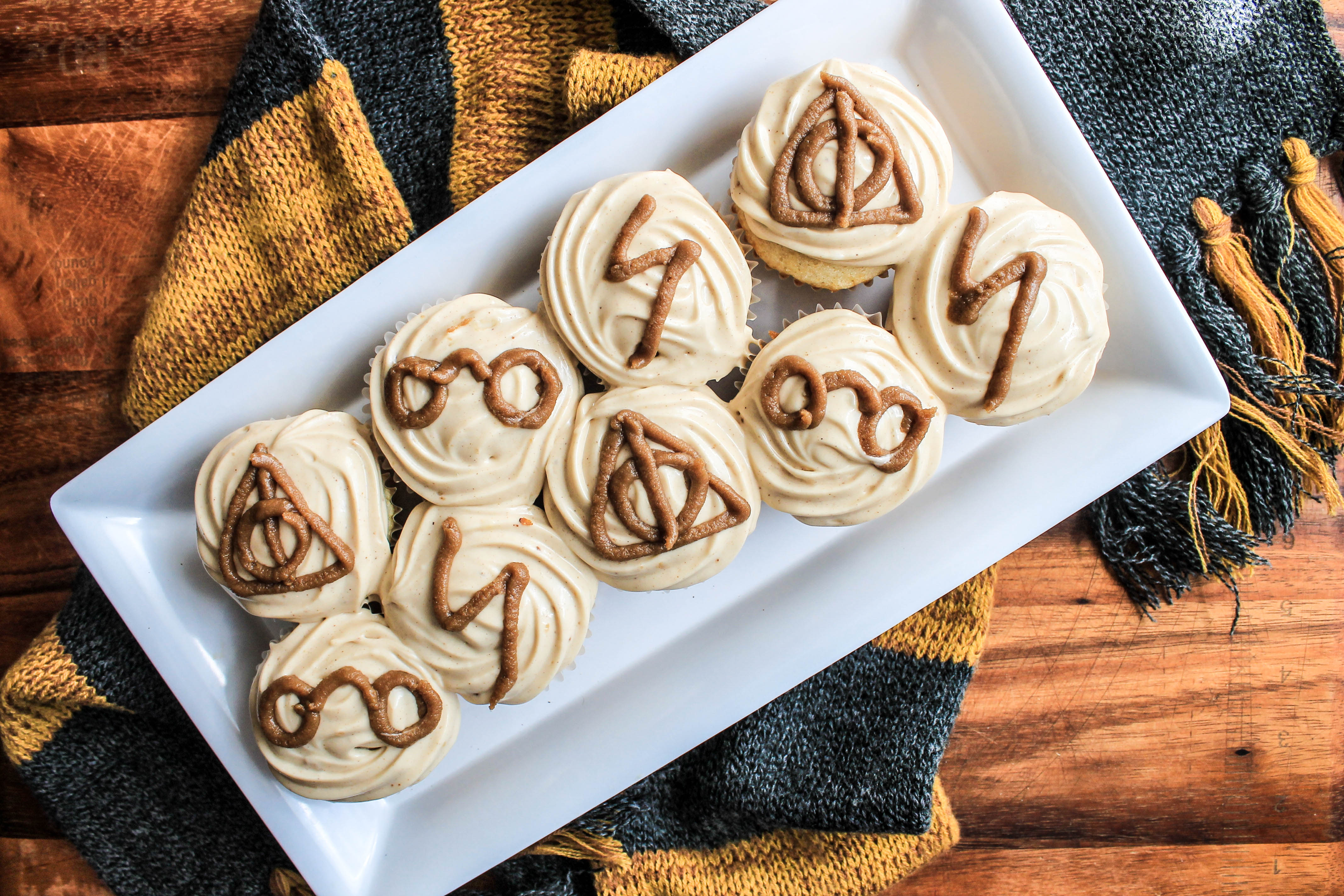 Instead of filling the cupcakes with butterscotch, you can simply spread the sauce on top of the cooled cupcakes before frosting them. The recipe will make more delicious butterscoth than you will need for 12 cupcakes, so store leftovers in a safe space or you might find yourself diving into it with a spoon. What? A smidgen of Buterscotch filling for a snack never hurt anyone, I think. For the topping Kyle used a Brown Butter Cream Cheese Frosting from food52. The hope was that the browned butter would give toasted, toffee notes – adding greatly to the Butterbeer effect. Utilizing the cream cheese was a push toward lending a savory, tangy flavor to the frosting, with the goal of further offsetting the sweetness from the rest of the cupcakes. (To add my two cents to the mix: Success! He totally nailed it – deliciousness all the way!)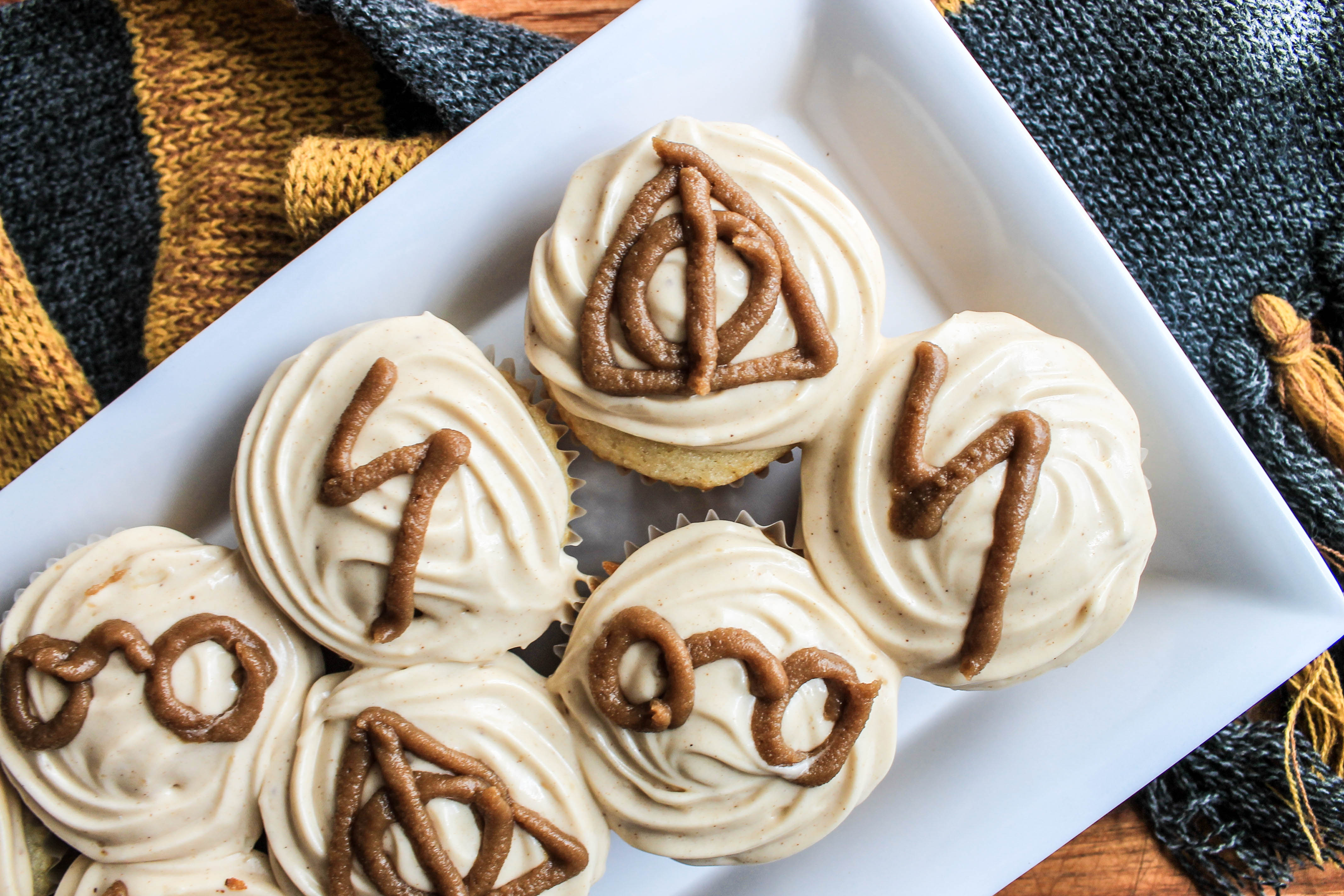 While making the frosting, he used a technique that he picked up from Smitten Kitchen here, in which you sift all the powdered sugar, then add it to the butter/cream cheese mixture 1/2 cup at a time, allowing you to get a firm, pipeable frosting with considerably less sugar! That trick is a total game changer for a baker who usually doesn't like traditional buttercream frostings since most of them are way too sweet..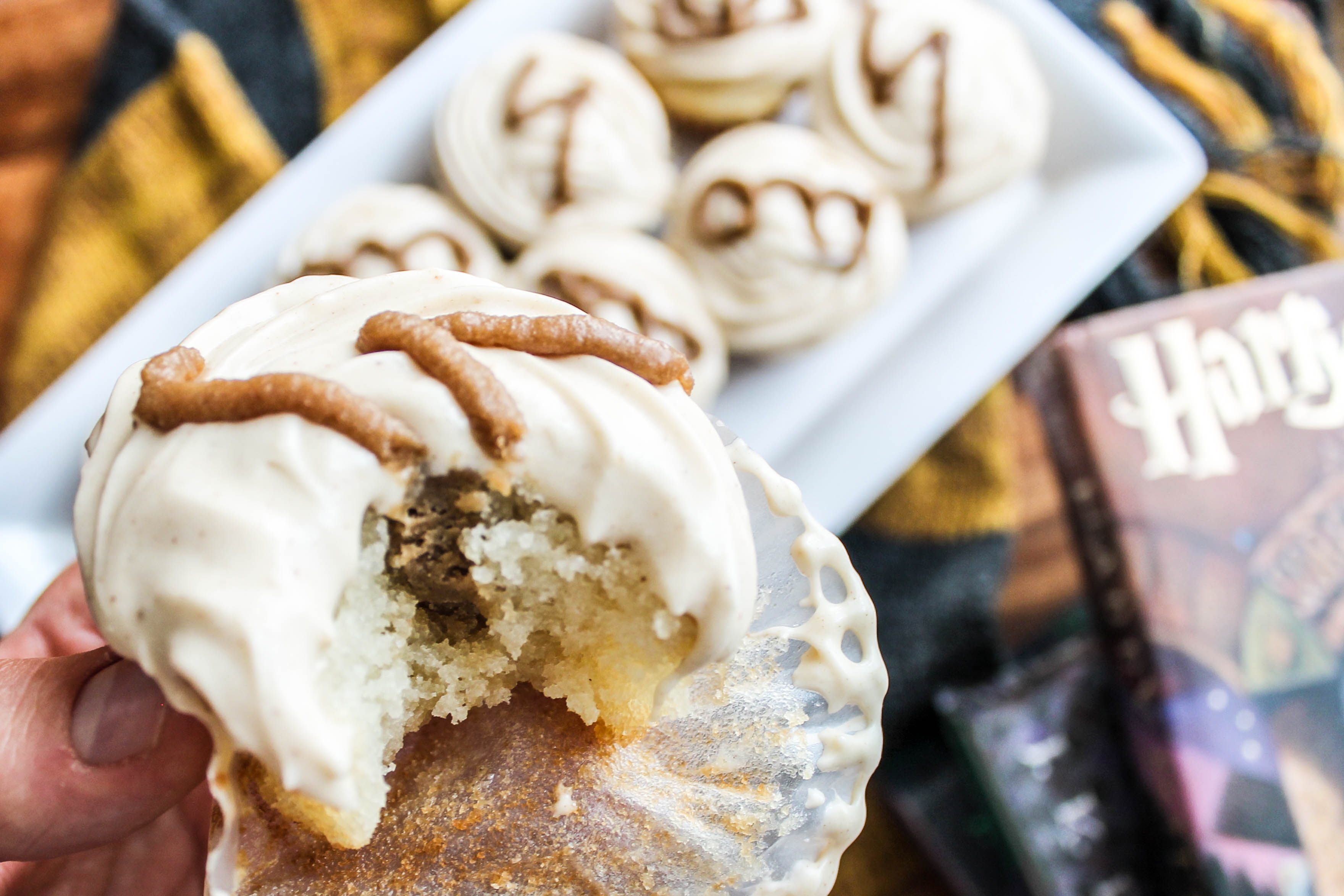 And finally, adding the Harry Potter symbols. There is going to be plenty of leftover butterscotch, so piping the symbols onto the cupcakes seemed like it was meant to be. Kick back with a tall glass of milk and indulge with a Butterbeer cupcake (or two). These are great for just anytime (as are most cupcakes) or for any themed party. If you are on the look out for something to bring to your upcoming Halloween party, look no further – cupcakes it is!
Butterscotch sauce adapted from David Lebovitz.
Brown Butter Cream Cheese Frosting adapted from Food52.

Gluten Free Butterbeer Cupcakes
Ingredients
For the Cupcakes:
6.25 ounces (about 1 ¼ cups) gluten free all-purpose flour
5.25 ounces (¾ cups) sugar
½ teaspoon baking soda
½ teaspoon salt
¾ teaspoon xanthan gum
1 teaspoon white vinegar
¾ cup vegetable oil
¾ cup buttermilk
1 large egg
1 ½ teaspoons vanilla extract
For the Butterscotch Sauce:
4 tablespoons (55 g) unsalted salted butter
1 cup (180 g) packed light brown sugar
¼ cup (60 ml), plus 6 tablespoons (90 ml) heavy cream
Sea salt
½ teaspoon vanilla extract
For the Brown Butter Cream Cheese Frosting:
4 ounces unsalted butter
8 ounces cream cheese, cold
¼ cup brown sugar
1 ¾ cups confectioners' sugar, sifted
1 teaspoon vanilla
Instructions
For the butterscotch sauce: In a wide saucepan or skillet, melt the butter with the brown sugar, ¼ cup of heavy cream, and a dash or two of salt, stirring until smooth.
Without stirring, let the mixture cook at a bubbling simmer for three minutes.
Remove from heat and stir in the remaining 6 tablespoons of cream. Let cool a bit, then stir in the vanilla extract.
For the cupcakes: Preheat the oven to 350 degrees F.
In a medium mixing bowl, whisk together the flour, sugar, baking soda, salt, and xanthan gum.
In a large bowl whisk together the oil, buttermilk, egg, vinegar and vanilla. Add the dry ingredients to the wet and mix until smooth and thoroughly combined.
Evenly divide batter into a lined cupcake pan.
Bake in oven for about 15 to 18 minutes, turning the pan once halfway through baking. Remove from oven and cool completely before frosting.
In a large mixing bowl, beat the cream cheese, butter and vanilla together until smooth. Add the sugar and on low speed, beat until incorporated.
Pipe or spread frosting over cupcakes and sprinkle with reserved cinnamon sugar.
For the frosting: Melt the butter in a heavy-duty 1-quart sauce pan over medium heat. Cook swirling the pan occasionally until the butter turns a nutty golden brown; about 4 minutes.
Pour into the metal mixing bowl of your stand mixer and transfer to the freezer and chill until just firm; about 15 minutes.
Using the stand mixer, beat the butter until light in color, scraping the sides of the bowl occasionally, about 3 to 4 minutes. Add the cream cheese and brown sugar and beat on medium speed until light in color and the sugar has dissolved; about 2 minutes. Beat in the confectioners' sugar about a ½ cup at a time until combined. Add vanilla and continue beating until fluffy.
To assemble the cupcakes: Once the cupcakes are fully cooled, fill each cupcake with a tablespoon or two of the butterscotch sauce. If you don't have an injector, just spread the butterscotch over the cupcake. Pipe or spread the frosting over each cupcake, then drizzle with extra butterscotch sauce.
Please follow and like us: