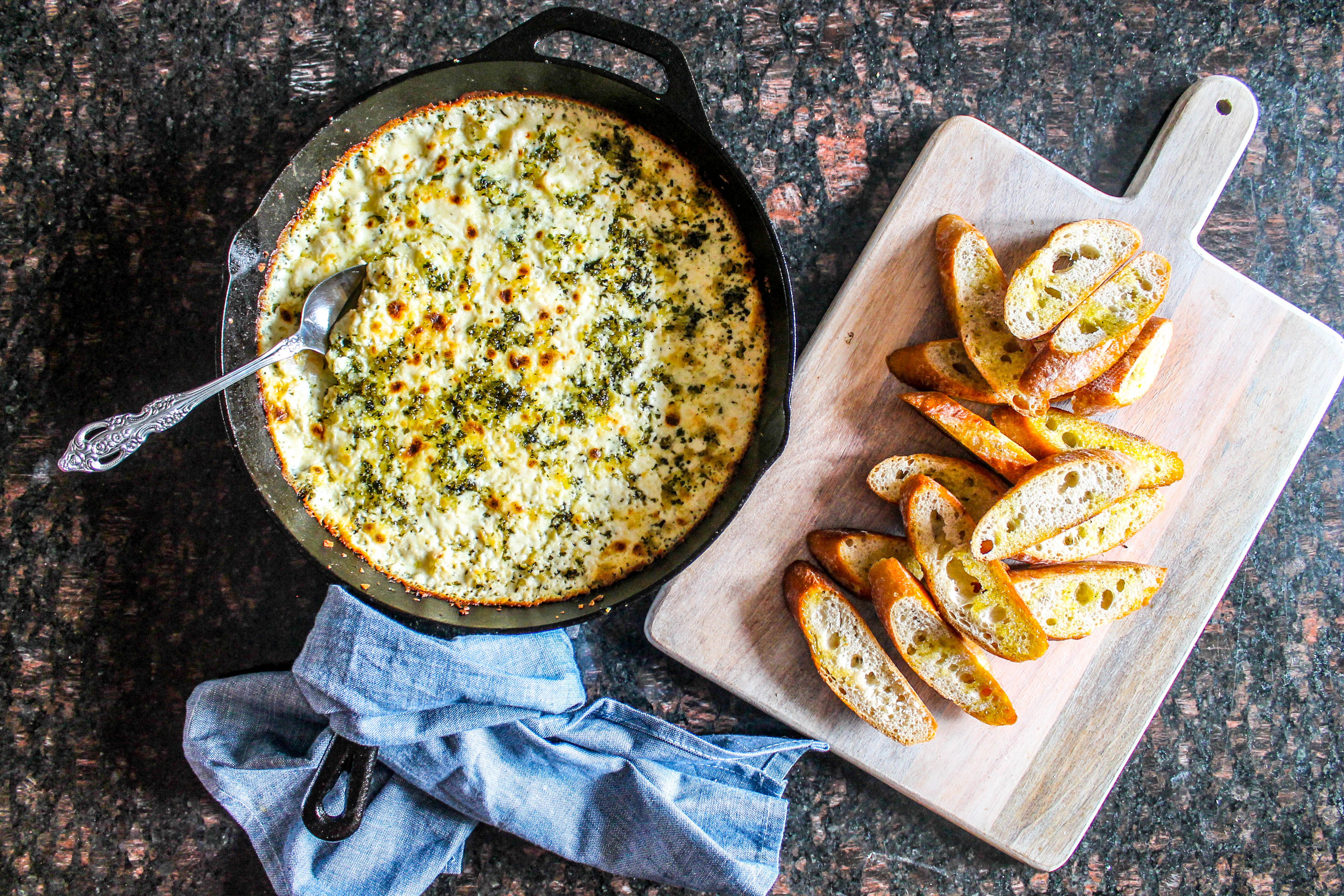 There was so much great food, wine, beer, cocktails and sweet treats to enjoy at this year at Epcot's Food & Wine Festival. One of our favorite dishes this year at the Festival was the  Shrimp Scampi Dip located at a marketplace called "Coastal Eats". This creamy, cheesy dip was loaded with garlic and huge pieces of chopped shrimp, it was instantly devoured. The scampi dip in Disney served as the inspiration for Kyle's latest creation. After returning home, this dip (along with the Allspice Old Fashioned) was one of those recipes that he really needed to recreate … IMMEDIATELY.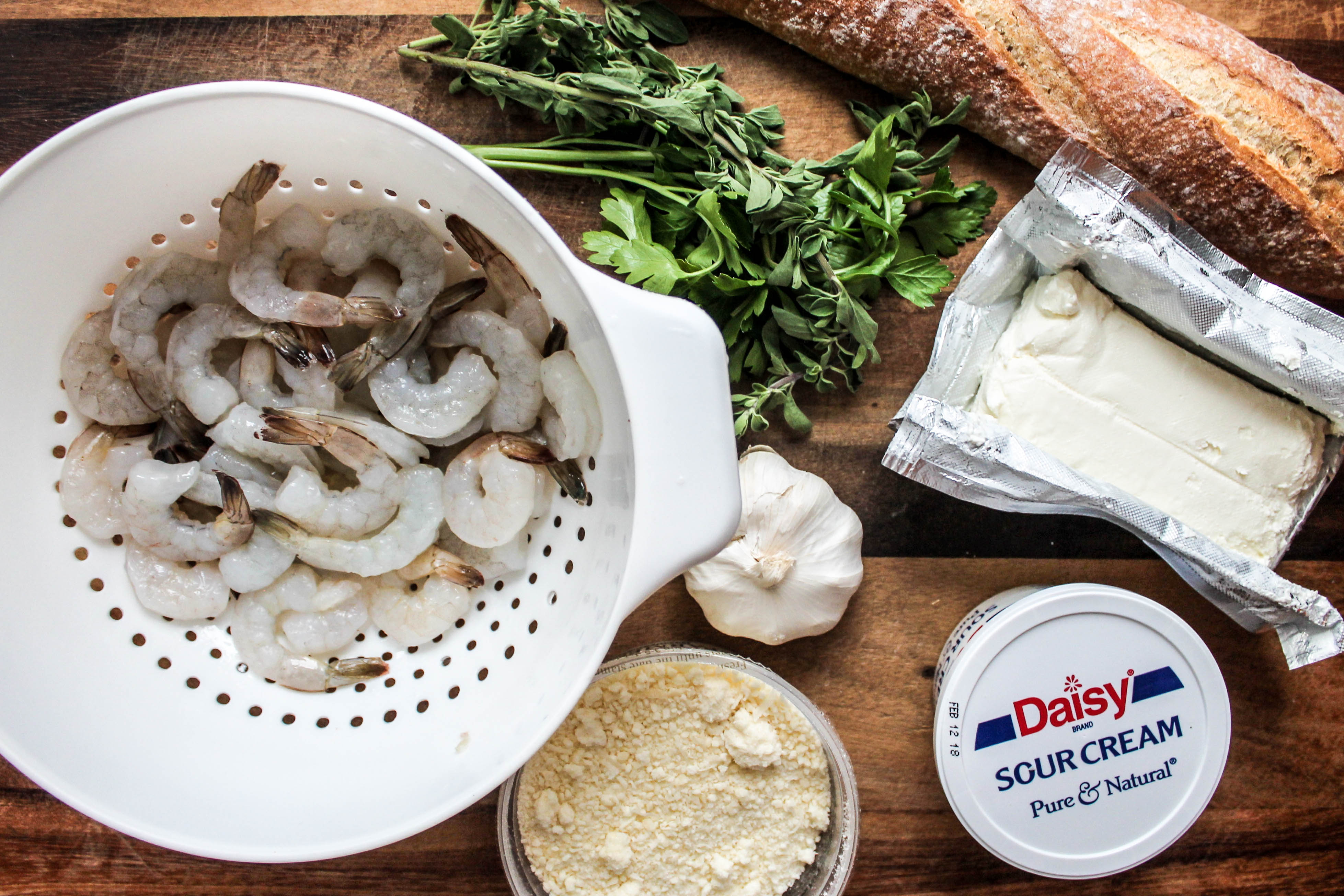 He started a quick research expedition that immediately yielded promising results. Just Googling "Shrimp Scampi Dip" led to a Food Network Test Kitchen recipe that seemed almost identical to the appetizer at Food & Wine Fest.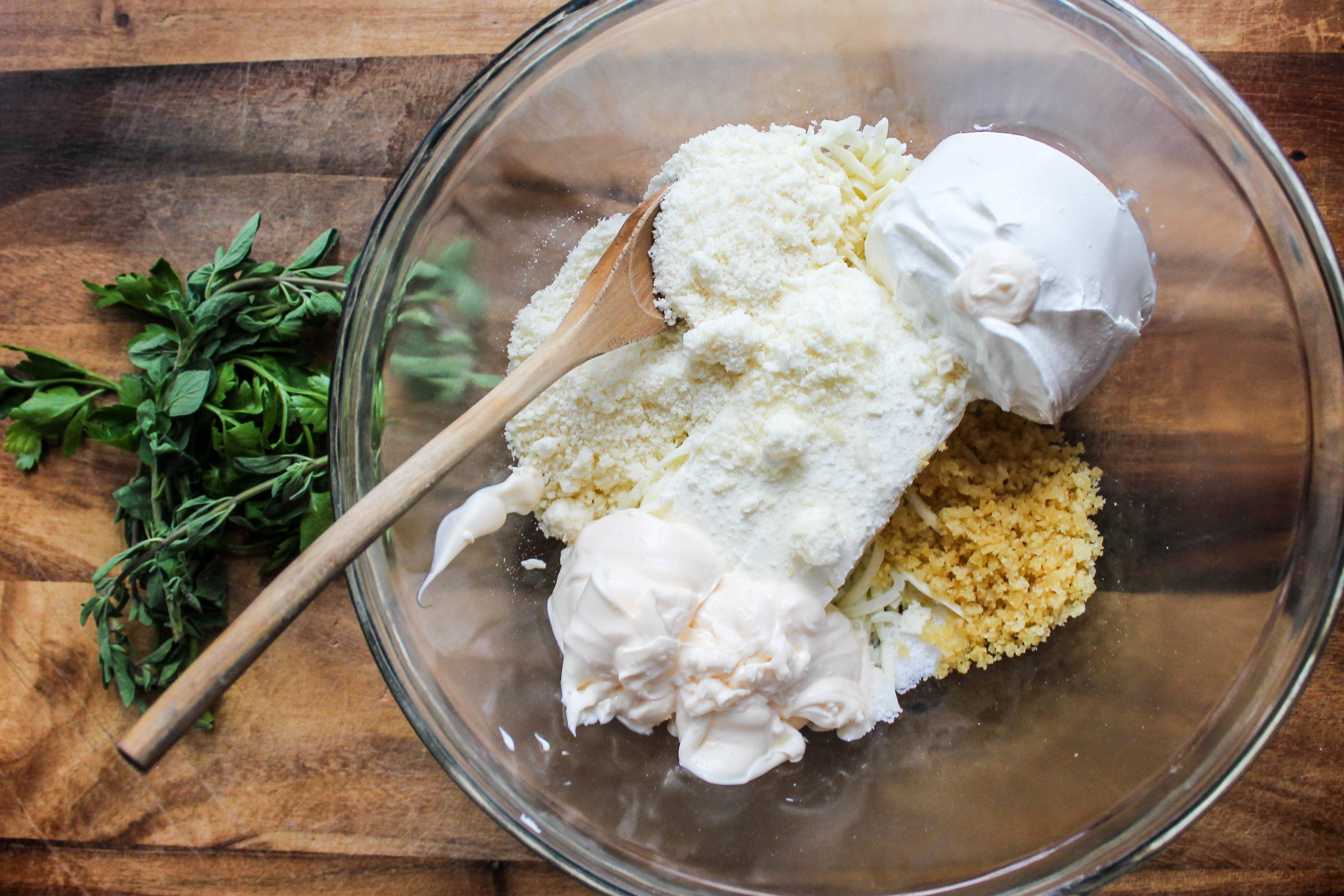 The quest for trying to recreate a dish or drink that was enjoyed at a restaurant or while on vacation can be like chasing a unicorn – it can take many searches and many tries to find what you are ultimately looking for, but the magic alludes you, causing you to continue searching. For recipes, it can sometimes take several recipes (and several subsequent attempts at each recipe) to perfect the dish so that it resembles its original counterpoint. Even then, occasionally the dish is still missing that one "special something" and is slightly off from the inspiration of the recipe. Fortunately, the Shrimp Scampi Dip gods were smiling down on us, and this was not one of those times. The recipe from Food Network was easy to find, easy to follow, and boasted the same jam-packed flavors of the dip at the Food & Wine Festival.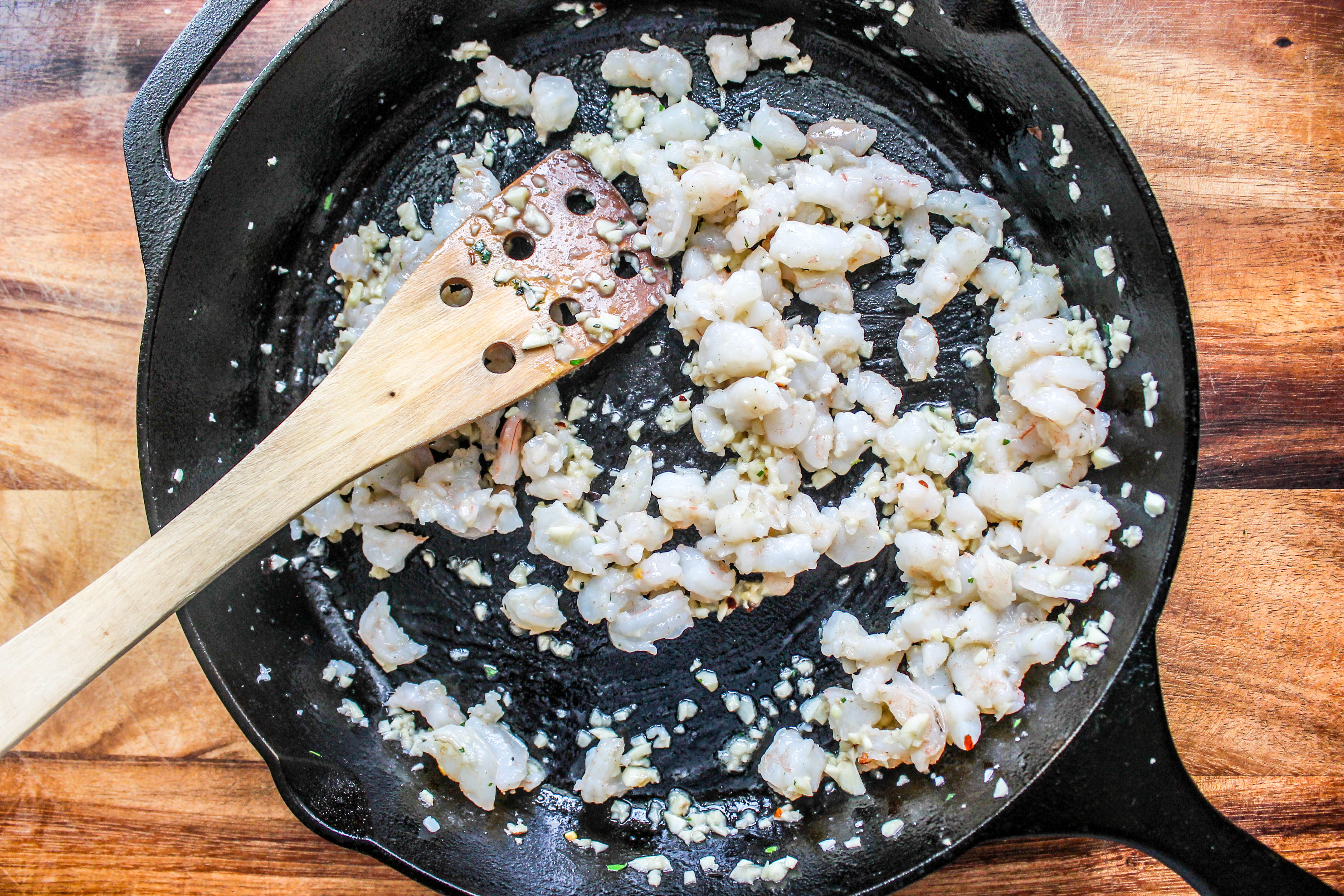 Kyle made just a couple minor adjustments to the Food Network Scampi Dip. A few adjustments were in the name of flavor. First, the amount of garlic was increased to ensure that it packed the same punch of flavor as the dip that we sampled at the festival. Kyle also subbed in some fresh oregano for the fresh parsley. This was mainly due to not having enough parsley on hand (happens to me all the time), but the piney flavor of the oregano added a much welcomed addition of flavor to the crumb topping. Score!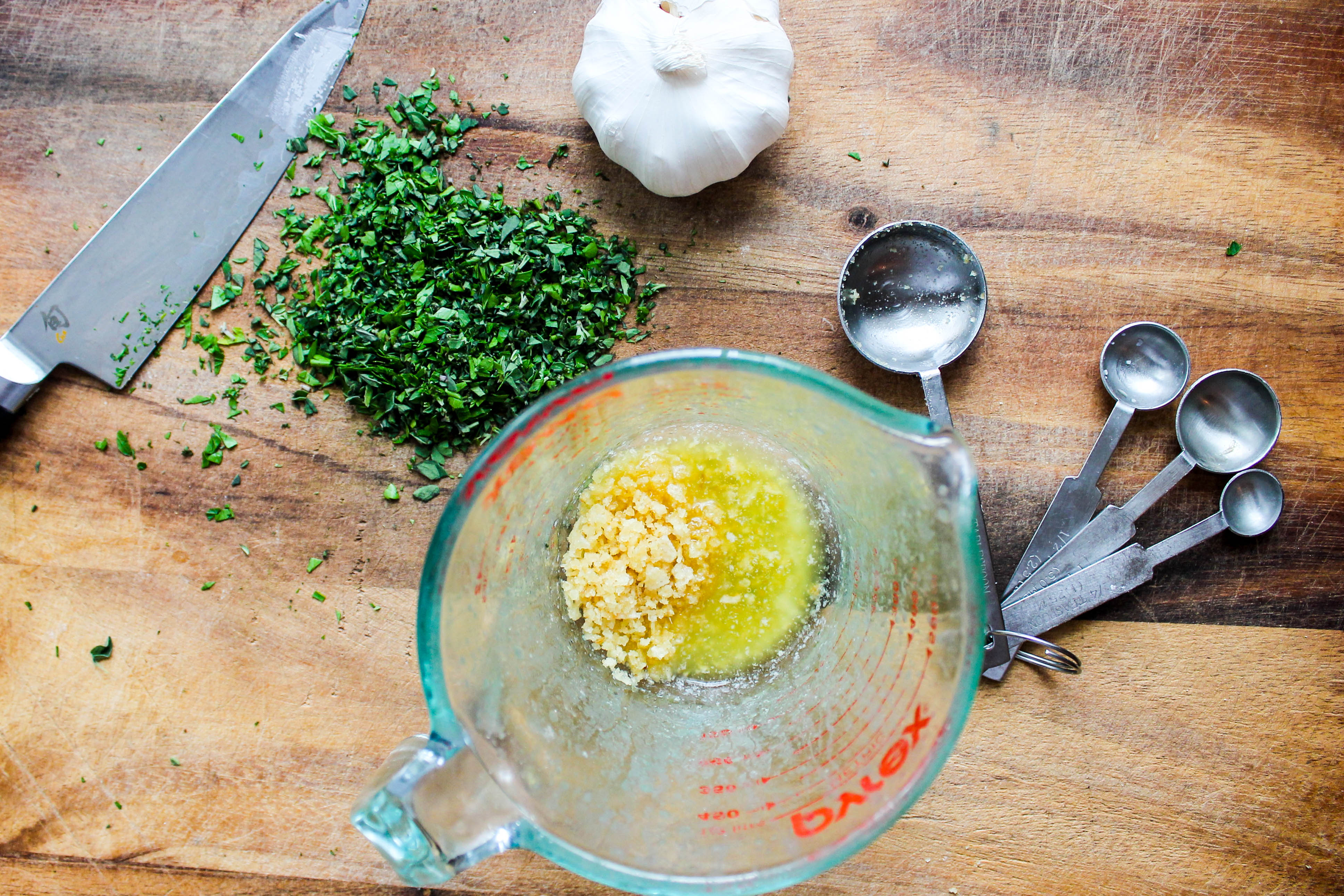 The other culinery adjustments were to accommodate a gluten free diet. The breadcrumbs were naturally a gluten-free no-no, so they immediately had to go. They were swapped out with ground potato chips (a GF trick learned when Kyle was making the Fennel Topped Roasted Onions and used again for the GF Cauliflower Cheese). This is a genius substitute for breadcrumbs whenever you have a baked dish or casserole that requires a breadcrumb topping.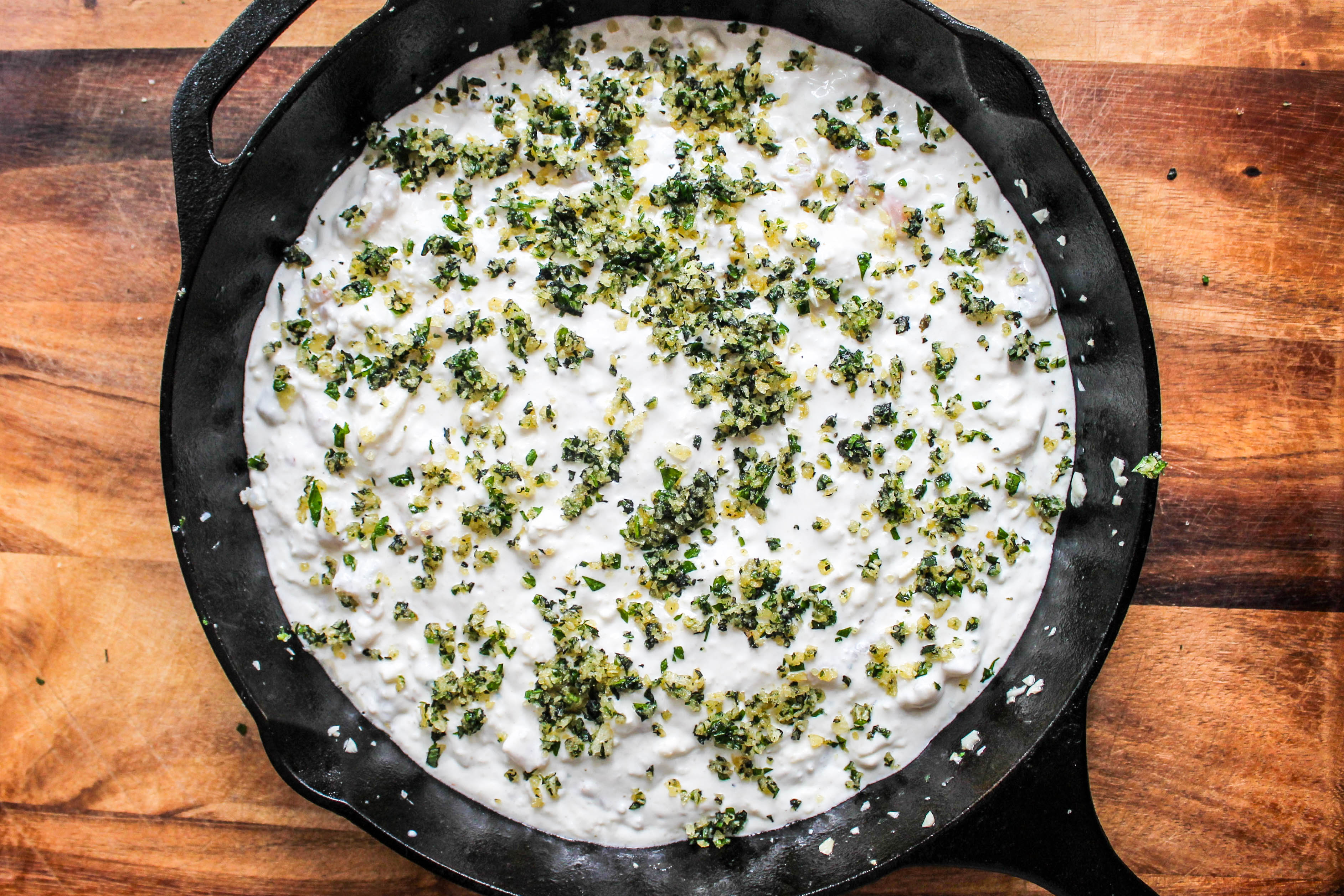 It turns out this appetizer is an extremely versatile base recipe and can be adjusted for a variety of different food allergies and dietary restrictions. We are currently trying out a dairy free option AND a shellfish free version of this recipe for those that have dairy and shellfish allergies and intolerances.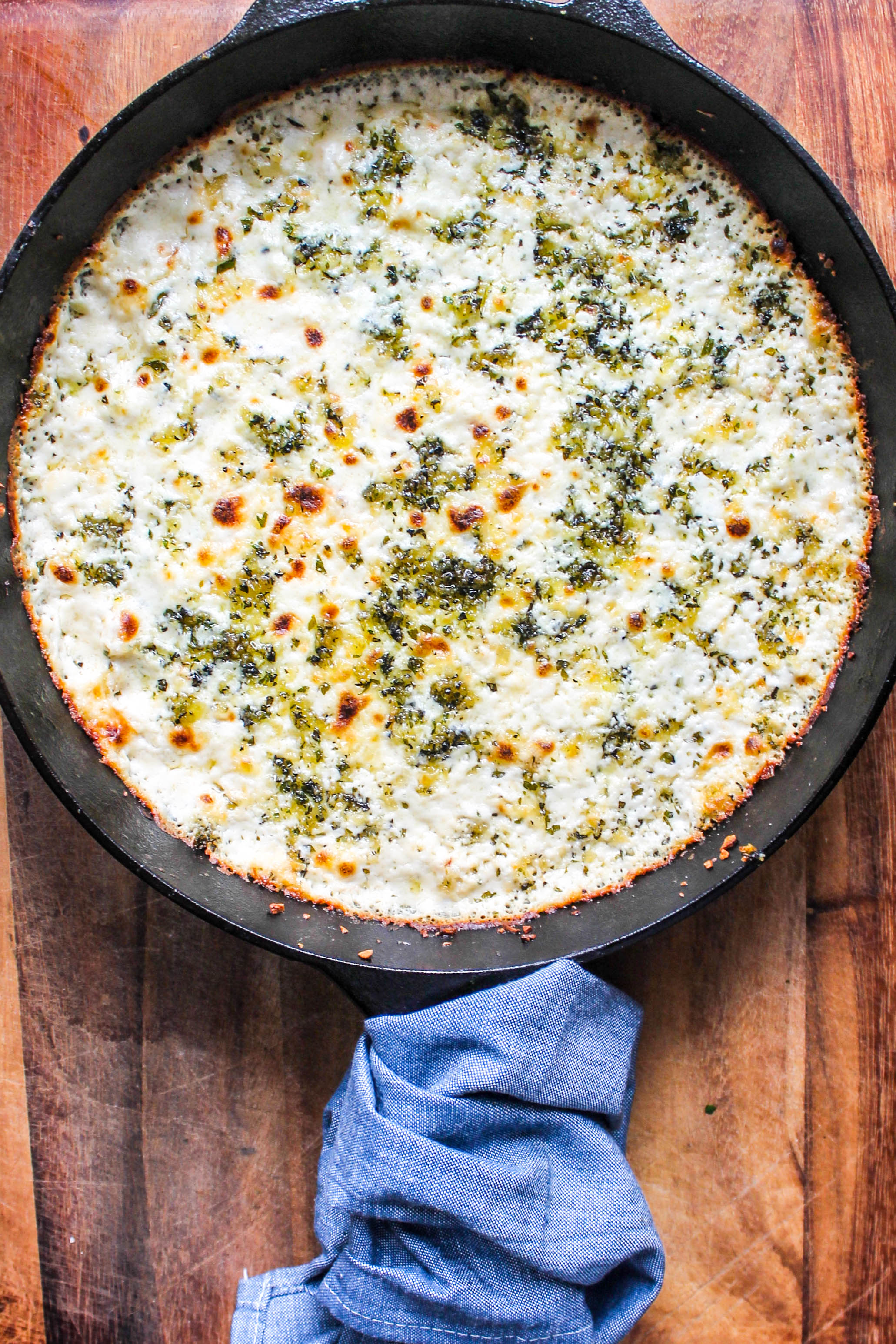 Yes, this dish is insanely delicious – I really do not think you will be able to disagree. The entire skillet full of dip lasted maybe 10 minutes before being completely inhaled. The other wonder of this great dish is that it falls into the glorious "make-ahead" category. Once you have cooked and cooled the shrimp, add them and their cooking liquid to the cream cheese mixture, pour into your serving vessel and refrigerate. Just a mere 30 minutes before you're ready to serve it, top with the crumb mixture and pop in the oven – it is just that easy!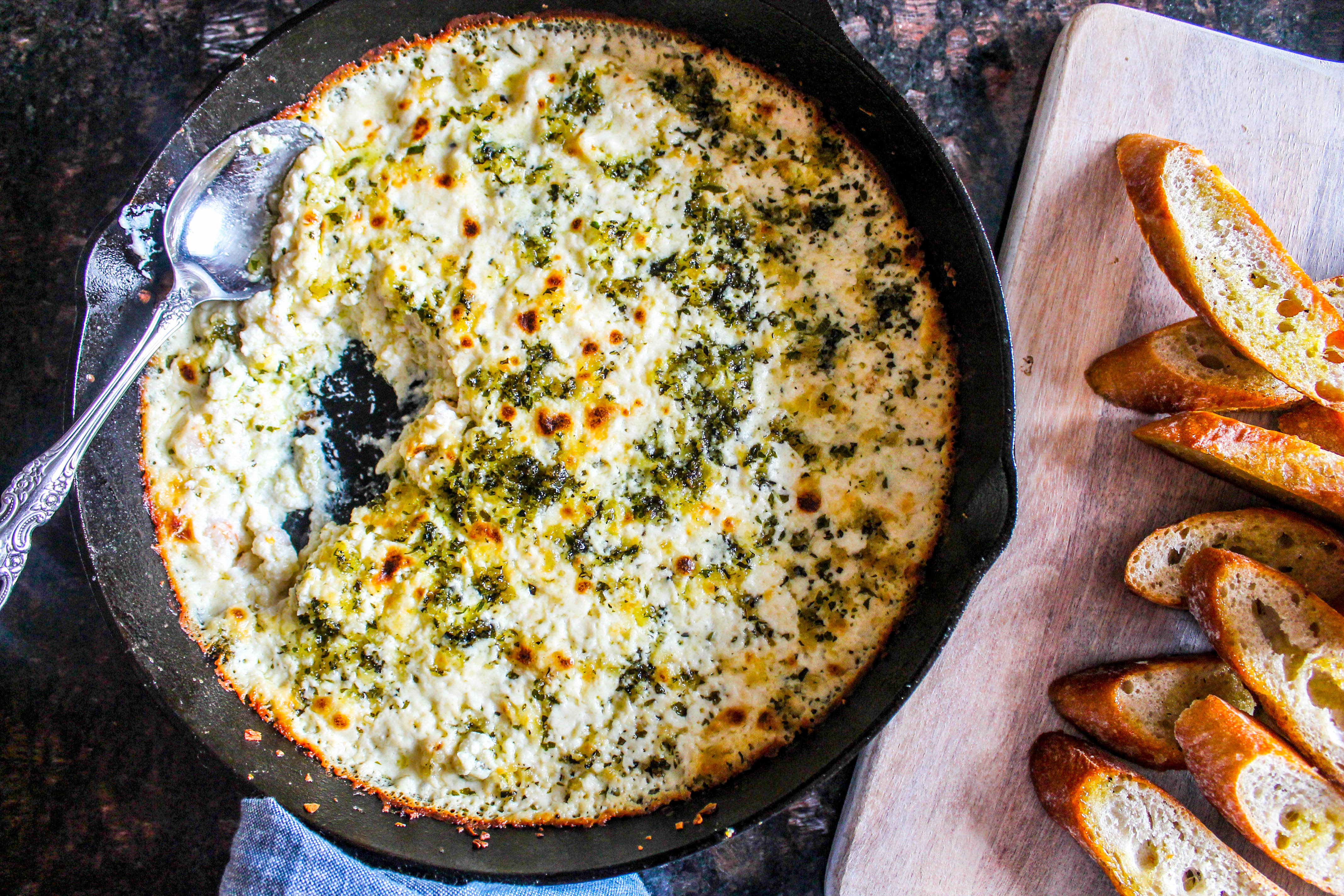 This dish can easily be considered a holiday entertaining superstar for the scrunptious flavor of the dish as a whole and for the ease of prepartion/cook time. If you are looking for something to serve for your holiday gathering, this is another addition to the menu. However, you just may need to make two servings – you've been warned! Enjoy!
Adapted from the Food Network.

Shrimp Scampi Dip
Ingredients
8 ounces cream cheese, at room temperature
1 cup shredded part-skim mozzarella
1 cup sour cream
½ cup mayonnaise
½ cup grated Parmesan
1 cup loosely packed potato chips, ground to about ¼ cup of crumbs
Kosher salt
2 tablespoons unsalted butter, plus 1 tablespoon melted unsalted butter
1 pound large peeled and deveined shrimp, tails discarded, cut into ¼-inch pieces
8 cloves garlic, minced
Large pinch crushed red pepper flakes
½ cup dry white wine
¼ cup fresh parsley leaves, finely chopped
¼ cup fresh oregano leaves, finely chopped
1 teaspoon lemon zest
Gluten free crackers or bread, for serving
Instructions
Position an oven rack in the top position, and preheat the oven to 375 degrees F.
Beat the cream cheese, mozzarella, sour cream, mayonnaise, Parmesan, 2 tablespoons of the ground potato chips and ½ teaspoon kosher salt in a large bowl with an electric mixer on medium high until smooth. Cover and refrigerate until ready to add the shrimp.
Melt 2 tablespoons butter in a large skillet over medium-low heat. Add the shrimp, garlic, ¼ teaspoon salt and the red pepper flakes, and cook, stirring frequently, until the shrimp just start to turn pink, about 2 minutes. Add the wine, bring to a simmer and cook until the shrimp are pink and cooked through, about 2 minutes (there will be some liquid left in the skillet). Remove the skillet from the heat, and let the shrimp cool completely.
Meanwhile, mix together the parsley, oregano, the remaining 2 tablespoons of ground potato chips and 1 tablespoon melted butter, the lemon zest and a pinch of salt in a small bowl.
Stir the shrimp, pan sauce and cream cheese mixtures together to combine; transfer to a 2-quart baking dish - or do what I did and combine everything in an ovenproof skillet. (If you're making this ahead, the dip and crumb topping can be covered and refrigerated overnight separately at this point.) Sprinkle the crumb mixture over the dip, and bake until hot and bubbly, 15 to 20 minutes. Switch the oven to broil, and cook until the top is golden brown, 1 to 3 minutes - check on this every 15 seconds or so, because it start to burn as soon as you turn away from the oven.. Let rest for a few minutes, then serve hot with bread and/or crackers.
Please follow and like us: